After a few days dodging protests and pickpockets in Santiago, it was a relief to land in the peaceful township of Bariloche, Argentina. I hoped that a week exploring the Lake District of Northern Patagonia around Bariloche, Argentina would be enough, but after a quick look at potential hiking trails, I knew I'd be wanting more.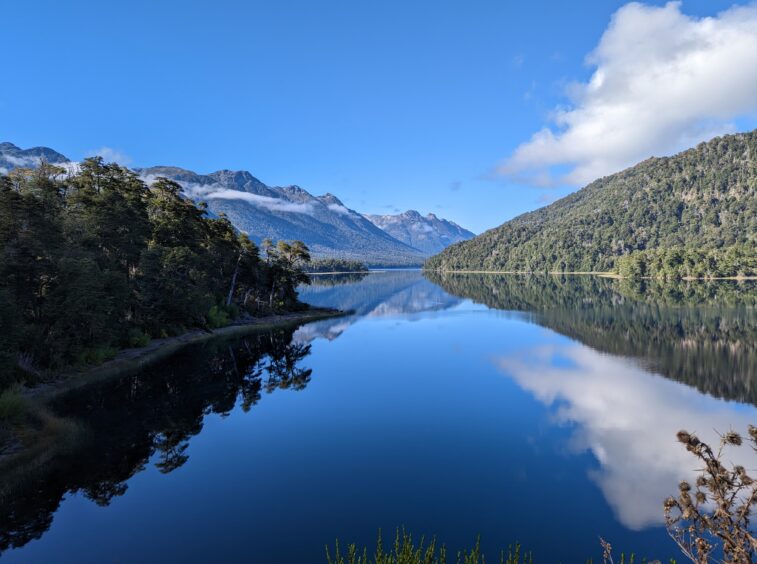 Nestled in the foothills of the Andes next to the large glacier carved Nahuel Huapi Lake, this is a place of contrasts. I could be forgiven for thinking we were in the Alps with the large mountains, gabled roofs of Swiss-style chalets, fondue-serving restaurants, and chocolate shops. Yet the audible Spanish and proliferation of mate cups on the streets was a reminder that we were in South America. With emphasis on "south," as in really far south. There were still a thousand miles to go before reaching the end of the earth at Tierra del Fuego and Southern Patagonia, but the 10-hour flight from Houston and the absence of American accents was a clue that we were delightfully far from home.
We were on the last week of a three-week journey through Buenos Aires, Iguazu Falls and Santiago. With that much time, I thought we'd have plenty of time to visit Southern Patagonia. After examining timetables and distances, my husband and I decided that was too ambitious. That's partly because we're big backpackers and hikers and we wouldn't have had time to do it justice. We scaled back and scoured the Lonely Planet Argentina guidebook. My eye kept getting drawn to the Lakes District. This wasn't familiar to me, but who doesn't love a lake or two? I didn't know if it would live up to the enticing descriptions, but we booked a hotel in Bariloche, Argentina and took a chance.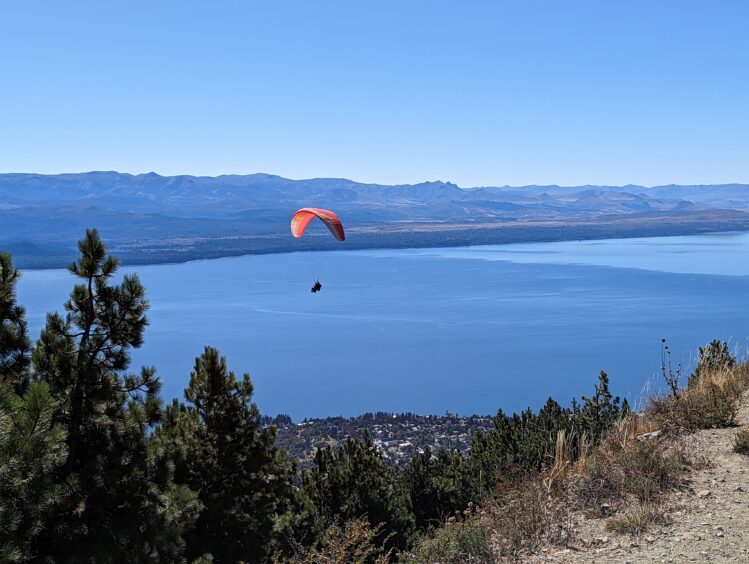 Bariloche, Argentina
In Bariloche, also known by the formal name of San Carlos de Bariloche, we took some time to wander around town, sample delicious Rapanui Chocolate and gawk at the views. Soaring peaks surrounded the blue waters of the sprawling Nahuel Huapi Lake with its many glacier-carved arms that ring the town. Mt. Tranador's many hanging glaciers were visible in the distance in Chile, just across the nearby border.
On one of our full days in Bariloche, we enjoyed taking the cable car, Teleferico Cerro Otto, to the top of Mt. Otto in the middle of town. From there, we were surprised to see another gorgeous lake, Lago Gutierrez, behind the town that wasn't visible to us previously, and another behind that. We hiked a short trail that connected to other trails, stopped at a viewpoint and returned for lunch. A lazy hour in the sun was spent watching paragliders take off and soar above Nahuel Huapi Lake. Kids loved the zip line, climbing wall and ropes course.
We also appreciated seeing the Cerro Catedral Ski Resort located just outside of Bariloche. It was much larger than we expected, with many high-speed lifts spread across 3,000 acres that got me thinking about a winter ski trip.
We took some time to explore Bariloche and used these three routes to plan our road trips, detailed below:
1. Small Circuit (Circuito Chico)
2. Route of the Seven Lakes (Ruta de los Siete Lagos)
3. Big Circuit (Ciruito Grande)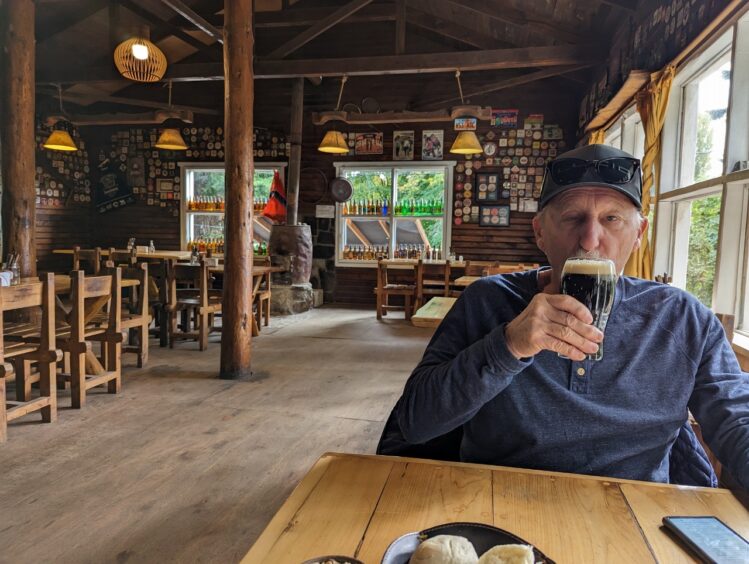 Small Circuit
The first afternoon in Bariloche, we drove the 40-mile Small Circuit (Circuito Chico). This might take some people a couple of hours, but for us took at least twice that because the views were so stunning. We kept having to pull over to take it all in. From our hotel, Cacique Inacayal Lake & Spa Hotel on Avenue Juan Manuel de Rosas, the street joined the start of the Small Circuit on Avenue Bustillo at the roundabout, requiring little navigation.
We stopped at Gilbert's Cerveceria (brew pub), which was cozy and warm on a blustery day that drove whitecaps across the lake. There was lots of natural wood, warm ambiance, and excellent beer, along with delicious salmon, goulash, and fondue.
After lunch, we pressed on to Llao LLao, a gorgeous hotel property on a comely corner of the lake with an expansive view of the shoreline. It's so exclusive that they wouldn't allow entry to the lobby without a hotel or restaurant reservation, despite our best smiles and good manners. Their boat dock is the point of departure for boat and bus excursions across the border with Chile, but the weather didn't look inviting for a boat ride the day we were there.
Signs to the Swiss Colony (Colonia Suiza) couldn't be ignored, so we bumped down a dirt road to find a bohemian enclave much like we'd find in the shady, moss-grown redwood forests in Northern California. I was more intrigued by the inviting trailheads leading up, up, up to the skies.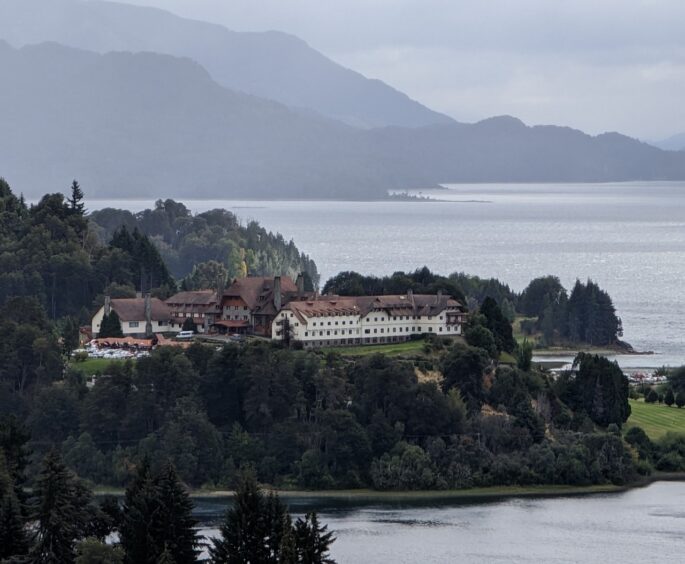 Route of the Seven Lakes
It was hard to decide if we wanted to hike or drive, but after seeing how stunning the views were from Bariloche, I wanted to see more of the area. We decided on a road trip that included the Route of the Seven Lakes (Ruta de los Siete Lagos) along with some hiking.
The Route of the Seven Lakes is a scenic 68-mile drive that connects two towns: Villa la Angostura and San Martin de los Andes. It could be done in a day, but every turn is stunning, so it wouldn't be possible for me to do it that fast. Since it runs mostly through national parks, there are no other towns along the route and no lodging other than camping except in the towns mentioned. There were some tantalizing camping spots for those with the appropriate gear.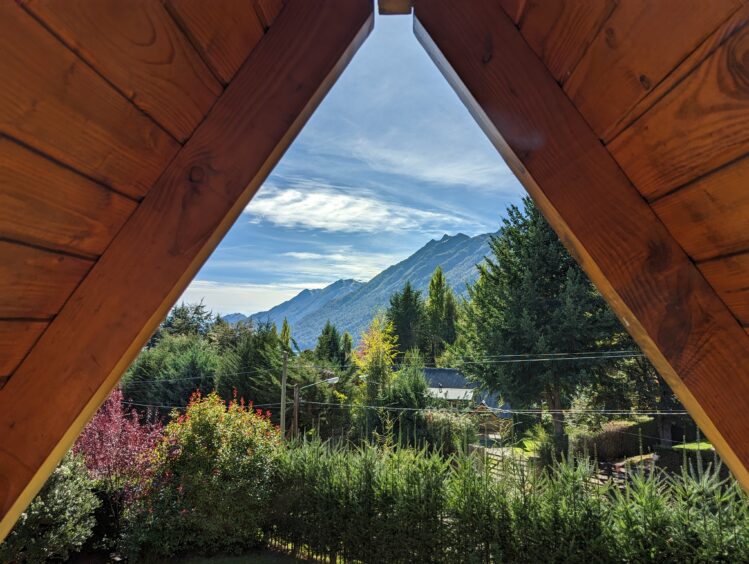 Big Circuit
The Big Circuit (Ciruito Grande) is a 150-mile loop that incorporates half of the Route of the Seven Lakes on Highway 40 and adds a visit to Lake Traful, passing through coihue (a type of beech) woods and amazing rock formations on Highways 65 (unpaved) and 237 (paved). We added this to the Route of the Seven Lakes.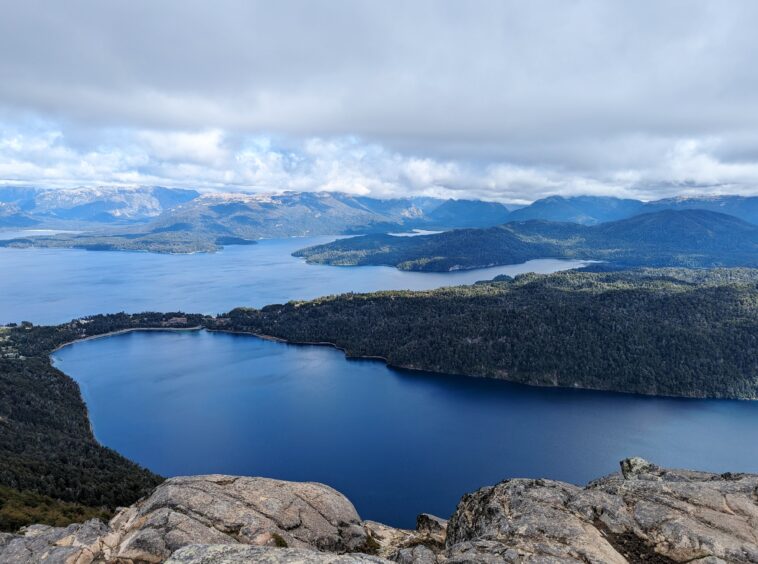 Our Route
Our route combined elements of both the Route of the Seven Lakes and the Big Circuit, completing both.
Since we were starting from Bariloche, that added 50 miles to the Route of the Seven Lakes through Nahuel Huapi National Park.
From Bariloche, we drove to Villa La Angostura on Highway 40 and stayed two nights. We then drove the beautiful Route of the Seven Lakes up to San Martin (still on Highway 40) for lunch. The newly paved road was in good shape and driving was easy. We returned on Highway 40 but before Villa la Angostura, we turned onto Highway 65 (unpaved) to connect to Highway 237 for the rest of the return to Bariloche. This section is part of the Big Circuit. In 2023, it looked like they were preparing to pave the road on Highway 65, which will improve comfort significantly. Our total mileage for the three-day trip was 245 miles.
I found the descriptions in guidebooks and online sources confusing, so I'm providing a Google Map image of our route that included Bariloche, Villa La Angostura, San Martin, and Villa Traful. The red line represents the section of the Big Circuit that we added to the Route of the Seven Lakes.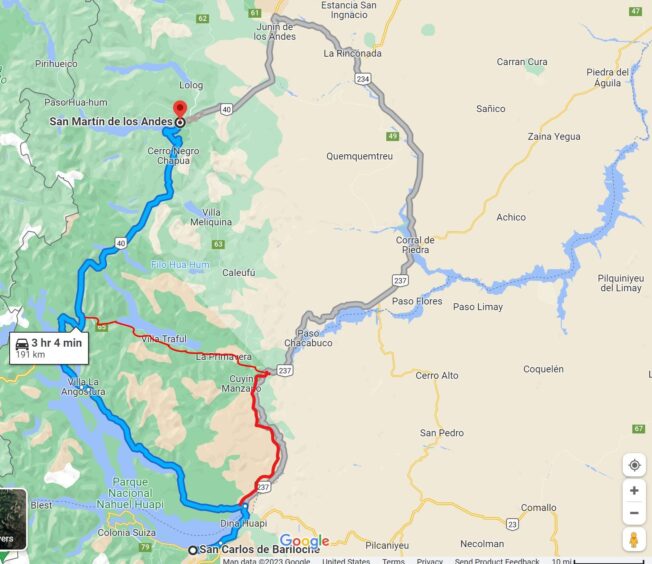 Villa la Angostura
Villa la Angostura was a charming town that resembled a miniature Bariloche, with its welcoming main street bursting with chocolate shops, bars, and restaurants. It's set on the opposite side of Nahuel Huapi Lake from Bariloche and features a small ski area, Cerro Bayo, in winter.
After getting settled into our lodging, we explored the tiny peninsula jutting into the lake. Huffing up surprisingly steep hills, we welcomed every viewpoint so we could catch our breath and attempt to capture the mesmerizing scenes with our inadequate cell phone cameras.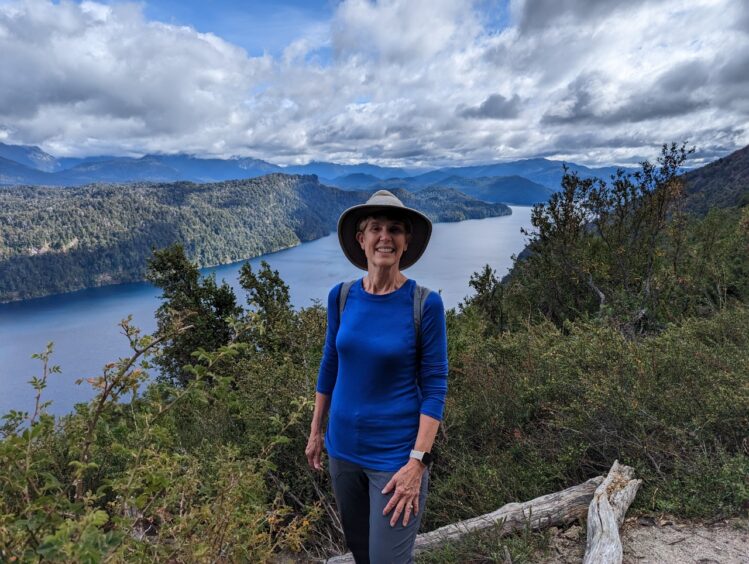 Weather moved in and out but nothing was going to stop me from doing a big hike the next day to shake out my muscles that were stiff from too many days in planes and cars. A short drive from our lodging was the trailhead to Cerro Belvedere. It was a tough five-mile hike but so worth it for the views and exercise.
We liked Bistro Tinto in downtown Villa la Angostura so much we ate there twice, enjoying the international flavors of Peruvian ceviche, Middle Eastern lamb kebabs and roasted eggplant, and Vietnamese lettuce wraps.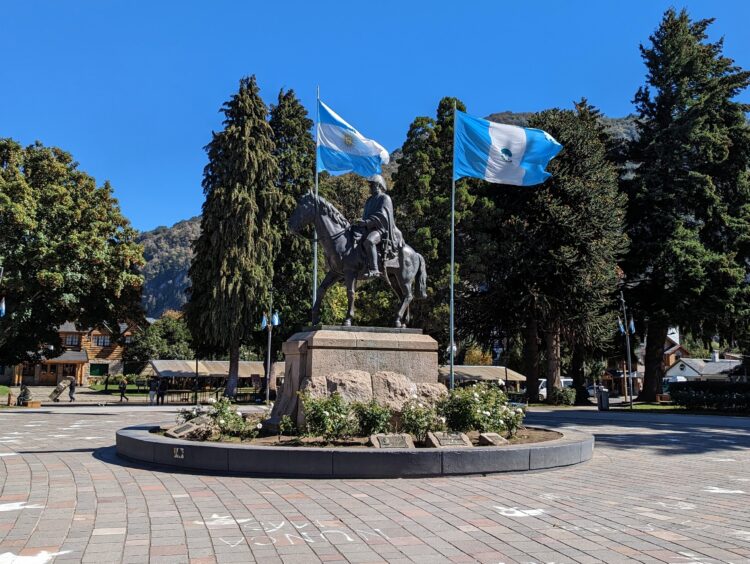 San Martin
The drive to San Martin took us to more deep blue lakes than we have ever seen before angling north into a land of forest and grassland surrounded by high, rocky peaks.
San Martin was an upscale town with many sports shops serving active visitors hiking and skiing around the nearby Chapelco Ski Resort. It would have been a nice place to stay for a night or two if time allowed, and we would have enjoyed hiking in the mountainous region.
Back to Bariloche, Argentina
For the return, we took a detour on a bone jarring dirt road to Villa Traful, a tiny settlement on the shore of Lake Traful, another gorgeous lake. It was a relief to reach the paved Highway 237. Around the junction of the two highways were amazing hoo doos and rock formations, which added yet another dimension to the dramatic views.
Lodging
In Bariloche, we stayed at Cacique Inacayal (Booking.com), a lovely property on the shore of Nahuel Huapi Lake. The best parts of our stay were the amazing lake views from our room, the huge, heated indoor pool that looked out on the lake, and their restaurant, which served an excellent buffet and dinner from a menu.
In Villa la Angostura, we stayed at Casa del Lago (Booking.com), a comfortable, rustic bed and breakfast a short distance from downtown but far enough to feel like we were in a neighborhood with hiking trails nearby.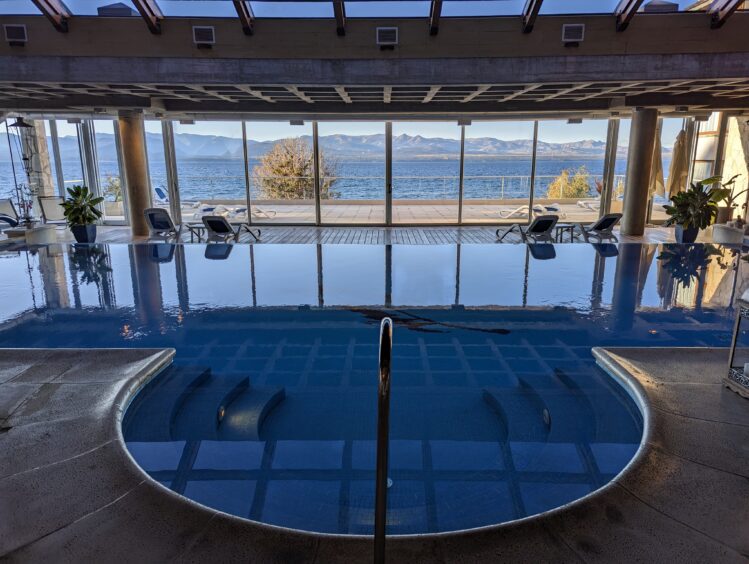 Transportation
We flew Aerolineas Argentina because the schedules fit our needs, but other airlines are available for some routes. I used Google Flights and Sky Skanner for the initial search, and then purchased tickets directly from the airline.
Argentina, like many other South American countries, uses a spoke model where most flights originate from Buenos Aires, as opposed to a point-to-point model. This meant that we had some long layovers in Buenos Aires when we wanted to fly from place to place. We wanted to fly Buenos Aires-Santiago-Bariloche, but instead had to fly in and out of Buenos Aires. To complicate things, there are two airports in Buenos Aires, Aeroparque Jorge Newbery Airport (AEP) and Ezeiza International Airport (EZE), and we kept ending up on flights that landed in one airport and departed from the other.
For our road trip, we rented a car through Hertz, which had a kiosk at the Bariloche airport.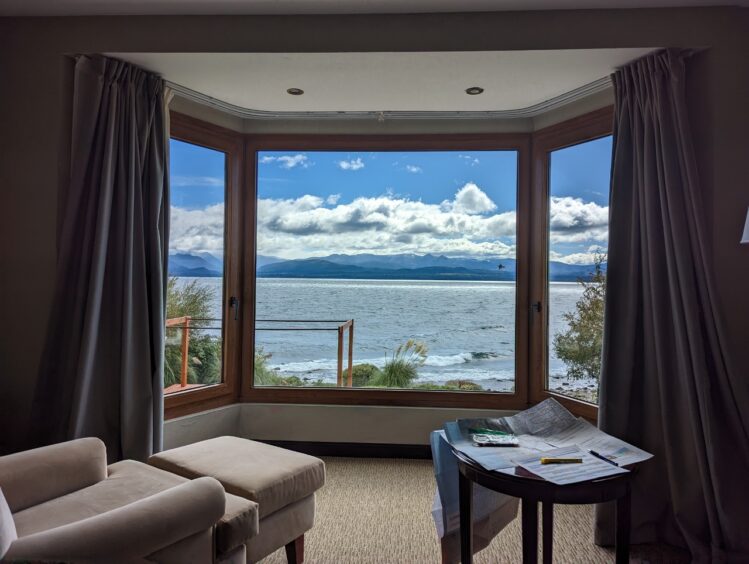 GaiaGPS
This was the first international trip where I tested GaiaGPS, not just for hiking, but for general navigation. Google Maps worked well when we had cell service, but I neglected to download local maps in advance. I found GaiaGPS incredibly helpful on our road trip when we didn't have cell service. Because it uses satellite navigation, I always knew where we were and what was coming up next. It also picked up any hiking trail we were on, including Cerro Belvedere.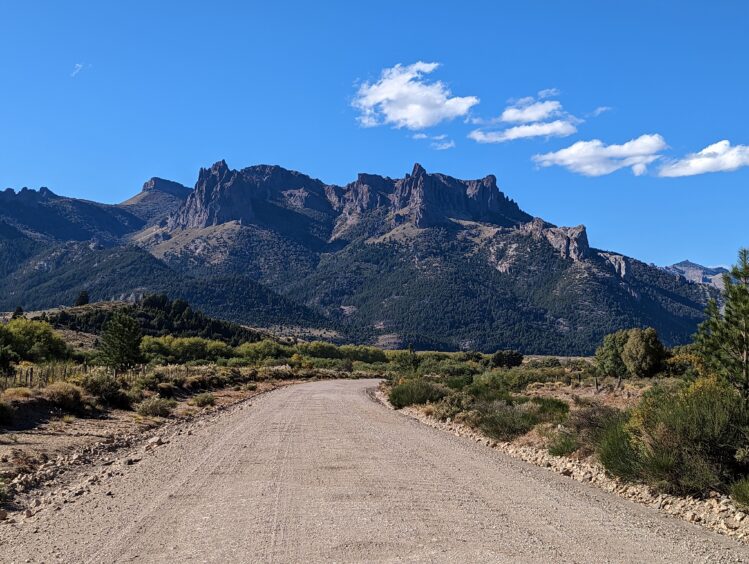 Bariloche was one of my favorite places to visit in Argentina, and a week exploring the Lakes District of Northern Patagonia was barely enough. We got a good introduction to the beauty of the region and the bounty of trails, and I'd love to return to hike and ski more.