Iguazu Falls, the largest waterfall system in the world, are nothing short of spectacular. It's a place that, no matter how many photos or videos you see, is stunning in person when you can hear the roar and experience the mist on your face. If you're in Argentina or Brazil, don't miss Iguazu Falls, even if you've seen other falls—there's no comparison. It's easy to understand why it's ranked number one on the Seven Wonders of Nature list.
I visited Iguazu Falls for three days in March with my husband and two friends. The falls almost defy description, so I've included many photos.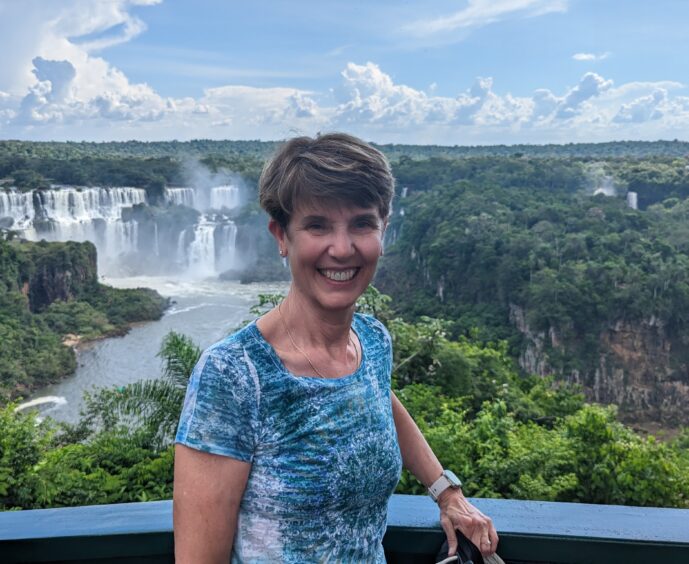 About Iguazu
What makes the falls so unique is the enormous width and the staircase nature of the falls created by different layers of basalt. Two steps are each over 100 feet in height. Islands divide the falls into numerous falls and cataracts, a type of waterfall with a large, single vertical drop. Note that "waterfall" in Spanish and Portuguese is catarata, a word you will hear over and over.
The falls are on the Iguazu River, which mostly flows through Brazil. Below the confluence of Iguazu and San Antonio Rivers, the river separates Argentina and Brazil. There's a small section below the falls where the river separates three countries: Argentina, Brazil, and Paraguay.
Iguazu is part of the subtropical Atlantic rainforest and has a warm, humid climate. More than 2,000 plant species and many animals are supported, including the broad-snouted Caiman, Giant Anteater, Harpy Eagle, Ocelot and the Jaguar.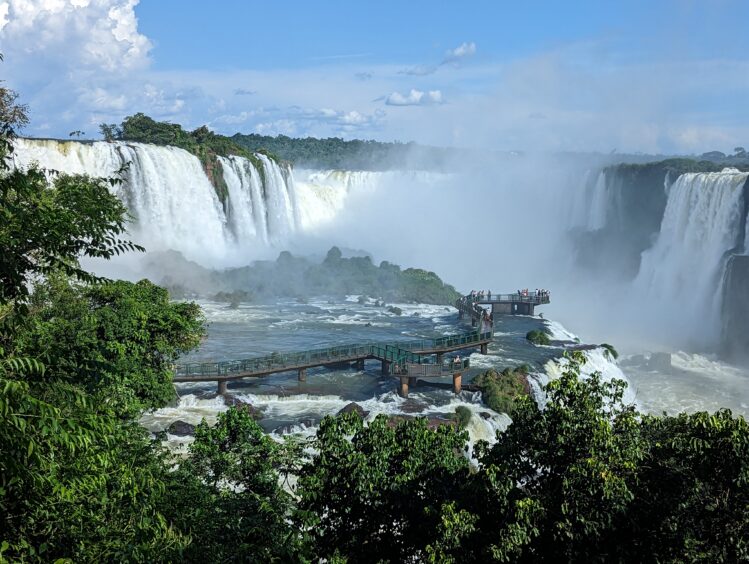 Day 1: Brazil side
There is much debate on whether visitors should see both sides and which to see first. I recommend seeing both sides as you get a very different perspective seeing them from some distance vs close-up. We were staying on the Brazil side because one of our friends was attending a conference there. We had the first afternoon free, so we opted to see the Brazil side first for convenience. A half-day is enough time for this side. It's quite dramatic to walk along the river on the bank opposite the falls. The one-mile paved walkway (two miles out and back) offers numerous viewpoints as it slopes downward. At the end of the walkway, it's incredible to feel the downdraft and mist that saturated our hair and clothing. It was a warm day, so it felt refreshing to get a light shower.
It takes about an hour to walk the circuit but could be longer depending on how many photos you take (lots) and how long you linger. There's a short bus ride between the entrance kiosk at Iguacu National Park where you can purchase tickets and the start of the path.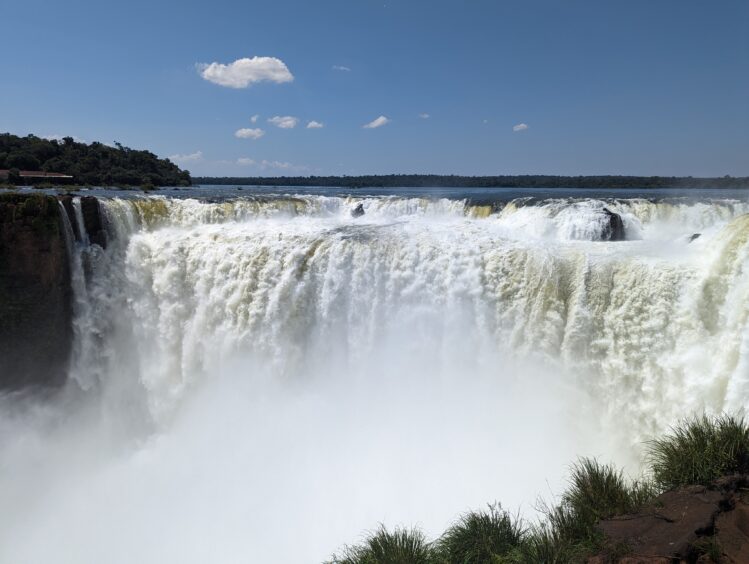 Day 2: Argentina side
On our second day (first full day), we hired a driver to take us to Iguazu National Park on the Argentina side (see Border Crossing below). He got out of the car at the entrance to the park, showed us the map, and pointed out our options. We were able to get on the train to Garganta Station within a half hour and visited the striking Devil's Throat area, where we felt like we were practically inside the powerful falls with the roar of the water in our ears. After that, we walked the Superior (Upper) Circuit. It was very hot, so we skipped the Inferior (Lower) Circuit.
There are plenty of refreshment stops, benches, and shops selling curios. The grounds are pleasant and well-maintained.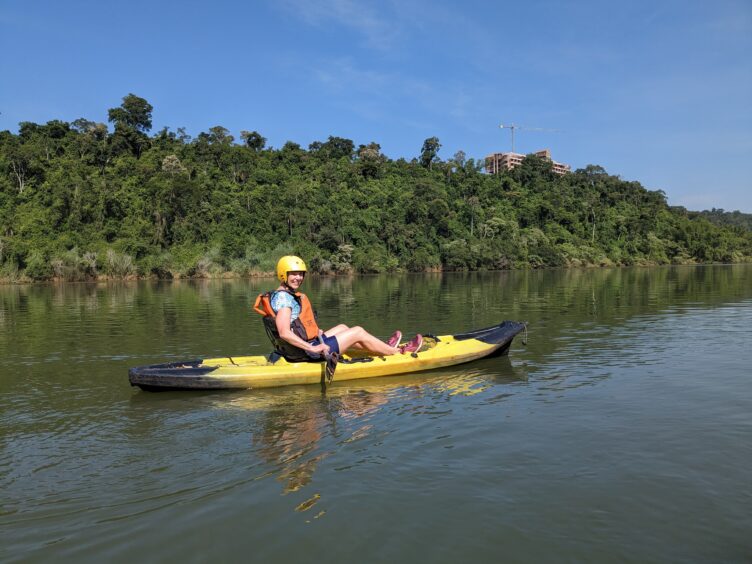 Day 3: Aguaray Eco Sport Tour
On our third day, I was thrilled to find Aguaray Eco Sport. It is located on a delightful private preserve a short distance outside of Foz do Iguazu. A guide led us through the jungle on a one-hour hike, pointing out special plants and monkeys high above in the trees. We hiked down to the water's edge where colorful kayaks and two water guides were waiting. We enjoyed kayaking on the calm, wide Iguazu River, well below the roiling falls. After paddling into a small side channel, we passed a couple of local fishermen before we reached a small waterfall. Unlike the massive Iguazu Falls, these waterfalls were fun to play in and it was easy to walk around in water shoes. We spent a pleasant hour frolicking in the falls and enjoying the peaceful environment, so different from the developed tourist areas. I highly recommend this activity.
If we had had more time, I would have gone to the Parque de Aves bird sanctuary, and the tour to the Itaipu Hydroelectric Dam (2nd largest in the world).
Border crossing
Since we flew in and out of Cataratas del Iguazu International Airport in Puerto Iguazu, Argentina from Buenos Aires but stayed on the Brazil side, we did the border crossing several times. We considered taking the bus but decided to arrange a transfer service through Iguazu Falls Travel, which made things very easy. A driver picked us up at the airport and dropped us at the border. Another driver met us as we came out of Immigration to take us to our hotel. The two drivers were communicating by phone and each personally accompanied us to and from the immigration office so the handover was seamless.
The day we went to the Argentina side from our hotel in Brazil, we hired a taxi driver who spoke English. He accompanied us to Immigration and drove across the border. Details below.
Transportation
We flew Aerolineas Argentina from Buenos Aires Jorge Newbery Airport (AEP) to Cataratas del Iguazu International Airport (IGR), Puerto Iguazu, Argentina. Our pilot put on quite a show, slowing down over the falls and banking from one side to the other so we could see the falls better. I can't guarantee that will happen but get a window seat if you can. It didn't matter which side. Popular times get booked up so get your flights well in advance of your visit for the best selection.
From cities in Bazil, take a flight to Foz do Iguacu airport (IGU) on the Brazil side of the falls. Drive time between the two Iguazu airports is about an hour, with the border crossing in the middle.
For ground transportation, we arranged a transfer service from Iguazu Falls Travel to pick us up at the Cataratas del Iguazu International Airport in Argentina and take us to our hotel in Brazil. The process is described above in "Border Crossing."
For our day at the Argentina side of the falls, we hired an English-speaking taxi driver, Giovanni, who provided excellent service. He was very helpful at the park entrance and returned to pick us up at an agreed-upon time. We also used him to take us to dinner in town and the Aguaray Eco Sport Tour. He was available by cell phone through WhatApp (55-45-9114-7404).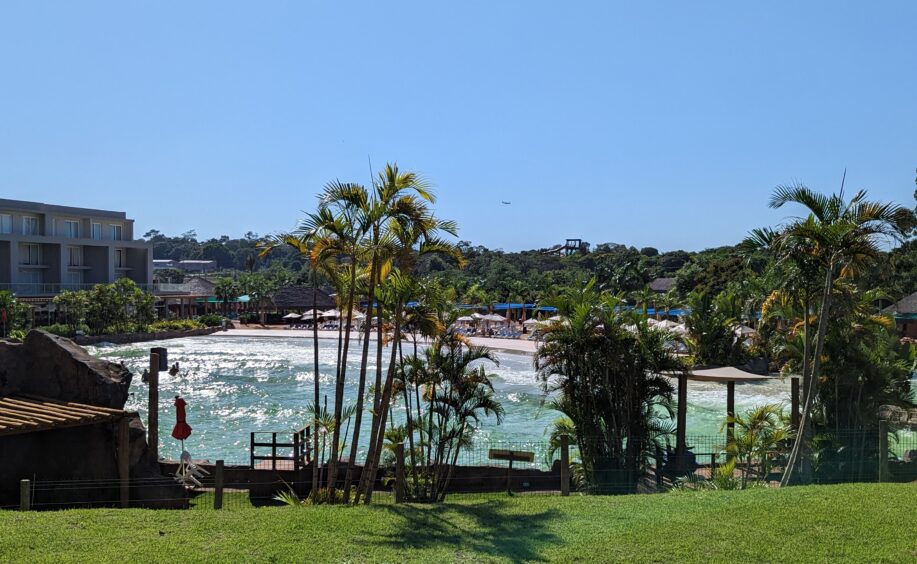 Lodging
We stayed at the Mabu Thermas Grand Resort in Foz do Iguacu, Brazil for two nights because this was where our friends were based. We could only reserve two nights because of a conference. It's a large resort with multiple pools adjacent to a water park that is on the property but managed separately. Mabu Thermas a great place for kids and the pools are nice. It's an older resort, Wi-Fi was very spotty, showers ran hot and cold, and the hotel staff didn't speak English or Spanish for the most part (not that we expected that; it was just an observation). I relied on Google Translate, one of my ten essential travel apps, to communicate in Portuguese.
Our next place was Hotel Viale Cataratas, which was more of a business hotel. Wi-Fi was strong, everything was relatively new, and everyone spoke English. The small pool was relaxing and the breakfast buffet served a wide variety of food from eggs to pastries.
Our two hotels were one kilometer apart and both were convenient places to stay, being about 30 minutes to the falls, 15 minutes to the border crossing and 10 minutes to the town of Foz do Iguacu. Other hotels that were familiar to me were the Doubletree (between the two hotels) and Ibis (in town). Across the street from Mabu Thermas and close to Hotel Viale was Shopping Catuaí Palladium, a large mall with a food court, ATMs (caixas electronicos in Portugal), and money exchange, which was useful.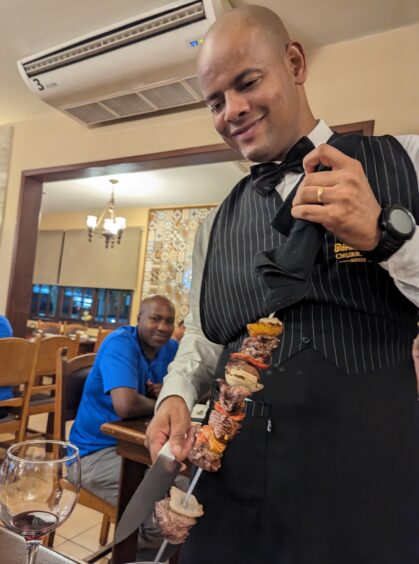 Restaurants
We enjoyed the experience of Bufalo Branco in the town of Foz do Iguacu. It's churrascaria where the grilled meat is presented on a long skewer like a sword. The tender meat was beautifully seasoned and marinated and delicious—there were all kinds of beef cuts, pork, lamb, chicken, and grilled pineapple. The servers came around every minute or so until we were stuffed. Many flavorful side dishes were available at the buffet.
Our friends stayed a day longer and recommended Confins, saying it was the best meal of the week.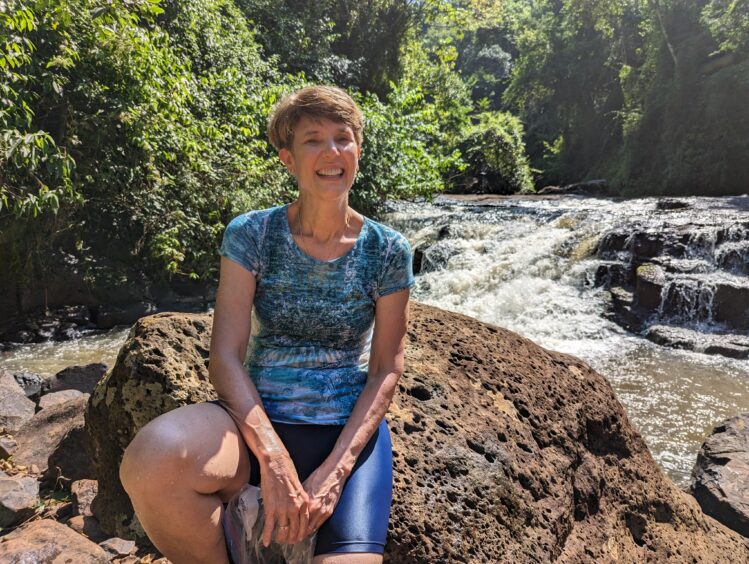 Iguazu Falls
I highly recommend a visit to Iguazu Falls in Argentina or Brazil. It was one of my favorite stops in Argentina and is a unique natural wonder. If you only have one day, that's okay, but two days is better and three is ideal if you want to explore the area more. Iguazu Falls are spectacular.