Peru has an abundance of cultural riches, starting with the crown jewel of the Inca empire, Machu Picchu. Add Cusco, the historic capital of the Incas, the blue waters of Lake Titicaca, the highest navigable body in the world, and the vast Amazon jungle and it's no wonder that Peru's treasures of the forgotten north are hidden in plain sight.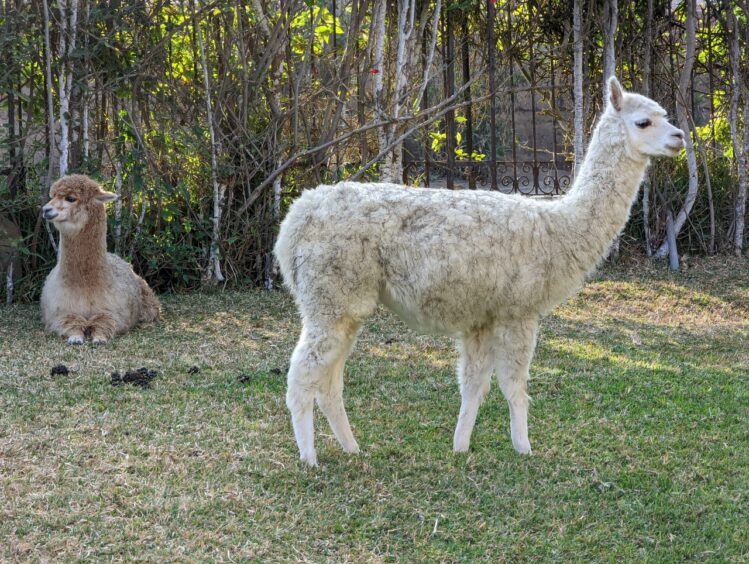 There is a vast section of Peru stretching from the capital city, Lima, to the Ecuador border that is virtually unknown to many tourists who fly into Lima and head straight to the well-known attractions in the south. Peru's forgotten north extends over 750 miles from Lima, which is about the length of California. If you like history, archeology, hiking or surfing, the immense area north of Lima has much to offer.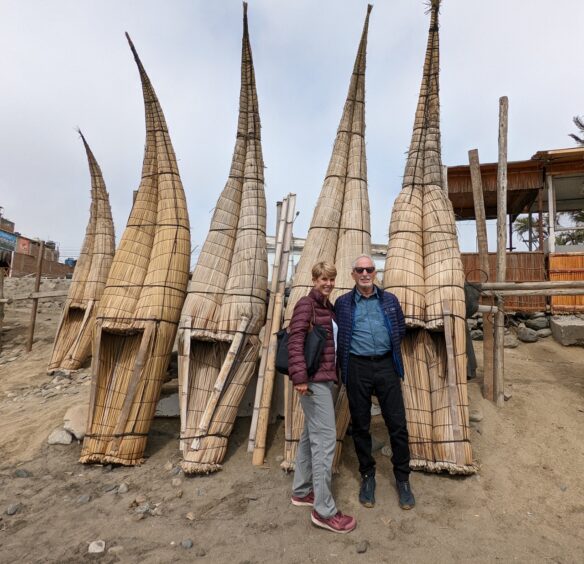 Deserts and Mountains
Coastal Peru, which is connected by the sinewy thread of the Pan-American Highway, has several important archeological sites, as well as surfing and golden beaches. Head east and it doesn't take long to ascend the leading spine of the Andes, one of the parallel north-south ranges that alternates with high plateaus. The first spine shoots up to dizzying heights, giving rise to the many glaciers that feed the rivers nourishing the Sechura and Coastal deserts. To understand this unique environment, it's instructive to traverse the desert, get into the highlands and see how life-giving waterways connects the two.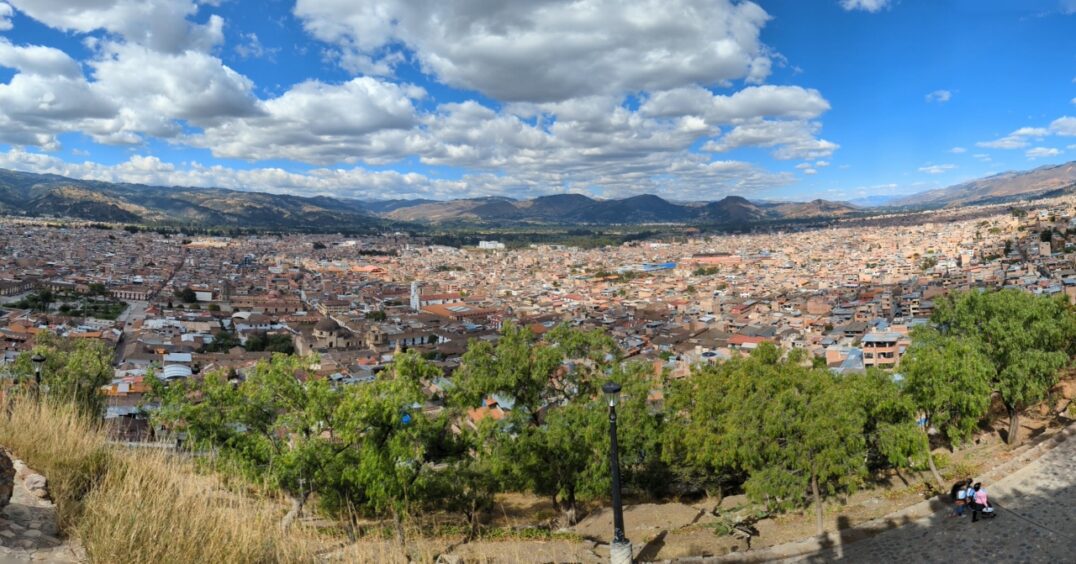 The environment of the coastal desert of Peru is austere, to be sure. But buried beneath the sand, clumps of beach grasses and scrubby carob tree forests is a vast underground world inhabited by ghosts of the past. Long before the Spanish conquistadors, and even before the Inca warriors were early inhabitants who learned to exploit the bounty of an arid desert bounded by the rich Pacific Ocean on one side, the towering Andes with rivers flowing into the sea on the other and a persistent, seasonal fog that provides a miserly, cooling mist several months a year. With an ample food source, a steady, if sometimes turbo-charged water source powered by El Nino currents, clay and minerals, civilizations flowered and thrived.
Early Peruvians
The earliest Peruvians likely separated from North America's Native Americans and kept walking south, with some settling in Central America and others populating South America. In Peru, the earliest people settled on the coast over 11,000 years ago, extending to the nearby mountains. The archeological sites around Caral, Trujillo, Chiclayo and other locations provide a window into some of the early cultures through their elaborate burial practices and artifacts, including pottery and metals, they left with their dead. It is here that clues about early life in the desert and mountains can be interpreted.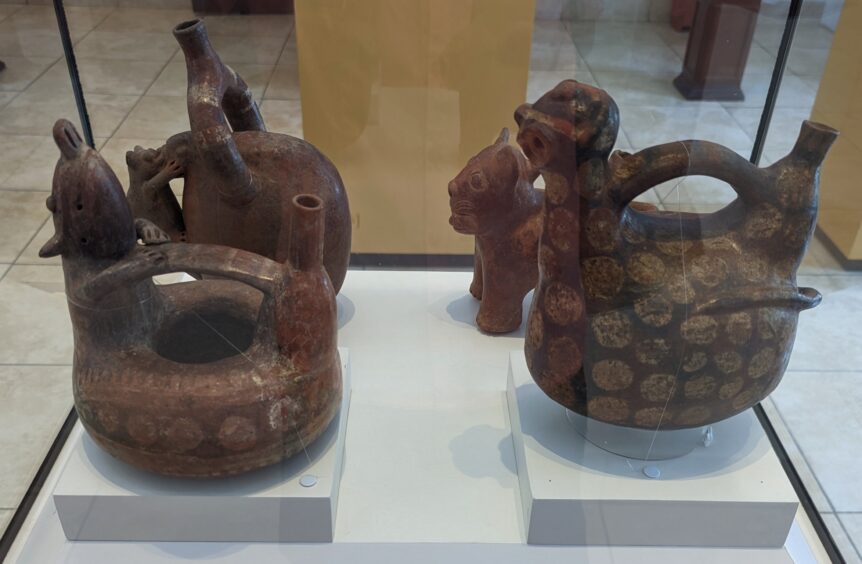 Peru is considered one of the seven cradles of civilization, where societies were formed independently of each other to create social class structure, government, architecture, and public works in a sedentary agrarian setting.
Transportation Options
To get a taste of Northern Peru, fly or drive north from Lima. Each of the towns listed below has an airport, but all flights originate from Lima in a spoke-and-wheel format; there are no point-to-point flights between towns that don't include Lima. Airlines include LATAM, Sky Airline and JetSmart, among others. LATAM, headquartered in Chile, is the largest airline in Latin America, but we've flown all three and they were each timely, efficient and flew large, modern planes.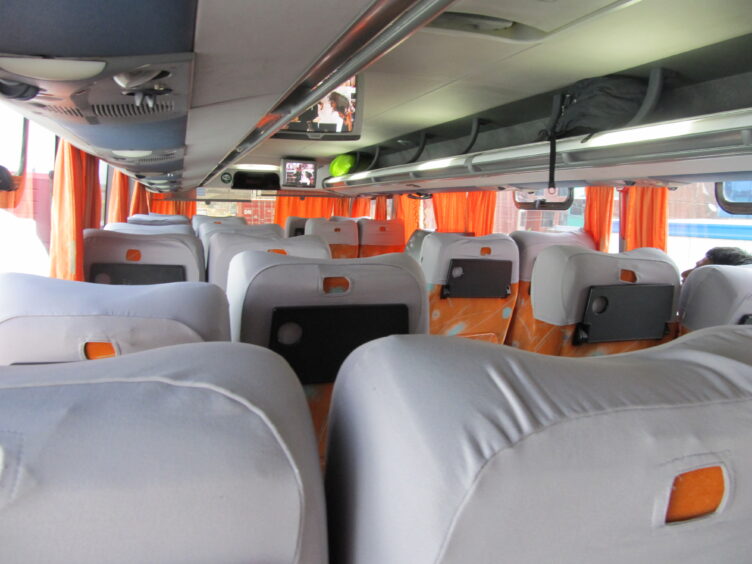 My husband and I have explored the desert and the mountains on two separate trips and still have more to discover. By taking a zigzag course, it is possible to tack between desert towns and mountain towns. On one trip, we took an eight-hour bus ride from Lima to Huaraz, but on another, we elected to fly from Lima to Trujillo because of the distance.
My connection to Peru goes way back as I enjoyed the unique experience of living in Piura for two years when I was a child, when my father was employed on an engineering project. For one trip as an adult, I was on a quest to re-familiarize myself with my childhood home, and in the process, discovered even more of what northern Peru offers.
Huaraz
Huaraz is the climbing and trekking capital of Peru with stunning backpacking routes through turquoise lakes, snowfields, and glaciers. Outfitters who can rent equipment and guide you are easy to find in the blocks around the Plaza de Armas. There are plenty of gorgeous day hikes and climbing opportunities as well. The two main areas are Cordillera Blanca and Huayhuash.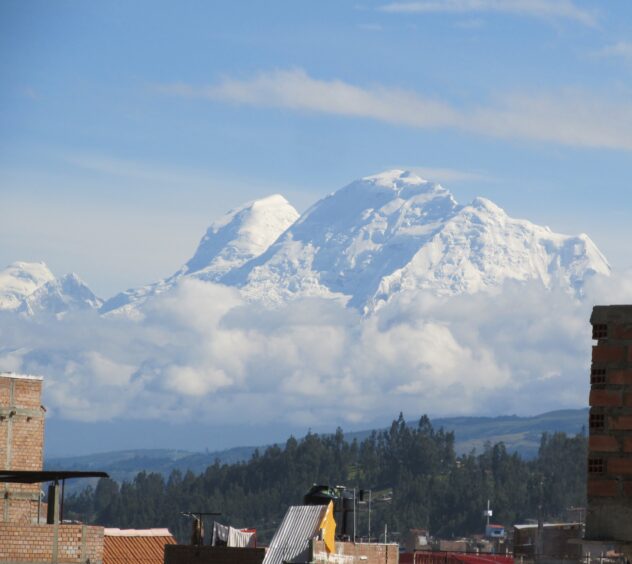 The town of Huaraz sits at a breathtaking 10,000 feet, so if you come straight from Lima, allow some time to acclimate to the altitude before pursuing vigorous activity. Mount Huascaran is 22,202 feet, with many lesser peaks surrounding it in the Huascaran National Park. "Touching the Void" is a gripping account of an expedition gone bad in this area and is a classic of the genre, available in book and film.
See the first of six articles on hiking in the Cordillera Blanca:
"Planning an independent backpacking trip on the Santa Cruz Trail, Peru"
To reach Huaraz, fly direct from Lima, take a bus or drive. The Pan-American Highway hugs the coast for much of the journey before a lateral highway bends to the east and immediately starts climbing. Our luxury bus featured uniformed attendants with hot meal service and a bathroom on the bus.
Trujillo
Trujillo holds two archeological treasures close by. Huacas de Moche and Chan Chan are must-do activities for anyone interested in archeology.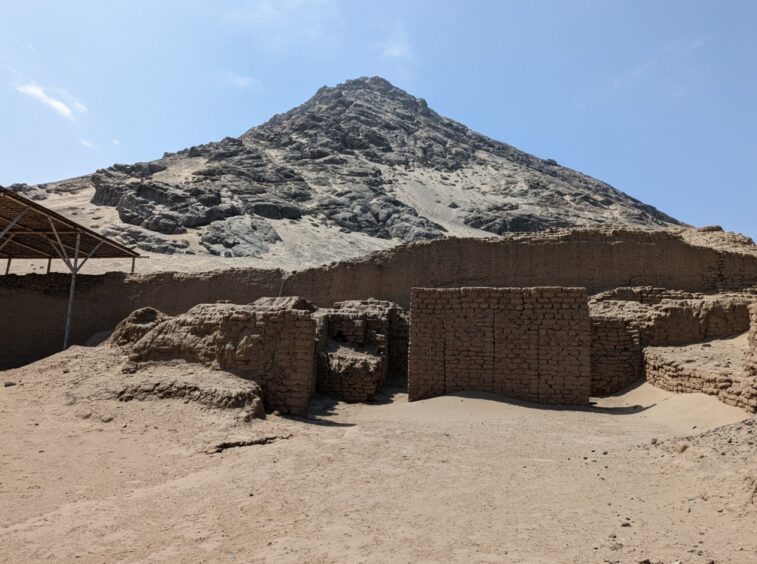 The Huacas de Moche site is comprised of the Temple of the Sun and the Temple of the Moon. A small, modern museum at the Temple of the Moon provides a good introduction to the Moche culture, which flourished between the first and eighth centuries AD. Walking around the covered dig sites made me feel like I was on an Indiana Jones film set. The dun-colored, carefully excavated and brushed sites, which plunge many feet deeper than the looters could reach, are remarkable for their size, quality and symbolism of the religious and ceremonial functions of this area.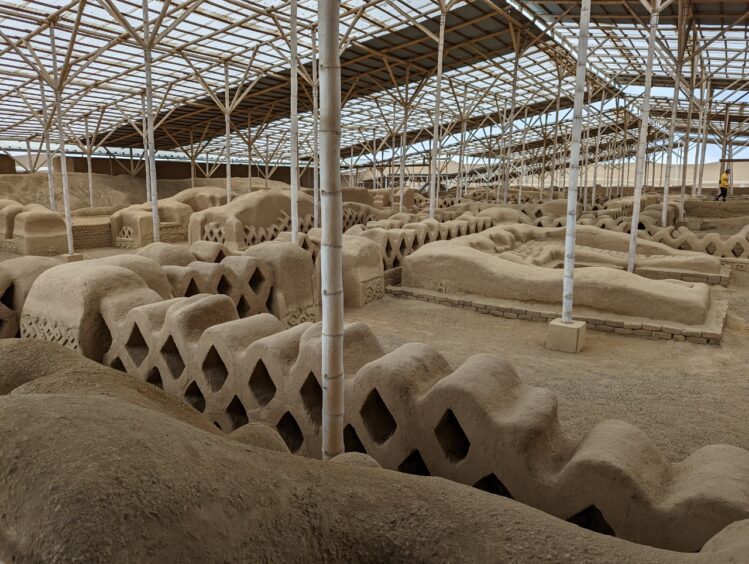 Chan Chan is different because it is a vast Chimu city, the largest pre-Columbian city in America. The edge of the six-square kilometer excavated city abuts the sands of the Pacific Ocean. Visitors can walk its neat, geometric streets and see the nine separate palace complexes. As large as it is, it's only a portion of the sprawling city that extends into Trujillo proper and probably supports modern houses built atop it.
I highly recommend hiring a local guide to get the most out of the archeological sites. Guides should be engaged in advance. I used Carmen Rosa of Tours by Locals and she was excellent.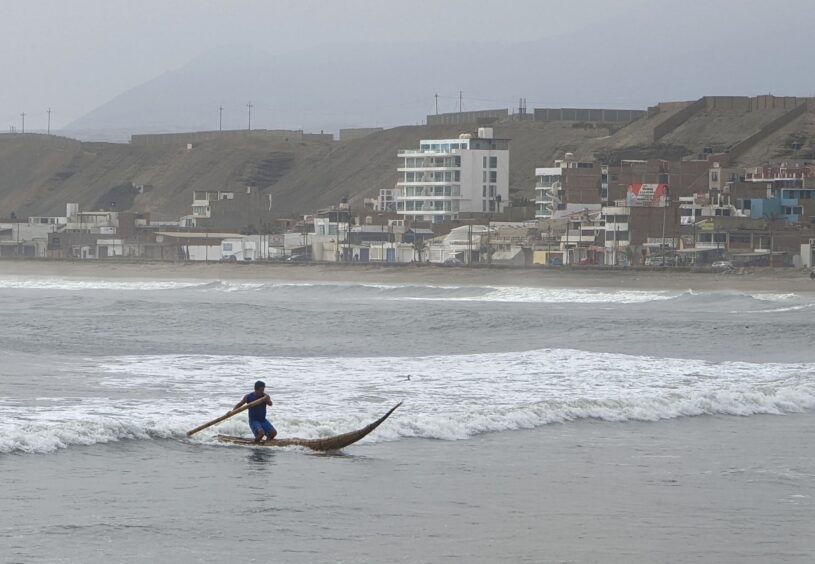 Huanchaco, a beach town near Trujillo, has a more relaxed, laid-back vibe than Trujillo and the beaches attract surfers to its consistent, clean surf year-round. Local residents demonstrate impressive skills using handmade reed boats in the surf. The ceviche, made from fish locally caught, is some of the best I've ever tasted, with entire menu pages describing different variations based on the type of fish and marinade.
To reach Trujillo, take a direct flight from Lima or travel by bus or car. We took the one-hour flight from Lima on Sky Airlines.
Chiclayo
It disappointed me to have to miss Chiclayo, 130 miles north of Trujillo, because of illness, so I can only tell you about what you should see rather than what I saw. Moche royals lived near Chiclayo and their riches can be viewed at several sites in the area, including Huaca Rajada-Sipan and the Tumbas Reales de Sipan Museum. Guides can be arranged through Tours by Locals.
Cajamarca
Cajamarca is well known in Inca lore as the site where Atahualpa, the last Inca, was lured into a trap and killed by the Spanish conquistador, Francisco Pizzaro. It's a delightful high elevation town at 9,000 feet, with a charming Plaza de Armas filled with elderly Cajamarcans strolling and socializing in the morning, school children and their mothers in the afternoons and families in the evenings and on weekends. There is a strong sense of community.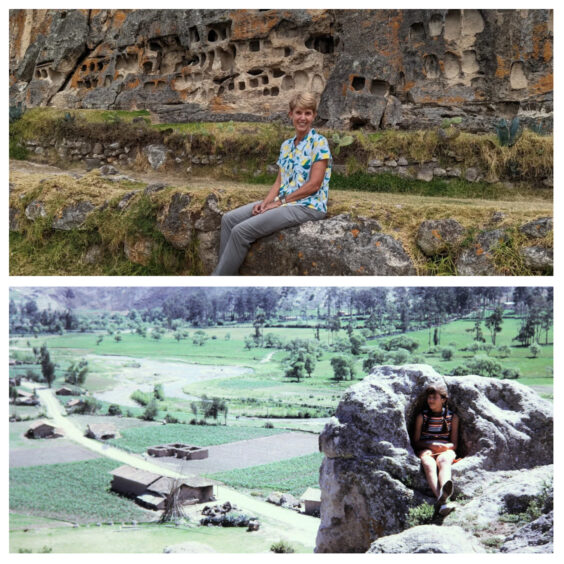 A short distance from town is Ventanillas de Otuzco, a fascinating archeological site featuring a set of shallow cliff caves where people were buried in ancient times. In the past, there were likely wooden doors, but now they are open. There is a path on the grassy hill that leads in front of and on top of the funereal sites. I didn't remember being in Cajamarca, but I later found a photo of me at the site when I was about nine years old.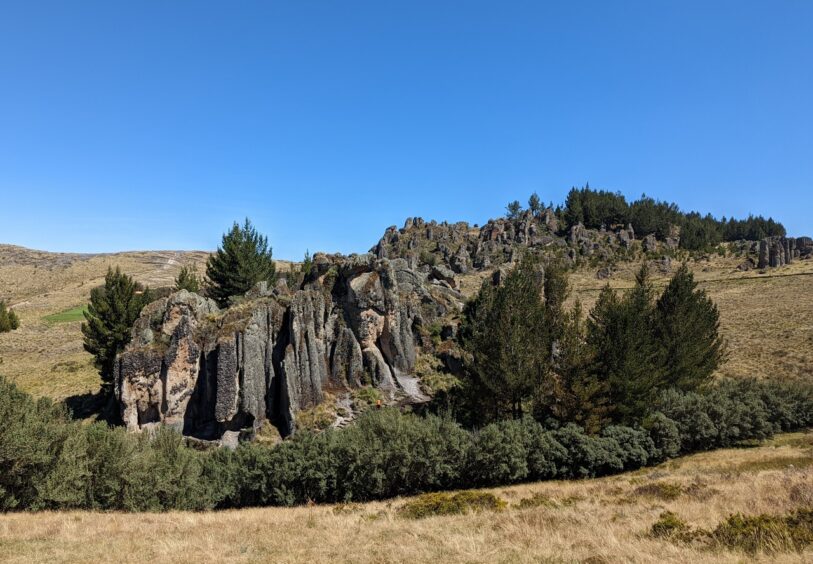 A day tour took us to Cumbemayo, another site higher in the mountains. Here we saw tall stone pillars with ancient petroglyphs and an elaborate system of irrigation canals built by the Incas. This tour involves some walking, and we were short of breath at around 12,000 feet of elevation. Day excursions can be arranged the day before at several tour operators lining the plaza in Cajamarca.
To reach Cajamarca, fly direct from Lima or travel by bus or car. We hired a private driver from Trujillo to Cajamarca one way and flew back to Lima. Our next trip will extend from Cajamarca to the town of Chachapoyas and Kuelap, another archeological site.
Piura
My journey to Peru began back in 1967, when I moved with my parents to Piura. Piura held sentimental value for me to visit, but for most people, this sprawling city is likely to be a pass-through destination. The Plaza de Armas isn't as impressive as Cajamarca, the scrubby desert isn't as attractive as the mountains, it's an hour's drive from the ocean and there aren't the large, well developed archeological sites of Trujillo and Chiclayo. However, we enjoyed two museums near the Plaza de Armas, the ornate Basilica Cathedral at the Plaza de Armas, and enjoyed some excellent seafood and ceviche. If you're flying into Piura on your way to the beaches at Colan or Mancora, it's worth a short visit.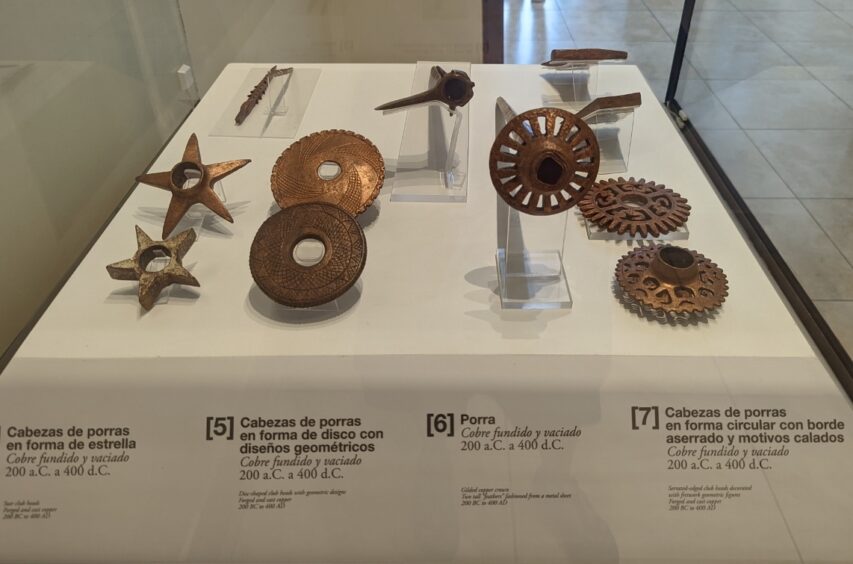 Archeological Museum: The Archeological Museum at the Central Reserve Bank (Banco Central de Reserva del Peru) is next to the Basilica Cathedral and across the street from the pleasant, tree-shaded Plaza de Armas. It was unusual to find a museum of such quality in a bank, but the pottery (huacos) and metal pieces from the Vicus culture were tastefully displayed in well-lit cases with interpretive signs. There were many interesting examples of pottery shaped like locally grown fruits and vegetables, with some featuring whistles. Some signs were in English, and we used the camera function in Google Translate to translate the rest.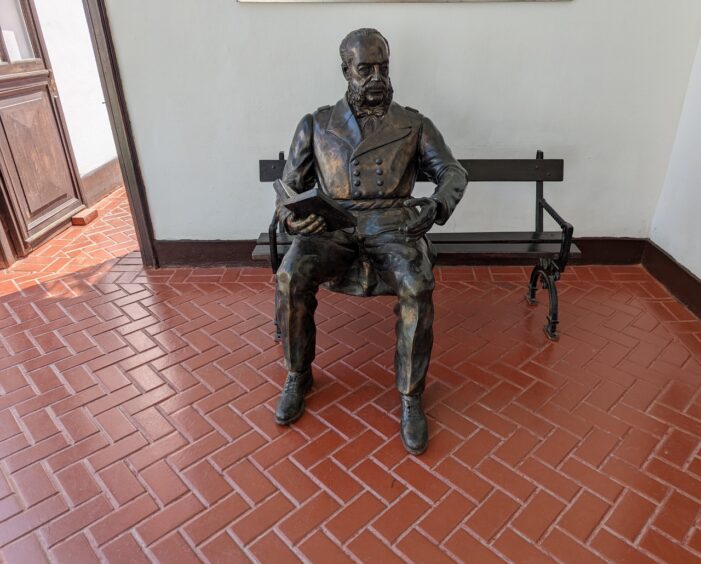 Grau Museum: The Grau Museum (Casa Museo Almirante Miguel Grau) honors Miguel Grau, a naval hero who was born in nearby Paita. The museum, which is a house he lived in, is located a short distance from the plaza. The Spanish language displays (here again we used Google Translate on our phones) describe the life of a naval hero who was known to be kind and chivalrous to defeated enemies. His name is everywhere in Peru, and he is esteemed by Peruvians and Chileans. It was interesting to learn the history of the War of the Pacific and a large statue of Grau can be seen at the intersection of Grau Avenue and Loreto Avenue in Piura.
To reach Piura, fly direct from Lima or travel by bus or car from other northern Peru destinations.
Mancora Beach
After two weeks of actively moving from place to place, I chose Mancora Beach for our last stop. It was the perfect place to recharge and rejuvenate and we splurged on the luxurious Arennas Mancora. There might have been things to see and do in Mancora, but I couldn't tell you what because we were seduced by the property and never left in the three days we were there. There were inviting infinity pools, lush green lawns, a long, wide sweep of sandy beach fringed with coconut palms, and whales breaching offshore. The full-service restaurant served perfectly prepared fish, grilled meats, pizza, pasta and local delicacies. Surf and paddle boards were available, and I spotted some rusty bikes.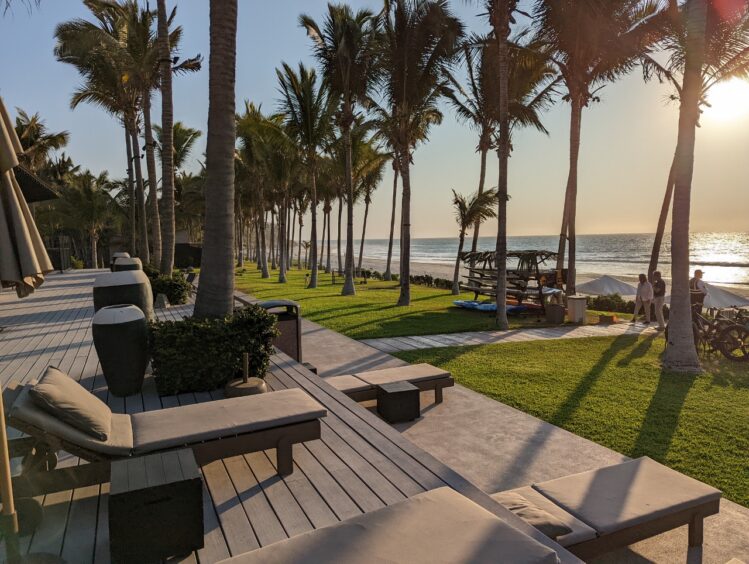 To reach Mancora Beach, fly into Talara, Tumbes or Piura and take a bus or hire a private car for the rest of the distance. Hotels in Mancora Beach may be able to send a driver if arranged in advance, as ours did.
Lodging
We mostly stayed in Costa del Sol properties as they were reasonably priced four-star hotels that were usually located near tourist attractions. In Piura, we stayed at Casa Andina, another hotel chain with many locations in Peru.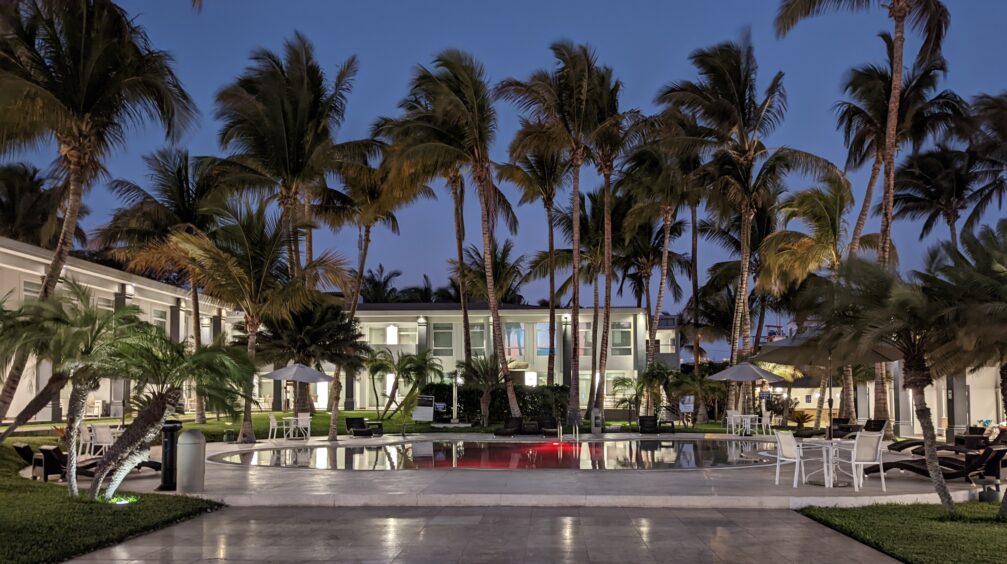 Summary
For the tourist who has the time, exploring Peru's northern territory is a rewarding experience that offers exciting insights into the early, pre-Columbian history of the civilization in Trujillo and Chiclayo. For hikers and trekkers, Huaraz is the gateway to a stunning alpine playground. Surfers and beach lovers have much to explore along the Northern coast. Peru's treasures of the forgotten north are hidden in plain sight for the traveler who wants to get off the beaten track.