The idea of being able to stay in a kasbah (castle) in the High Atlas Mountains in Morocco was a temptation I couldn't resist. I booked a stay at the Kasbah du Toubkal under the shadow of Mt. Toubkal in Imlil before I even knew how or when we would get there. I thought that if I booked it, we'd find a way. Somehow, it all worked out during my five week trip through Spain, Portugal and Morocco with my husband.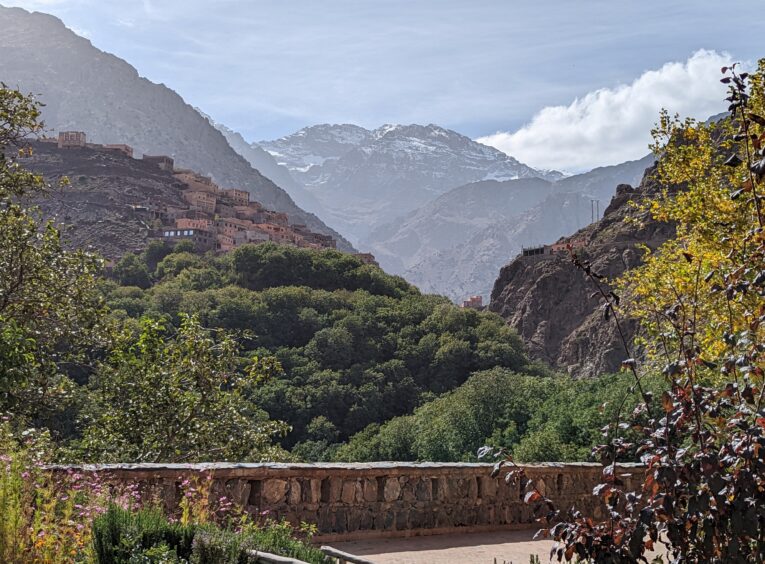 As our driver wound up the narrow, paved road from Marrakech, we found ourselves in a magical alpine environment that felt oddly disorienting, like we had landed in Tibet. The square, flat-topped adobe houses stacked like Lego blocks clinging to the steep, terraced mountainside gave us a déjà vu feeling. This turned out to be based on Seven Years in Tibet and Kundun, two movies about the Dalai Lama in Tibet that were filmed in the area. Kundun also included scenes filmed at the Kasbah du Toubkal.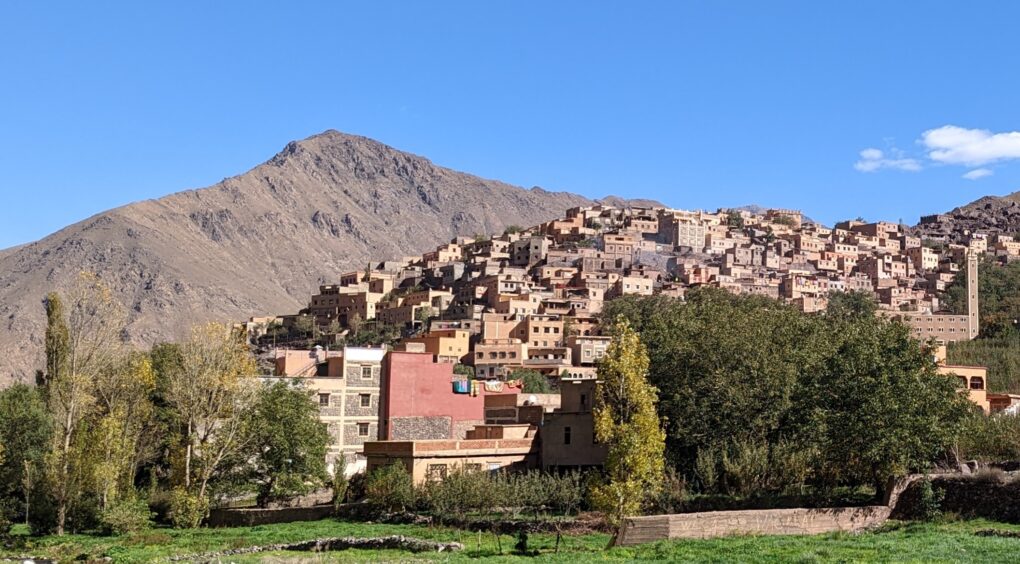 Imlil
At 5,900 feet, the fresh, clean air in the High Atlas Mountains is remarkably refreshing while Marrakech shimmers with heat below. Apple and cherry orchards perfumed the air. It was harvest time in October, and walnut orchards dotted the hillsides between traditional Berber villages. Imlil is a newer village that sprang up to service the needs of tourists who come to take advantage of trekking, climbing and mountaineering activities in the High Atlas Mountains. The trekking crown is 13,665-foot Mt. Toubkal. The mountain rises over Imlil and the Mizane Valley below, sending water coursing from its flanks each spring. This water fills the Rehraya River that courses through central Imlil, ultimately watering the Haouz plain below in Central Morocco.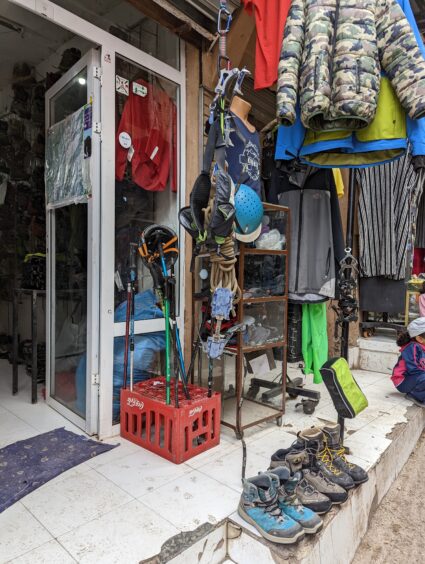 The tiny village of Imlil sports many cafes and shops that sell or rent trekking, climbing and mountaineering supplies. There is lodging in Imlil and the five surrounding communities. Many footpaths lead to Mt Toubkal and other destinations in the High Atlas Mountains.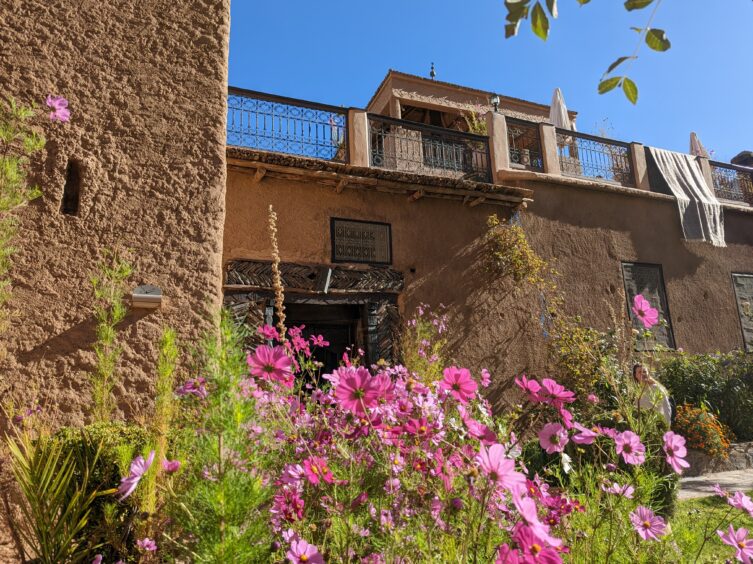 Kasbah du Toubkal
The Kasbah du Toubkal was described as a Berber Hospitality Center rather than a hotel. This was intriguing, and the history was somewhat convoluted. Basically, a crumbling kasbah of a feudal tribal chief captivated the interest of a British adventurer, Mike McHugo, in 1972 when he was the guest of Hajj Maurice, a local guide and community leader. Eventually, Mike and his brother, Chris, bought the property. They worked with Hajj Maurice, who now runs the property, to rebuild the kasbah using traditional building techniques, village builders and local materials. Power tools couldn't be used as electricity didn't come to the area until 1997. Everything is still brought in on mules, including guests' luggage, as the compound is not served by a paved road, only a footpath.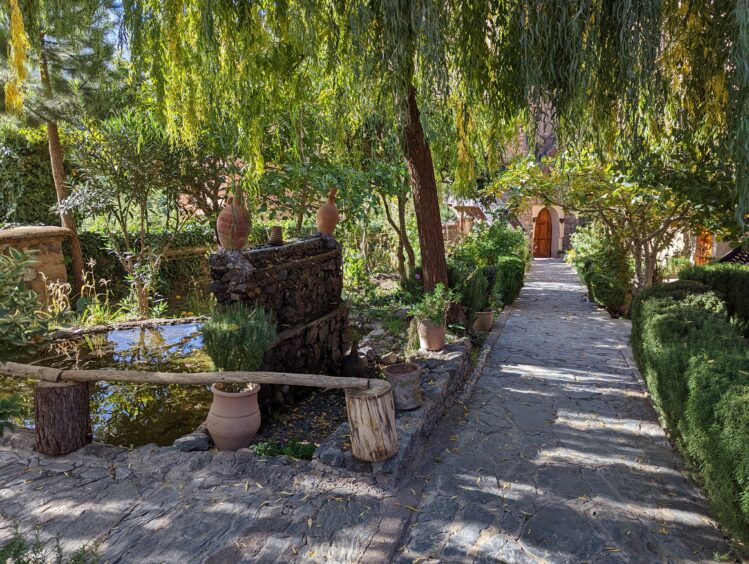 Today, the walled property holds a large, manicured garden surrounded by buildings with hotel rooms, along with a traditional hammam (steam bath). During the day, meals can be taken on the expansive sunny rooftop deck, while breakfast and dinner is served in a cozy dining room with low tables.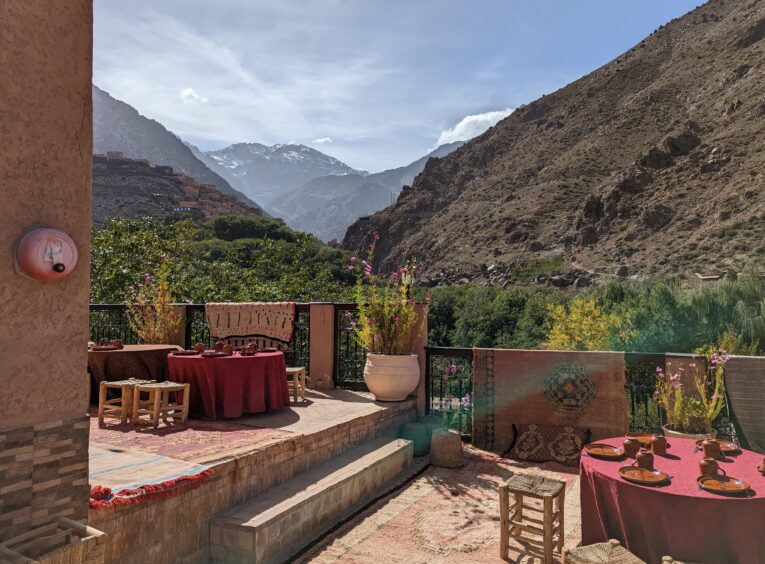 There are 12 hotel rooms with ensuite bathrooms and a three-bedroom family house that can be reserved ahead of time (reserve early as they book up). There are three separate low-cost Berber Salons that function as dormitories with 7-12 beds. The small conference room and hammam can be reserved, the hammam in 30-minute blocks.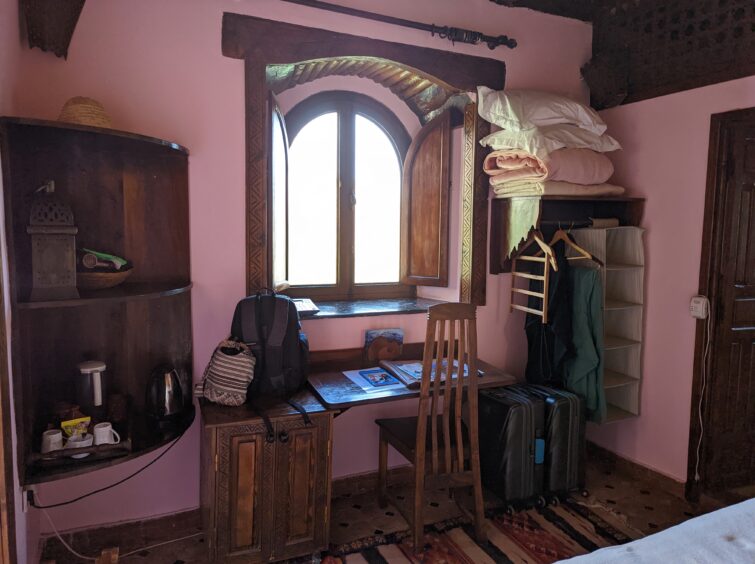 Our  room was rustic yet comfortable, with overlapping Berber hand-woven carpets in multiple designs, intricate carved woodwork, and paneled ceilings. It took a few minutes to take in all the contrasting colors and intricate patterns.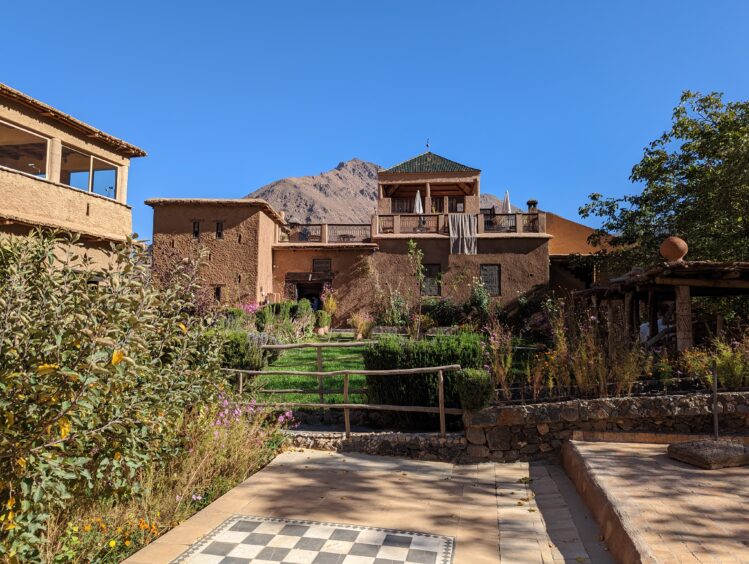 Community Support
Mike McHugo was instrumental in setting up the Imlil Village Association and 5% of lodging fees from the kasbah fund the organization. They develop projects that support the local Berber villages, including garbage pickup, an ambulance, a public hammam and a school.
Mike founded "Education for All" which has led an initiative to build dormitory buildings to house girls from the outer fringes of the community so they can attend school. So far, they have built five boarding houses.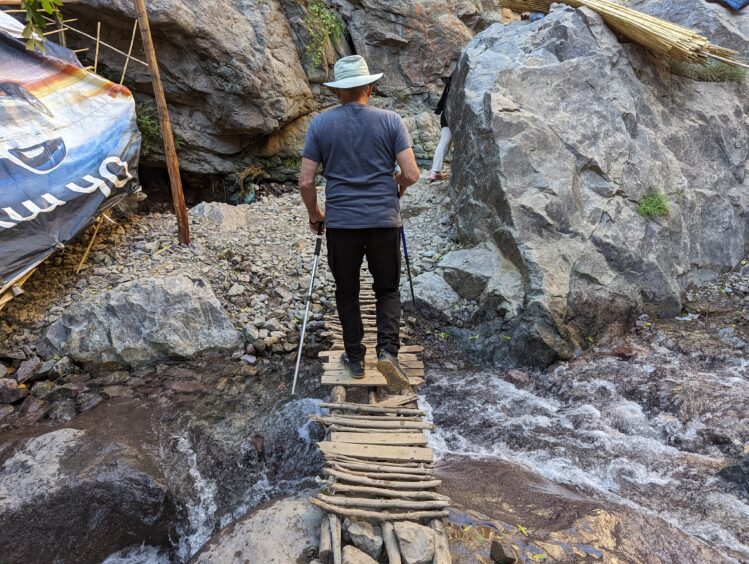 Trekking
Trekking is a popular activity in the High Atlas Mountains of Morocco. Day and overnight hikes can be arranged at many shops and lodging establishments, including the Kasbah du Toubkal. A popular trek to the top of Mt. Toubkal (Jebel Toubkal), which tops out at 13,671 feet (4167 meters), may be done in two days or more. Spring and Fall are the best times for trekking, when it's not too hot in the valley (summer) or snowy (winter). A guide is required to enter the Toubkal National Park and climb Mt. Toubkal but there are other hikes where a guide is optional, some lasting up to eight days.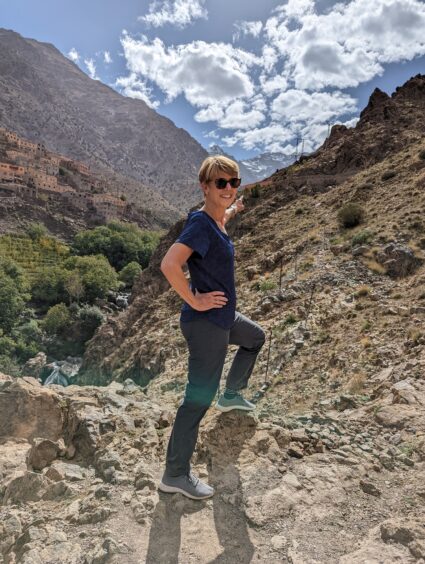 The Kasbah du Toubkal has recently built a Trekking Lodge to  facilitate overnight treks in the area. Arrangements may be made at the hotel for a guide and provisions.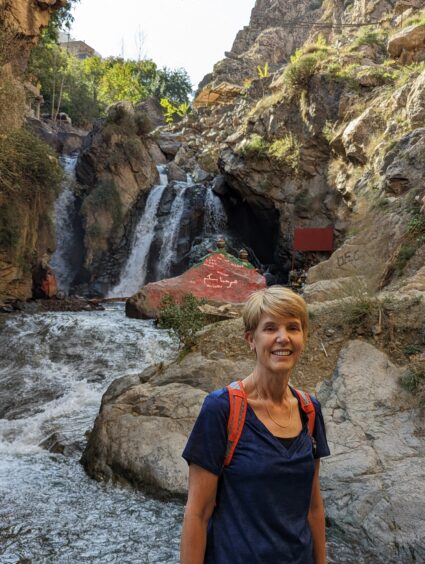 From the Kasbah, we took a short walk that led us to the entrance to the Toubkal National Park. A permit is required to pass beyond this point and gathered outside the kiosk were several guides who could be hired on the spot in the morning, or arrangements could be made to hike on a different day.
Carpets in the High Atlas Mountains in Morocco
Why is there a carpet section in an article about trekking? Because it's Morocco. Somehow, we set out to do a long walk and ended up buying a carpet when we returned via the paved road above Imlil. Mohammed flashed us a wide smile as he hung his carpets outside of his small shop, Cooperative Adrar, and reeled us in with a line that has been used millions of times since commerce began. "Hello, please step in, you're the first person to see my rugs today, very good luck to be the first person, no pressure."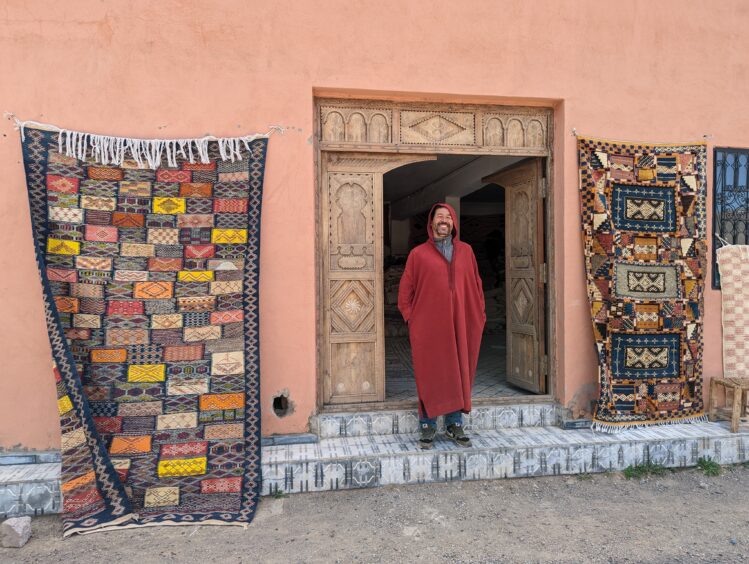 Brilliant sunshine streamed into his empty showroom, and we couldn't resist. The rugs were gorgeous, prices were quoted, negotiations ensued, and the credit card was out. Best of all, the price included DHL shipping and the rug arrived at our doorstep in California before we made it home. Photos were taken to post on their Instagram site and Mohammed kept me updated on WhatsApp with tracking numbers. Everyone was happy.
Our visit to Imlil and the High Atlas Mountains was too short but turned out to be a highlight of our visit to Morocco. I hope to return someday to take advantage of the access to nature and network of trails and Berber hospitality at the Kasbah du Toubkal, under the shadow of Mt Toubkal, Morocco.