Dreaming of tapas, flamenco, fado and castles, my husband and I broke our pandemic travel fast with a road trip to Spain and Portugal. Everyone I know seems to have been to Portugal, is there now or is planning a trip soon, so I wanted to see what all the fuss was about. Spain is too big to bite off all at once, so we limited ourselves to one region and focused more on Portugal for this two week road trip through Portugal and Spain. The best flights were through Madrid, so that helped us frame our trip.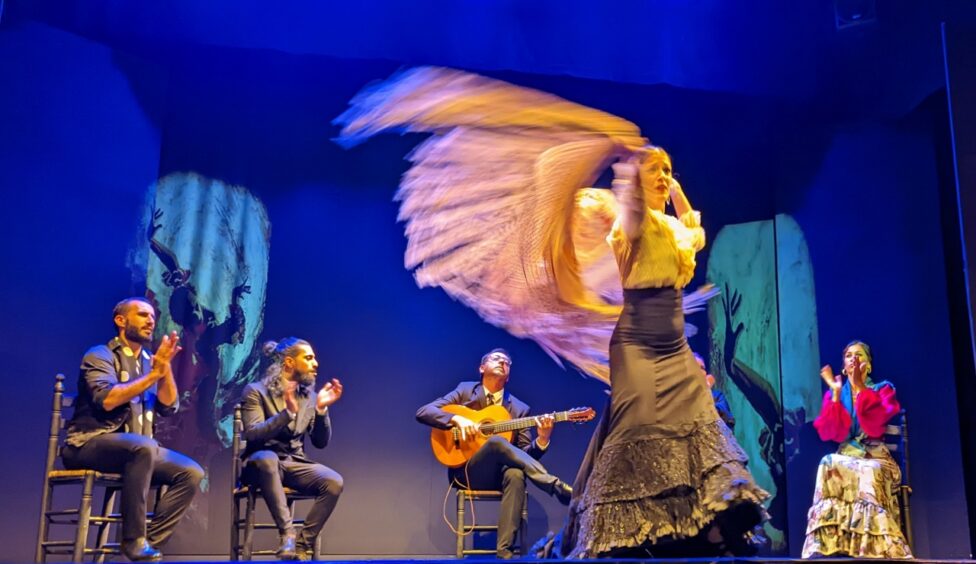 After ordering a full-size Michelin road map of the region, I procured some Lonely Planet and other guidebooks for Spain and Portugal, and we plotted a route. From Madrid, it made the most sense to head east toward Porto, passing through the famed Douro Valley wine region, then drop down the coast to Lisbon, stopping at castles along the way. To make a loop, we then headed east to Seville, stopping in Evora to see some of the most unique sights of the trip. We elected to drop the car in Seville as we were continuing to Morocco, but it would have been easy to drive back to Madrid or take a train to complete the loop.
Our road trip was 19 days but the following itinerary could be compressed into two weeks or stretched into three full weeks.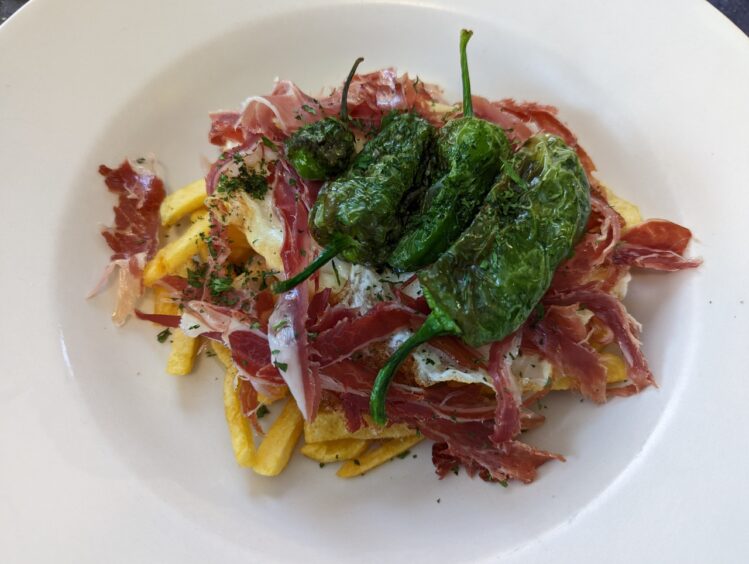 Itinerary for Road Trip
Madrid: Three nights was perfect to allow time to recover from jet lag and see the Royal Palace, Prado National Art Museum, a flamenco performance at Teatro Flamenco and eat our fill of Iberian ham and a multiplicity of tapas, but two nights would work for some.
Salamanca: We planned one night to break up the drive to the Douro Valley, but I enjoyed the Plaza Mayor, University of Salamanca and the Tormes River so much that I could have stayed two nights.
Douro Valley: Two nights was adequate for this strikingly beautiful wine region dotted with charming stone cottages and the shining, blue waters of the Douro River. Three nights would have allowed us to visit the Arouka Suspension Bridge and hike the Paiva Walkway, which takes some advance planning.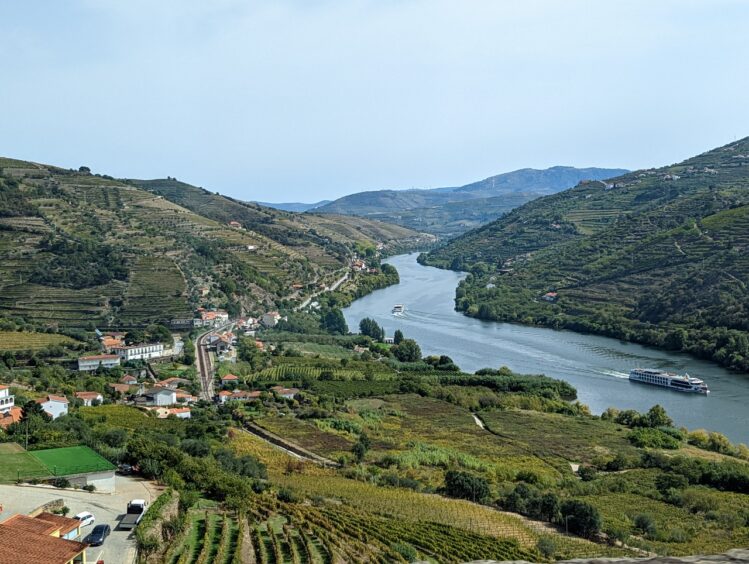 Porto: Two nights was enough for us for this lovely but extremely overburdened port city that is bursting at the seams with tourists. There's a lot to see around the church and bridge over the Douro River and I was charmed by the Livaria Lello Bookstore but be sure to get tickets in advance for just about everything.
Coimbra: One night worked well for us to tour the historic old town with a Voice Map audio walking tour, visit the famous Biblioteca Joanina Library at the end of the walking tour and see a Fado show at Fado au Centro.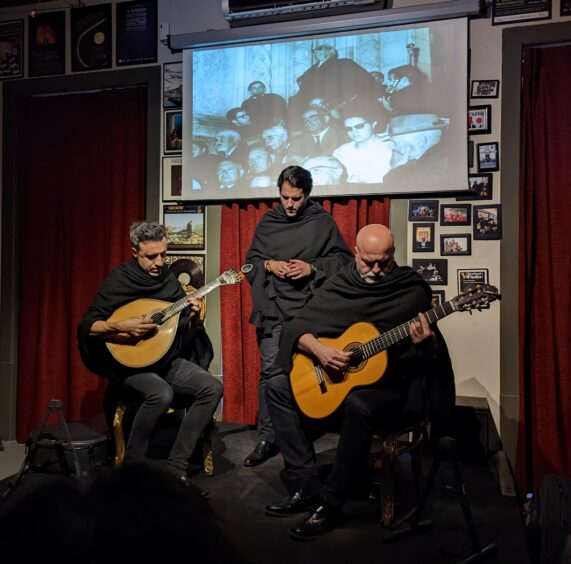 Obidos: One night sufficed, though it was a full day driving from Coimbra with a lengthy stop in Tomar to visit the Castle of the Knights Templar and aqueduct and have lunch. We still had time in the late afternoon to see the castle in Obidos.
Lisbon: Four nights gave us plenty of time to take a breather from driving, do laundry, plan the rest of the trip, and see the city. On the drive from Obidos, we detoured to Cape Roca (Cabo de Roca), the westernmost spot in continental Europe. We spent one day visiting Cascais in the morning and Sintra in the afternoon, with a visit to Pena Palace. Two or three nights would work, too.
Evora: One night allowed us to see the unique sights in this laid-back town, including the Chapel of Bones, one of the most unusual churches you'll ever see, and two of the megalith sites surrounded by cork oak trees. We did some wine tasting in town, but two nights would have afforded the opportunity to visit more of the megalith sites on the circuit, visit a winery and learn more about harvesting cork.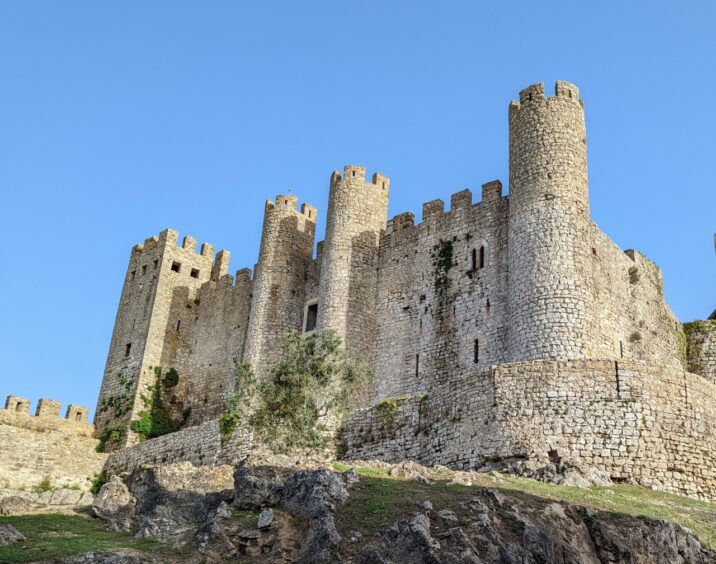 Seville: Three nights were planned to give us some downtime, but two nights would be adequate time to see the Royal Alcazar Palace (get tickets in advance), see a flamenco performance at La Casa del Flamenco, explore the old town, and stroll in the nearby parks. We elected to turn in our car to the Hertz office at the Seville train station and took a taxi to our hotel.
Madrid: No nights or one night. To complete the loop, drive back to Madrid (5.5 hours) or take a train (2.5 hours).
Our itinerary through Spain and Portugal added up to 19 nights. You could add two nights to a location of your choice, perhaps in the Algarve region, for a full three weeks or reduce a few nights where suggested and squeeze it into 14 days.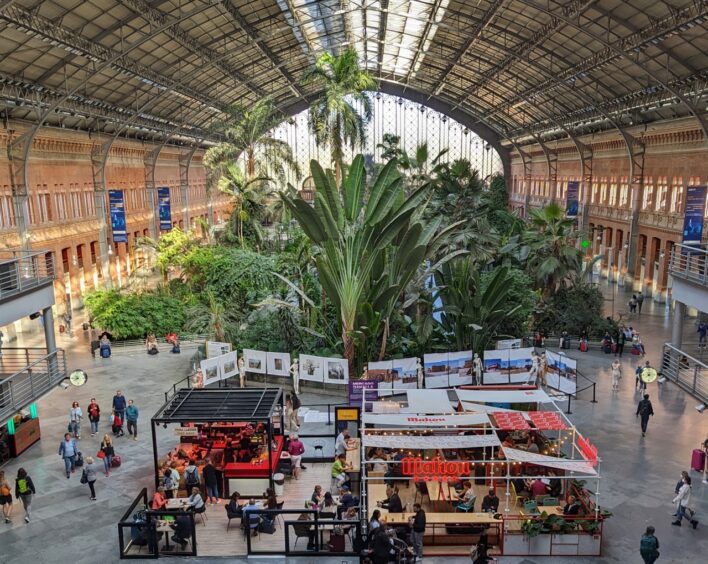 Car Rental
We rented from Hertz as I've been in their loyalty club for decades and they have reliable cars and service. We rented a 4-door sedan and picked it up at the train station in Madrid. From the main entrance to the train station, it's a short walk to the car rental area.
Navigation
We used Google Maps to navigate. It worked perfectly for most locations. Occasionally, in historic core areas where the streets are extremely narrow, there were some mix-ups, as the satellite had trouble distinguishing between two or three streets that originated in the same place. Patience and good humor were required to disentangle from these situations. It's best to park the car immediately in the larger towns and walk. Driving on the highways was easy and the roads were in good condition.
I used the desktop version of Google Maps to estimate drive times when planning. I wanted to enjoy the journey and see a bit of the places in between major destinations, so I tried to limit drive-time for four hours or fewer in a day. This allowed time to see a couple of highlights, even if we were just passing through and staying one night.
We carried a paper map as well, which we used extensively for planning, but primarily used Google Maps on our phones when driving. To keep our phone powered, we brought an Anker 10,000 power bank. Our rental car only had USB C ports on the car end and our cords only had USB C connectors on one end and USB A on the other. We stopped at an electronics store and purchased a cord with USB C connectors on both ends so we could charge the phone directly from the car.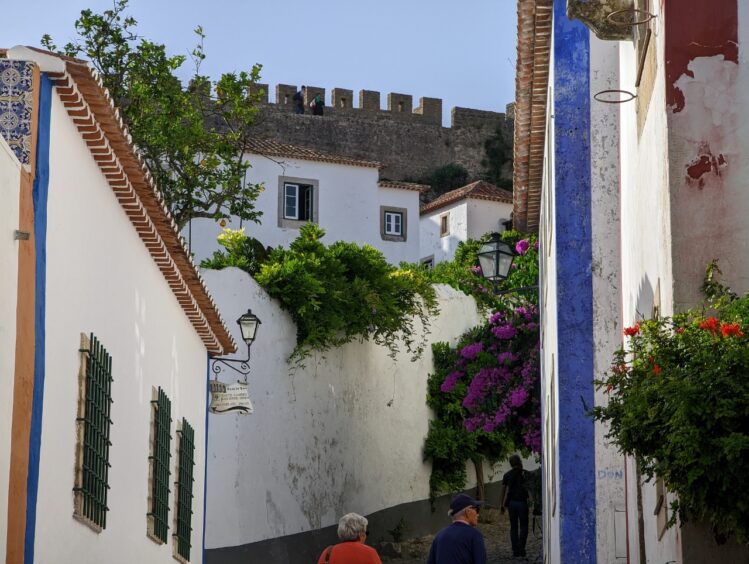 Toll roads
In Portugal, tolls can be paid as you're passing through toll gates using a credit card or sometimes, cash. Payment can be made at post offices for highway tolls. Just roll up to the machine and use your credit card. There were no human toll takers that we observed. Just make sure you don't get in the lanes for Via Verde automated toll readers.
Via Verde, the automated toll system, may be available on your rental car and may make things easier–ask about it when you pick up your car. The toll will be read automatically and charged to your credit card, separate from your car rental charges. Visitors can also apply for a Via Verde transponder and set up the payments on their website. If you have Via Verde, look for the signs, which are usually located in the left lanes at the toll gates.
Via Verde can be used on some Spanish toll roads as well. A list of Spanish roads is provided on the Via Verde FAQ page.
Lodging
We stayed in several Ibis Hotels, which feature very comfortable beds, a good breakfast (for a fee), small, clean rooms and generally convenient locations. They are relatively inexpensive and met our needs for brief, overnight stays. For longer visits, we found lodging through Agoda.com or Booking.com, reserving rooms 2-3 days in advance to allow maximum flexibility. The best was a quaint stone cottage called Quinta de Marnotos in the Douro Valley. In Seville, we stayed in the Hotel Alcantera within the stone walls of the old town, which was comfortable and convenient, if a little noisy due to the three flamenco performances per night. In Salamanca, I loved staying at the Hotel Catalonia close to the Plaza Mayor, where we ate dinner in the bustling square close to midnight.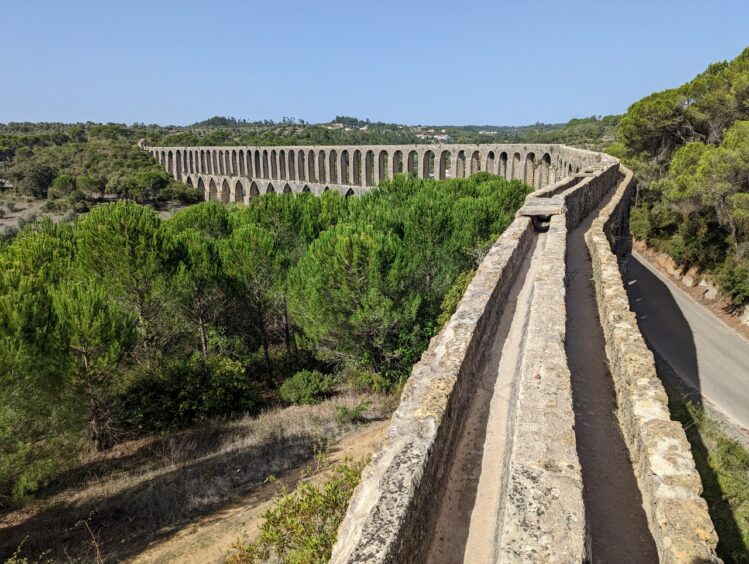 Suggestions for Longer Trips
We chose to travel for two more weeks in Morocco. From Seville, we took a bus to Algeciras, spent a day in Gibraltar, then took a ferry from Algeciras to Tanger Med. A taxi transported us from Tanger Med to Tangier and from there, we took trains to Fez and Marrakech.
For those wanting to explore more of Spain, a route along the Mediterranean coast would be appealing, passing through such places as Granada, Valencia, and Barcelona. You could even consider a visit to Ibiza or Mallorca by ferry along the way. Nothern Spain also offers many beautiful signs in San Sebastian and Bilbao
We enjoyed our road trip through Portugal and Spain, set a comfortable pace so we didn't feel like we spent excessive time driving and experienced many of the highlights of these two scenic and hospitable countries.