Backpacking the Grand Canyon of the Tuolumne route in Yosemite National Park turned out to be harder to accomplish than I expected because of repeated fires interrupting my plans. In the four years that it took to hike the 30-mile trail, I might have held ten permits, repeatedly changing them in the hopes that smoke would clear, only to give up and try again the following year. Finally, this year, I lucked out. Mostly. Timing is tricky for this trail due to its structure and location. Go too early and torrential runoff from winter snows can create treacherous conditions deep in the canyon where streams rush across the trail to pour into the Tuolumne River. Go too late and water sources dry up. Go in the middle of summer and wildfires can flare up (which can happen any time). Finally, this year, everything aligned for backpacking the Grand Canyon of the Tuolumne.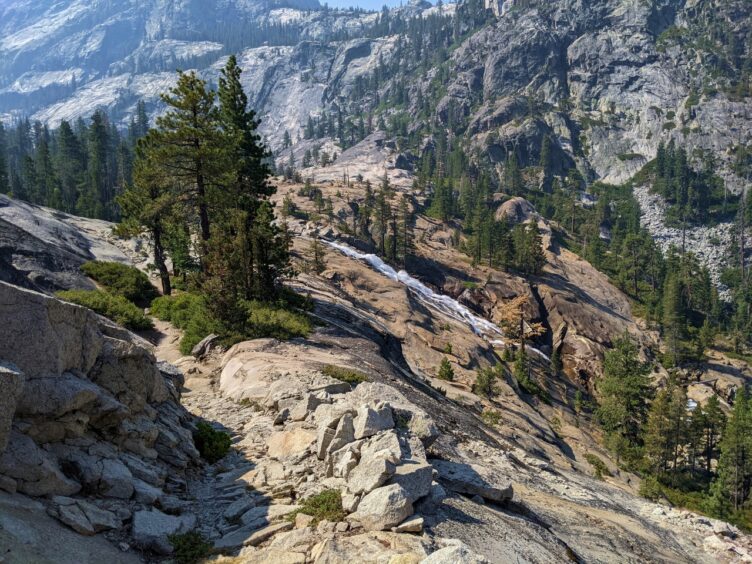 The Grand Canyon of the Tuolumne was carved into a deep V-shaped canyon by the Tuolumne River, followed by two major glaciations that cleared loose rock from the sides of the canyon and swept the remaining rubble away. It has taken millions of years to shape the topography. From the western edge of the canyon, views of the Hetch Hetchy reservoir that keeps San Francisco hydrated are visible, filled by the Tuolumne River. Aside from the descent/ascent from Tioga Road to the canyon floor, the trail generally follows the river, though sometimes it rises high above it and other times it is right next to it.
Logistics
I hiked the Grand Canyon of the Tuolumne with my husband, Steve, starting July 21. This being the fourth year of a drought, we might have had cooler weather if we had gone a few weeks earlier. It was warm but manageable.
I requested a permit at the earliest date, 168 days before our planned start, but didn't win the weekly lottery. I monitored the permit website at Recreation.gov and was able to get the permit I wanted within a couple of weeks due to cancellations.
See my article on how to get a Yosemite permit here (ignore the non-Yosemite sections).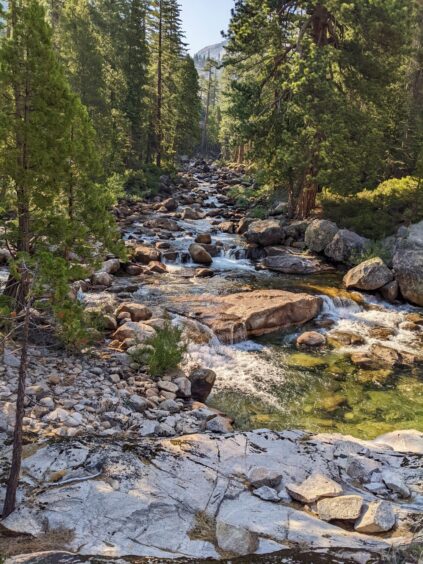 We started at White Wolf, and ended at the Glen Aulin trailhead in Tuolumne Meadows, but it is possible to do the hike in either direction. I chose a White Wolf start, as I thought it would be easier to get a permit compared to the popular Glen Aulin trailhead. Regardless of which direction you go, the trail starts high and drops down more than three thousand feet, requiring a climb at either end to exit. To me, it seemed like the 4,300 foot elevation gain up to Glen Aulin was more gradual than the steep, 3, 640-foot descent we had from White Wolf, but hikers debate the best direction endlessly.
There is a backpacker's camp at White Wolf but we elected to stay in at the Lake View Lodge in Lee Vining the night before our hike. We dropped the car at the Yosemite Wilderness Center in Tuolumne Meadows, where we picked up our permit and caught the YARTS bus at the Tuolumne Meadows Store to the White Wolf Trailhead. Our exit at the Glen Aulin Trailhead was about a mile from where we parked our car.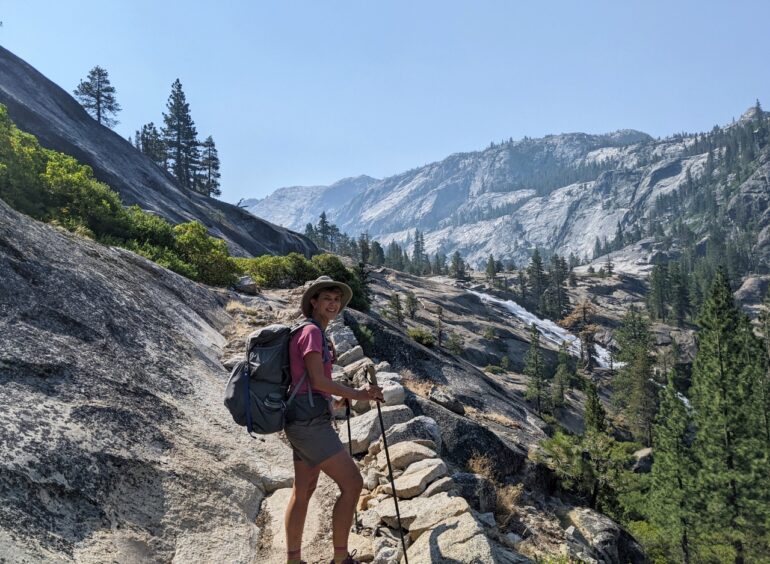 We planned a leisurely pace of five to seven miles per day over four nights, knowing we could always choose to hike more if desired. I scrutinized the Yosemite National Park: Your Complete Hiking Guide book for reliable water sources and campsites when planning, but found that both were more plentiful than I anticipated, which made things more flexible. However, that doesn't mean that water was always accessible, or that there weren't some sections where the trail was narrow with no possibility of pitching a tent over 100 feet from the trail or water to comply with Yosemite rules.
Backpacking the Grand Canyon of the Tuolumne
Day 1: White Wolf to Morrison Creek
We planned an easy day, knowing that we'd have an extra mile of walking to get from the Wilderness Center to the Tuolumne Store for the YARTS pickup and that by the time we'd start hiking it would be noon-ish. YARTS dropped us off at White Wolf and we hiked through pleasant forested terrain to Harden Lake for lunch. There was a lot of blow-down around Harden Lake and it didn't look that inviting, but once I got down to the shore of the lake, it was beautiful. After the lake, the descent started and the lower we got, the warmer it became. Morrison Creek, where several campsites are present, was completely dry. Not a drop of water. But walking a little further to where the trail crossed the creek, there was good water flow, thankfully. When we backtracked to find a campsite, we spotted some use trails and clambered up to find a lovely flat campsite and above that was a broad bench with fantastic views of Hetch Hetchy and Rancheria Mountain. We had done a trip to Rancheria Creek from Hetch Hetchy a couple of weeks earlier, and it was nice to look down at it and put the topography together in my mind.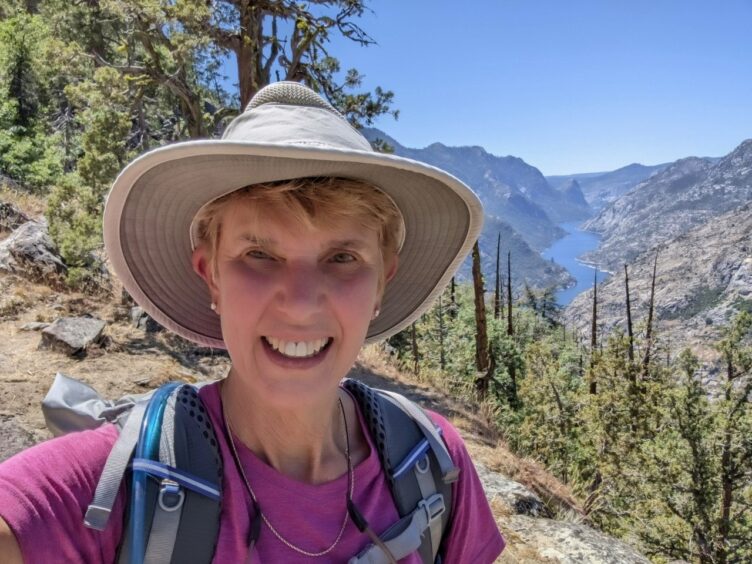 Day 2: Morrison Creek to Tuolumne River
On Day 2, we finished the descent down to Pate Valley, crossed a bridge over Tuolumne River, checked out a bunch of large campsites and kept walking as it was still morning. The walk along the river was so lovely with inviting views up canyon and wonderful pools. I really wanted to take a dip, so at about Mile 12 (from White Wolf) we stopped at a delicious pool that had a flat section for several campsites and stayed there for the night. We enjoyed an afternoon of frolicking in the cool water and everything was perfect.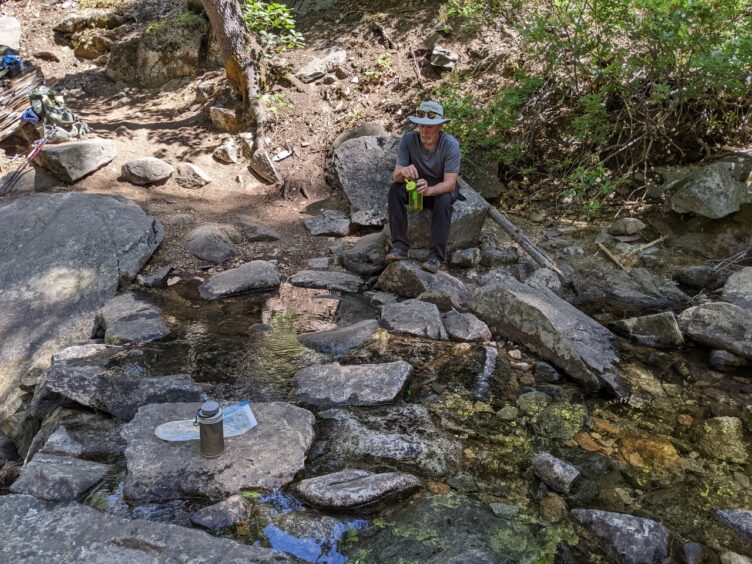 Day 3: Tuolumne River to Cathedral Creek viewpoint
On Day 3, we had a bit of climbing, but overall the hike past Muir Gorge was a reasonably easy day. I enjoyed seeing where Rogers and Register Creeks (and Return Creek the following day) empty into the Tuolumne River as we had seen them way upstream when we hiked from Tahoe to Yosemite on the Pacific Crest Trail a few years ago. We stopped at a campsite directly across from Cathedral Creek, which was barely flowing, and debated whether to continue. We knew the climbing would get harder and that a burned section was coming up. Things started going bad when we noticed smoke thickening and soon, we could barely make out the outline of Cathedral Creek and the towering wall of granite on the other side of the river. I knew the Washburn Fire near Wawona had been burning and feared that it was flaring up. We decided to camp there (Mile 17), though we had only hiked about five miles. Soon, ash was falling on our tent and Steve had to keep wiping ash off the screen of his phone while he read an ebook with his N95 mask on to protect his lungs from smoke. I had a new Zoleo Satellite Messenger Device and thought this was a good time to test the messaging function. I messaged my friend back home to see if there was any new fire activity. She reported back within the hour, letting us know that the new Oak Fire near Midpines had started. It was reassuring to know we weren't in imminent danger, but the smoke and ash were concerning. We know that many times, mornings are clearer, so we made a plan to be up early to hike when the smoke would hopefully be less.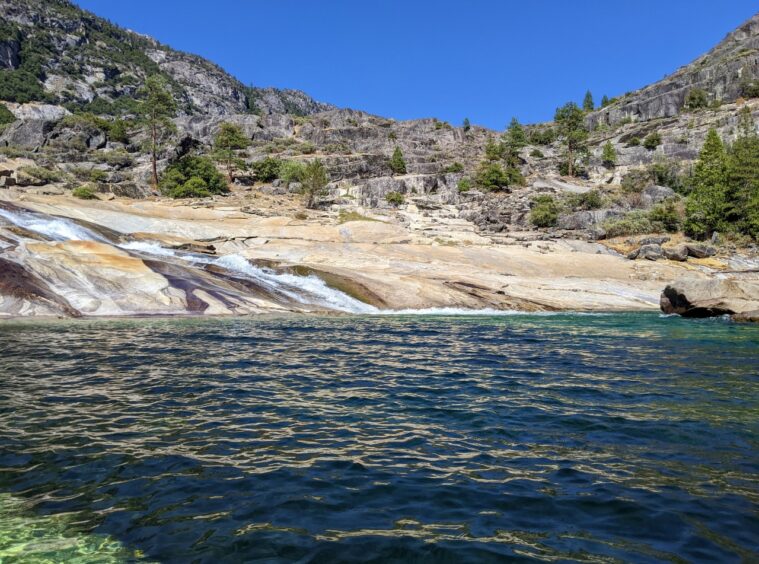 Day 4: Cathedral Creek to Glen Aulin Trailhead, Tuolumne Meadows
We were pleased that the air was much clearer at 6:00 AM on Day 4 and by 7:30 AM we were on the trail. We hiked to the junction of Return Creek on a gentle ascent, after which the ascent steepened. Temperatures were warm but exposed sections were relieved by shady stretches at regular intervals and the trail undulated so that flatter sections followed steep sections. Overall, the climb was much more pleasant than I had expected and it was a treat to see Waterwheel Falls, though the flow was relatively low. Looking down-canyon toward Hetch Hetchy, we could see increasing smoke and by mid-day, when we reached Glen Aulin, it was obvious that it was going to be a repeat of the day before, with thick smoke blanketing the area. We were tired after the 2,360-foot climb, but decided the risks of being in thick smoke outweighed the benefits. We hiked 13 miles with a 3,100-foot climb for the day. By the time we reached the end of the trail in Tuolumne Meadows, the smoke was so thick we could barely see the outline of the usually spectacular peaks and we were worn out.
All in all, it was a successful trip, and we were happy to complete this route after so many years of planning. Our experience reflects the changing nature of what it's like to plan and execute backpacking trips in the face of escalating fire danger.
For wildfire monitoring resources, see my article, A Backpacker's Guide to Tracking California Wildfires.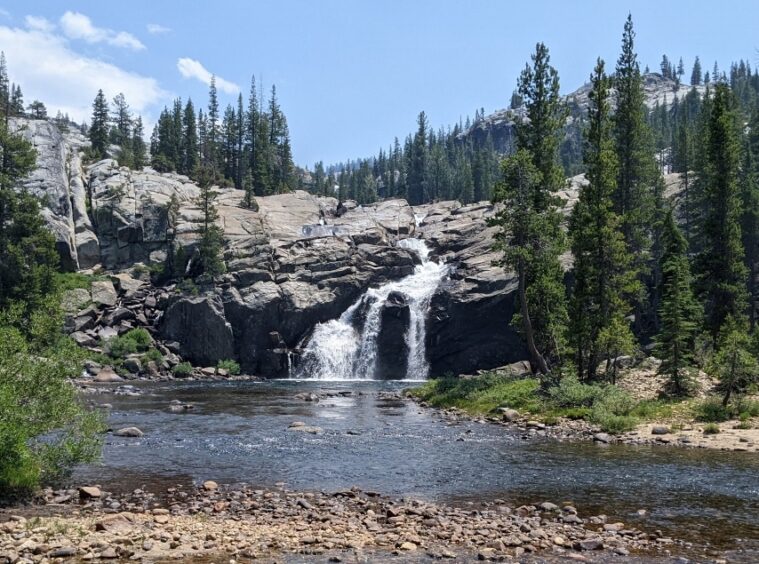 Backpacking the Grand Canyon of the Tuolumne was a highlight of our summer and I'll never forget the afternoon we spent soaking in the cool waters of the Tuolumne River looking at the granite cliffs etched against an azure sky. These are the moments that make backpacking special.
See more articles on Yosemite.