This year, I upgraded to a Zoleo satellite messenger device to be able to get two-way messaging. For many years, I've had an early generation device that only provided one-way messaging. That simple device met my needs until last year, when I had an elderly parent who was ailing and I didn't feel comfortable being out of reach. I knew I needed two-way messaging, and I chose the Zoleo based on positive reports I had heard from other users. On one of my first trips, I benefitted from this enhanced feature and realized the benefits right away. Being able to obtain information about current conditions turned out to be valuable to me.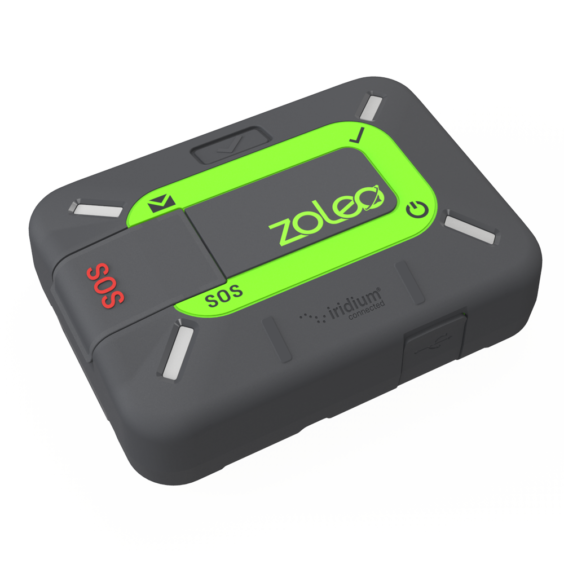 Satellite Messenger Device
The Zoleo is just one of several devices in this class, the first to market being SPOT and the most popular being the Garmin InReach. The main purpose of these devices was to be able to summon help in an emergency via an SOS button and send a couple of preset messages, but now most of the devices offer two-way messaging that allows easy communication with family and friends. Most have models that pair with a smart phone via Bluetooth to allow two-way texting. Satellite messenger devices vary in price for the device, as well as subscription plans, but generally cost $200–400 or more to purchase. These devices are distinct from Personal Locator Beacons, which are simpler to operate, have been used for many years, are generally less expensive and do not require a subscription service.
Zoleo Satellite Messenger Device
The Zoleo satellite messenger device is a relative newcomer, debuting on the market in 2020. It pairs with an app on a smartphone or tablet to allow messaging via cellular, Wi-Fi or satellite, unlike some competitors. Like other devices in the class, it offers SOS emergency alerting and two-way messaging with emergency personnel or friends and family. You can choose to share your GPS location as well. Messages can be sent anywhere in the world via the Iridium satellite network. Users receive a dedicated 10-digit SMS number (XXX-XXX-XXXX) and email ([email protected]).
It costs about $200 for the device and a subscription plan is required. Currently, the Zoleo plans range from $20-50/month and can be suspended after the first three months for a low monthly rate of $4/month. See the Zoleo website for current pricing.
Zoleo can be used by itself to send a preset check-in message or SOS distress signal, even if it's not connected to a cell phone, but two-way messaging is only possible via a smart phone or tablet.
The device is the size of an pager (3.58 x 2.6 x 1.06 in) and weighs 5.3 oz (150 g). It is charged via a micro-USB Type B connector and the battery can last around 200 hours.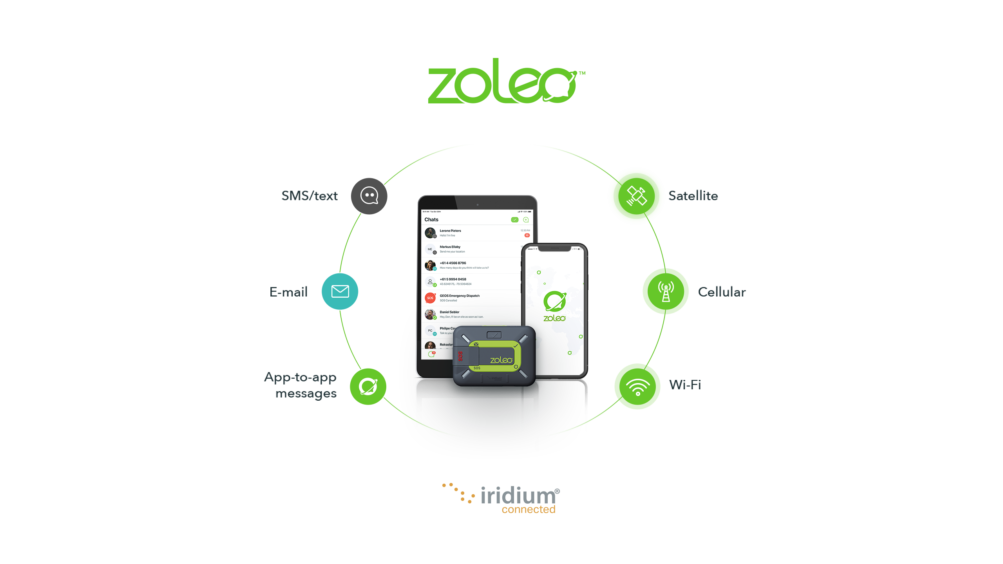 SOS
When the SOS button is pushed, which should only ever be used for a true emergency, a message with your location is sent to the GEOS central dispatch center. They will coordinate with local emergency personnel. If your device is linked to your phone, you will be able to communicate with the emergency coordinator. If your device is not linked to a phone, you'll get confirmation that your SOS message was received though LEDs on the device. There is a cover over the SOS button to prevent accidental SOS activation, but if this should happen, you can cancel the alert. More details about the SOS process is described on the Zoleo website.
Set Up
Like any of the devices, there are activation, set up and testing steps that should be done at home or in a location with a strong Wi-Fi signal to get the device registered, enter emergency contacts and send a test message. You will also need to choose your subscription plan, which varies from a limited number of satellite texts at a low price or unlimited texting for a higher price. I found the set up to be easier than other brands I've used and more intuitive. I have used both Spot and InReach devices in the past. As with any device, understanding all the buttons and LED lights takes time to become second nature, so I brought the small folding Quick Start guide and also took photos of the legend.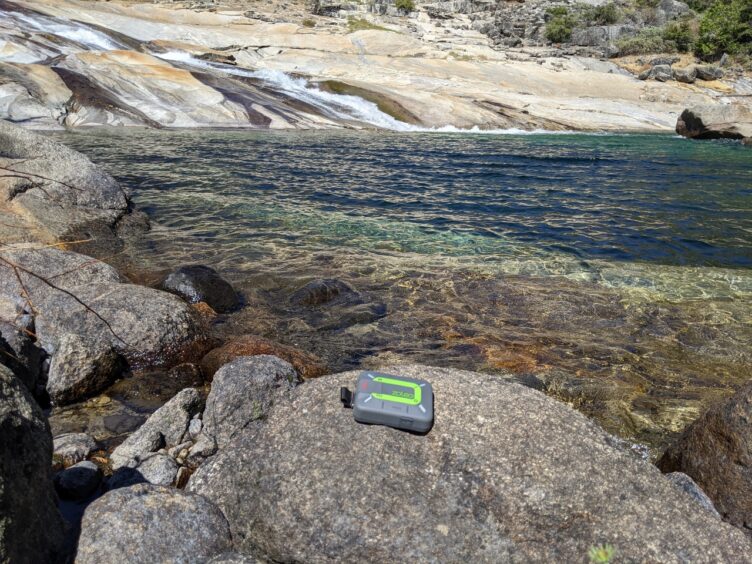 Field Test
I first used the Zoleo on a short two-night trip and only used the preset check-in function on the device. It worked well, and I liked how it beeped when messaging was complete, so I knew it went through. A few weeks later, I went on a longer trip and discovered how valuable it could be to have two-way messaging.
My husband and I were hiking the Grand Canyon of the Tuolumne in Yosemite National Park. On this 30-mile hike, you descend more than 3,000 feet to the floor of a canyon, walk along the canyon for a couple of days and then ascend more than 3,000 feet to get back to the top. There are trails that lead further into the remote, northern reaches of the park that branch off from the trail, but there is no way to get back to Tioga Road except the beginning or ending trailheads.
At the approximate mid-point of the hike, we noticed billowing smoke down-canyon and stopped for the day, just short of starting the big climb out. A couple of hours later, ash was falling and my husband was wiping ash from his cell phone screen as he read his e-book with an N95 mask on to protect his lungs from the particulate matter. It was time to get some information.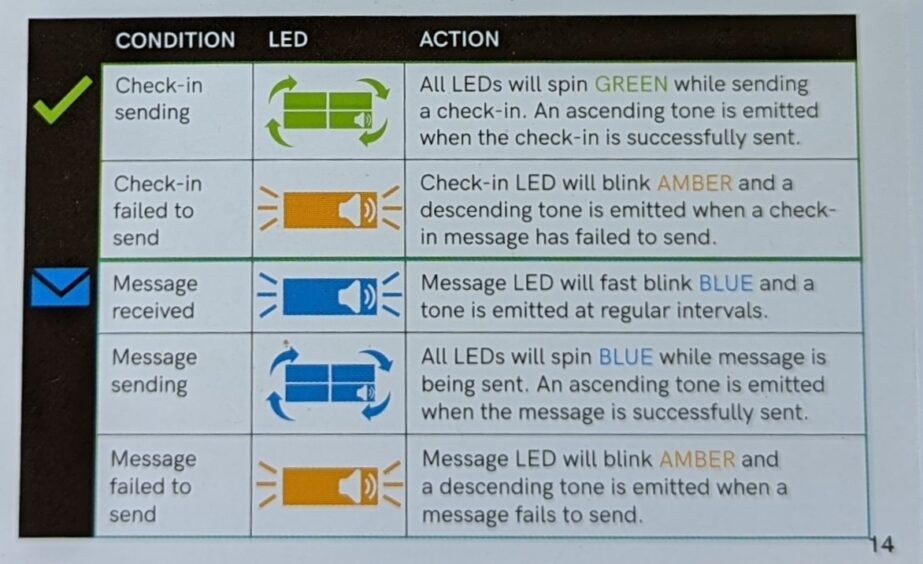 We were deep in a canyon with trees and steep granite walls that rose up several thousand feet on both sides, so I went down to the river and out onto a granite bench where I had the best line of sight to the sky. I used the Zoleo app on my Google Pixel phone, paired with the satellite device via Bluetooth, and send a message to my best friend, Cindy, asking her if there were any new fires on Inciweb or CalFire. Within an hour, she responded that there was the new Oak Fire near Midpines that was not near us but was generating clouds of smoke. While we were relieved that we weren't in imminent danger, we were alarmed at how thick the smoke got so quickly, now obliterating the outline of the granite cliffs behind Cathedral Creek across the river. It was such a relief to get the information we needed. I was glad I had the Quick Start guide with me so I could track when my message was sent and which messages were received. The messages all went through, but some of the longer ones took more time to transmit and didn't go in order, probably because of the challenging location.
See my article: Backpacker's Guide to Tracking California Wildfires
The next day, we were up at first light and hiked 13 miles with 3,100 feet of elevation gain to exit the trail a day early. Thankfully, the morning air was relatively clear, but by mid-day, smoke was chasing us up-canyon and by the time we exited at Tuolumne Meadows, we couldn't see any of the beautiful peaks that are usually visible. I was coughing and my eyes were stinging from the ash and a shower never felt so good at the Lake View Lodge in Lee Vining, which thankfully had a room. I was so grateful for my new Zoleo device, which proved its utility on the second trip I brought it on.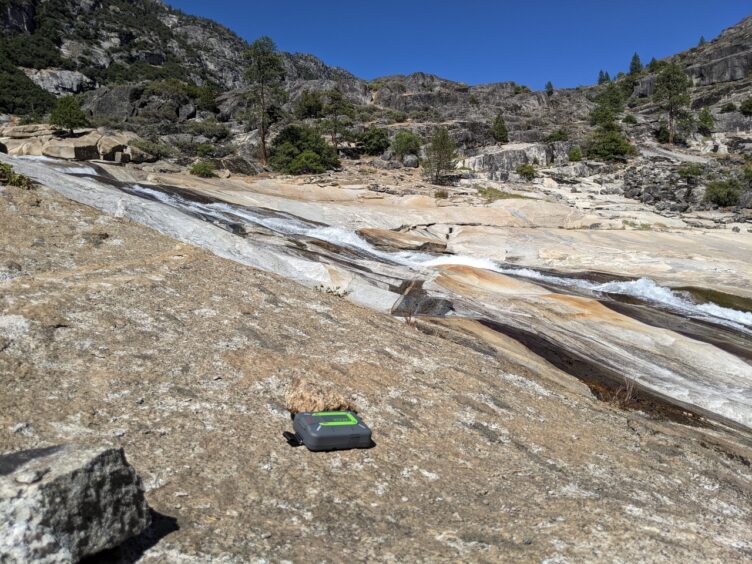 I found the Zoleo satellite messenger device easy to use, intuitive to set up and effective as a messenger device. The purchase price and subscription cost is less than some competitors with more capability since it can be used as a messenger seamlessly operating between cellular networks, Wi-Fi and satellite. I recommend this product for anyone looking for a reliable messenger device that has SOS and regular messaging capability across cellular networks, Wi-Fi and satellite.