On a whim, we threw in a three-day tour to a Berber camp in the Sahara Desert in Morocco with Berber Camp Merzouga. On a five-week trip of independent travel, you wouldn't think that the happiest surprise be the only tour we took, but that's what happened. My husband and I were traveling through Spain, Portugal, and Morocco planning as we went. The desert tour from Marrakech to Merzouga turned out to be the highlight of our trip.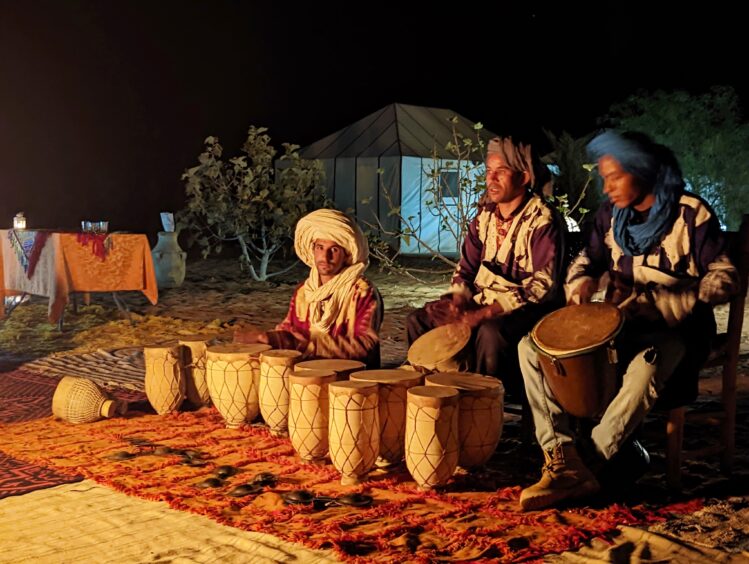 Planning Challenges
There were some challenges planning a tour a short notice. We planned to be in Morocco the third week of October and a week before our arrival, I was juggling communications with several tour operators. Some offered private tours, others offered tours with up to 100 people, and none seemed to offer the small group tour we sought. Some had dorm style lodging with shared bathrooms and others featured luxury tents, but I couldn't find the middle ground I was looking for. Others were already fully booked. Perhaps I should have scheduled this in advance, but on this trip, we were winging it.
Berber Camp Merzouga, 100% Berber owned and operated, was the most responsive of the desert tours I was looking at in Morocco, sending me email responses as fast as I could think of questions. That was a good sign, so we took the plunge, splurged a bit, and booked a private tour for a luxury camp. I paid the small deposit and breathed a sigh of relief.
See my article: Introduction to Tangier, Morocco via Spain
Before the Berber Camp Merzouga Tour
We were busy with our travels through Portugal and Spain, so I never went back to the website to see exactly what we had signed up for besides a tent and camels. This turned out to be serendipitous because everything that unfolded was magical and unexpected. In fact, perhaps you'd like to stop reading here, book a tour and experience the same delight I did, every stop a mysterious surprise.
We finished our road trip in Spain and Portugal, dropped the car off, took the ferry to Tangier, and spent another week traveling by train to Marrakech. Suddenly, the day of the tour dawned, and I still wasn't sure what to expect, but it didn't matter. By then, I was already bewitched by Morocco.
Here's what I knew about the itinerary:
Day 1: Marrakech to Dades Valley
Day 2: Dades Valley to Merzouga, camels and desert camp
Day 3: Desert Camp/Merzouga to Marrakech
Introduction to the Sahara Desert Tour
When I walked into the lobby at the Riad Angsana in Marrakech at the pickup time, I had a brief pang of concern when I didn't see anyone waiting for us. The receptionist looked up and said, "Your driver is waiting outside for you." Whew, it was really happening, and he was right on time. That was a good sign.
Barack, our driver, was laid back and relaxed. He gave us information about what we were seeing but with a minimum of words, which suited us fine. The new car was well maintained with functioning seat belts and air-conditioning. Some places had small entrance fees and he would explain what we would see if we chose to partake or offer to take a photo if we preferred to keep moving. We chose to do nearly everything offered.
The Journey from Marrakech to the Desert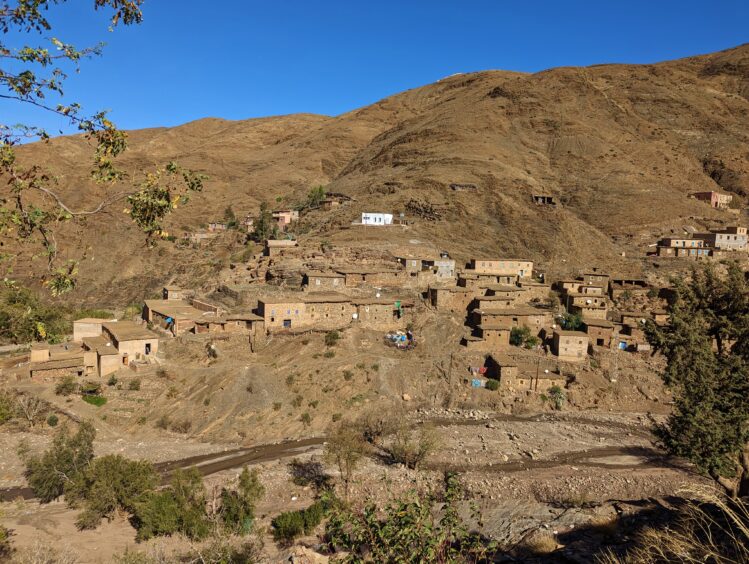 Berber Village
Along the way, we stopped at a village where the Berber people live a traditional lifestyle of herding goats and sheep and growing vegetables. They have a school and midwife, but they are close enough to Marrakech that major medical problems can be handled there. The flat topped, dun colored houses feature impressively thick walls to protect from extreme temperatures.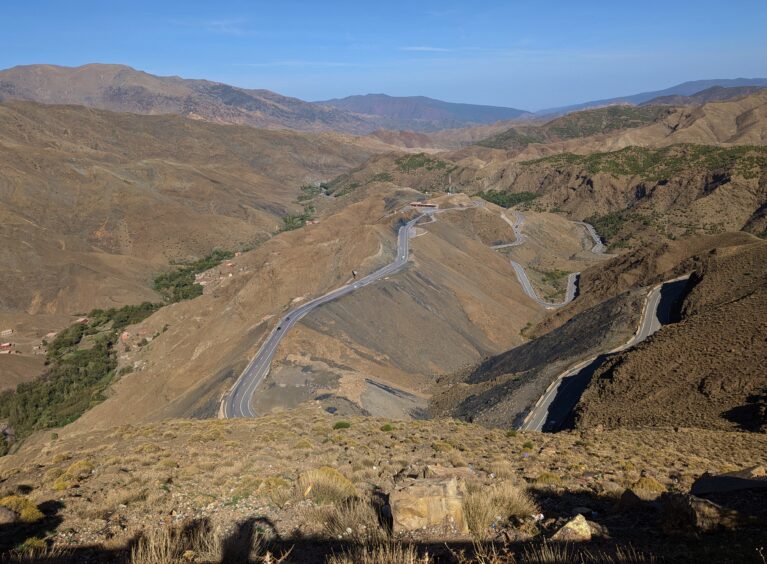 High Atlas Mountains
As soon as we left Marrakech, we started climbing into the High Atlas Mountains, eventually topping out at more than 6,000 feet at the Col du Tichka before dropping over to the arid desert.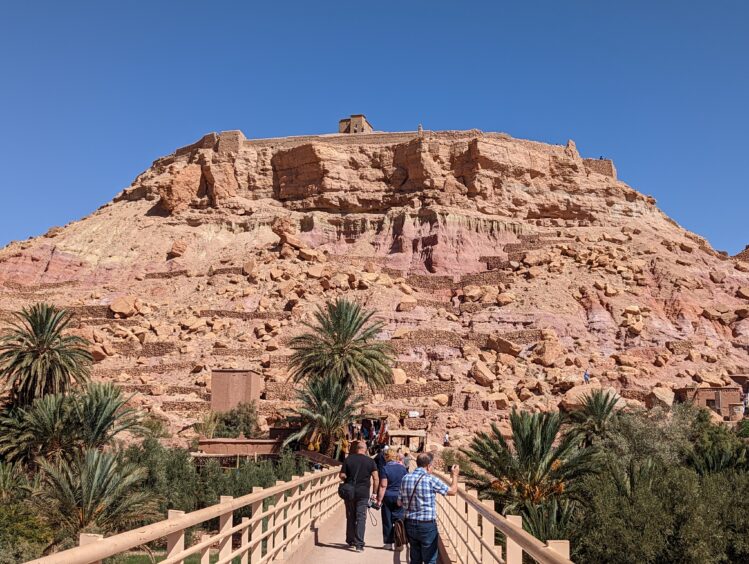 Fortified Village: Ait Ben Haddou Ksar
The Ait Ben Haddou Ksar (a fortified village that protected inhabitants from bandits) was a traditional desert town. Ait Ben Haddou, a UNESCO Heritage Site, was one in a series of oases where people settled to grow crops. We would travel many miles through scrub desert, then drop into a lush oasis fed by a stream. We hiked up to a building made of clay bricks, high on a hill where the valuable harvest was guarded. This city has been featured in many films (see Atlas Studios below)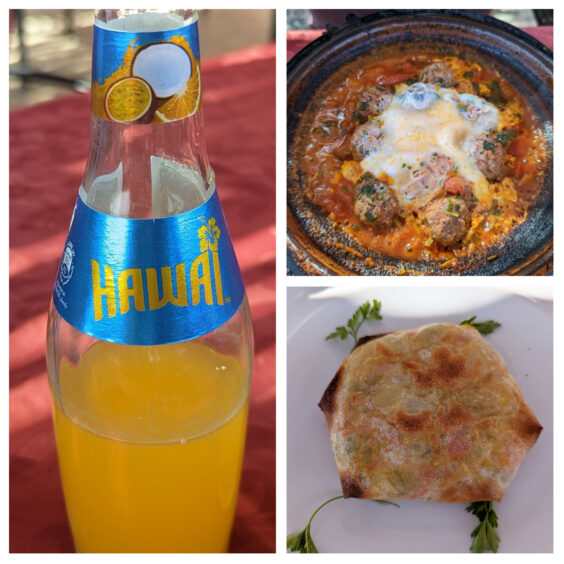 Lunch at Restaurant Nouflla, Ait Ben Haddou
We stopped at a small roadside restaurant in Ait Ben Haddou and enjoyed Kefta meatball tagine in a savory tomato sauce flavored with paprika and cumin and Pastilla, a delicious North African chicken pie encased in layers of flaky phyllo pastry with almonds and balanced notes of cinnamon, clove and lavender. Hawai is the local orange soda (now owned by Coca Cola) that is quite refreshing on a hot day.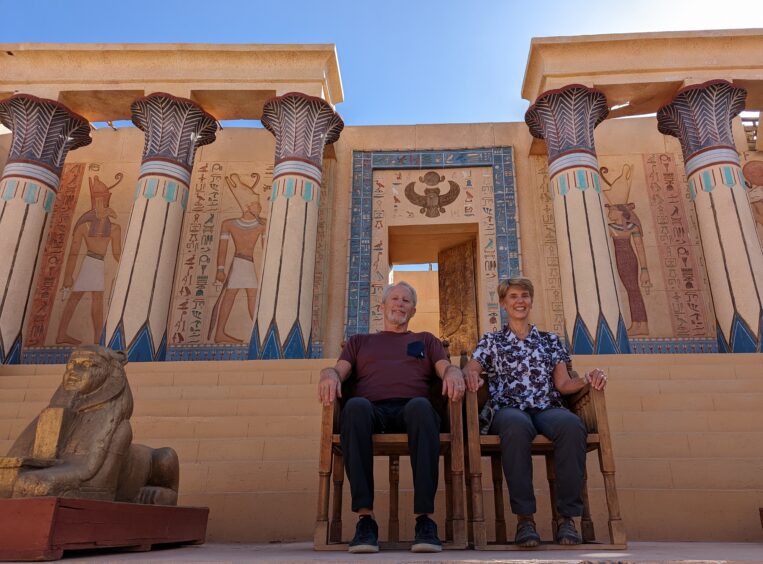 Atlas Studios, Ouarzazate
As we drove into the outskirts of Ouarzazate, I noted with curiosity that the roundabout featured a large movie director clapper board. That's odd, I thought, out here in the desert. Soon we pulled into a large walled compound called Atlas Studios. There was a small entrance fee and after a short debate about going in, I was up for any and all experiences, so in we went. It turned out to be so much entertaining as we toured the sets of such iconic films as Lawrence of Arabia, Cleopatra, Gladiator, and Game of Thrones. When I returned to the US, I watched Lawrence of Arabia again and was transported back to this captivating place. Guided tours are given in several languages and uur Moroccan guide flipped between English and French in our group.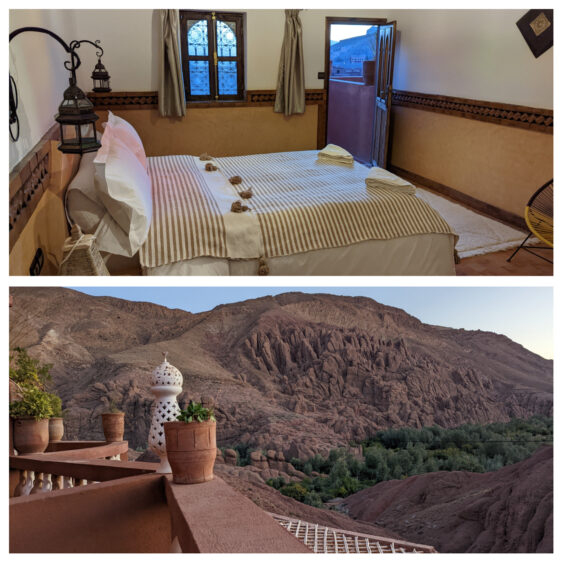 Riad Rihana Tamlalte, Dades Valley
Our riad for the night, Riad Rihana Tamlalte, was a charming place where we had a private room with private bath and gorgeous view of mountains bathed in reddish purple light of the setting sun. At dusk the inky outline etched against the starry sky was enchanting.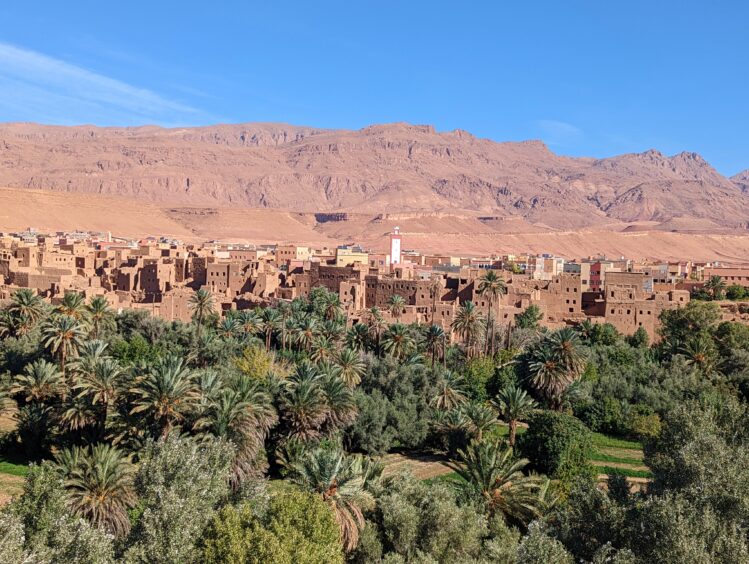 Photo Ops
We had a few brief stops at various lookout points where we could get panoramic views of traditional Berber villages, palm oases and natural features.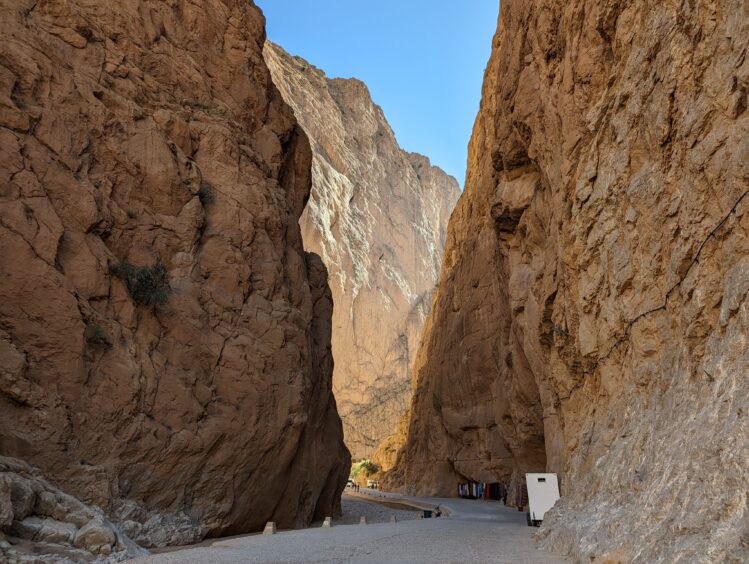 Todra Gorges
Just as the motion of the car lulled into a daze, I noticed that the walls of a canyon were suddenly quite narrow, towering up to the sky. We stopped, shook off the travel lull and gazed up at the narrow slit of blue sky in the impressive Todra Gorges. We, and many other tourists, walked down the road, dipped our toes into the cool water of the gentle stream that carved this impressive feature from solid rock, and stretched our legs.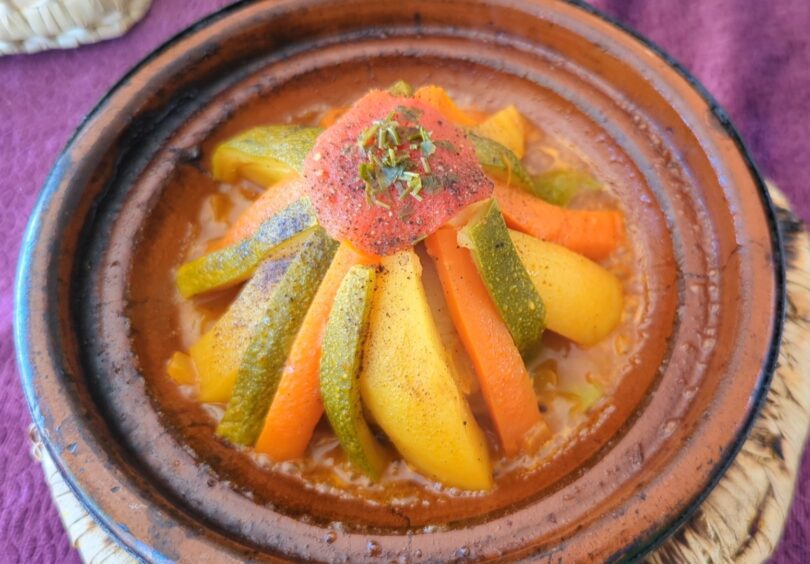 Lunch at Chez Nikki, Touroug
We enjoyed a savory steaming traditional tagine at Chez Nikki, located on a quiet stretch of highway between near Touroug. Tender bits of chicken were piled under the colorful vegetables, sitting on a bed of couscous.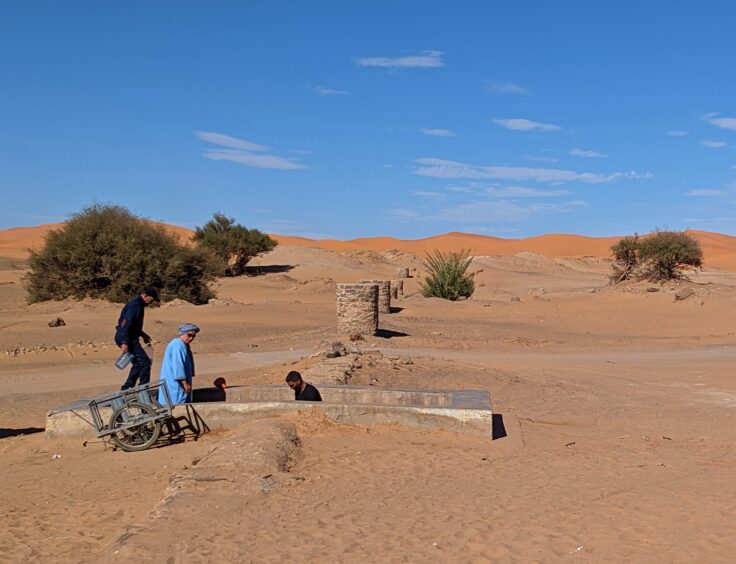 Mud Well Irrigation System
A highlight of the afternoon was a small, outdoor museum at near Jorf that explained the workings of the khettara, an ancient underground irrigation system. Beginning at a water source, vertical shafts that look like wells are dug into the earth at 32 feet (10 meter) intervals and tunnels are excavated between them to carry water to distant settlements. The shafts are used for maintenance of the tunnels, which protect water from evaporation in the intense summer heat. We were able to walk into a disused tunnel whose water source has dried up, while in Merzouga, we observed a functioning system that brings water to the settlement.
Camel Ride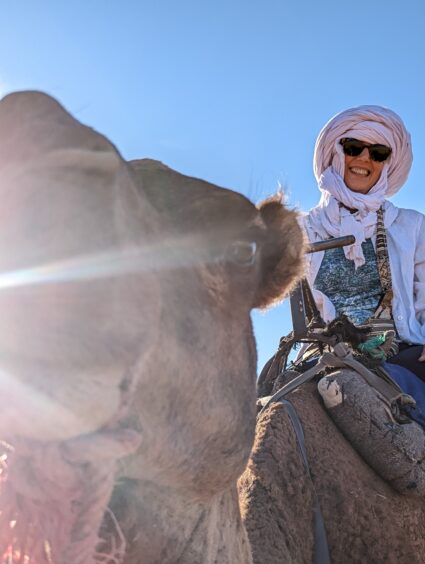 We arrived in Merzouga shortly before 5 pm and found our camels assembled. Our camel guide, Hasan, was quite the photographer, setting up many fun shots in the desert.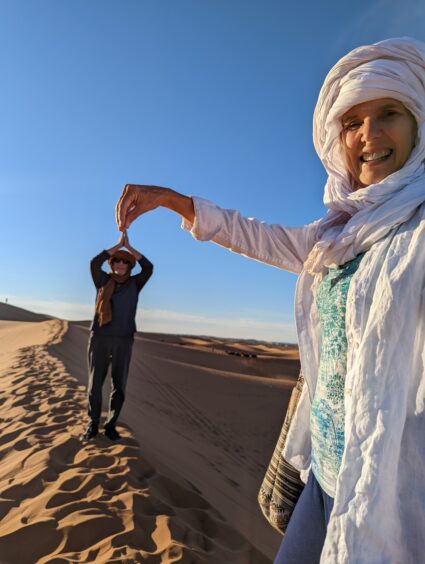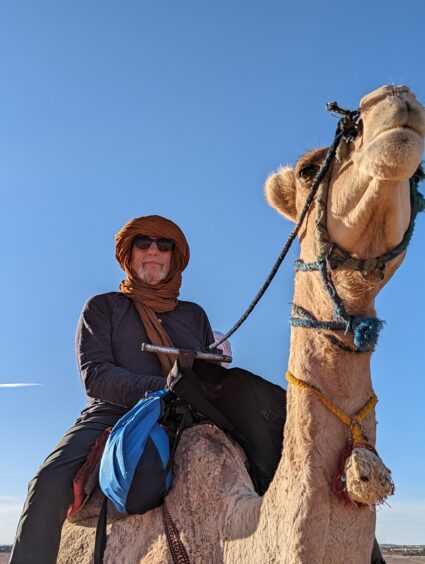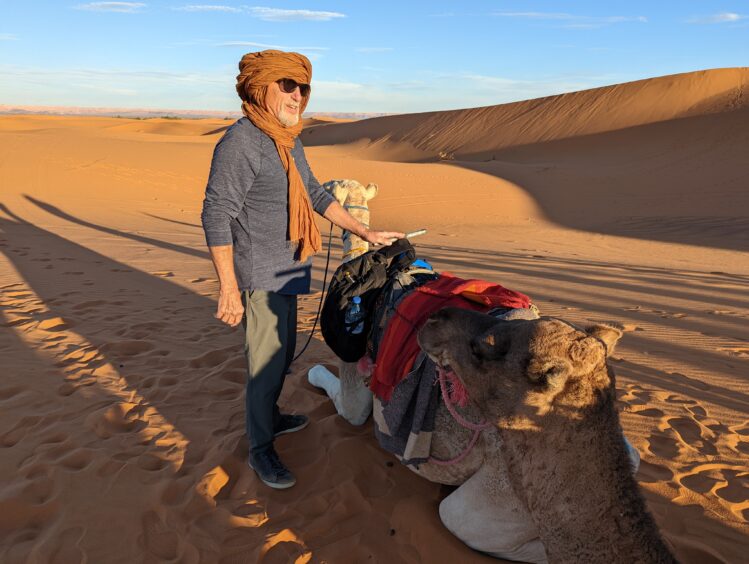 Riding the camels in the dusky glow of sunset was an amazing experience. I, like many others, was concerned for the welfare of the animals. I was pleased to see that they appear to be well cared for and best of all, the camel experience only lasted about an hour. Even then, we were only on the camels for about half that time, taking breaks for people to go sand boarding (riding a snow board down the sand dunes) and sitting to watch the sun set. We had the option of riding the camels out the next morning, but everyone who stayed in our camp elected to get a ride in vehicles that were used to transport our luggage. Participants also have the option of not riding the camels at all.
Berber Camp at Erg Chebbi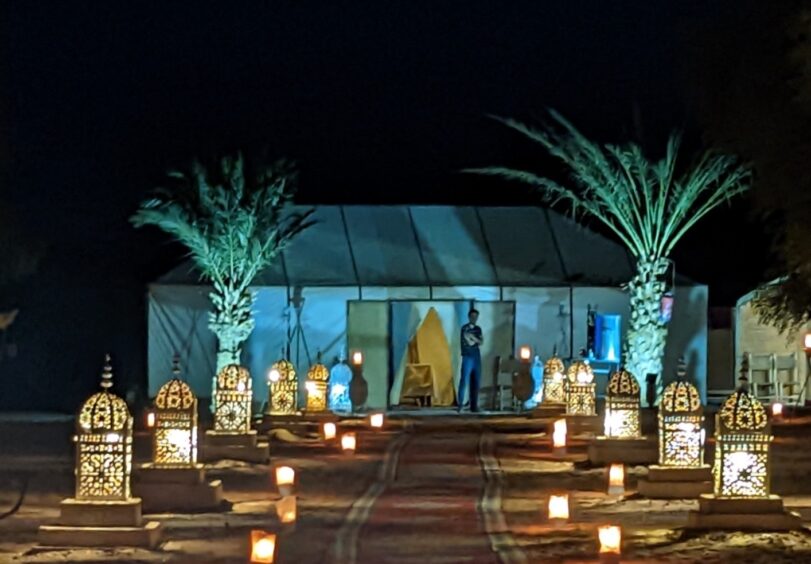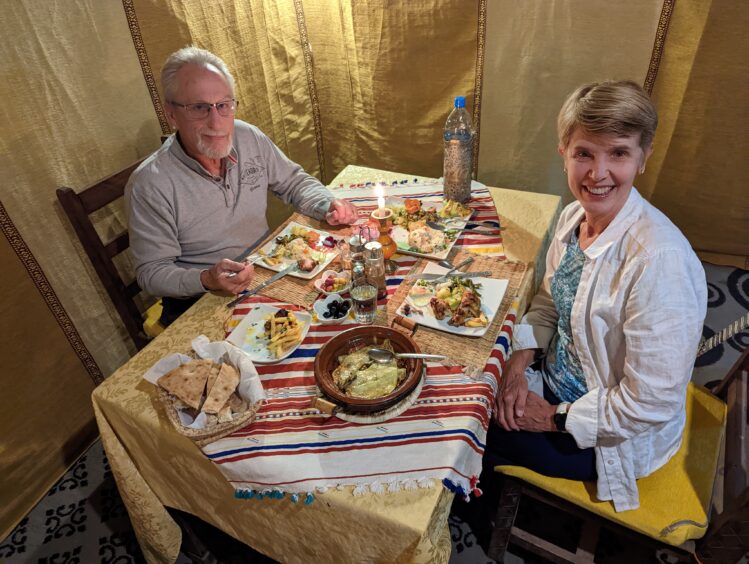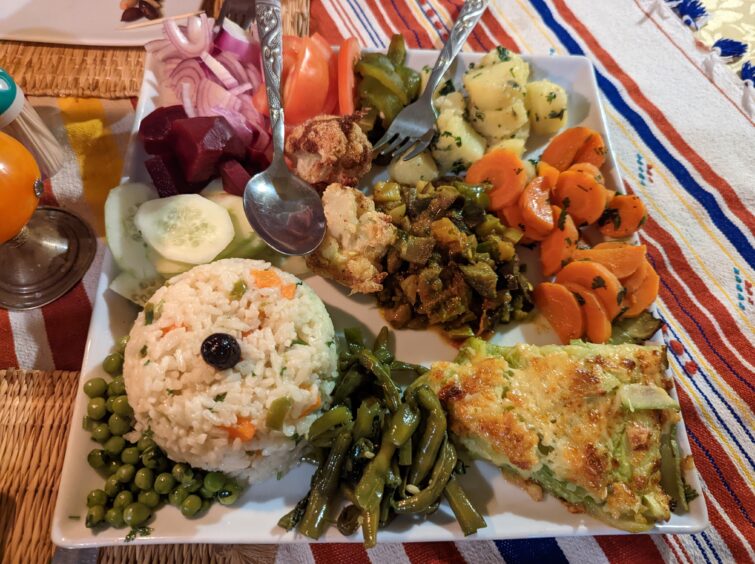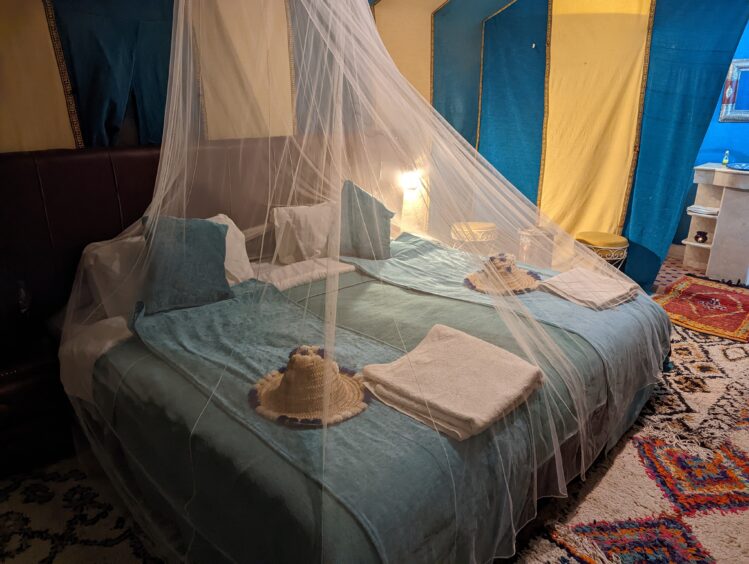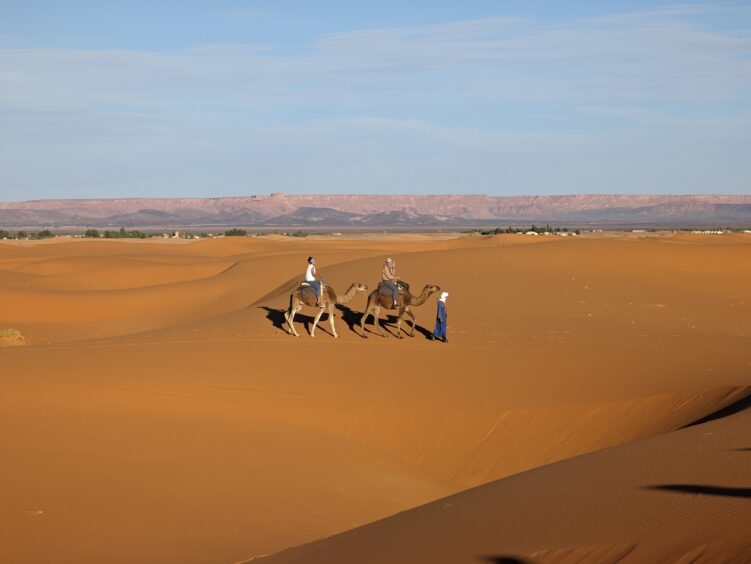 On the last day, we woke in time to see the sunrise over nearby Algeria and elected to drive out of the desert. Our driver, Barack, was skilled in maneuvering the vehicle through the sand and it was nearly as much fun to surf the dunes as riding the camels.
On the drive back, we stopped a few viewpoints and had lunch, but since we were compressing two days travel into one, it was a lot of driving.
Weather Considerations
According to our guide, April and October are the best months to visit the desert due to mild temperatures. The adjacent months are also pleasant. In winter, the nights can be quite cold while, in the summer, the heat can be unbearable during the day.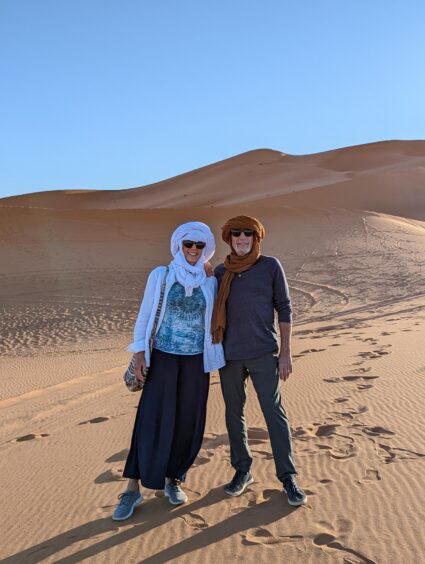 Clothing Considerations
I saw a wide range of clothing from short shorts and barefoot to jeans and sandals during our October visit. I wore Allbirds sneakers, loose, flowy pants, a short sleeve shirt and a white linen shirt as a light wrap. My husband wore light hiking pants, a long sleeve T-shirt and sneakers. We brought packable Uniqlo light down jackets but didn't need them outdoors in the evening during the drumming performance. I pulled mine out for about 15 minutes during the sunrise walk to ward of the mild chill. We brought wide brimmed hats, but our camel drivers let us borrow their long Tuareg scarves that they wound into a thick turban that kept our heads cool.
***
Our trip to the desert was a highlight of our stay in Morocco and I highly recommend Berber Camp Merzouga.
Berber Camp Merzouga
Phone/What'sApp: +212 668 252 380
[email protected]