My husband and I usually travel independently and, despite decades of international travel, had never been to the African continent. When planning a road trip to Portugal and western Spain, my eyes kept sliding south to Morocco. The more I looked at the map, the more I wanted to at least dip a toe into the country, even if it was just an overnight to Tangier. My husband, Steve, was all for it and the next thing I knew, we had carved out 10 days for Morocco. I was ecstatic as we started plotting a route to travel through Morocco by train.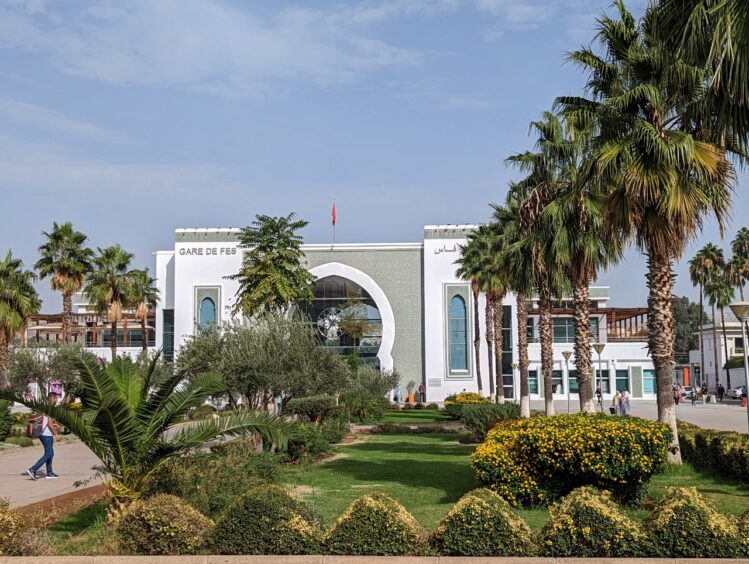 For the following reasons, we decided to drop the rental car in Seville and take trains in Morocco: rental cars can't be taken from Spain to Morocco, trains are a great way to see the country, and Steve loves trains. When we arrived in Tangier by ferry, I was immediately smitten with Morocco. The historic Tangier Medina was magical, the rest of the city gleamed with modern glass and chrome, the food was flavorful and appealing, and the people were friendly as long as we said a firm, "no, thank you," to offers of guide services, people wanting to practice their English and other potential tout scams.
See my article: Introduction to Tangier, Morocco via Spain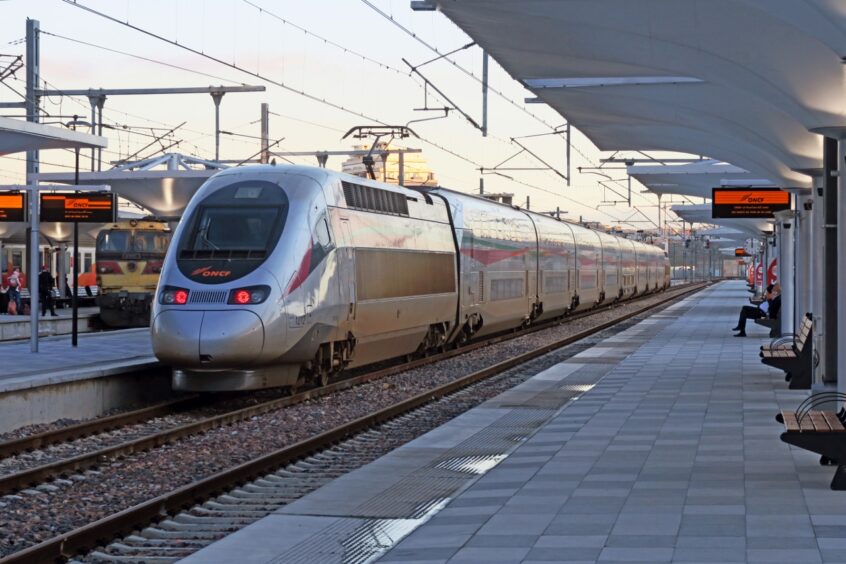 Train Routes
The Al Boraq high-speed train runs between Tangier and Casablanca with future extensions planned to Marrakech, Agadir, Fes and beyond. Currently, Al Atlas classic trains travel between major cities, including Tangier, Rabat, Casablanca, Fes and Marrakech. Two cities that are connected by bus, but not train, are Agadir and Essaouira.
In the route map below, note that only the black dotted line and light blue line are currently in operation; the rest are planned.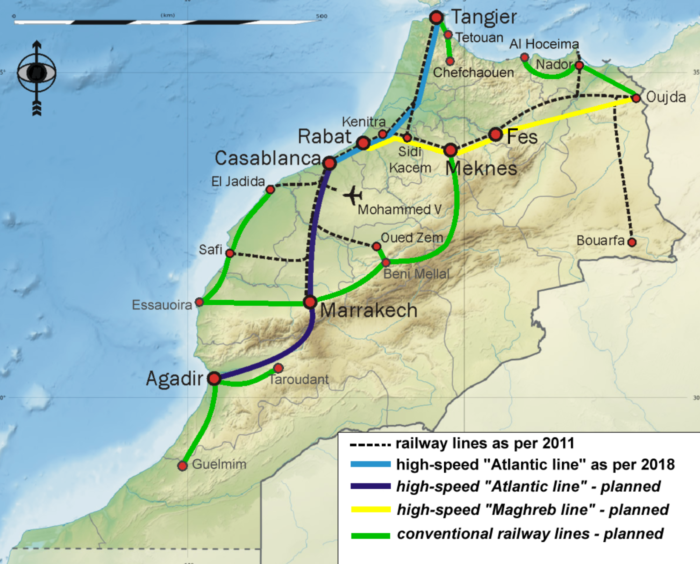 Train Tickets
ONCF operates Moroccan trains are operated. The ONCF website is available in English, but it can be glitchy at times. The website should accept non-Moroccan credit cards for payment, a recent development, but if there are issues, use Bookaway or another third-party app to reserve tickets.
Our Bookaway tickets arrived via email with what seemed like strict instructions to print them. We went to some effort to do so, but the conductor could not scan the printed ones. He scanned the QR code on our phone without issue, so there's no need to print tickets.
We bought first-class tickets with reserved seats in a six-person compartment on classic trains from Tangier to Fes and Fes to Marrakech. First-class tickets have air conditioning and a snack service. Second-class seats are smaller, with eight seats per compartment, are not assigned, and there is no snack service or air conditioning.
Our tickets cost US$23 per person from Tangier to Fes and US$37 for Fes to Marrakech.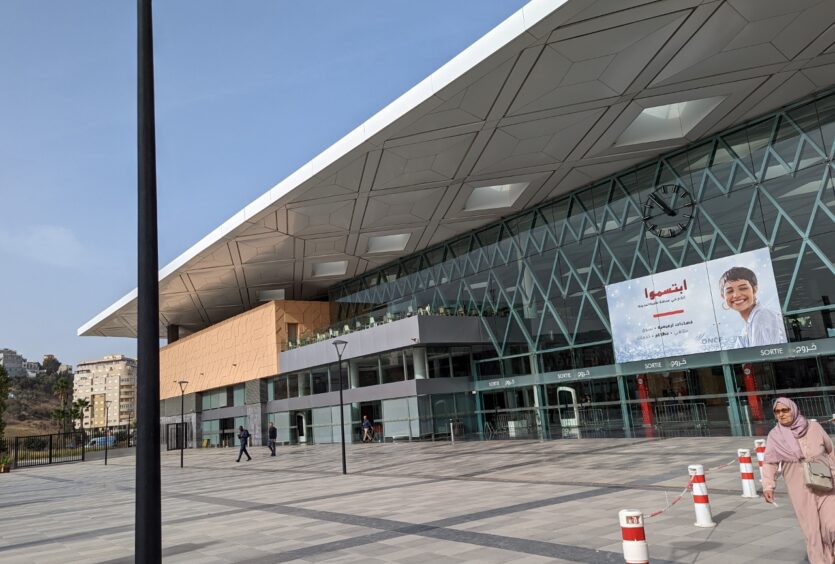 Morocco Train Stations
The impressive train station in Tangier Ville was large, modern, bright, and airy, with a high ceiling, a garden, plenty of seating, and a foot court.
The train stations in Fes and Marrakech were smaller and more modest, with a moderate sized lobby and a few shops and cafes. Taxis were available outside the stations. We always had the name and address of our lodging available but learned that the taxi drivers prefer the phone number so they can call and get directions to anything inside the medina, which has such narrow lanes that cars can't fit. The riad or hotel will tell them which entrance to go to and often a hotel staff member will meet the taxi.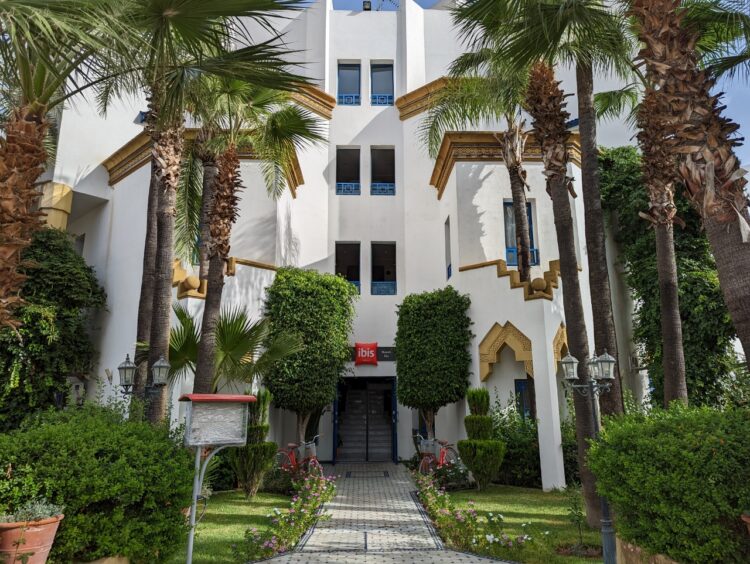 Lodging
We stayed in a variety of types of lodging, including riads, a kasbah and a desert camp, but we chose Ibis Hotels (Accor group) near the train stations when it made train travel easier. Ibis Hotel rooms worldwide are the same, with small rooms, comfortable beds, and private bathrooms. They have a restaurant that serves breakfast at a minimum, and a bar that serves alcohol.
The Ibis Tanger City Center was a block from the train station, so we could walk with our luggage, which consisted of a small roller bag and laptop backpack each. It had a small pool with limited outdoor space.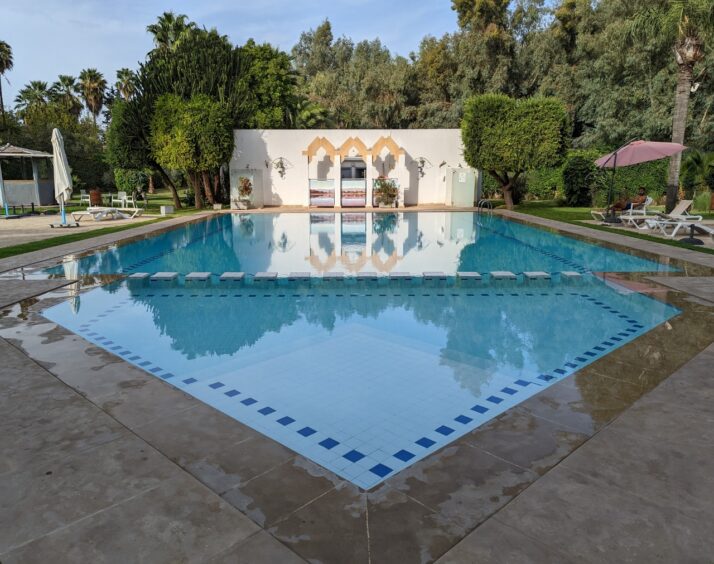 The Ibis Hotel Fes was next to the train station. This hotel felt luxurious as soon as we stepped through the arched door of the walled compound with expansive lawns. There was a large, welcoming pool, chaise lounges and an enormous grassy area that featured a flock of chickens and numerous cats, walled off from the cacophony of the city. It was a short drive to the medina by taxi.
The biggest disappointment was the Ibis Marrakech Center Gare. We used Marrakech as a home base for several trips and stayed in two riads and the Ibis. We chose the Ibis next to the train station for a one-night stay between two tours. The small lobby and the moderate sized outdoor space and pool were nice enough. The room was badly in need of a remodel with broken door handles, torn curtains, and a shower drain that wouldn't drain water.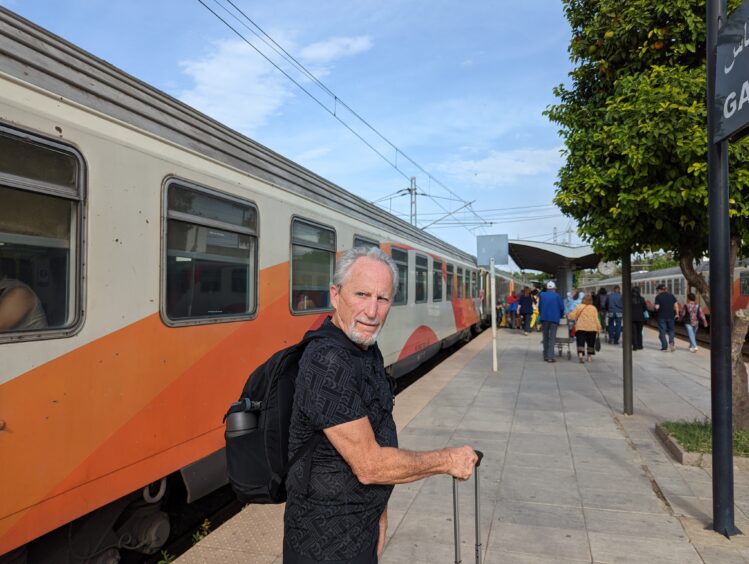 Morocco by Train: Our Experience
Our first train ride was from Tangier (Tanger) to Fes (Fez). Simply by luck, rather than master plan, our Ibis Centro Hotel was a short (less than 5 minutes) walk from the modern train station. I noticed a large Hilton Hotel across the street as well. The train station had a spacious waiting area downstairs with shops and a food court upstairs. I wasn't expecting much from the grilled chicken wrap I ordered, but it was made to order, hot and delicious.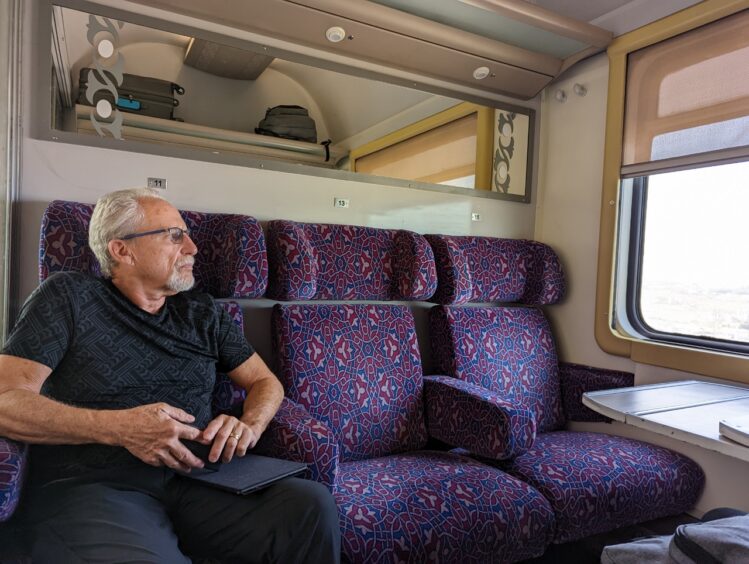 The train was on time and boarding was calm and efficient. I was a little jealous of the sleek, space age-looking fast train on the other track, but our classic older train to Fes was clean and comfortable with a row of three seats each facing each other in our compartment. A small luggage rack above the seats barely held our 22-inch Travel Pro suitcase when placed with the short end out, hanging off the rack a little, and I wondered how people managed with larger suitcases. I found out when a woman with an enormous roller bag entered and everyone just accommodated the bag on the floor between knees. It was a bit awkward, but no one complained and there were many smiles all around. A small table between the two window seats was convenient for those two passengers, but everyone else should have finger food.
I planned to read or work on my computer but ended up listening to an audio book because I enjoyed seeing the changing scenery as we traveled south. We had occasional glimpses of the Atlantic Ocean that made me wish we had time to hit the beach. Next time. Between Tangier and Fes were pleasant rolling hills, crops, and orchards nestled into flat plots of land and villages. As we got closer to Marrakech, larger mountains in the distance beckoned us to come hither, heightening my sense of anticipation for our two scheduled excursions, one to a desert camp at Merzouga and the other to Imlil, in the High Atlas Mountains.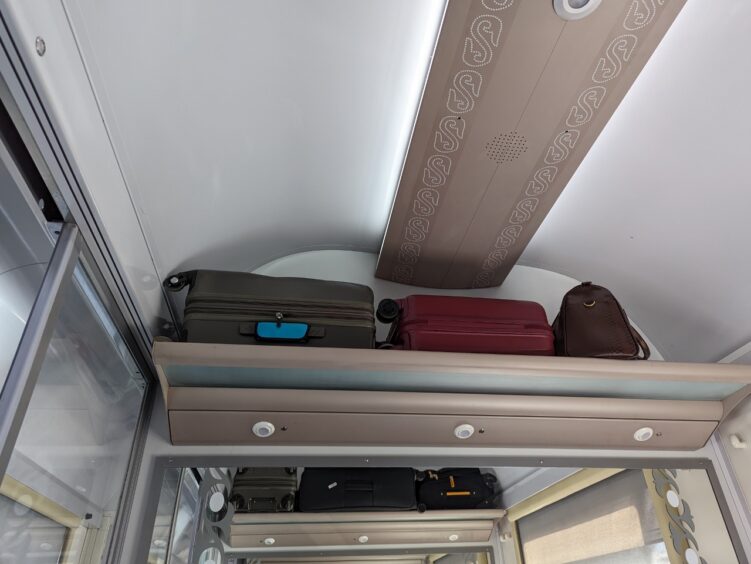 Our train rides from Tangier to Fes and Fes to Marrakech were four and six hours, respectively, with several brief stops. Our compartment changed over several times with passengers of all ages, including an elderly woman traveling alone, a student, a middle-aged couple, and a young woman with an infant on her lap. All were polite and friendly, but mostly kept to themselves and dozed or read a book. One man asked Steve more questions than usual, and it seemed like he was working up to offering himself as a guide. As with trains all over the world, scams can happen, and this man may or may not have been up to something. Steve politely told him we knew where we were going and didn't need any help. We were careful to keep details of our itinerary vague. To be clear, we felt safe on the train, taking normal precautions by traveling during daylight hours and keeping our valuables secure.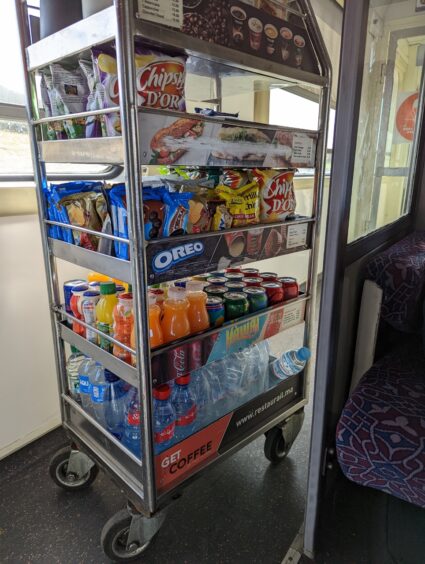 A trolley rolled by packed with soft drinks, chips, and cookies for sale, but we brought our own water and snacks, as did most people that cycled through our compartment. I had read that people share food on trains and that it's polite to bring cookies or other foods that can be passed around. That sounds delightful, but I forgot to bring anything to share and no one in our compartment offered.
The bathroom was basic and reasonably clean, with a hole that opened onto the tracks. It was always stocked with toilet paper, though I had a small supply in my purse.
I saw a portable wheelchair lift that allowed access to the train and while there didn't seem to be a designated place for the chair, the compartment where it was assigned had enough space to accommodate the wheelchair in the center space between the two rows of seats.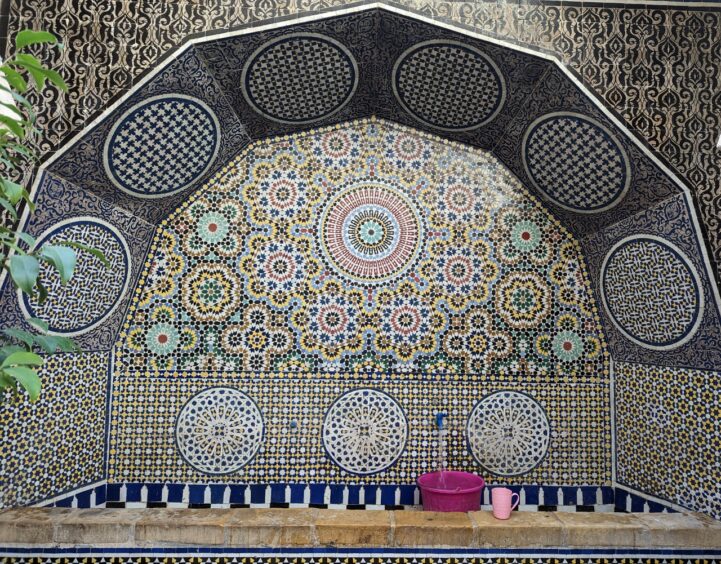 We enjoyed the trains in Morocco and loved the opportunity to see the countryside and travel at a slow pace. It's easy, inexpensive, and safe to travel through Morocco by train.