Traveling from Southern Spain to Morocco by ferry was one of the shortest connections we had in five weeks of travel through Spain, Portugal, and Morocco, but seemed to take the longest to sort out the options. Now that I've done it, I can see that many websites and blogs didn't have accurate or up-to-date information for 2022-2023, and few took the time to explain the options. In this article, I will focus on routes between Andalucia, the southern region of Spain, to the Tangier area. There are also longer routes between cities in other parts of Spain and Morocco.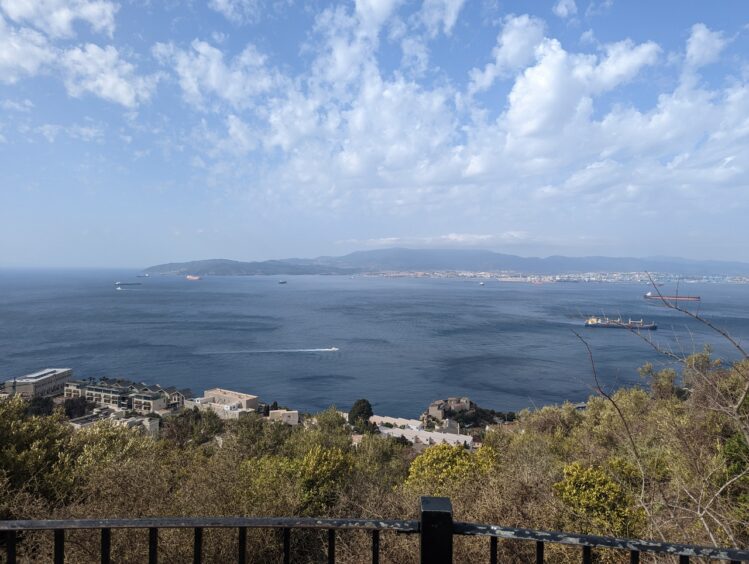 Traveling from Southern Spain to Morocco by ferry isn't difficult, but it helps to understand some of the logistics. I'll cover what we did and alternatives, including a side trip to Gibraltar. If you are in Spain and are curious about Morocco, an overnight to Tangier (Tanger in French) can be a wonderful way to dip your toe in and see if a longer trip is warranted. If you have already planned a trip to Morocco, it's a relaxing way to start.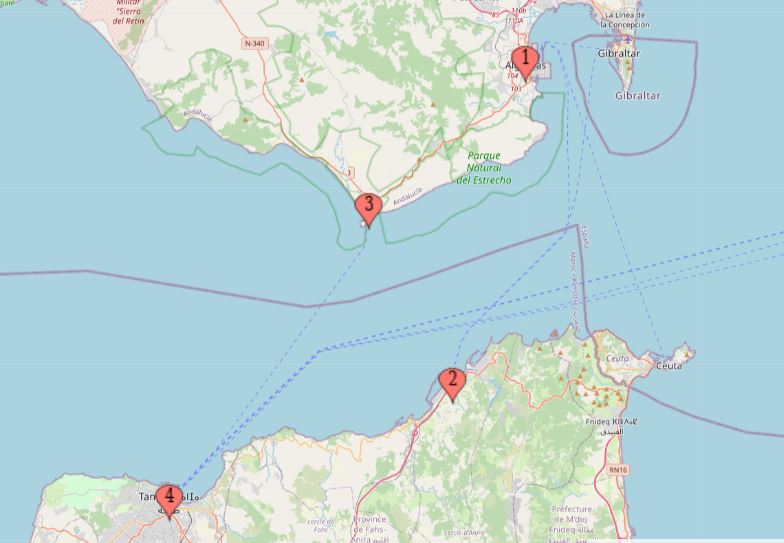 Ferry Routes
While there are seven ferry routes between Spain and Morocco, there are two that are practical for tourists. These two ferry routes operate out of two locations each in Spain and Morocco. This means there are four ports in four different towns. The towns are within an hour's drive of each other on each side, so they are close together. In Spain, ferries leave from Algeciras and Tarifa (1 & 3 on the map above), which are about 30 minutes apart by car. In Morocco, ferry terminals are in Tangier Ville, in the heart of the city of Tangier, and Tangier Med, an industrial port city (2 & 4 on the map), which is a one-hour drive from Tangier. Ferries ply the Strait of Gibraltar, the gateway between the Atlantic Ocean and Mediterranean Sea, on one of two routes between Tarifa and Tangier Ville or Algeciras and Tanger Med. There are many crossings each day on both routes.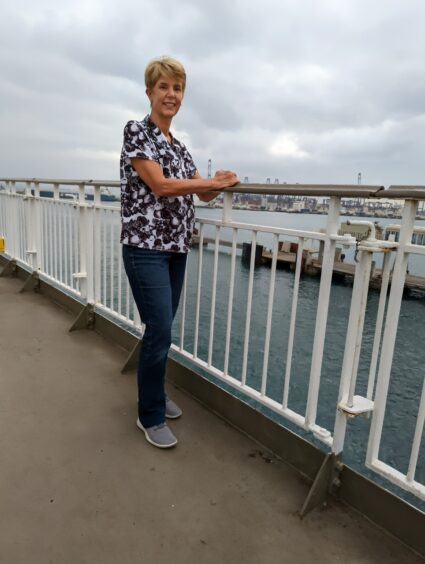 Considerations for deciding whether to use Tarifa, Spain include the fast boat option and efficiency of landing close to downtown Tangier and the medina, a popular tourist attraction. A reason for using Algeciras, Spain is the proximity to Gibraltar, where a fascinating day can be spent stepping into a slice of England (bring your passport) and exploring the tunnels and sights from the historic rock. On the Morocco side, travelers might choose to disembark in Tangier Med instead of Tangier if they plan to drive south to such locations as Chefchaouin (the Blue City) or Fez (Fes).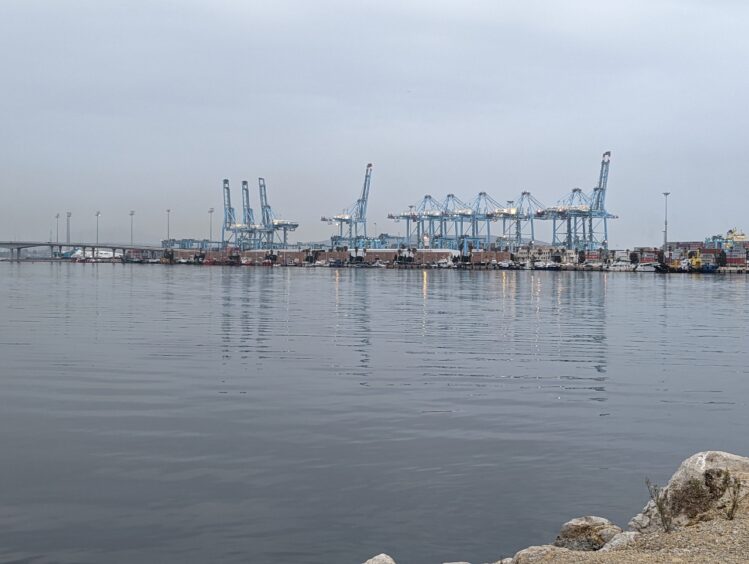 Our Choice: Southern Spain to Morocco by Ferry
After touring Spain and Portugal by car, my husband and I returned the rental car in Seville and took a bus south to the coast of Spain.
See my article: Two Week Road Trip Through Portugal and Spain
We chose to stay in Algeciras so we could visit Gibraltar and took the ferry from the large industrial port in Algeciras to Tanger Med the next day. Each of the ferry operators had a kiosk on the ground floor of the ferry terminal. We presented our electronic ticket at the AML desk and received the necessary paper ticket. We then proceeded to the second floor to board the large Morocco Star ferry, which accommodated many tractor trailers and few tourists. The ferry was spacious and modern, with a cafeteria and gift shop and several areas with different kinds of seats ranging from comfortable lounge chairs to seats with tables. Only a few were occupied. Our passports were checked on the ferry before we docked. In Tanger Med, our luggage went through security screening and there were several ATMs where we could withdraw Moroccan Dirhams. Outside the ferry terminal was a quiet scene with a few taxis at the taxi stand. We enjoyed the 90-minute water crossing and one-hour cab ride from Tanger Med to Tangier, which gave us a glimpse of the scenic countryside and coast.
From Tangier, we took trains to Fez and Marrakesh, which were efficient, clean and comfortable.
See my article: Introduction to Tangier, Morocco via Spain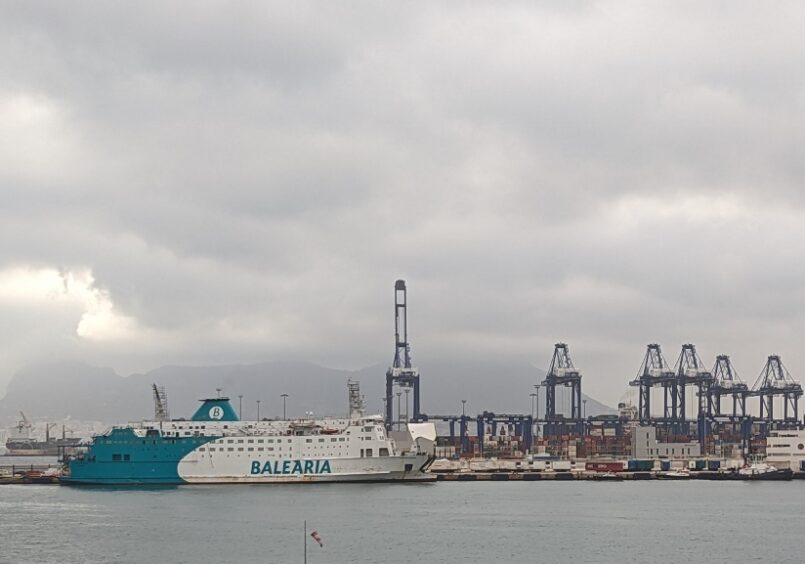 Ferry Operators
Southern Spain to Morocco by ferry is a popular route with at least five different operators. FRS Iberia and InterShipping operate between Tarifa and Tangier Ville. FRS operates high-speed ferries that take about an hour on hydrofoils from Tarifa to Tangier Ville—look for the word "jet" when comparing options. Other boats may take 1.5 to 2 hours, including the ones that travel between Algeciras and Tanger Med.
See below for a list of ferry operators and links on both routes.
Tarifa-Tangier Ville Route
Algecireas-Tanger Med Route
I found the Direct Ferries website, operated by a third party, to be a useful website for comparing schedules and prices.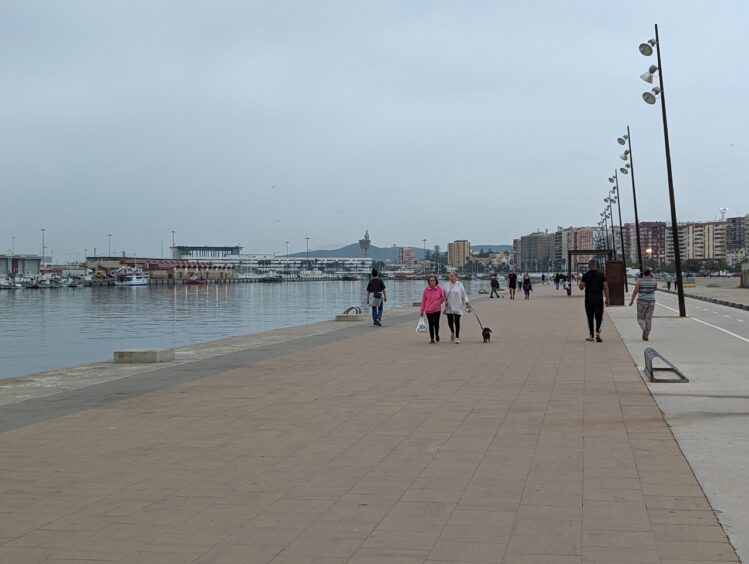 Ferry Tickets
Tickets can be purchased through several third-party websites or directly from the ferry company websites. We sailed on the Morocco Star, a large car and truck ferry operated by AML, based on the departure time and location out of the Algeciras terminal.
We bought tickets online from the AML website, paying 36 euros per person, and it looked like a valid ticket. However, when we tried to board, we were instructed to go to the kiosk on a lower level to pick up the paper ticket. Luckily, it was an efficient process, so we weren't in danger of missing the ferry.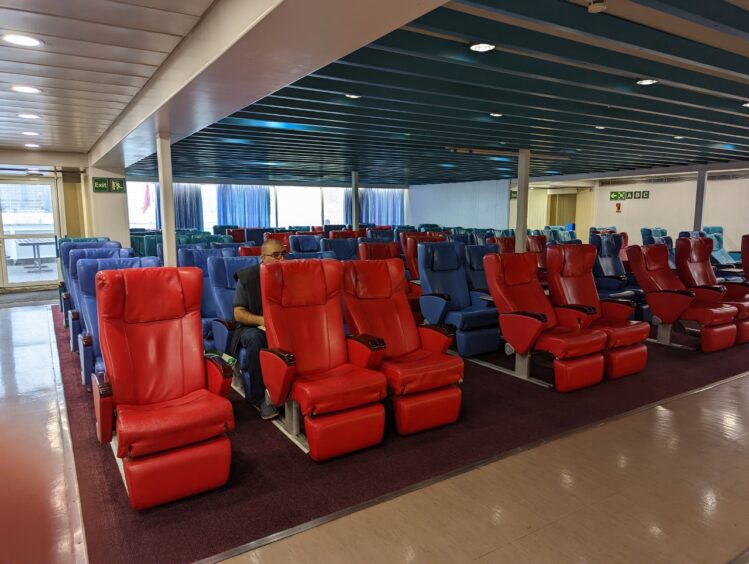 Car Ferries
If you have a car, make sure the ferry you select can accommodate your car. If you have a rental car, check with the rental car agency to see if they allow the car to be taken from Spain to Morocco (they probably will not). Car ferries travel both routes. If you want to leave your car at the ferry terminal, there are parking lots. On the Direct Ferries website, you can filter your search by passenger or car ferry.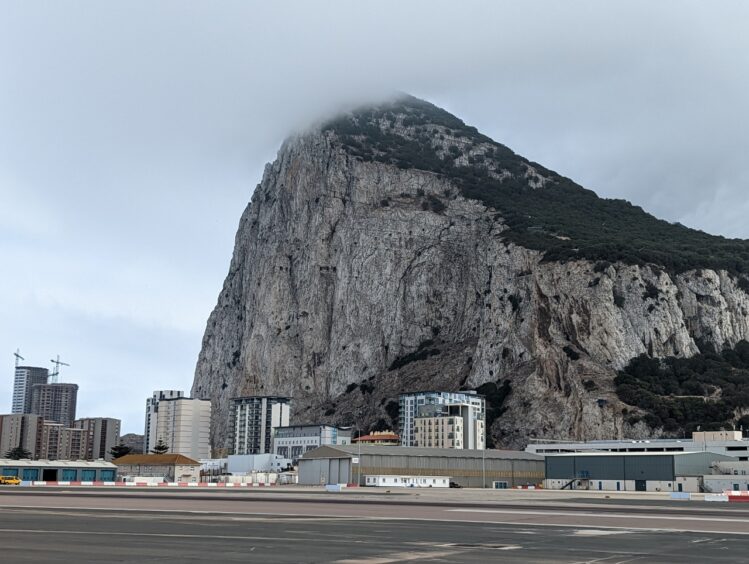 Side Trip to Gibraltar
We stayed at the Mercure Hotel in Algeciras, which was a ten-minute taxi to the ferry terminal. There didn't appear to be significant tourist activities in Algeciras, but we enjoyed walking along the wide promenade where we could view loading and unloading of the large container ships at this bustling port. Many families were out walking in the late afternoon, and some were fishing.
A 30-minute taxi ride brought us to the town of La Linea Conception, Spain, which is the closest the driver could get to Gibraltar without going through passport control. He dropped us off across the street from the gate to Gibraltar, where we waited in a moderately long line to go through passport control out of Spain, then another line to go through passport control for Gibraltar, a British Overseas Territory of the United Kingdom. We spent the day enjoying the sights around the Rock of Gibraltar, shooing the monkeys away, admiring the expansive views of the Mediterranean, and eating fish and chips.
Once we figured out the options, traveling from Southern Spain to Morocco by ferry was an easy and enjoyable way to cross the Straight of Gibraltar to the magical world of Morocco.
See my articles on Morocco