Like many others, I've been feeling constrained by all the travel restrictions in the Covid era and am relieved that we have more choices now. It can be confusing to track the changing recommendations by the CDC. As an RN with a lot of experience with immune-compromised patients, I'm glad we have vaccines, better protective gear and other options. As a resident in a high-risk wildfire zone, I'm used to wearing masks and using air purifiers. As a traveler, I'm anxious get back on the road to explore all the fabulous places I haven't seen yet. I've added some travel gear to my packing list so I'm better prepared for some of the new challenges we face.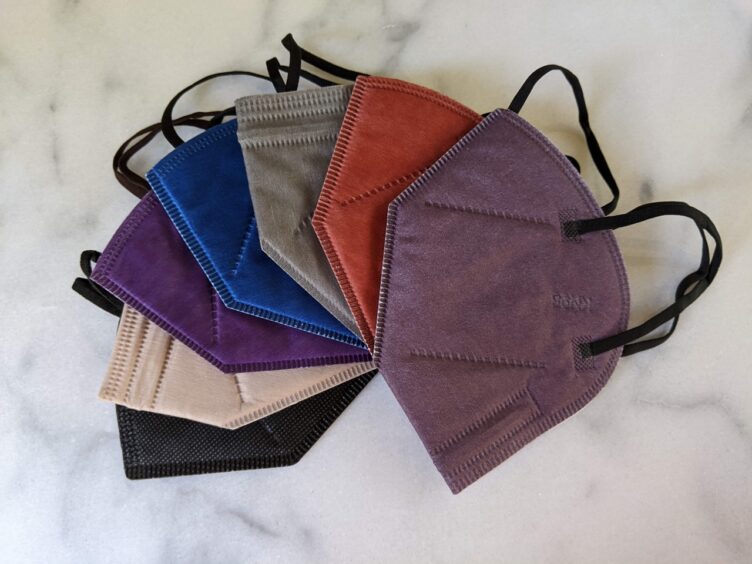 My personal decision is to loosen the reins but still protect myself as much as possible. I'm also thrilled that I haven't had a cold or flu in the past two years so some measures may be here to stay for me. After five years of serious wildfires and terrible air quality for several months each year, it was easy to apply what I've learned from dealing with smoke when the pandemic came along.
I've been caught flat-footed too many times when demand is high and I've learned to stock up when products are available (and often on sale) instead of scrambling to find items. Here are some of the additions to my travel kit in the pandemic era.
Mask
I've tried so many masks during wildfires and the pandemic and have had several favorites. My current favorite, which balances protection with comfort, are Powecon KN95 masks (distributed by Bonafide), which come in many colors. I order big batches of my favorite color (gray) and my husband's (blue). I also like the MaskC brand of disposable KN95 masks but to order colors, you have or order a variety pack and I don't like all the colors included. I also found that the MaskC brand often varied in quality, size and ear loop length. Both brands of masks are comfortable enough to wear on a long airplane ride, have a metal nose clip to ensure a decent fit, long enough ear loops that they don't bother my ears too much and, as a bonus, come in a wide variety of fun fashion colors. The mask is sturdy enough to use multiple times before discarding. I carry several and rotate them daily to be sure they air out between wearings.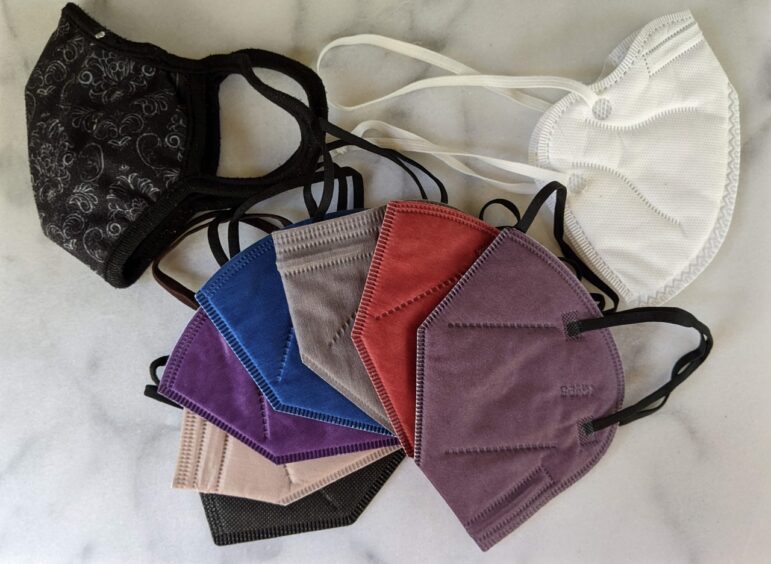 If a flight is more than six hours, I've found that having an N95 or KN95 mask with an alternate design is helpful as any mask can start rubbing skin raw or pulling uncomfortably. I've also found that the reusable, cloth N99 Cambridge Mask is comfortable over long periods. A mask with straps that go behind the head, such as the 3M Aura model, instead of ear loops can provide a needed break. These also tend to fit securely and may be a safer option in high-risk situations.
Any of these high quality masks are useful during particularly smoky times when the air quality is poor and can help reduce the risk of transmission of disease.
Portable Air Filter
Ventilation is an important factor and it's not always easy to know about the quality of air in indoor spaces. At home, I have two room-sized Pure Enrichment Elite HEPA filter air purifiers for wildfire smoke and was intrigued when they came out with the PureZone Mini Portable Air Purifier. I can't confirm the efficacy but if you're a person who wants to go the extra mile to protect yourself, it's something to consider. The manufacturer states that it covers up to 54 square feet with a two-stage purification system.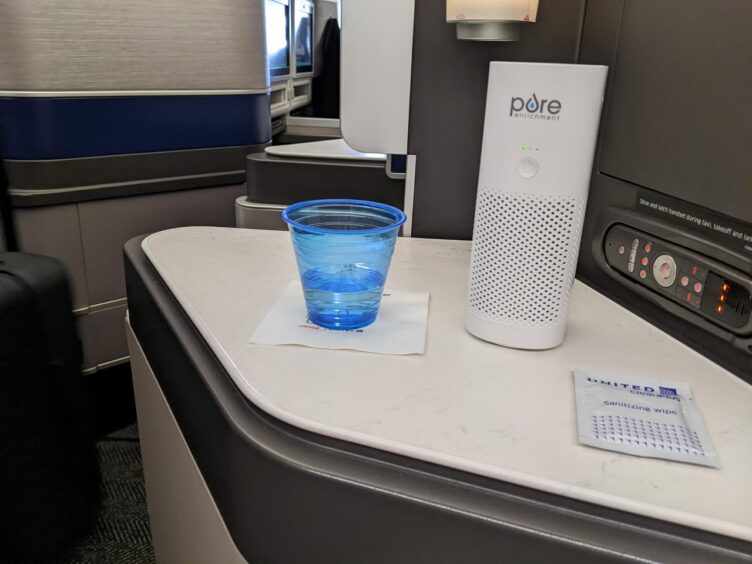 The portable mini purifier is about the size of a water bottle and fits in the side pocket of my laptop backpack. It's USB-rechargeable and lasts about 12 hours, depending on which of three fan speeds you choose. It has a sleek design that comes in several colors. It's quiet and softly blows clean air out the top of the unit. It has a removable handle.
I use it in airports and on the airplane when I want to remove my mask to eat or drink. If we have a visitor in our hotel room, I turn it on. I've even taken it to restaurants when I can't get outdoor seating, especially when I have an upcoming visit with an immunocompromised friend.
I've found that during Covid surges and peak wildfire season, the units and replacement filters can be out-of-stock for many weeks, so now I make sure that I always have extra filters on hand.
Covid Test Kit
There was a time when it was almost impossible to get a rapid-antigen test kit, but that time has passed and now they are plentiful. I carry two self-test kits in my suitcase at all times so my husband and I can test if we've had significant exposure or have any suspicious symptoms. Some of the test kits come in bulky boxes so I might bring all the necessary supplies for the two tests with one set of instructions in a zip lock baggie and discard the box. Or I use single-test box but cram supplies for two tests in one box. I use whatever brand is stocked in the pharmacy when I replenish.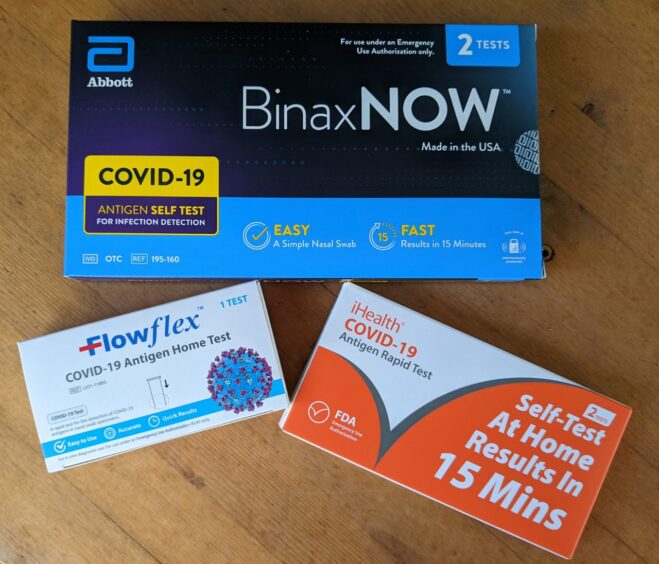 Medicine Kit
What you bring in your medicine kit may vary depending on where you're going. If you're traveling domestically or to a big city in Europe, you may just add a few items whereas if you're traveling to a remote area, you might want more (talk to your doctor if you need prescription medicines). Here are some basic items I have that might be useful if I develop symptoms of Covid (medicines are in travel sized containers):
Thermometer
Pulse oximeter to measure oxygen saturation
Ibuprofen (Advil)
Acetaminophen (Tylenol)
Cough and cold medicine
Cough drops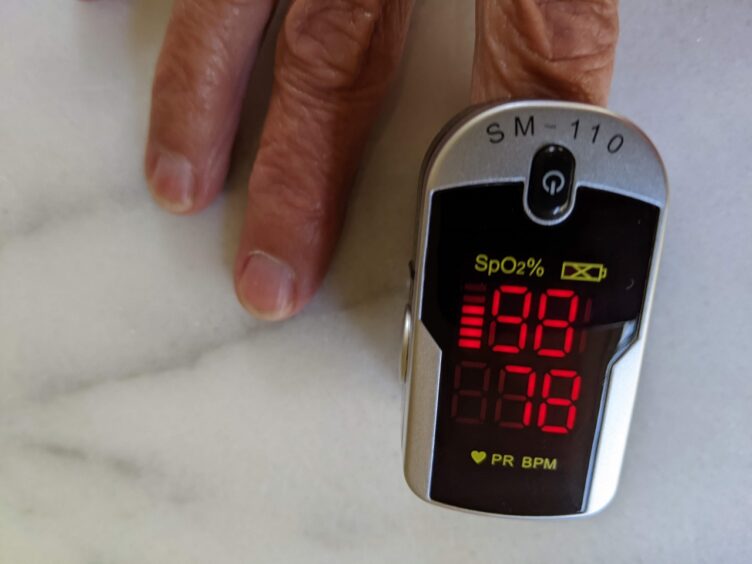 Don't forget your vaccination cards as some places still require them or might start requiring them if you get caught in a surge. And always carry your insurance card.
See my packing checklists on the Resources page.
Summary
With the expanding choices that we have, more and more decisions have to be based on personal preference. Some may choose to do more or less than what I've outlined. Whatever you do, be respectful of your fellow citizens and enjoy whatever kind of travel you're planning. Having the right travel gear can prevent wasting valuable vacation time hunting for what you need in an unfamiliar environment.
Disclaimer: As an Amazon Associate, I earn from qualifying purchases.