What a treat it was to get away after a long, quiet, Covid winter to a beautiful week of skiing at Mt. Bachelor in Oregon. We were disappointed that the border closure prevented us from spending our annual week at Whistler, British Columbia and debated several alternatives for our first week-long pandemic trip in a year. We were both fully vaccinated and felt ready to break free of our cocoon while still taking basic precautions (see Pandemic Travel). In the last two years we had taken advantage of our IKON and EPIC ski passes to visit a number of ski areas in Utah, Wyoming, Montana and Idaho and wanted something fresh and new. We hit on Mt. Bachelor. We had both skied there more than 25 years ago but after that amount of time, it was bound to feel new. The eight-hour drive from our home in Sonoma County, CA, was far enough to feel like we were somewhere different but not so far that the trip would be too tiring.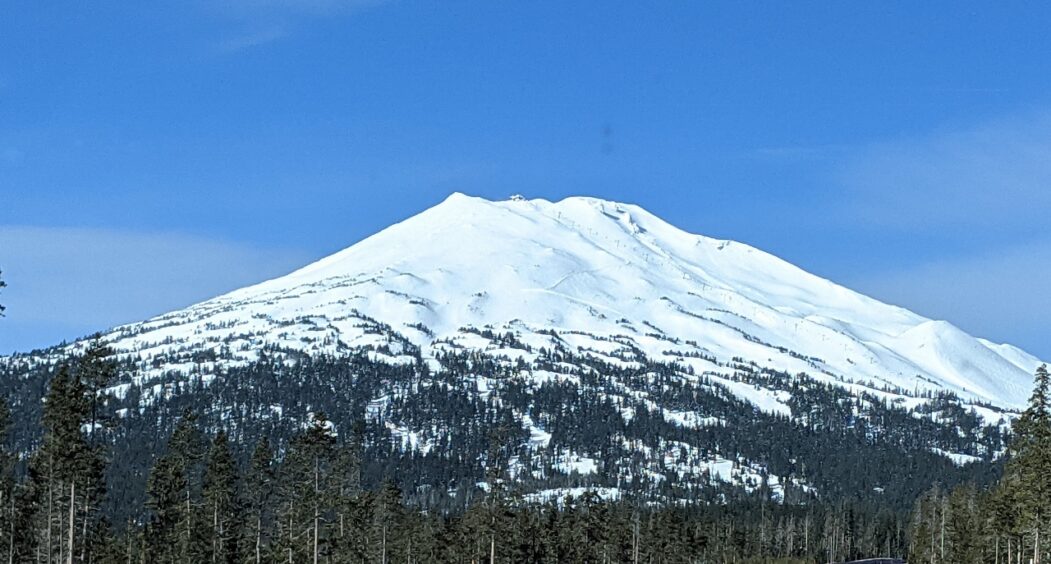 The first week of March proved to be ideal with Windex-blue skies and perfect weather. We arrived a few days after a big storm dropped several feet of glorious fresh snow on the mountain.
The drive
The early spring drive from Sonoma was gorgeous from end to end. As we passed croplands in the Sacramento Valley, we noticed lush, green fields and budding fruit, olive and almond trees flanking the highway. Our views were bracketed by the low Coastal Range to the west and higher Sierra Nevada to the east. As we traveled further north, first the very tips of the ranges were dusted with snow, then snow draped further down their flanks as we penetrated deeper into the Siskiyou Range and the soaring volcanic cones of the Cascades. Evidence of recent wildfires was a painful reminder of the devastation of the past years but obvious green growth signaled rebirth.
We packed a lunch and were loaded with snacks so a quick stop near Castle Crags State Park just before the Oregon border provided a place to stretch our legs and get a bite to eat to break up the drive. Just as Google Maps promised, it was almost exactly eight hours from start to finish.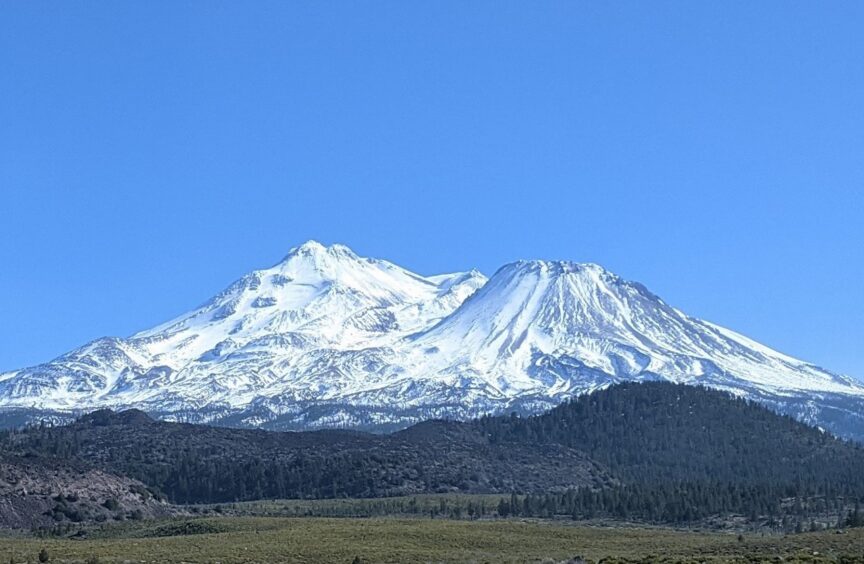 Turning off of Interstate 5 onto US-97, Region 8 of the Volcanic Legacy Scenic Byway brought distinctive views of the north side of Mt. Shasta, whose snowy, white, 14,179-foot crest was etched against an impossibly blue sky. Mt. Whitney is a little higher at 14, 5050 feet but, with a base diameter of 17 miles, Shasta is bigger; the largest mountain in the lower 48 states, in fact.
Bend, Oregon
Bend, Oregon is a growing city of about 100,000 people in a unique juncture along the Deschutes River between the eastern edge of the Ponderosa pine slopes of the Cascade Range and the lava-dotted high desert. Located at 3,623 feet, it's a long vertical distance to the top of Mt. Bachelor at over 9,000 feet but it's just 20-30 minutes by car. This affords Bend mild weather that is drier than its western sisters and milder than the chilly temperatures at the top of the mountain. It's a gateway town to all kinds of outdoor activities including skiing, snowshoeing, climbing, hiking, backpacking, biking, river rafting and more. Bend has a laid back vibe, popular brew pubs and a burgeoning foodie scene.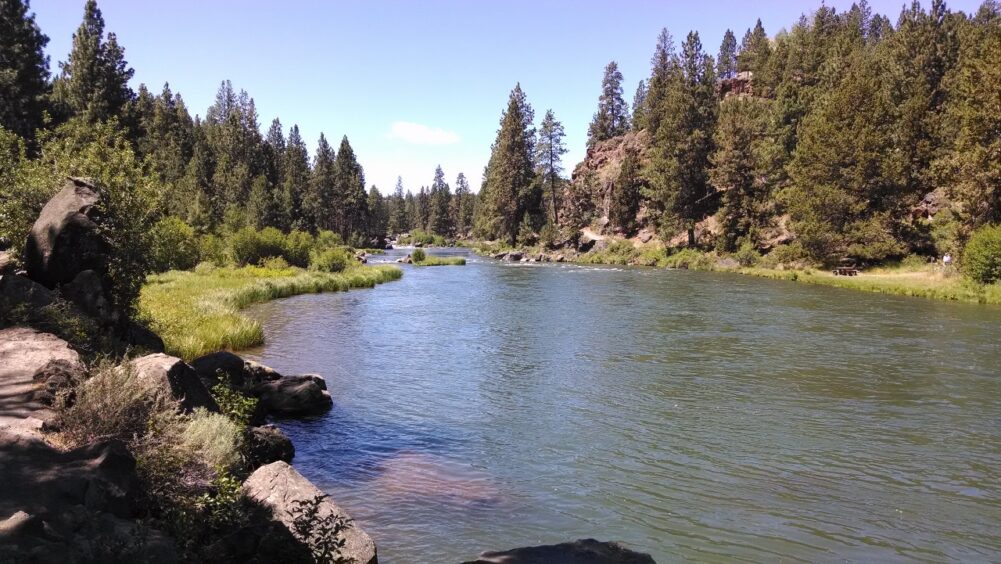 Mt. Bachelor
Mt. Bachelor is located about 22 miles from Bend. It's a cone-shaped volcano in the Cascade Range, technically a stratovolcano on top of a volcanic shield. The cone shape allows for several ski lifts to go to or near the top, relatively close to each other but as one skis down, the base areas can be very far apart. The north side has plenty of lifts: 14, with 8 express quad chairs serving 88 runs over 1,600 acres of groomed trails and the grooming is excellent quality—smooth corduroy with no unexpected bumps or ridges. They have five terrain parks and one super pipe. The south side of the cone is considered the backside and is more of a lift-served backcountry area—you can take the Summit Lift to the top but once you go down the backside, there are no lifts. Thankfully, the Catchline road encircles the mountain at the base, providing skiable access back to the lift-served areas on the north side of the mountain.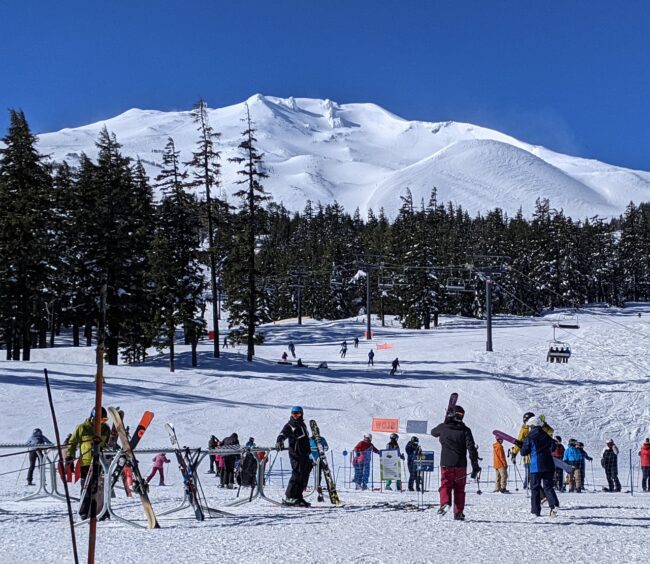 The runs are much longer than what we're used to at most of the ski areas around Tahoe. The longest run at Mt. Bachelor is 1.5 miles. Mt. Bachelor gets an average of 462 inches of snow a year and we hit it just right, just as the skies cleared after a big storm.
Lodging
There is no lodging at Mt. Bachelor but the Seventh Mountain Resort (previously Inn of the Seventh Mountain) is 22 miles from Mt. Bachelor and a little closer than other lodging options in Bend. We stayed in a comfortable one-bedroom condominium with a Murphy bed that lowered from the wall to the floor in the living room. The bedroom was very small so we elected to sleep on the Murphy bed and used the bedroom to store our bags. The unit had a full kitchen, which met our needs for pandemic travel (see Pandemic Road Trip Strategy) so we could minimize interactions with others. The small ice skating rink and mini-golf course was open but other amenities such as the hot tubs, pools and gym were closed due to Covid-19 restrictions. The bar and restaurant were open with a limited menu and restricted seating. There was a small convenience store with drinks and snack foods but no groceries. We went into Bend for groceries and delicious take-out food at Wild Rose Northern Thai Eats. There is a Safeway 5 miles from the resort but we preferred the smaller Newport Avenue Market located close to downtown, about 6.5 miles away.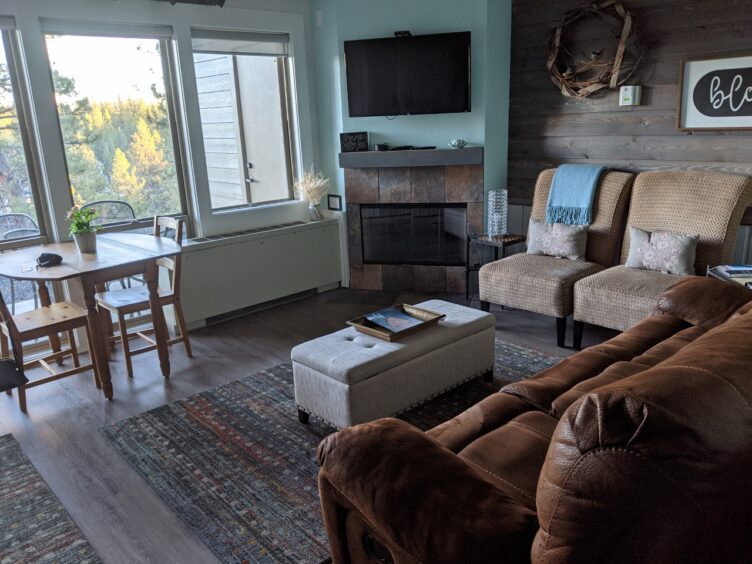 Another lodging option is Sunriver Resort, located 19 miles from the mountain but further from Bend. Bend has a number of motels and hotels to choose from.
If you bring your own lodging in the form of an RV, camper or van, Mt. Bachelor offers overnight permits to stay in the parking lot at one of 20 powered or 30 non-powered sites.
Next Year
We'll be back! It was such an easy trip, skiing at Mt. Bachelor in Oregon was so much fun, Bend had everything we needed and the drive showed off some of the best of Northern California and Oregon. We'll be making plans to visit Bachelor again.
Resources
Mt. Bachelor
Visiting Bend
Closest airport: Redmond, OR
Seventh Mountain Resort