Remember that sense of exhilaration when you'd get in the car to go on a road trip? The open road beckoned as you settled into your seat, strapped your seatbelt on and let familiar scenes give way to new, exciting vistas. Then, in March 2020 it all went away when we all acquired a new Covid-19 vocabulary but no one suspected it would go on so long, month after month of agonizingly variable CDC travel restrictions that left so many of us isolated and confused. I needed a pandemic road trip strategy.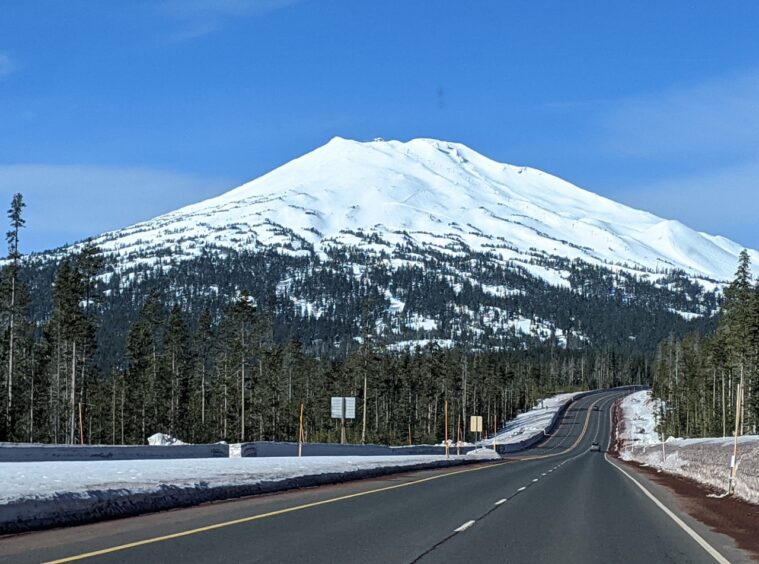 It's been a year of many changes and being tied so closely to home has been an adjustment for many of us. When will travel return to normal? No one knows, but with vaccines comes hope. Our travels were severely curtailed, with restrictions varying based on a confusing set of ever-changing formulas. Every single person has had to make their own choices and our choice was to follow the science, data and advice from experts. Masks went on, friends were held at arm's length and Zoom became a mainstay of social activity.
Things are changing slowly. The restrictions have been eased, we've been fully vaccinated with two doses of the Pfizer vaccine and we're finally ready to venture out of our cocoon. We've started taking some short trips and even a week-long trip. After experimenting with different strategies, I'll outline what's working for us. Some will find our strategies excessive and others may think we're being too casual. Everyone has to choose their path forward.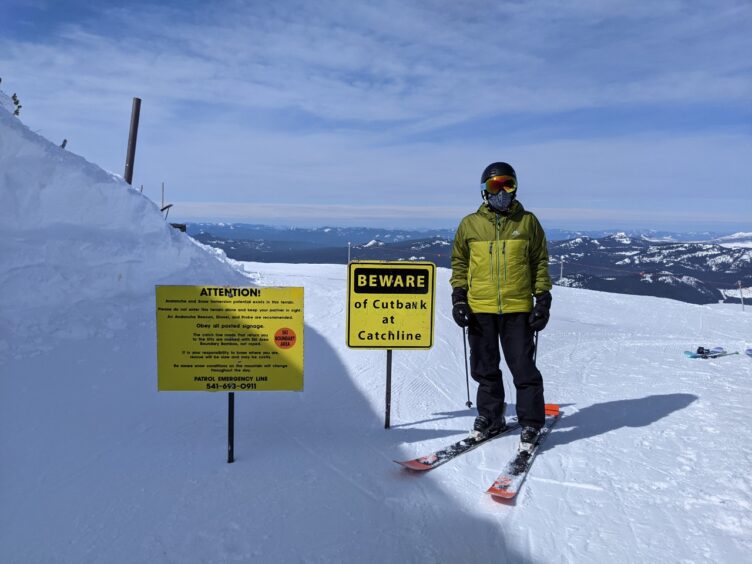 What hasn't changed
What hasn't changed for us yet is that we still wear masks when interacting with others and while skiing or hiking, we don't do indoor dining or entertaining and we have limited contact with non-vaccinated people. We will likely start socializing with small groups of vaccinated people soon. I am more concerned with respiratory transmission than contact surfaces so staying in hotels or condos doesn't worry me. I look forward to a return to normal but until we know more about Covid-19 variants, we're not taking any chances.
Hotels and motels
We've stayed in budget motels, luxury hotels and condominiums during the pandemic. In some places, mini-refrigerators and coffee-makers were removed from hotel rooms due to Covid-19 restrictions. This meant that every single bit of food or liquid other than water had to be purchased unless we brought some from home in a cooler. Motel breakfasts that might have once included hot food were sometimes replaced with a brown bag option with a granola bar, apple or orange, string cheese and yogurt while other places still provided a microwaveable breakfast sandwich heated by a staff member. High end hotels either provided a restaurant meal (takeout only during the most severe restrictions) or an overpriced (bad) bagel sandwich from the snack bar.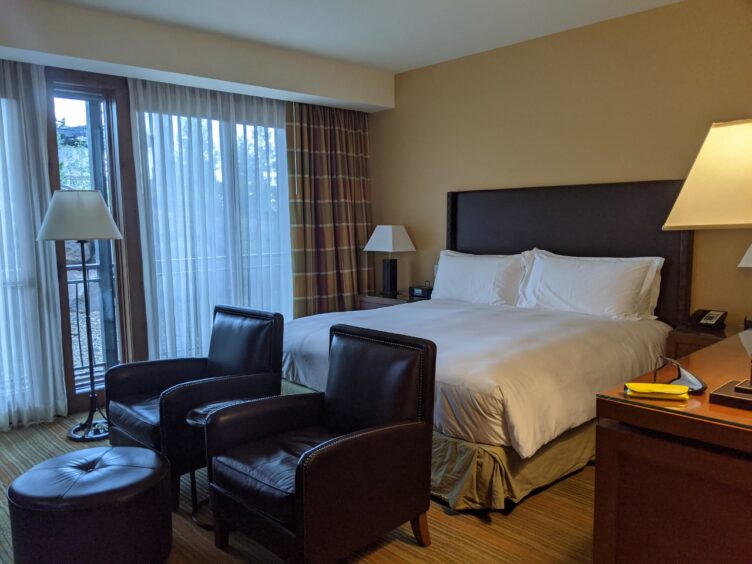 Bringing meals back to the room was problematic for places that didn't have appropriate furniture or garbage cans. The lovely overstuffed chairs arranged in front of the fireplace with the tiny cocktail table between them were hardly conducive to having cereal and coffee for breakfast or Pad Thai and a glass of wine for dinner. In one place, the chairs were very low in comparison to the table, with awkward elbows flying out to the sides. The small garbage cans quickly overflowed with the bulky containers and food odors lingered in the room. In places with a desk, one person used the desk as a table while the other managed with the small table.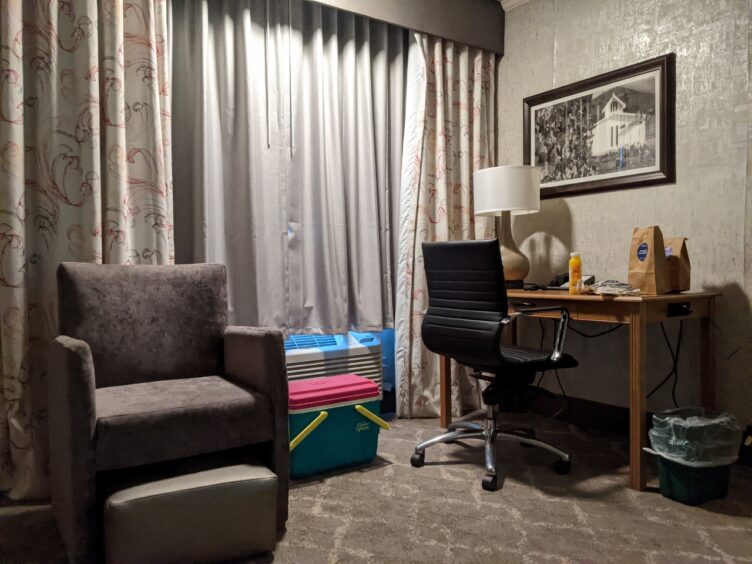 Condominiums
What has worked best for us is staying in condominiums with a full kitchen. Even so, we've been caught by surprise when we didn't examine photos closely enough. Ideally, the full kitchen means that there is a standard four-burner stove, microwave, full-sized refrigerator and dishwasher. It's amazing how photos can distort reality and make a miniature kitchen look normal despite petite appliances. The kitchen in this hallway worked well.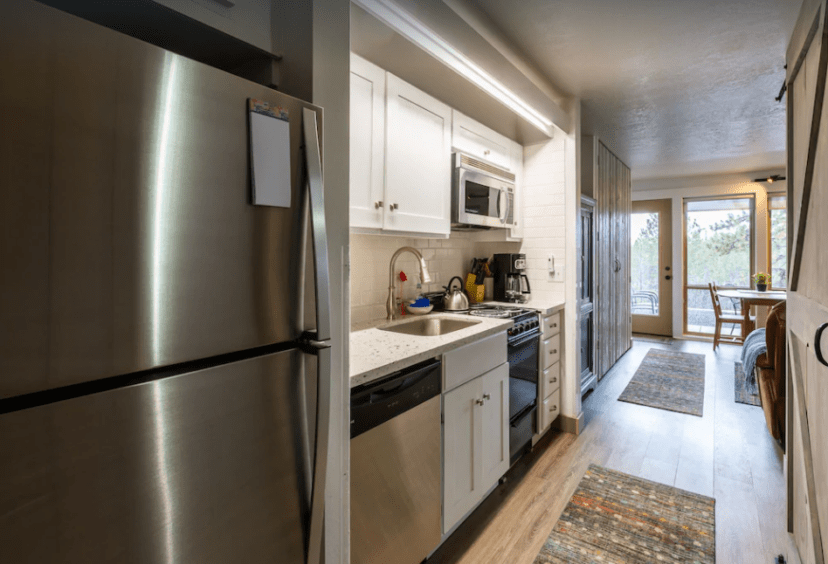 Another ideal that I now look for is a dining table that seats at least two and preferably four people with straight backed chairs after experiencing one small counter with tall stools as the only seating besides a sofa and over-stuffed chair. Even with just two of us, a larger table is more comfortable for sharing meals and to use as a desk.
One bedroom is fine for us as a couple but some places are very small. It is a nice luxury when we find a reasonably priced two-bedroom condo, especially during ski season when we have a lot of bulky winter clothing and gear. We often use the second bedroom as a staging area, with one twin bed for Steve's gear and one for mine.
Zoom meetings
If you are like us, Zoom doesn't stop, whether for work, volunteer, class or social visits. If Zoom is a part of your life, go through photos of your proposed lodging and picture where you will sit for 1-3 hours on Zoom. One place had no straight-backed chairs and no dining table. I dragged a flimsy card table over to an easy chair and made the best of it for my three-hour class but my back had words for me by the end.
Also, make sure the place has adequate WiFi. I use a Lume Cube light that clips onto my laptop to illuminate my face in dark corners where a desk might be located.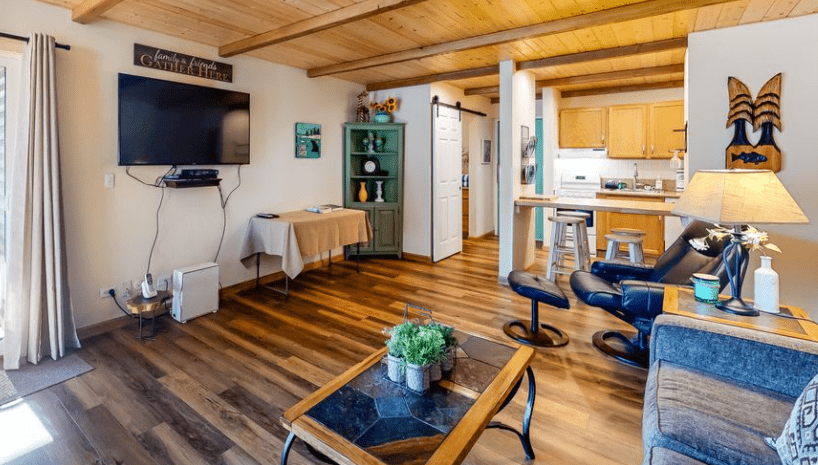 Food strategy
We often bring a minimum of a cooler and one grocery bag or dry or packaged foods. In the cooler might be yogurt, milk (in a thermos), juice, eggs (fresh and hard boiled) a couple of containers of frozen chili, stew or pasta sauce, fruit, salad, salad dressing, cheese and butter. The bag is filled with our favorite snacks, nuts, chocolate bar, canned vegetables, canned soup, tuna packets, canned herring or mackerel, olive oil and a variety of dehydrated foods from our pantry (see below). If we're planning to make sandwiches, we'll bring bread and jars or packets of condiments.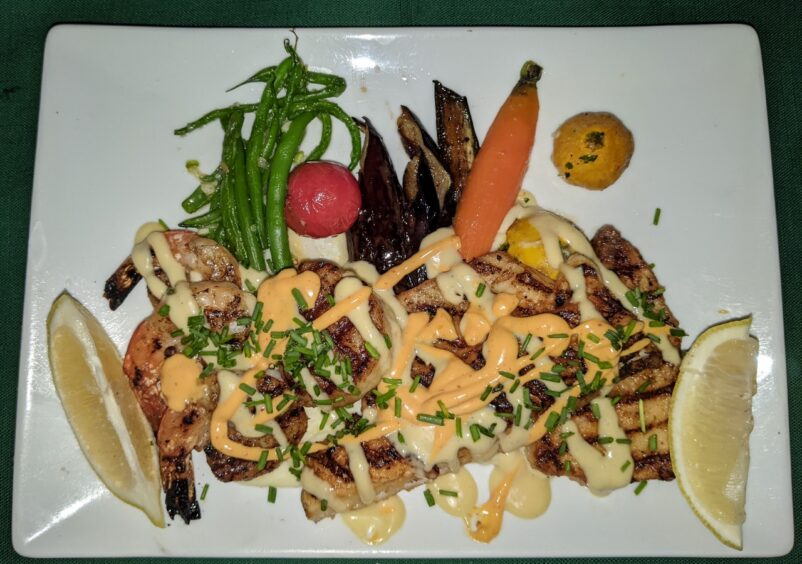 If we are away more than two nights, we'll usually bring a couple of homemade frozen meals and get takeout meals from a restaurant or grocery store for the rest.
I usually pack a lunch for the road trip. This gives us flexibility to stop anywhere, preferably with a nice view.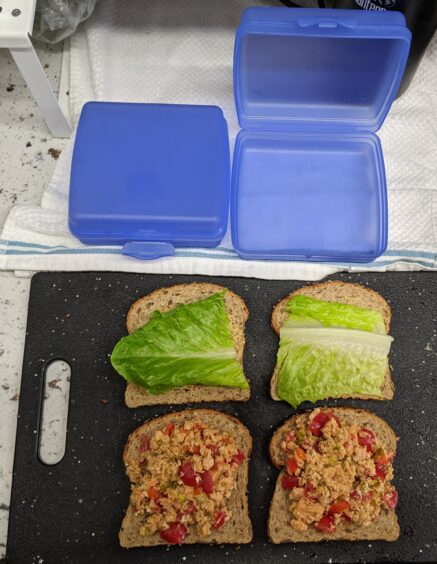 Dehydrated Foods
We're big backpackers and I prepare our backcountry meals from dried ingredients, either freeze-dried foods that I purchase or home-dehydrated foods. As I was packing for a ski trip, I realized that some of those staples could supplement our meals. The dry foods take up less space, don't have to go in the cooler and can be used over several trips. They provide some bright flavors or added nutrition and can supplement canned food or frozen meals. See below for some examples.

List of dry foods
Tomato slices-dehydrated
Red bell pepper (capsicum)-dehydrated, diced
Sweet pickle chips-dehydrated
Dill relish-dehydrated
Tofu-dehydrated
Salsa-dehydrated
Muesli or granola
Minced dried onion
Garlic powder or fresh garlic
Salt/pepper
Extra precautions
We aren't as concerned as others about hard surfaces but for those who are, there's nothing wrong with bringing your disinfectant wipes to wipe countertops, handles and other surfaces. Another good strategy if you're not sure how long the room has been empty is to immediately open all windows and give the room a good airing out.
In the car
I keep a few pairs of latex gloves in the car and alcohol wipes. I either use the gloves when getting fuel for the car or wipe my hands with an alcohol wipe when I'm back in the car or both.
Traveling further afield
We've debated different strategies for when and how we'll travel by air domestically and internationally but haven't taken that leap yet. So far, our plan is to wear masks on the plane (maybe forever? I'd love to not get a cold or flu every time I travel), fly business class for long flights when possible, choose destinations that have lower rates of Covid and higher vaccination rates and perhaps start taking into consideration the quality of health care in the destination we're considering.
Our bubble will expand over time and hopefully, these precautions will be less prominent at some point. In the meantime, every person has to make their own decisions and hopefully understanding our pandemic road trip strategy will help others find their own path.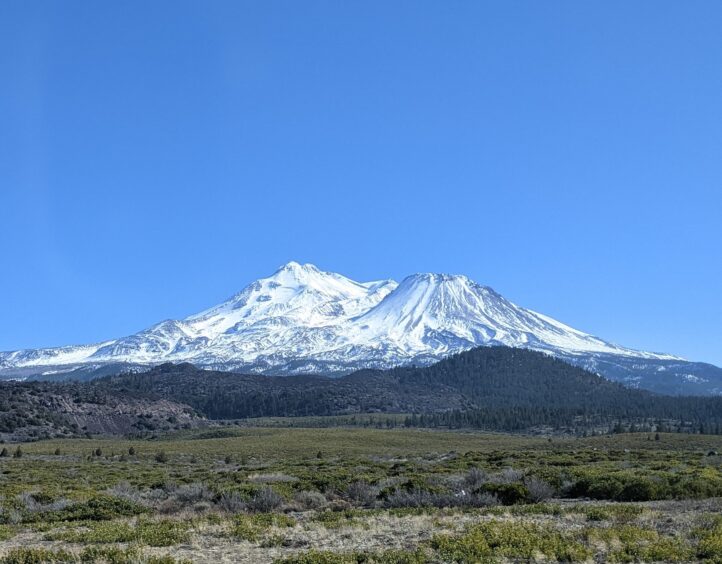 Follow us on one of our pandemic road trips to Mt Bachelor.