In November 2017, Steve and I traveled independently through India for a month. We started with the Golden Triangle, a tourist circuit that takes in Delhi, the Taj Mahal in Agra and the city of palaces in Jaipur (see Up, Down and All Around in India: A Sample Itinerary). We loved it but some of my most vivid memories are of the other places we visited, including Shimla, Goa, Aurangabad and Mumbai. We traveled to India with a rough itinerary and a few reservations but found a local travel agent through our hotel in Delhi. I highly recommend John Dar of Perfect Holiday Travels. He helped us with many little details and arranged transportation all over India. He was always available through messaging on What's App.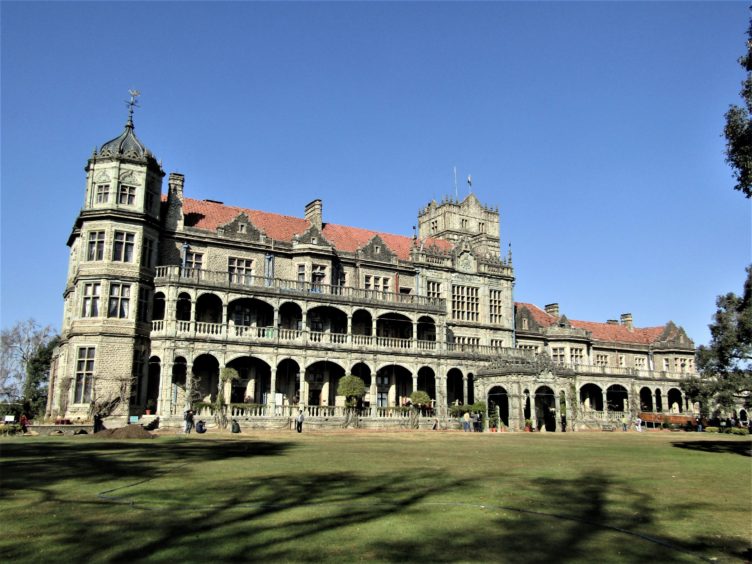 Shimla
I think of Shimla as a spur of the Golden Triangle. From Delhi, we traveled north to Shimla, a historic town in the foothills of the Himalaya. Every hot, humid summer during the 200 years of British reign they moved the government from Delhi to Shimla (then called Simla) for a few months to take advantage of the cool mountain air. I had two reasons for going, one serious and the other frivolous. Shimla was host to important conferences that took place before the tumultuous partition of Pakistan and East Pakistan (now Bangladesh) from India in 1947. This event held particular significance for me as I lived in Lahore, Pakistan as a young child just 14 years after partition. Though I was too young to appreciate the physical and emotional wounds that were still fresh for those affected, I now understand the implication of these events. The frivolous reason was that we had been watching the Masterpiece Theater production of Indian Summers which featured Shimla, and it looked intriguing.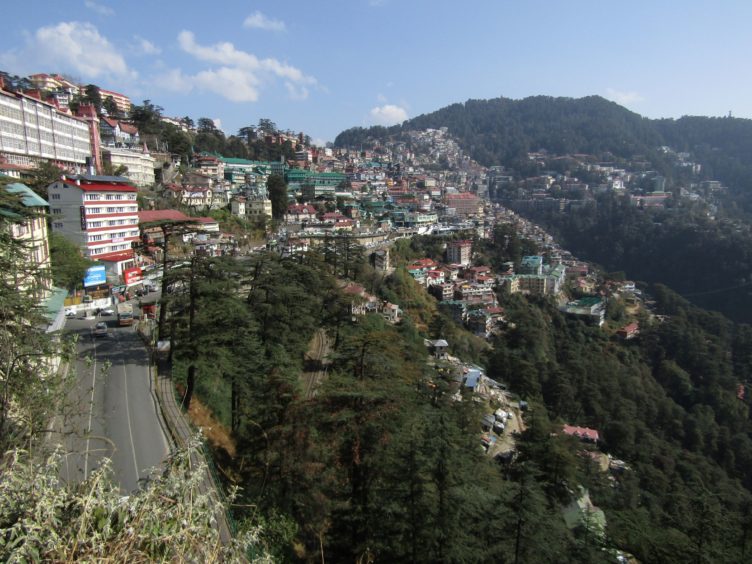 The small hill town is charming with colorful buildings cascading down the steep slope via narrow lanes that switch back and forth. The core of the town is closed to automobile traffic which makes it a rare place in India that is pleasant for strolling. Many beautiful buildings left over from the British can be seen on a walking tour. Impish monkeys create a racket as they scamper across roofs and leap into thickets of trees.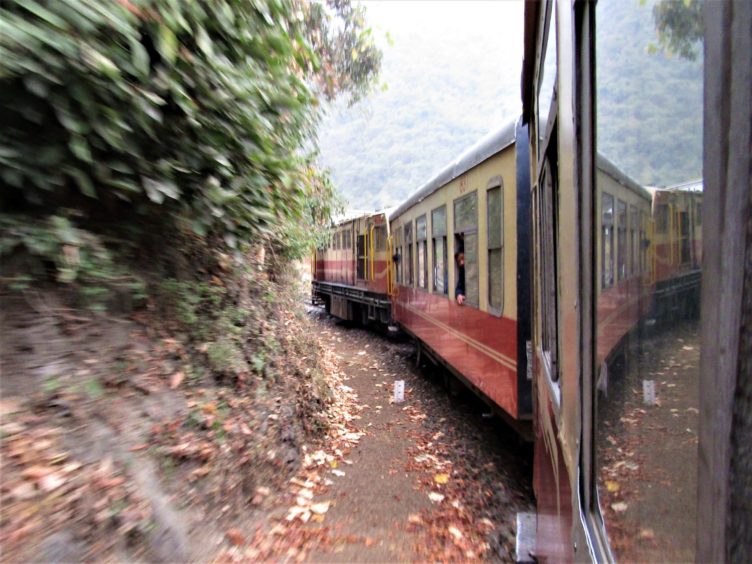 The toy train (narrow gauge railway that is a Unesco World Heritage Site) is a highlight of a trip to Shimla. Because trains can be plagued with delays, I recommend taking faster transportation (private car or flight) to Shimla and saving the toy train for the return trip. Otherwise, you could end up being on the toy train at night like we did, and you'll miss viewing the 103 tunnels and 912 turns up the steep mountainside as it rises 4,656 feet. Train tickets can be purchased online from Yatra.com from Shimla to Kalka or Delhi for less than US$15.
Highlights of our two-day stay in Shimla included the following.
Self-guided walking tour in the pedestrian core with interpretive signs in English.
Viceregal Lodge: Now the Indian Institute of Advanced Studies (IIAS), this is the destination most tourists want to see. The British Raj mansion, built in 1888, is magnificent.
Chadwick Falls: We enjoyed a pleasant afternoon walk in the woods on this trail that is easily accessed from town.
Shimla Water Catchment Sanctuary hike: This large swath of forest offered an opportunity for a longer hike over several hours and I appreciated the protection of open space.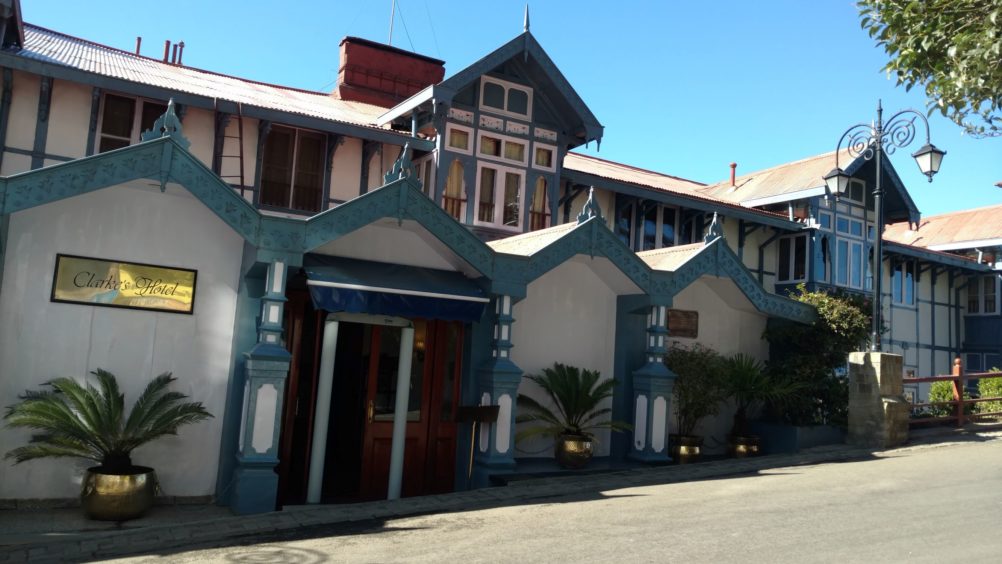 We stayed at the Oberoi Clarkes Hotel, a wonderful heritage hotel located in the historic part of town on the Mall. The staff was top notch, the food was excellent and service was impeccable. Due to the expected cold temperatures we had packed a few small items for this otherwise hot-weather trip that kept us reasonably warm including a hat, scarf, gloves and packable lightweight Uniqlo down jacket.
Shimla was a wonderful escape from the heat and bustle of Delhi, showcasing a unique hill town region of India.
Goa
We returned to Delhi after Shimla a via car and driver arranged by John Dar, our travel agent in Delhi. We stayed one night at the Ibis New Delhi Aerocity Hotel at the Delhi airport to avoid the traffic snarl in the morning, which was convenient. We flew from Delhi to Mumbai (two hours), then Mumbai to Goa. The one-hour, 20 minute flight on Vistara Air from Mumbai to Goa saved an incredible 12 hours of driving or train time.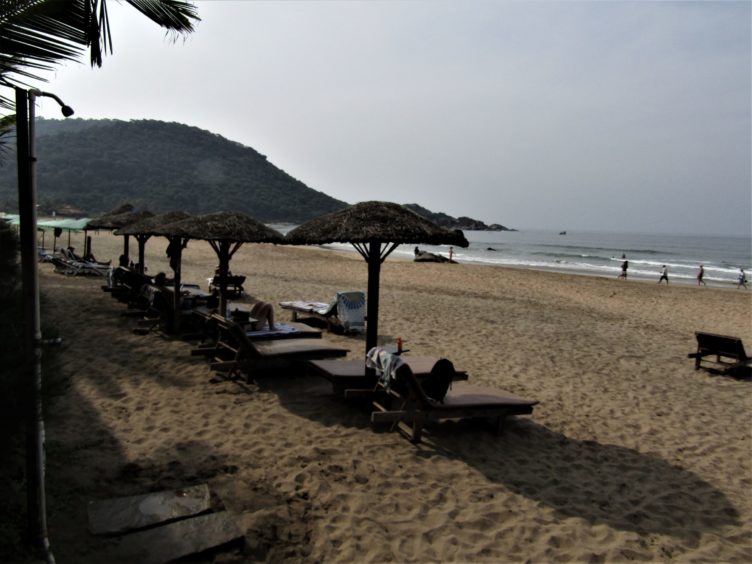 The beaches of Goa were postcard perfect in December with broad swaths of white sand, warm water, palm trees and a laid-back vibe. It's a relaxing place to unwind a bit after taking in the sights in other parts of India, being warm, tropical and lazy. North Goa is more developed and has a reputation as a party place. South Goa is more relaxed and family-friendly.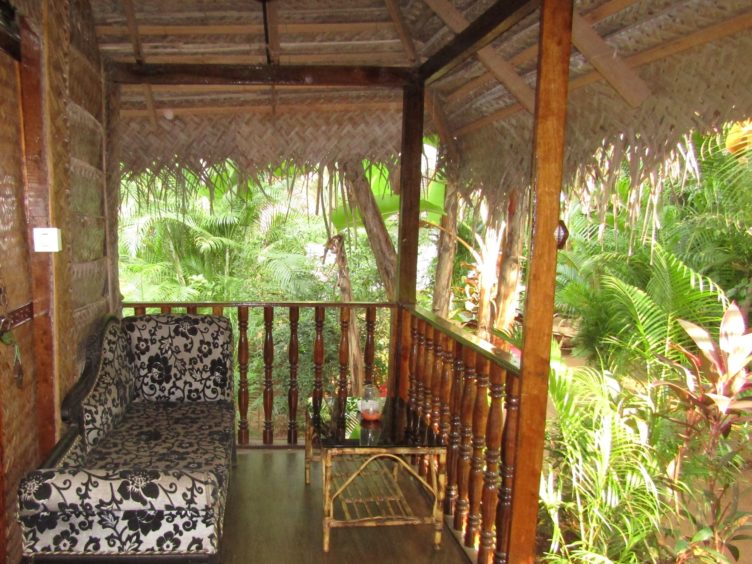 Agonda Beach, located in South Goa, was where we landed, barely moving from Agonda Cottages except to walk the two-mile beach every morning. The seafood barbecues at night were legendary, freshly caught from the sea. I loved our thatch-roofed cottage and jungle-thick path to the beach. Every day during the heat of the day, I took my computer to the shady, open air restaurant and wrote my trip notes while my feet massaged the sand, loving every minute. If I had it to do over again, I'd schedule the Goa segment closer to the end of the trip. Traveling in India can be tiring and Goa is the perfect place to recharge the batteries. We could have stayed there a month but then again, we're tropical beach lovers. Note that Goa is not the place to be during the summer monsoon season.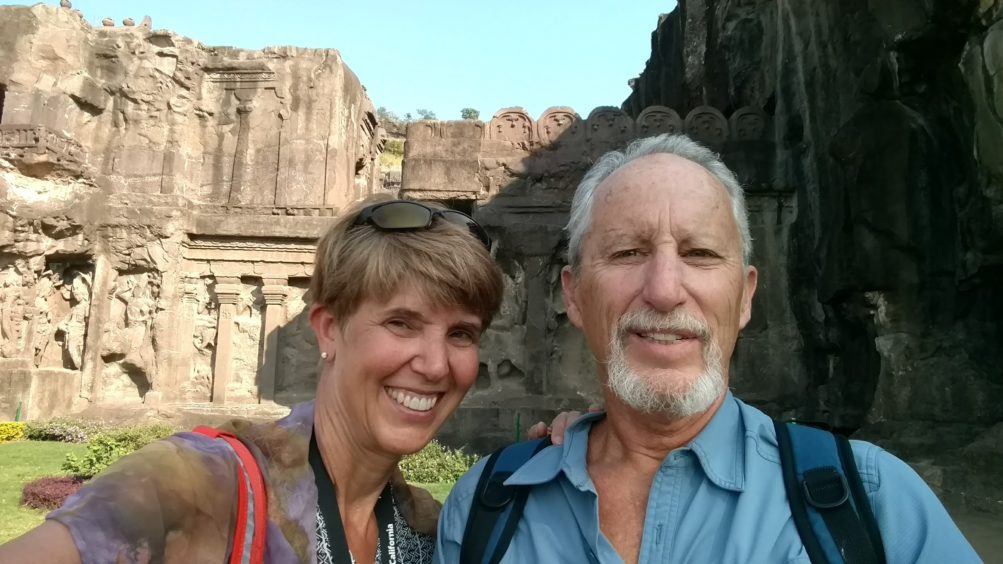 Aurangabad
From Goa we flew back to Mumbai, connecting directly to a flight to Aurangabad on Jet Airways. The "small" inland city of 1.5 million isn't that special, but the surrounding cave complexes at Ajanta and Ellora are truly spectacular. Aurangabad itself is a bit out of the way and the caves are located some distance from the city, yet the payoff is worth it. If you plan it right, you could spend two nights here but we took three.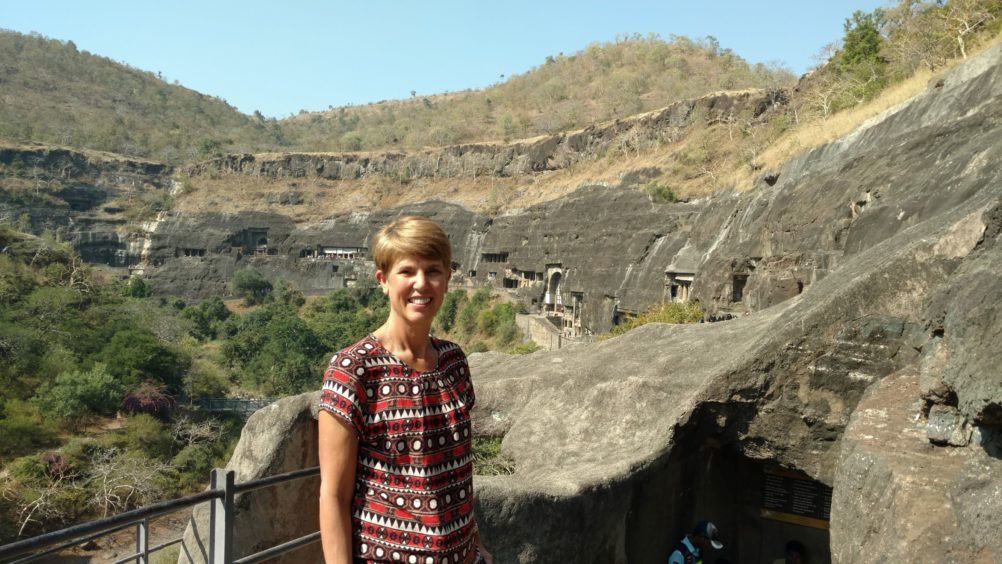 It was a two-hour drive to Ajanta (four hours roundtrip) and it took us over two hours to go through the Caves, so that's a full day. The 30 Ajanta Caves, built in the 2nd century BCE, contain remarkable Buddhist paintings and sculptures in individual stone caves in a canyon sliced into the earthy by a river. They were hidden for many years by thick vegetation, being re-discovered by accident by colonial British officer Captain John Smith on a hunting expedition in 1819.
There were busloads of school children and families as well as small groups of hip looking young men. Again, we took selfie after selfie, phones flashing in the bright sun and gloom of the caves. The little kids strutted and posed while the young men maintained their composure. The mothers looked stern and I was slightly concerned that they didn't approve. The kids asked us our names over and over. Later, on the way to the restroom, I passed one of the women covered from head to toe, though she, like many of the women, had removed her niqab (face veil) once inside the complex. As she passed by, I heard her softly say, "Inga," without lifting her eyes or pausing. I was touched and murmured an equally soft, "hello."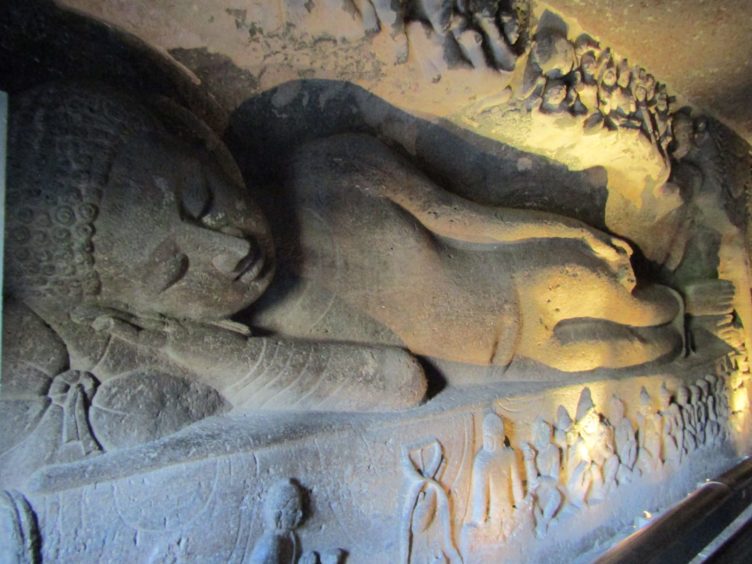 The 100 Ellora Caves are one hour away and are spread out over a kilometer so it took over three hours to see the Buddhist, Hindu and Jain carvings. It is thought that the three sets of caves were carved at different time periods and later than the Ajanta Caves. Running out of energy in the heat and humidity, we skipped a few caves. If you have a special interest, I'd recommend spending at least two hours on the first set of caves (they are numbered) then have lunch in any of a number of stalls near the entrance. After lunch, spend two or more hours on the rest of the caves.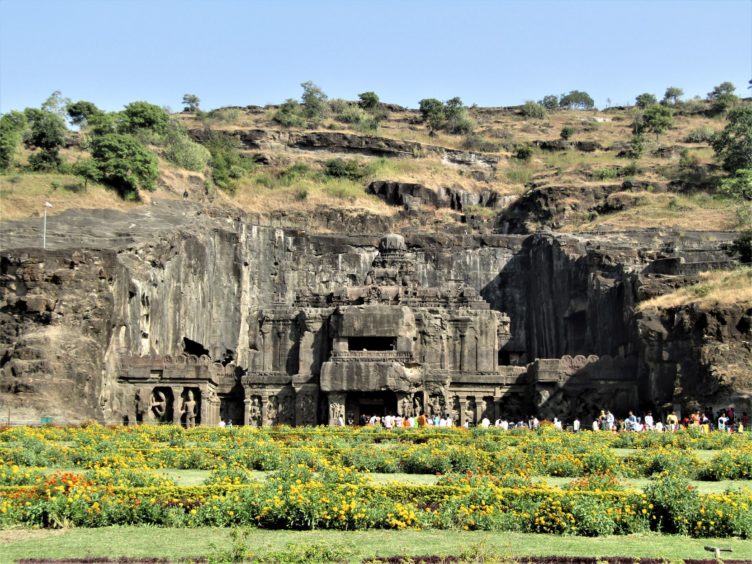 Inside the finest cave, two sophisticated young ladies clad in elegant shalwar kameez (tunic over trousers) asked for a selfie. Curious to find out if they were perhaps from a remote area and weren't used to seeing foreigners, I asked where they lived. "Mumbai," one replied. Mumbai? One of the most cosmopolitan places on earth? Outside the caves, an entire busload of kids was lined up waiting for something as their teacher haltingly interviewed us and we took more selfies. I still can't quite understand why we were approached so many times. Typically American, I smile a lot, especially when there is a language barrier, so maybe we simply looked more approachable than other tourists but throughout India we posed multiple times for selfies with Indian youth.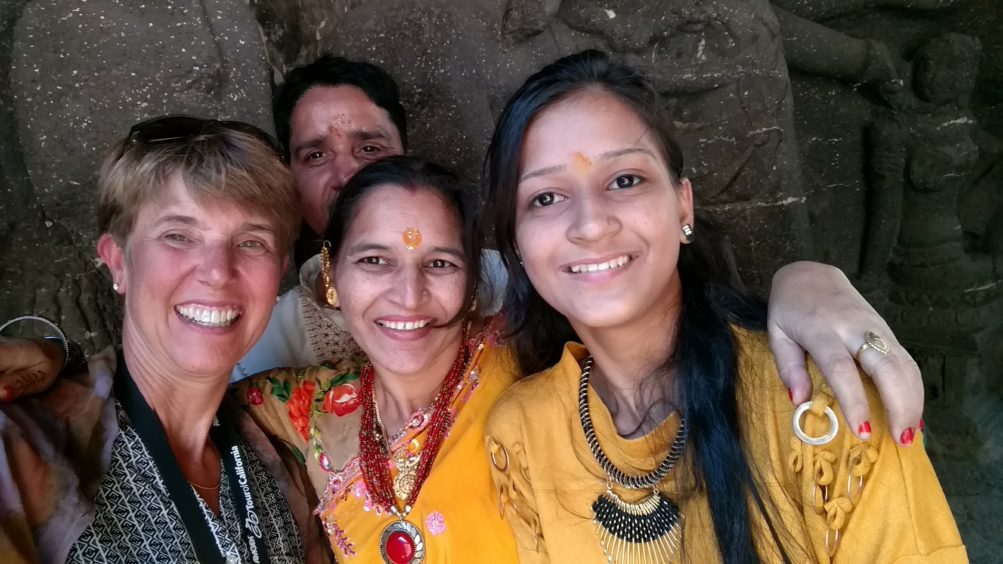 Aurangabad and the surrounding area are known for a particular type of weaving known as himroo where silk is used for the weft and cotton for the warp. Both silk and cotton are grown in the agricultural area around the city. In past times, the fabric was made with silver and gold threads and still use Persian designs. If you hire a private driver to visit the caves, expect a visit to a factory store, which may include an interesting demonstration of looms and display of beautiful fabrics for sale.
We flew from Mumbai to Aurangabad but there is also a train. We stayed at the Grand Kailash Hotel, a clean, modern oasis with a rooftop restaurant on a busy street.
Mumbai
The city of Mumbai (population 18.4 million) anchors the West Coast Triangle. Many locals still refer to the city by its old British name, Bombay. A vibrant, cosmopolitan city by the sea, it is comprised of seven islands connected by bridges or landfill. Many international companies are headquartered here with billboards to prove it. Numerous neighborhoods make up the diverse fabric of Mumbai, but a fashionable tourist destination is Colaba. Located at the water's edge, it is a relatively compact community to base explorations.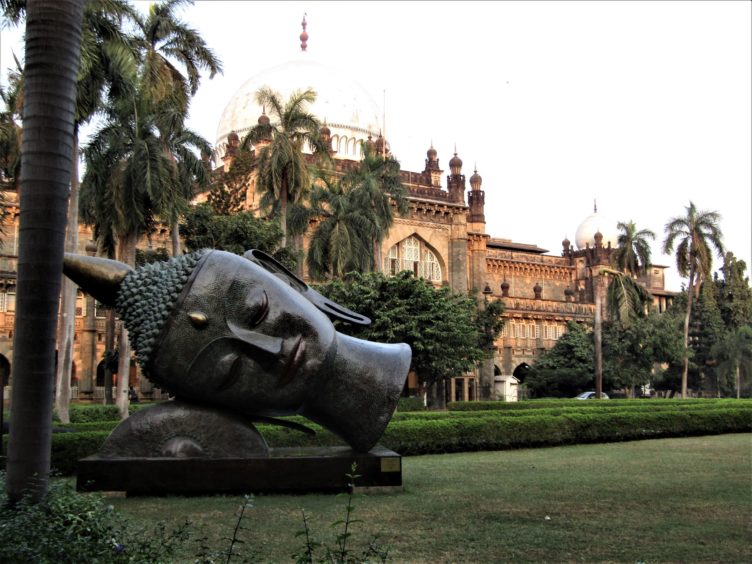 Our city tour of Colaba included the following highlights, accomplished via a combination of walking, taxi and a one-day guided tour with a driver and car arranged by a hawker on the street near our hotel.
Gateway of India: A large stone structure set at the shore is a popular gathering place. I was hot and frazzled, getting jostled by the press of people and becoming short-tempered. Someone tapped me on the shoulder. Not another tour guide offer, I thought. I wheeled around to find a shy young man hesitantly asking for a selfie. I was worried I'd lose Steve in the throng, but I couldn't turn down this person who had obviously worked up his nerve. I paused for the shot and decided I'd better get centered and slow down.
The Taj Mahal Palace Hotel: Located across from India Gate, this is one of Mumbai's finest hotels. Legend has it that Mr. Tata, a business magnate, was refused entry to a fancy Western hotel and took his revenge by building this fine lodging. It was the site of the 2008 terrorist attack so security is tight, but things have calmed down.
Colaba Market: This is a typical busy market where vendors sell fruit, vegetables, clothing, textiles, toys and other goods.
Colaba Causeway: Several blocks are chock full of shops on one side of the sidewalk and stalls on the other making for a crowded narrow walkway for tourists. It's a good place to buy inexpensive clothing, shoes and trinkets.
Dhobi Laundry: This huge outdoor laundry is a unique sight for Western tourists. Clothing from Mumbai hotels is washed by hand in open troughs of water. Around the pools are multistory buildings where machines of varying degrees of modernity aid the process. It was interesting but I felt that the local washerpeople were being exploited by making the backbreaking labor into a tourist attraction. It is sometimes hard to balance these kinds of activities as one often doesn't know what the activity is all about until one is there in the midst of it, feeling uncomfortable.
Chhatrapati Shivaji Maharaj Vastu Sangrahalaya: This mouthful of a name was previously known as the Prince of Wales Museum. It's worth a visit with an excellent exhibition of Vishnu, Shiva and Brahma on the first floor and a vast art collection on other floors. The museum and a café are set in beautiful, peaceful grounds that offer a respite from the noisy streets.
We stayed at Hotel Suba Palace, which is ideally located near the India Gate in Colaba. Our room featured a prayer rug and arrow painted on the ceiling pointing toward Mecca. Most of the women wore full burkas and almost all the staff were men, including housekeepers. I made sure to dress modestly in this obviously Muslim establishment. We appreciated the sophisticated Italian restaurant, The Table, next door for the rare non-Indian food on our trip. Our hotel was around the corner from the historic Café Mondegar, established in 1932. The bar and restaurant features murals painted by a famous Indian cartoonist, Mario Miranda.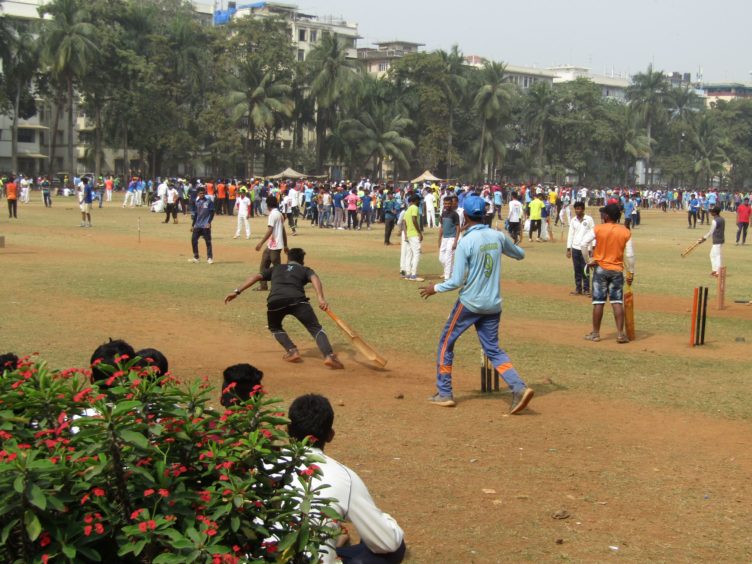 That covers our month in India but there is still a lot of the country to cover, including Chennai, Kerala, Kolkata and the lofty peaks of the Himalaya. Our travels through the Golden Triangle, the so-called (by me) West Coast Triangle and Shimla provided a fascinating glimpse into a diverse and colorful country, full of history and contradictions.
See other articles on India.
Parts of this story first appeared in International Travel News.