India turned out to be a lot more conservative than I was prepared for. I brought my below-the-knee skirts and dresses with tops that covered the shoulders but these weren't quite right. These had served me well in South East Asia but I realized pretty quickly that exposed legs were not the norm even in places where I expected to see lots of tourists. The vast majority of visitors were other Indians and those from regions where modesty is expected. Women dressed in everything from full purdah to saris to shalwar kameez (see below for definitions). The proportion of Western tourists in any location except the beaches of Goa was tiny.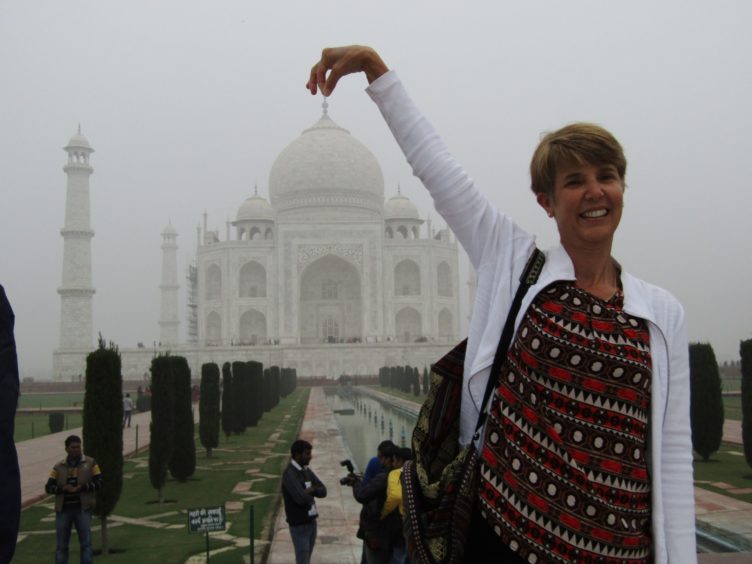 Where I Went Wrong
I've traveled all over Southeast Asia, at one point traveling for five straight months. I thought I had my travel kit pretty well planned out (see my article Packing Light for Overseas Travel). In the big cities of Seoul, Tokyo, Saigon, Bangkok and Singapore, no one batted an eyelash with my demure skirts and over-the-shoulder blouses and T-shirts. I carried a scarf in predominantly Muslim areas just in case but rarely needed it unless I was visiting a temple. Even then, they usually rented thin robes for a few cents for tourists to wear to cover up. I'd carefully observe what modern local women wore and try to emulate them. I even lived in very conservative Muslim countries when I was young, including Pakistan and Bangladesh, so I knew what it meant to cover up. In India, many Hindu women follow similar practices of covering up with a veil. India is 15% Muslim but that number can feel misleading when you're standing in a majority Muslim neighborhood and you're the only person with exposed skin.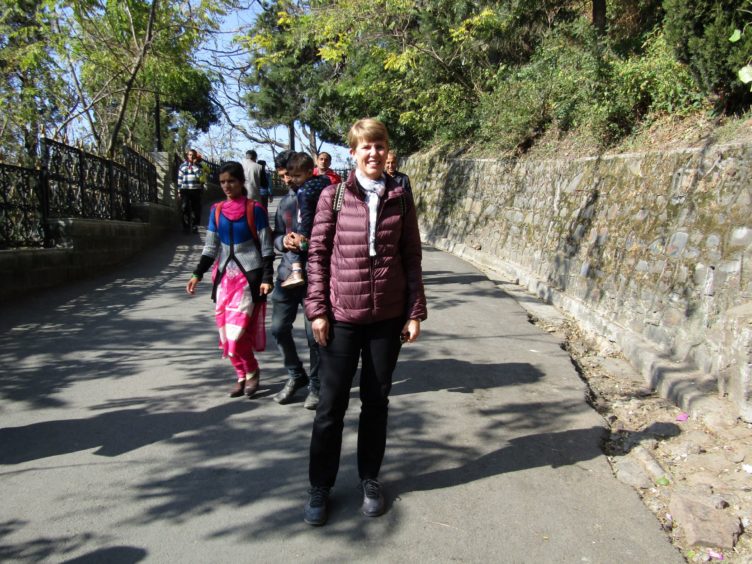 Weather Considerations
A complication we had was that we were traveling over a fairly large region in India (See Up, Down and All Around in India). We spanned the chilly foothills of the Himalaya in Simla to the steamy concrete of Delhi and the Golden Triangle. From there we went on to Mumbai and the casual, warm-weather beaches of Goa. Following my "packing light" mantra, I packed a couple of long shirts for the cool weather and a couple of dresses for the beach. Those were great for the few days we spent at each but I lacked appropriate clothes for the other three weeks. My heavy black jeans, in particular, were way too hot in Mumbai, though they were perfect in Simla. Luckily, India is a great place to shop. In Mumbai, I took advantage of the inexpensive clothing sellers on the Colaba Causeway (which sounds like a freeway but is a street lined with shops and sidewalk stalls that caters to tourists). There, I purchased flowing palazzo pants and cotton tunics that were the perfect solution.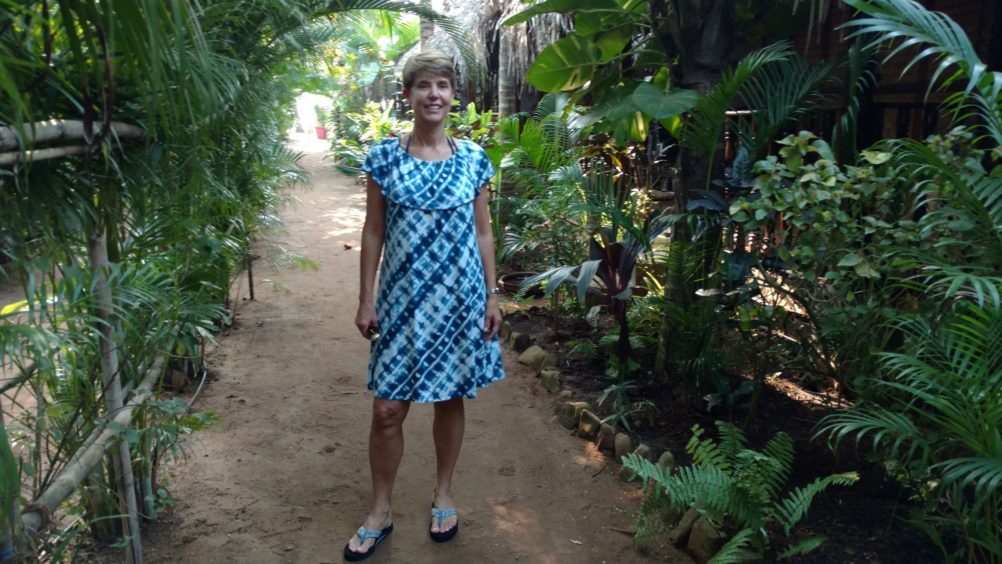 What Not To Wear
You will spot women wearing all of the items in this list and you may decide you want to also. Just take the time to evaluate the percentage of women flaunting skin and decide if you want to draw attention to yourself or if you'd rather blend in. In general, wear loose, flowy clothing to stay cool and keep legs and shoulders covered. Exceptions include Goa, where anything goes at the beach (but still cover up in the villages), in big cities if you're of the age where clubbing is appealing or if you're visiting an upscale western restaurant (but still carry a scarf to cover shoulders while in transit). I did wear my sleeveless black travel dress to a nice Italian restaurant in Mumbai with a scarf to cover my shoulders when I walked on the street outside of the restaurant and in our predominantly Muslim hotel.
No leggings or tight pants (unless under a long tunic top)
No shorts and especially no short-shorts
No mini-skirts or dresses
No sleeveless shirts
No tank tops
No spaghetti straps
No visible bra straps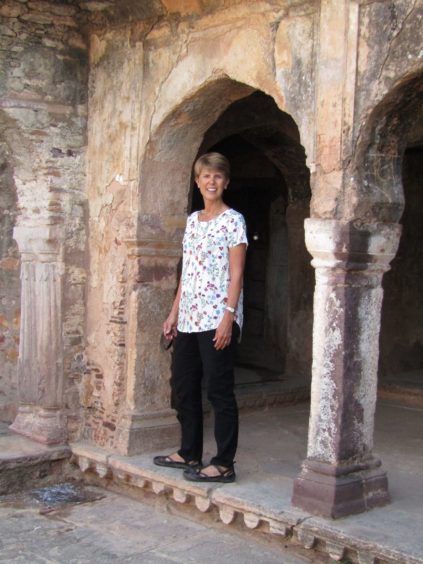 Recommended Clothing
Here are my suggestions for what to pack. Again, this is what worked for me but you may have a different style. See below for some keywords to aid in local shopping.
Long, loose pants in dark colors (2)

Palazzo pants were ideal for me, sort of mimicking the loose flowy drape of a sari or the baggy pants of a shalwar kameez. I acquired a royal blue and black pair in Colaba (Mumbai) that served me well.

Long skirts and maxi-dresses can work, but the kind with voluminous amounts of fabric don't appeal to me—that's just personal preference.

Jeans are OK in cool weather but will be stifling in hot, humid weather. I brought one pair of black jeans that I wore in cool weather.

Avoid body-hugging, tight, skinny jeans or leggings unless you're wearing a tunic top.

T-shirts or short sleeve blouses (4-5)

Scoop neck, short sleeve T-shirts that aren't too clingy work well with palazzo pants.

Loose blouses that hang below the rump work well with jeans.

It helps to examine the parts of the body that are exposed with a sari, including the back and glimpses of the stomach, to guide your choices. A deep scoop in the back or a blouse that shows the lower back is acceptable in Hindu-predominant areas.

Cotton is breathable in the heat but synthetic dries faster. I brought both.

Tunic tops (2)

The type of tunic that may have slits up the sides is known as a kurti in India. These are ideal with tight pants or leggings/jeggings and can also be paired with palazzo pants or baggy pants. In the U.S., we would tend to pair a loose top with skinny pants or a form-fitting top with loose pants, but in India, both can be loose.

Long sleeve shirt (1-2)
Sweater or jacket (1-2)

A sweater is useful in cool weather or overly air-conditioned rooms.

A light down puffy jacket, such as Uniqlo, is recommended in certain cases depending on location and time of year. It can be quite chilly in Delhi and Agra in winter.

Bathing suit (1)
Sarong (1)

Good for a cover-up, beach towel, extra sheet or skirt

Shoes (3-4)

Walking sandals, preferably with closed toe (Jambu is a favorite brand)

Strappy sandals in black or white for going out (can purchase in India)

Walking or hiking shoes, depending on location and cool weather (Altra Lone Peak trail runners are light weight and sturdy; Sketchers Go Walk are another good choice)

Flip-flops are optional—I love Teva Mush flip flops and consider them essential but found that I didn't use them much in India. At the beach, we went barefoot and the rest of the time I preferred my sturdier walking sandals on the uneven streets.

Socks (1-2)

Quick-drying synthetic blends work well. Tilley Travel Socks are the only brand I've found that truly dry within 12-24 hours in humid environments.

Underwear (4-5)

I rinse them out at night so I don't need a lot.

Hotels can usually turn laundry around in 12 hours.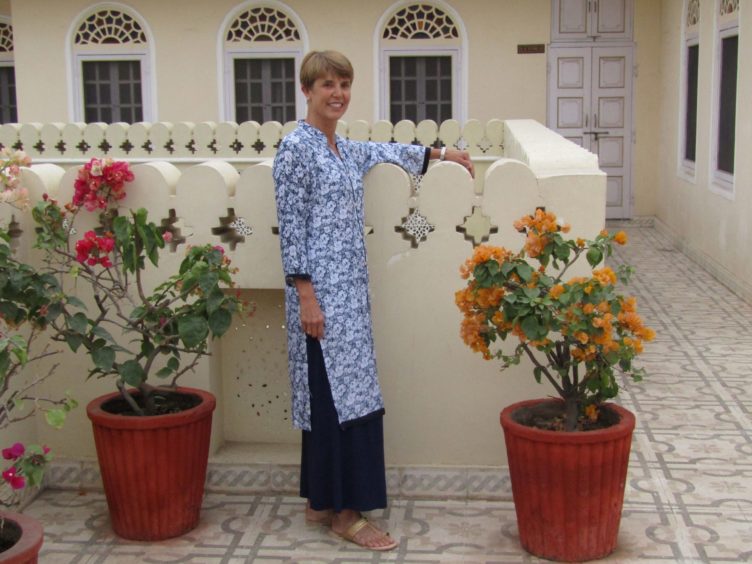 Indian Clothing Vocabulary
Shalwar kameez -baggy pants (shalwar) and tunic top (kameez). These are very popular among local women and are sold as a coordinated set. Many are quite beautiful and are made with fine fabrics.
The shalwar part can vary. The most traditional version is very baggy, like pajama bottoms, sometimes cinched at the ankle. A more modern version has a straight leg that is intentionally long so that it bunches up around the ankle. The most modern version is a legging.
Kameeze-a long tunic with open side seams below the waist.
Dupatta-separate scarf sometimes worn with shalwar kameeze. It comes to a "V" in front, then over shoulders. It may also be used as a veil or wrapped around like sari.
Ghoondat-some Hindu, Jain or Sikh women pull the loose colorful top of their sari over their faces or they may use a duppata.
Kurti-an overshirt that may reach above or below the knee and may have deep slits up the side. These can be Shalwar Kameez cool in hot weather as the back flaps around creating some airflow up the back. This may be worn by men or women.
Sari-crop top and voluminous cloth that wraps around the body loosely. Not usually worn by western women unless it's a special occasion. Colors can be vibrant and fabrics gorgeous.
Purdah-refers to Hindu women who cover up head-to-toe with a long skirt, loose top and veil (similar to a hijab and burka but this term is more commonly used in India)
Burka or chadri-full length covering from head to toe, even over the eyes which may have a grill or netting (this term tends to be used in the middle east for Muslim women)
Hijab-veil that covers the head and drapes over the shoulder and chest (this term tends to be used in the middle east for Muslim women)
Niqab-covers the face, often black (this term tends to be used in the middle east for Muslim women)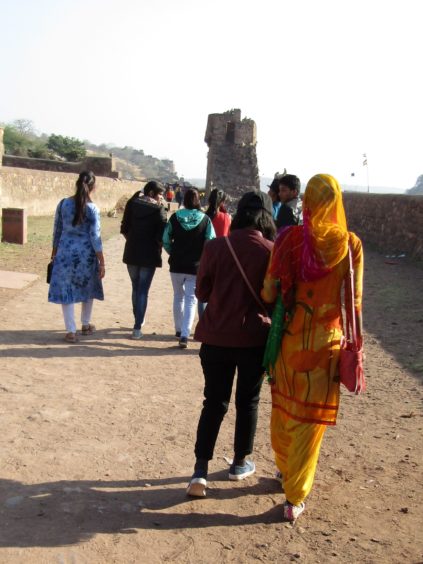 What Locals Are Wearing
What you'll see on the street varies by region and whether it is urban or rural but the majority of local women I saw in 2017 were wearing saris or shalwar kameezes. In Muslim-predominant areas, many women are covered from head to toe, some with faces covered and only a slit for the eyes showing. A small percentage of women in cities such as Delhi and Mumbai wear western clothes. Occasionally they wear jeans and pants. Wherever you are, you can't go wrong by initially dressing modestly. Then spend some time observing what the locals are wearing and loosen up if it appears that you are in an area of more relaxed clothing norms.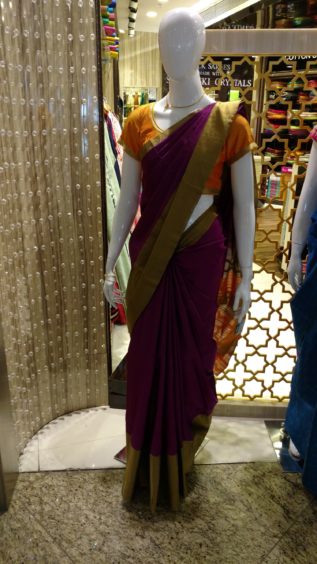 Tips for Men
There are few specific recommendations for men as they can wear what they'd normally wear at home, with one exception. You hardly ever see local men in shorts. At the beach it's OK but otherwise, men are advised to wear pants. Loose cotton pants are appropriate in very hot temperatures. Local men often wear a kurti, described above. Most tourists won't need dressy clothing but if men will be attending a formal event in hot, humid weather, an alternative to a suit is a Nehru jacket made of fine fabric with neutral-colored pants.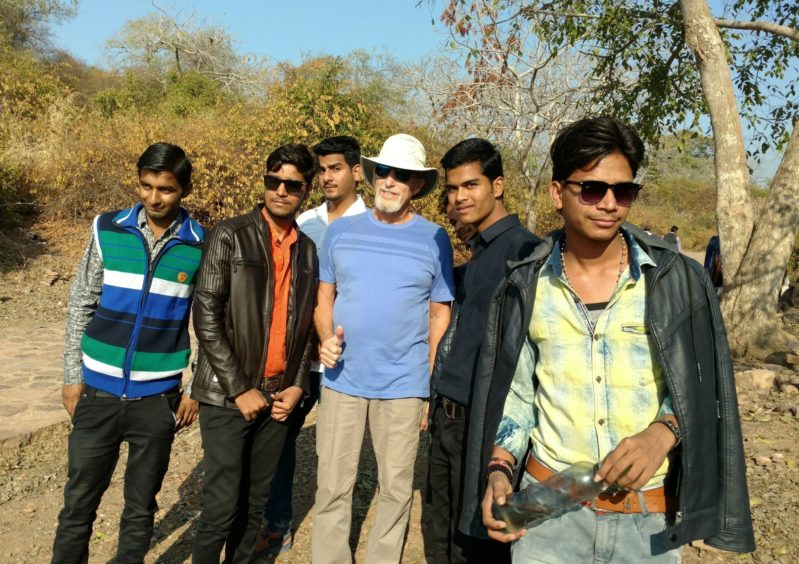 India is a wonderful place to visit with many cultural sights. My goal is to dress in a way that is respectful to the area and once I got my clothing dialed in, I could relax and enjoy the people and the place.
Photo Gallery