One of the reasons I prefer O'ahu over other Hawaiian Islands, all of which have their charms, is the high quality and variety of fine dining options. Many of the best restaurants and innovative chefs are located in Waikiki, which means a quick walk if you're staying there. In a previous article, "Eating and sleeping in Waikiki" I list some of my favorite restaurants, both casual and higher-end. If you're looking for a casual meal, see that article or just take a stroll down Kuhio Ave (one street over and parallel to the main drag on Kalakaua Ave in Waikiki) or Kapahulu Ave (perpendicular to Kalakaua Ave at the end close to Kapiolani Park/Diamond Head).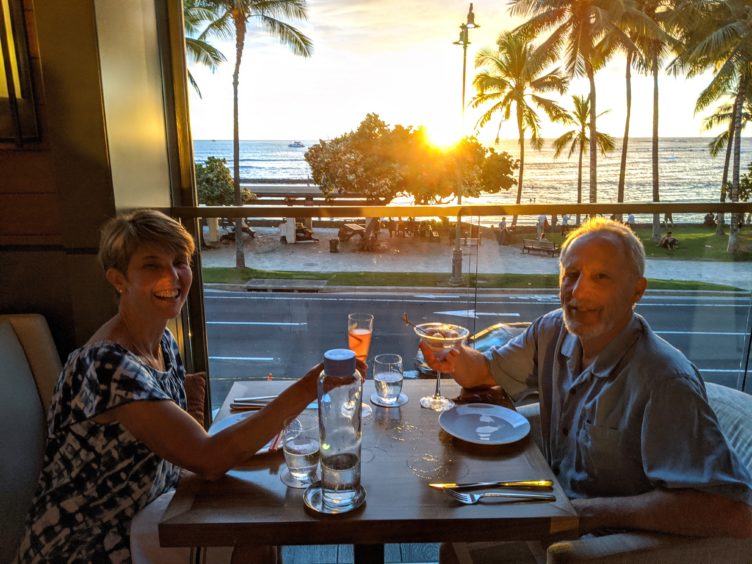 For a special occasion such as a birthday or anniversary, or just because you might be a foodie, try any of the tried and true establishments listed below, some of which have been serving exquisite food for decades, others who are newer on the scene. Some have wonderful ocean views and all are pretty pricey but have something to make that special night even more special. Naturally there are many other restaurants to choose from. I like looking through the Restaurant Guide and reviews from Honolulu Magazine to get an idea of what's new and popular, especially the Hale'aina Award Winners.
See photo gallery below!
Inga's Favorite O'ahu Restaurants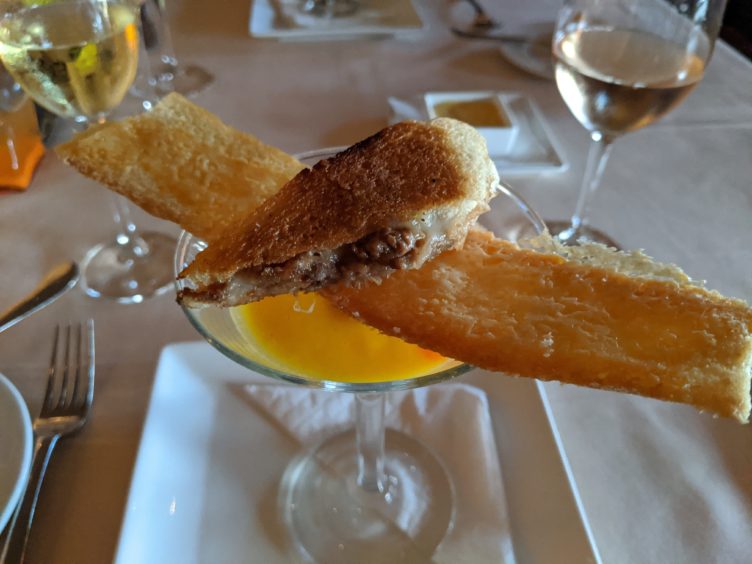 [CLOSED due to the pandemic] Alan Wong is a legendary local chef who has the most unlikely location in a low office building nowhere near the beach, but it's been a perennial favorite since it opened in 1995.  You'd be forgiven for thinking that the taxi dropped you in the wrong location as you stand before a plain glass door in front of the elevator. Rest assured, once you take the elevator to the third floor, a gustatory experience awaits. Upscale without being stuffy, the busy kitchen is open to the intimate dining room but doesn't dominate. The menu is innovative, showcasing local foods with predominantly Asian flavors though they may have an unexpected twist. One of the most popular dishes (only available on the tasting menu) is "soup and sandwich" with Kahlua pork, foie gras and mozzarella cheese and fresh tomato soup. There are two tasting menus (a mini-tasting at $65 and full five-course tasting at $105, add $50 for wine pairing) as well as a la carte items. It's an upscale place but there is no formal dress code.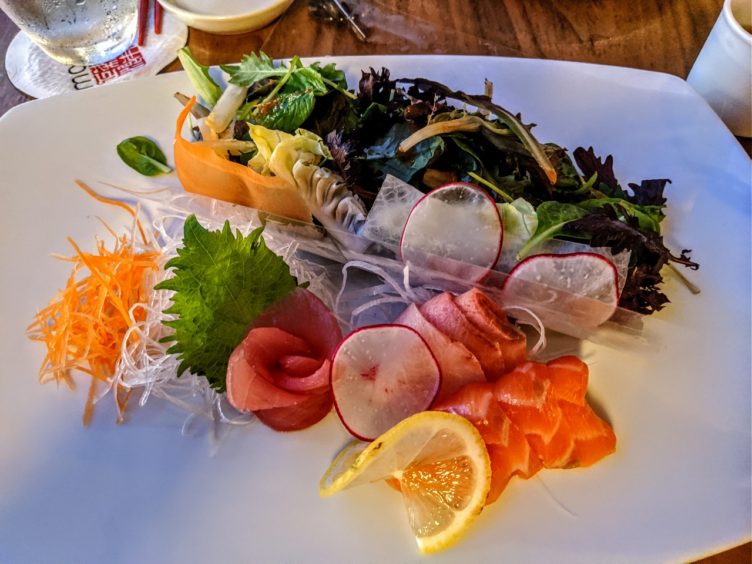 [CLOSED temporarily due to the pandemic] Morimoto Asia, a large, airy second-floor restaurant located across Kalakaua Ave from Kuhio Beach, was established in 2018. The view of the ocean framed by palm trees is enticing despite the traffic on the main street. The food from this famed chef who made his name on the TV shows Iron Chef and Iron Chef America is sublime, with many seafood dishes and light, delicate Asian flavors in addition to wagyu beef and other meats. The focus is on recipes inspired from a wide swath of Asia, including Japan, China and South Korea to Thailand and Singapore. We enjoyed delicate wagyu beef meatballs, crunchy jellyfish, colorful sashimi salad and the dish that Morimoto won Iron Chef with, ishiyaki buri bop, with rice, vegetables and Hamachi cooked in a hot stone bowl at the table. The wine and sake list have offerings that pair well with the predominant flavors. Entrees run about $25 and there is no formal dress code.
Momosan Waikiki, a ramen and sake cafe, sits under Morimoto Asia and offers simpler fare from Morimoto (Momosan is his nickname) in a casual setting.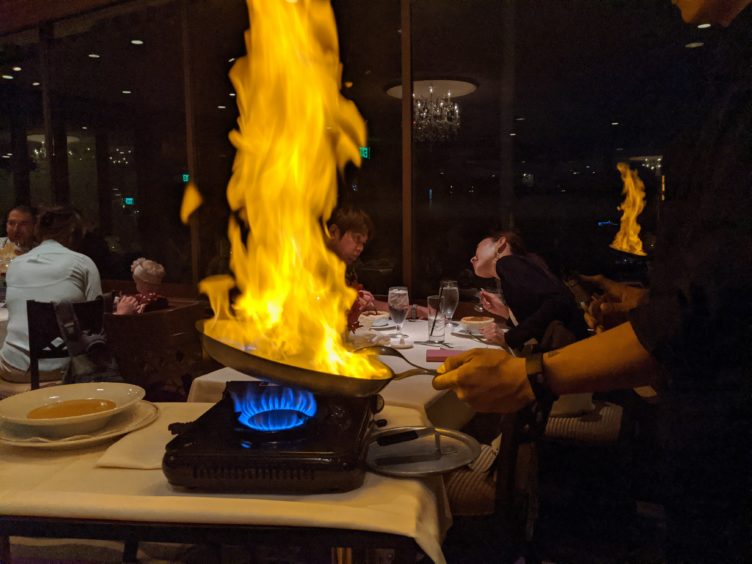 Michele's earns the distinction of being one of the longest-lived restaurants on the island, being one of the original winners of the Honolulu Magazine Hale'Aina restaurant awards given out 30 years ago and still winning. Established in 1962, the elegant, formal setting right on the beach at the far end of Kapiolani Park near Diamond Head is the perfect foil for luxurious French food, much of it prepared tableside by skilled staff who have to be part waiter, part chef. Michele's Tasting Menu ($100; $140 with wine pairings) is highly recommended to experience the breadth of seafood and meat offerings but the a la carte menu is equally appealing. They are known for their lobster bisque, finished with a fiery flare at the table. Jackets are not required; no beach attire.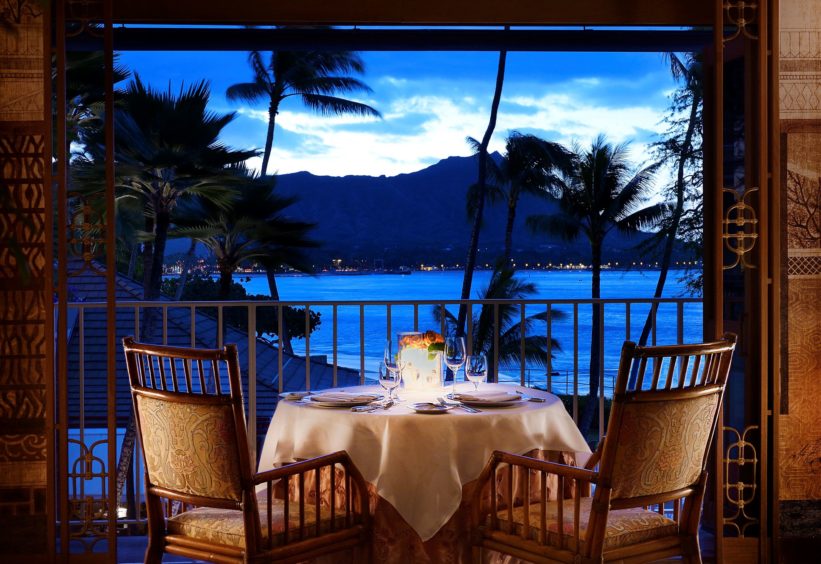 La Mer is one of a handful of widely acclaimed Waikiki restaurants that has stood the test of time. La Mer is Hawaii's only AAA Five Diamond Award and Forbes Five Star Award rated restaurant, honors it has received for six consecutive years. The most formal of the restaurants listed here, the Neoclassic French influence is a strong as the dress code (elegant evening attire for women, dinner jackets or dress shirts and slacks for men). Local seafood is included but the menu is distinctly French with selections such as foi gras, caviar, frog, lobster bisque and roasted duck a l'orange. This is one of the most formal and expensive places (the "Menu Degustation" runs more than $200 per person, appetizers start at $40). If you're looking for a place to impress, you can't go wrong with La Mer.
Chef George Mavrothalassitis' restaurant has been on the scene for more than 20 years, consistently winning awards for fine dining despite the out-of-the way location on King Street. You won't find ocean views but the setting is white-tablecloth elegant and the food sophisticated. Somehow, as trendy restaurants in ideal locations come and go, Chef Mavro carries on. Originally from Marseilles, France, he brings a touch of his origins to mostly locally sourced island cuisine. His tasting menus offer a choice in the number of courses and provide the opportunity to experience different taste sensation that might include foi gras, onaga, coq au vin and wagyu beef. True foodies will appreciate Chef Mavro. Jeremy Shigekane is the new owner and executive chef working alongside Chef Mavro.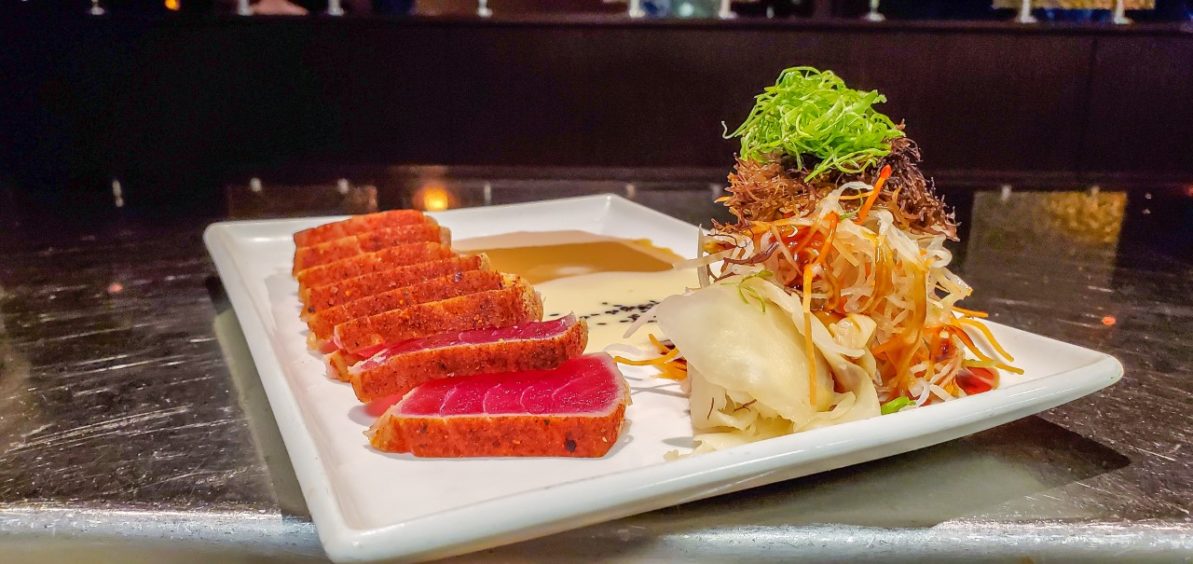 Chef Roy Yamaguchi has made quite a name for himself in the islands and on the mainland founding 30 restaurants. However, in 2000 he sold the mainland restaurants and maintains ten locations in Hawaii. The focus is on Hawaiian and Japanese fusion cuisine in an upscale setting in this location. Quality of the food and dining experience is consistently high with such specialties as Szechuan baby back ribs, misoyaki butterfish, Chinese-style steamed fish, fresh ahi tuna and fennel-rubbed filet mignon. The ambiance is upscale but not fussy. It is located near Fort Derussy Park and is one block from the beach so there are no ocean views. There is another Roy's located on the top floor of the International Marketplace.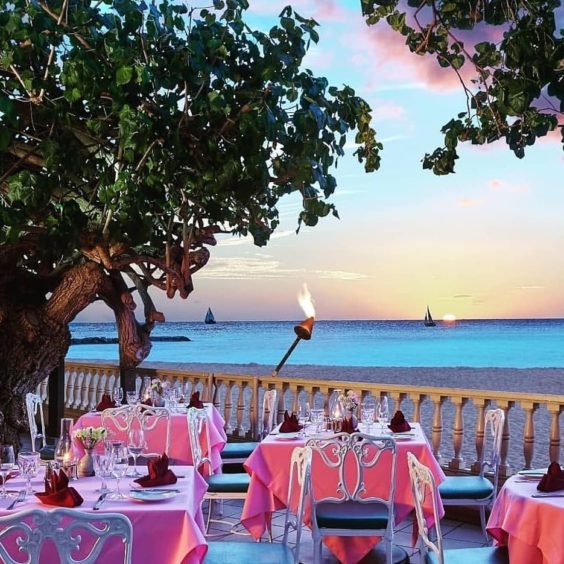 This is a lovely outdoor location that is a little more casual than some of the other recommendations. It's the magical setting right on the beach under the spreading Hau tree that sets it apart. The menu changes but features local seafood favorites including Miso Sake Salmon, Kona Lobster and ahi sashimi as well as grilled meat selections. Like Michele's, it is located on the far end of Kapiolani Park, a moderate walk from central Waikiki.
As much as I love being in Waikiki, it is nice to get out of the fray occasionally. A quick drive to the tony Kahala neighborhood on the other side of Diamond Head can provide a change of pace nearby. When dining at Hoku's, allow a few extra minutes to stroll around the peaceful grounds and beach at the Kahala Hotel and Resort. Hoku's menu features "Global Hawaiian Cuisine" with four themes focusing on seafood in one, meat and veggies in another and two fixed-price menus. One fixed menu is "Global Cuisine" ($100) with international selections while the other is "Island Flavors" ($85) with an emphasis on locally sourced ingredients. From the ala carte menu, the sensational seafood tower bursts with delicacies such as lobster, crab, abalone, prawns, sashimi, and poke. The whole fish is expertly prepared. The large windows look out on the Pacific. There is a dress code called "Evening Resort Wear."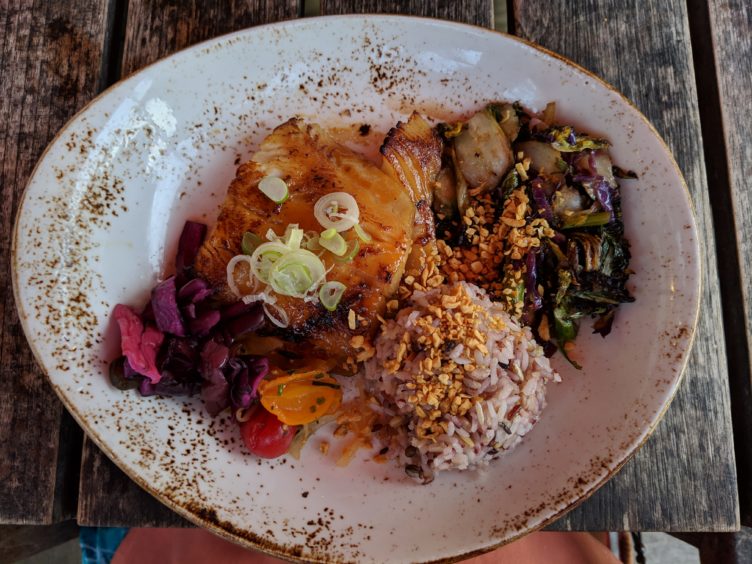 If you're in the North Shore, the best special-occasion restaurant is Roy's Beach House, an open-air restaurant on the grounds of the Turtle Bay Resort (a 90-minute drive from Waikiki). It's worth the drive from Haleiwa or Pupukea. Most of the tables are protected overhead but a few have a good, if slightly distant, view of the water. The setting is casual, befitting the laid-back nature of the North Shore, but you won't feel out of place if you dress up a bit. Chef Roy Yamaguchi has several restaurants on the island and beyond but the two listed here are among the best. He calls the menu "Hawaiian-inspired Euro-Asian Cuisine." The menu changes with the seasons but the seafood is always fresh, the meat tender and the tropical ingredients such as ahi poke and kalbi beef short ribs blend well with grilled Brussel sprouts and burrata caprese. See "Roy's Waikiki" above for more information about the chain.
See other Hawaii articles in Inga's Adventures.
Photo Gallery
Photos by Inga Aksamit except where noted.