Why do I like Waikiki so much? It's personal. I've been coming to Waikiki since I was four years old and it has always represented a place of peace for me despite the high rises, din of traffic and jam-packed sidewalks. Growing up, my expat family traipsed back and forth across the Pacific as my dad was assigned to different engineering projects and we usually had some R&R time in Hawaii before heading to our next post. Then, because I've lived on the West coast of the U.S. my whole adult life, Hawaii has been a natural vacation destination for decades. I even had a lucky work stint in Hawaii when my territory included the islands and I had the good fortune to travel to Honolulu and a different outer island every six weeks for a couple of years.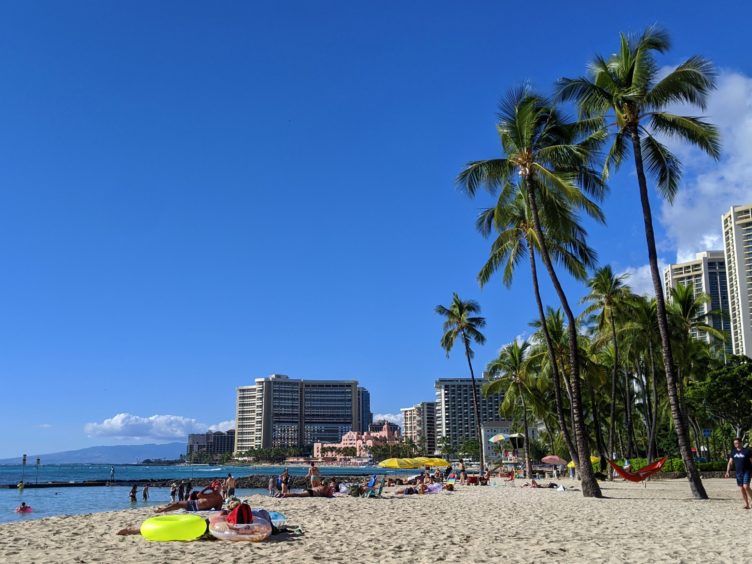 Waikiki
I love walking into the light surf (I can usually walk dozens of feet into the water before it is over my head) and watching the majestic green flanks of Diamond Head shift into view against the brilliant blue tropical sky, palm trees waving gently in the breeze.
Waikiki, a cosmopolitan neighborhood in the city of Honolulu located on the southern end of the island of O'ahu, is fortunate to have the best beaches in the world. Waikiki is comprised of eight individual beaches, each with its own characteristics. The sun sets to the west of the beach and the waves roll in gently over a shallow shelf making it the ideal playground for water sports such as surfing, SUPing, outrigger canoeing and sailing with lessons and rentals available. Its idyllic setting that often has the best weather (it can be raining all over the islands and still be sunny and warm in Waikiki) was a retreat for Hawaiian royalty in the 1800s and has been attracting visitors since the 1880s when the first small resorts were established. There is no question that Waikiki is heavily developed and most major hotel chains and many luxury stores are located along the main street, Kalakaua Ave. It's an urban resort area and has its share of urban problems including a sizeable homeless population, an issue that many cities grapple with. It also has world-class restaurants, large movie complexes, museums, cultural performances such as authentic hula dancing and a good public transportation system. Like all beaches in Hawaii, O'ahu's beaches are accessible to the public, except those controlled by the Federal Government.
My favorite area is a narrow band at the Diamond Head-end of Waikiki on and around the immediate vicinity of Pau'akalani Ave, which runs perpendicular to Kalakaua Ave. The properties listed fit my personal parameters based on my desire to be close to my favorite beaches in Waikiki, Prince Kuhio and Royal Hawaiian Beaches, and the immense, verdant expanse of Kapiolani Park, where I like to walk for an hour or so each morning. It's busy all along Kalakaua Ave but it's a bit quieter on the ends. For most of Kalakaua Ave, hotels line both sides of the street, but starting with the Hyatt Regency towers, hotels are only on one side of the street with the other side being open to the beach. This gives the area a more open feel. Some of my favorite restaurants are within a short walk of these hotels and many more can be found on Kuhio Ave, which runs parallel to Kalakaua Ave. I can play around happily for a week in Waikiki but we often split our time on the island, spending a few days in Waikiki and then driving up to the much quieter, rural North Shore.
Inga's Hotel Picks
The list is ordered by price. Prices were obtained by going to each property's website and selecting the same parameters (2 people, 1 room, city view, March 10, 2020). Daily resort fees and taxes can top $80 and $50/night parking fees are usual. Some hotels offer senior, AAA, and military discounts as well as favorable rates if you're a member of their loyalty program. See more photos below.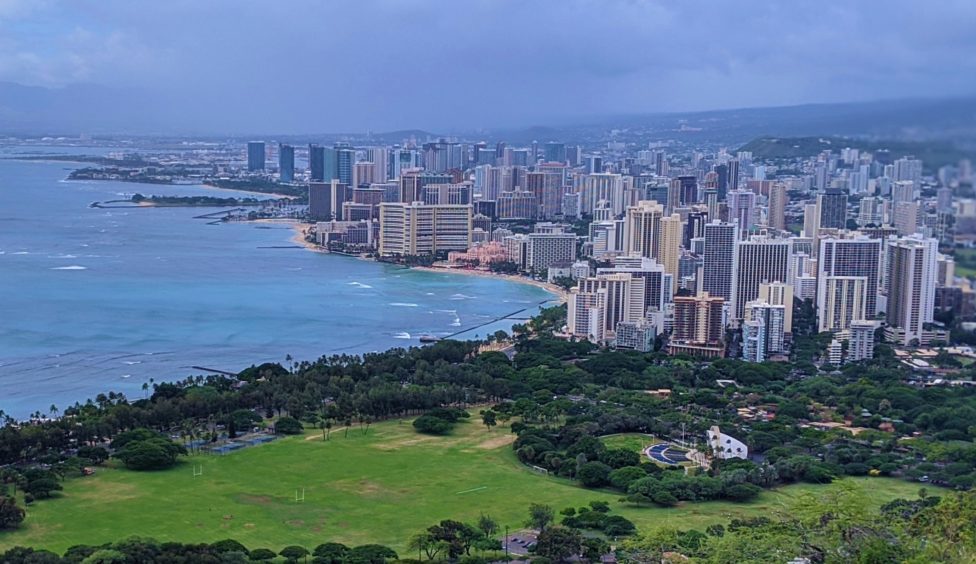 Other options in Waikiki
There are several other hotels in this area that I haven't tried.
The Queen Kapiolani Hotel is one that I'm curious about. It has recently been updated, is located directly across Kapahulu Ave from the zoo in Kapiolani Park facing Diamond Head and reviews are generally positive. $229 per night (20% discount for CA residents, $203 with AAA, $35 hospitality fee).
The Park Shore is across the street from the beach and is the last hotel before Kapiolani Park on Kalahaua Ave, next door to the Aston Waikiki Sunset. It recently changed hands and reviews from locals seem variable during the transition but the location is ideal. $189 per night ($161 with AAA), $39 amenity fee.
For the traveling backpackers, there is a hostel located on Lemon Road between the Aston Waikiki Sunset and Ewa Hotel that always has a bevy of happy-looking young people swarming around. The Waikiki Beachside Hostel has dorms and private rooms. Dorms start at $30. Semi-private room with two beds, shared bath: $75 per night, private room with four beds, private bath & kitchen: $167 per night, no resort fee.
For anyone in the military, Hale Koa Hotel on Fort DeRussy Armed Forces Recreation Center is a resort serving members of the U.S. Armed Forces and their families. It's on the opposite end of Waikiki but is a good value for a wonderful resort and is a natural choice if you're eligible.
If you're looking for luxury, a sense of history and a connection to the culture of early Hawaii, there are two choices: Royal Hawaiian Resort ($303, $38 resort fee), known as the Pink Palace and Moana Surfrider, known as the First Lady of Waikiki. Both opened in the early 1900s and were among the earliest hotels on the beach.
It's hard to go wrong anywhere in Waikiki but these five properties are my favorite based on location.