A common question by backpackers who care about the environment is how to reduce plastic. When planning a multi-week or multi-month thru-hike, the number of plastic bags used to store food can be overwhelming. Designs have been improving but weight remains an issue. Stasher silicone bags are a major advance with a true zip-top closure and reduced weight. Can silicone bags replace plastic in a backpacking kit? Probably not 100% but they can play a role in the Reuse-Reduce-Recycle paradigm.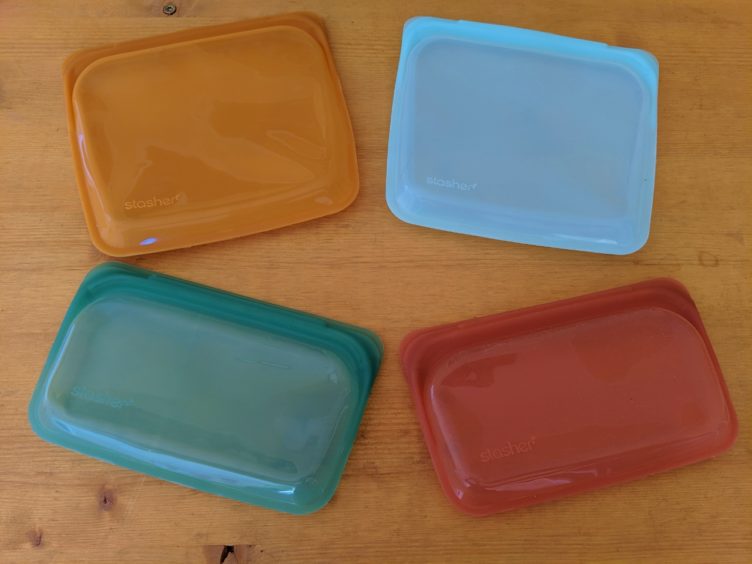 Field Test
A couple of years ago, I was excited to try silicone bags from another company. They were not practical at home or on the trail due to the weight and awkwardness of the closure system. When Stasher Bags came along, I was more than ready to give silicone another try. I received samples for testing in the snack and quart sizes. I tried them in the home kitchen setting and was pleased with their performance. They were see-through enough that I could tell what food was stored in them. Their Pinch-Lok sealing system was easy to use to close the bag. It took a little more effort to open than a plastic bag as the seal was strong but that meant that they were leakproof. They were easy to clean in the sink with running water. Most importantly, they were half the weight of the previous product I had tried.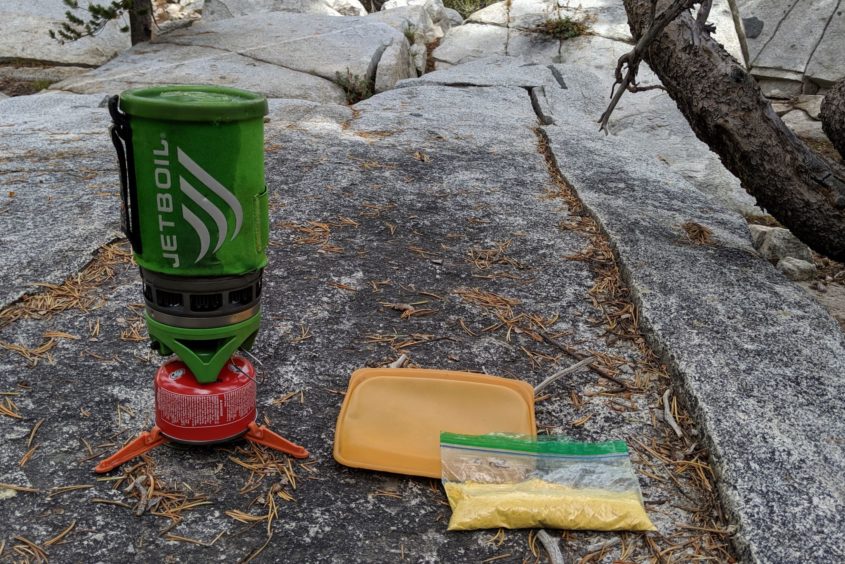 On the trail, it was a little different. Even though the Stasher bags were quite a bit lighter than the other brand I had tried, they were still heavy compared to a regular baggie (see weight comparison below). I had originally planned to bring several for testing but ended up bringing just one to rehydrate food. I figured that it was worth the weight to save the planet. They make a stand-up model but I had the regular shaped bags so I made sure the closure was sealed before laying the bag down to rehydrate my butternut squash soup. I found that in cold temperatures I fumbled to get the bag open to test the food which caused the soup to get in the Pinch-Lok grooves. That's when I noticed how deep and ribbed the grooves were. It wasn't much of a problem and my food rehydrated well. When I poured my soup into a bowl, I noticed how the corners aren't as sharp as a regular bag so it didn't pour as well and saturated the grooves. Cleaning turned out to be a real chore. We were camped next to a lake so, not wanted to get the food residue in the lake, I brought water to the campsite and found that I just couldn't get it clean. With a plastic bag, all I do is pour some water in the bag, seal it, shake it a couple of times and disperse into bushes away from camp. With the Stasher bag, it took several rounds of cold water, then hot water, then using a cloth to try to get the grooves clean.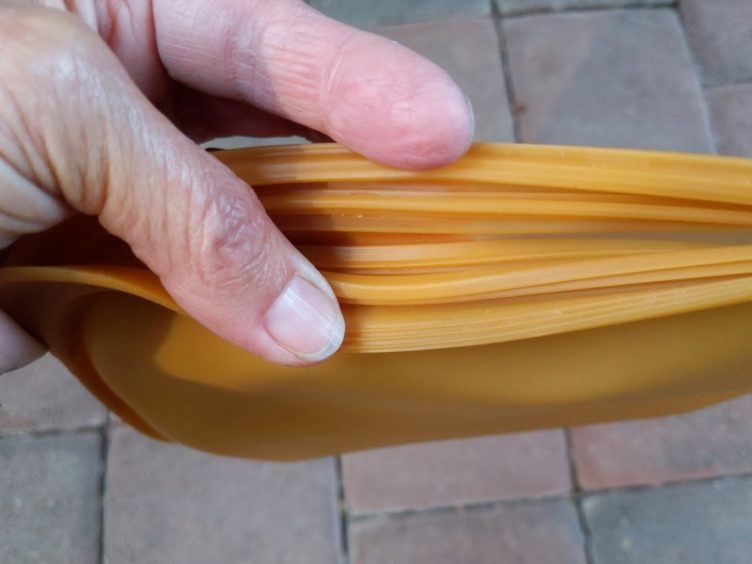 Conclusion: The Stasher bag is effective but is heavier than plastic and harder to clean. However, I believe the Stasher bag can work for rehydrating food for a motivated user who wants to avoid plastic. By reusing plastic storage bags and rehydrating in a Stasher bag, overall plastic use can be reduced. Some will suggest rehydrating in a pot but many of us don't want the bulk of a pot if we're not using it to simmer food. I prefer to use my stove to only boil water and that's it. I can get away with a small cup to hold water and prefer the space-saving nature of bags to rehydrate my food.
Stasher bags
Stasher bags come in most of the familiar sizes we see in zip-top bags in the food storage aisle of the grocery store with snack, sandwich, quart and half-gallon sizes. There is a stand-up model as well.
Silicone is a complex product that goes through many stages to produce. One component is silicon (note the difference in spelling), which is derived from sand. After processing to create a flexible, durable rubbery product, silicone is resistant to high temperatures, recyclable and is said to be non-toxic.
Stasher was founded by Kat Nouri, a woman who is passionate about the environment and a leader in the plastic-free movement. In a comment on the Stasher website, she said, "I built the company that I wished existed, centered on positivity, activism, wellness, and transparency." The company supports non-profits in environmental conservancy and female empowerment through philanthropy, volunteering, and community activism.
I appreciate Stasher and other companies who are innovating to provide alternatives to plastic and look forward to the next series of advances that will hopefully reduce the weight further and increase the utility.
Stasher bags are lighter and have an improved design compared to predecessor products and can be a useful alternative to plastic in certain settings.
Information
Stasher Bags
Half-gallon bags are available from the website for $19.99, sandwich bags for $11.99, snack bags for $9.99. Other sizes are available.
Available on Amazon.
Weight Comparison
Note: all weights per author's digital scale unless otherwise noted.
Stasher Bag
Half Gallon Bag: 4.2 oz (119 grams) per manufacturer
Sandwich (quart) Bag: 2 ¾ oz (81 grams)
Snack Bag: 1 1/8 oz (60 grams)
Ziploc Plastic Bag
Gallon Storage Bag: ¼ oz (8 grams)
Gallon Freezer Bag: ½ oz (13 grams)
Quart Freezer Bag: ¼ oz (6 grams)
Sandwich Storage Bag: 1/8 oz (2 grams)
Snack Storage Bag: Not measurable (less than 1 gram)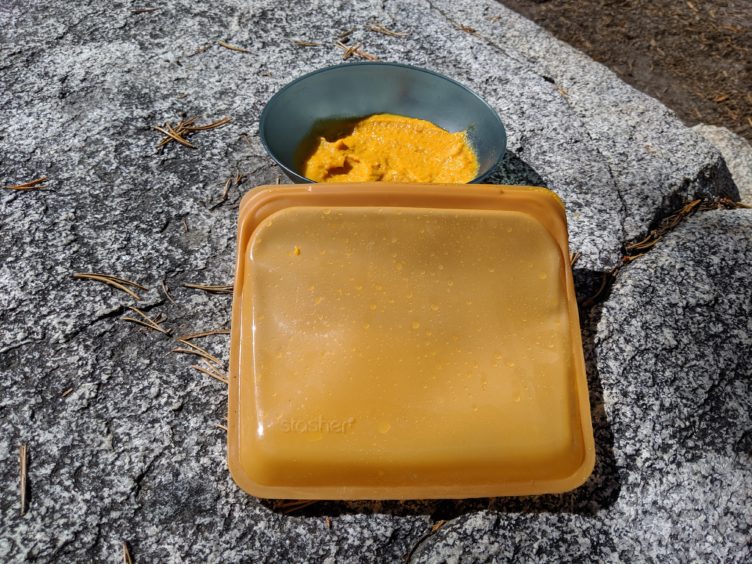 All photos by Inga Aksamit, unless otherwise credited.
Disclosure of material connection: I received a sample for testing purposes, but the opinions expressed are solely my own.