One 23-inch carryon spinner suitcase and one backpack are all I need for a trip to the tropics, whether it's for a week or a month. I can include a dressy outfit or two, several sundresses, beach wear and athletic gear for hiking or the gym. For this particular trip, I was headed to Waikiki on the island of O'ahu in Hawaii.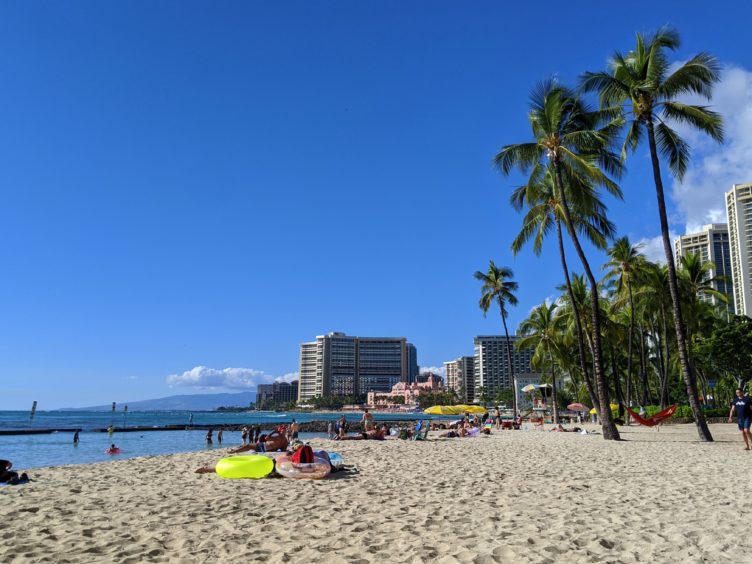 Packing light has the advantage of making travel days easy. I don't have to wait in lines to check or retrieve luggage, I don't have to haul multiple heavy bags down long halls or sidewalks and I can unpack and repack in a flash.
To make this work, I don't leave packing to the last minute. What I do is pull a bunch of things out of the closet that I might want to take and leave them in a pile (heaped in a suitcase in a corner of the room or spread out on the bed in our guest room. A day or two (or week) later, I spread it all out, group by color scheme and start paring down to one color scheme. I figure out the basics first, including any special occasion events, beach wear, under-garments, sleep clothes, a work-out outfit, etc. Then I fill in with sundresses, shorts and tops that I'll wear on a daily basis but I don't need an outfit for every day. I mix and match outfits, wear most more than once and do laundry if necessary. I try very hard to limit the number of bulky shoes. For me, packing is part of the pleasant anticipation of the trip.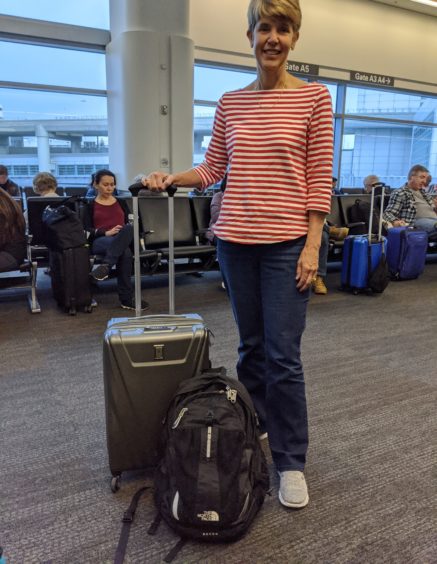 To wear on the plane
Jeans
Slip-on loafers
Comfortable shirt, cotton blend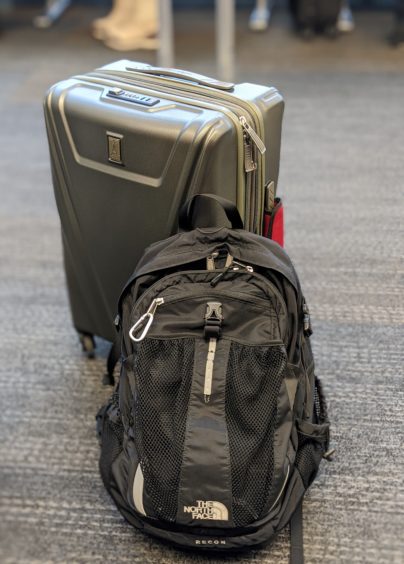 In my backpack
Backpack: North Face Recon has the perfect number and size pockets for my needs.
Reading glasses
Sunglasses
Laptop computer (Microsoft Surface Pro)
E-reader (Kindle Fire) for reading books and magazines
Phone (Google Pixel)
Small ditty bag with noise-cancelling headphones, extra battery in a pill bag. The current battery stays outside of the device until needed as they seem to drain power when not in use
Leather zippered ticket pouch with passport, printed ticket info, some $1 bills for tips and loyalty cards. Tip: I use my passport because I find it easier to keep track of than my tiny driver's license and I don't have to dig around in my wallet and purse. Everything I need for travel is in the pouch and if I lose one kind of ID, I have a backup between the passport and driver's license)
Assorted pens, sticky notes, highlighter for maps
Light sweater in my pack in case it's chilly on the plane
Socks for the plane if I'm wearing sandals or slip-ons—I can wear them when going through security if I need to remove my shoes or on the plane if it's chilly.
Water bottle (empty when I go through security)
Small purse
Tip: Get Global-Entry if you're a frequent traveler and you won't usually have to remove your shoes or laptop.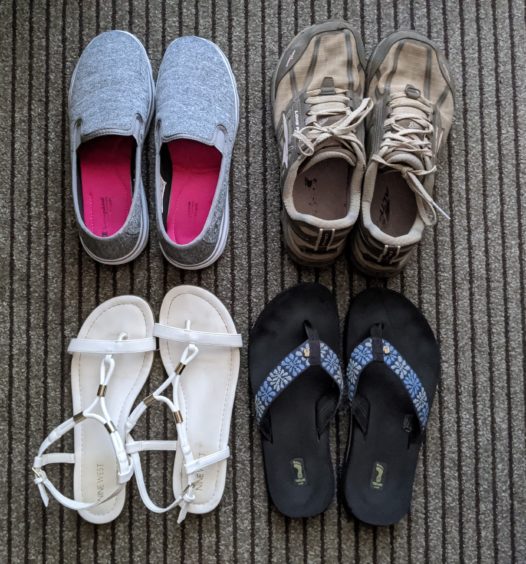 In my suitcase
Suitcase: Travelpro Maxlite 5 Hardside Expandable Spinner Suitcase– 23" carryon size, 5.4 lbs ($145 from Amazon)
Shorts
Short-sleeve T-shirt (1 cotton to sleep in, 1 synthetic, quick dry to hike or work out in)
Leggings-¾ length for athletic activities
Sun dresses (4)
Maxi dress for special occasion
Bathing suit
Sarong
Flip flops
Lightweight hiking shoes (Altra Lone Peak)
White sandals (other times I'd bring black dressy sandals)
Underwear (5 pairs)
Bra (1 sports, 1 black, 1 nude that I wore)
Socks (for hiking)
Rain coat (lightweight)
Bag of cords for electronics
Tea (black and green in case the hotel is coffee-centric)
Toiletry bag (see below)
Jewelry case with a couple of necklaces and earrings for dressy occasions
Beach tote bag that
REI Flash 18-lightweight pack for hiking (9 oz)
Beach towel (completely optional; I just brought it because I had so much extra space)
Non-tropical variations
It's a bit more challenging to pack for multiple weather events but it can be done by using some care. Try to stick with one color scheme, either predominantly black, blue or other neutral color. That way shoes, wraps, and other accessories can be minimized. Substitute another pair or two of pants and more tops instead of sun dresses for cooler temps. Add a light or heavier scarf, hat and gloves and light down jacket for most locations (or a nice wool coat for sophisticated cities). Layer with long sleeved scoop-neck shirts or turtlenecks instead of thick sweaters, if possible or limit the heavier items to one or two. The indispensable little black dress with a variety of colorful scarves and jewelry can go a long way for dressy events, paired with sandals in moderate temperatures and flats or boots in cold temperatures (take a taxi or rideshare instead of trying to figure out how to survive in freezing temperatures when you're dressed up).
If I'm away longer than a week, I can stretch my clothing allotment by rinsing a few quick-dry items in the sink (usually it's the shower—I bring them in with me, soap them up, rinse and wring out in a towel before hanging to dry) or, less often, by doing laundry (almost all hotels have guest laundry facilities). When I'm overseas I can often find a local laundry that is fairly inexpensive.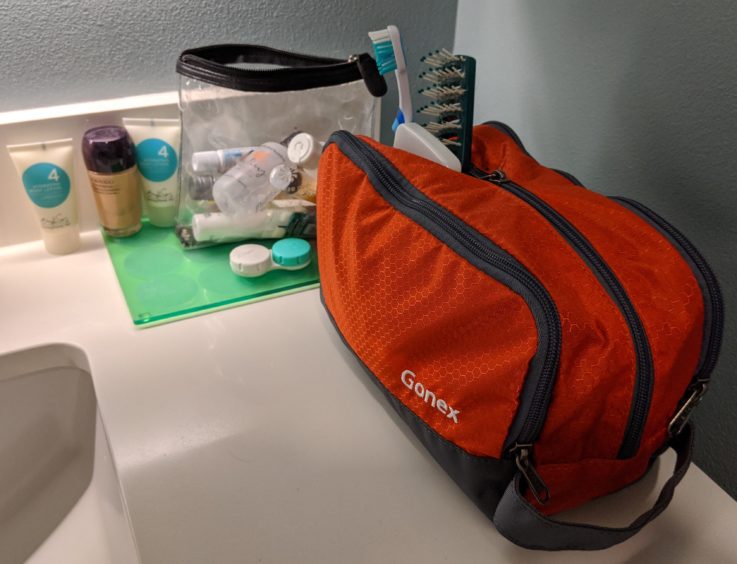 Toiletries
My toiletry bag is bigger than I'd like but it's always fully stocked so I don't have to think about it when I'm packing. I'm prepared for anything. I restock immediately after every trip. All liquids are 3 oz bottles and other items are travel sized. Keep in mind the TSA 3-1-1 regulations (3.4 oz bottles, everything in 1 quart-size bag, 1 bag per traveler). A little known fact is that TSA allows larger amounts of liquids for medications, including contact lens solution, but these must be declared when going through security.
"Wet" toiletry bag
TSA-compliant Clear Cosmetic toiletry bag
Shampoo/conditioner
Toothpaste
Styling gel
Contact lens solution
Body lotion
Lip balm
Antihistamine eye drops
Makeup foundation
"Dry" toiletry bag
Toothbrush
Floss
Hairbrush
Eye mask
Deodorant
Small bottle of ibuprofen for minor pain
Band-Aids
Snack baggie 1 with nail clippers, emery board, tweezers, safety pins, few cotton balls, few Q-tips, tiny sewing kit.
Snack baggie 2 with travel size ointments such as Aquaphor, triple antibiotic cream, cortisone cream, antifungal cream.
Snack baggie 3 with laundry detergent double bagged in a Pill Bag pill pouch (this brand is thicker than most), a few Shout packets, a few dryer sheets.
Sandwich baggie with a few of each pill in labeled pill pouches such as anti-nausea, anti-diarrhea, diphenhydramine (Benadryl) for allergy symptoms and sleep, loratadine (Claritin) for seasonal allergies, bismuth (Pepto Bismol) to treat stomach upset, aspirin for minor pain or heart attack symptoms, meclizine (Dramamine) to prevent motion sickness, antibiotics if traveling overseas, antiviral medication, zolpidem (Ambien) for sleep, few narcotic pills for severe pain or injuries, acetazolamide (Diamox) for altitude sickness. I'm an RN so I carry a pharmacy!
Makeup in an outside pocket with mascara, compact with blush and eye shadow, lip gloss, lipstick.
With some practice and forethought, it's easy to pack light for a carefree trip whether you're headed to Hawaii, Mexico, the Caribbean or other warm-weather destinations.
MORE PHOTOS