This is the year I ditched my camera. I, like most everyone else, have been taking photos with my phone for years. The quality has improved greatly and the convenience can't be beat. Until recently I've used my cell phone to supplement my outdoor photography but continued to bring a mid-size camera lashed to my shoulder strap while backpacking. It was time for a phone replacement so I invested in my photography by getting a phone with one of the best cameras on the market, a Google Pixel 3. This year I finally made the leap and left the big (really only medium sized) Canon PowerShot sx170 IS camera behind.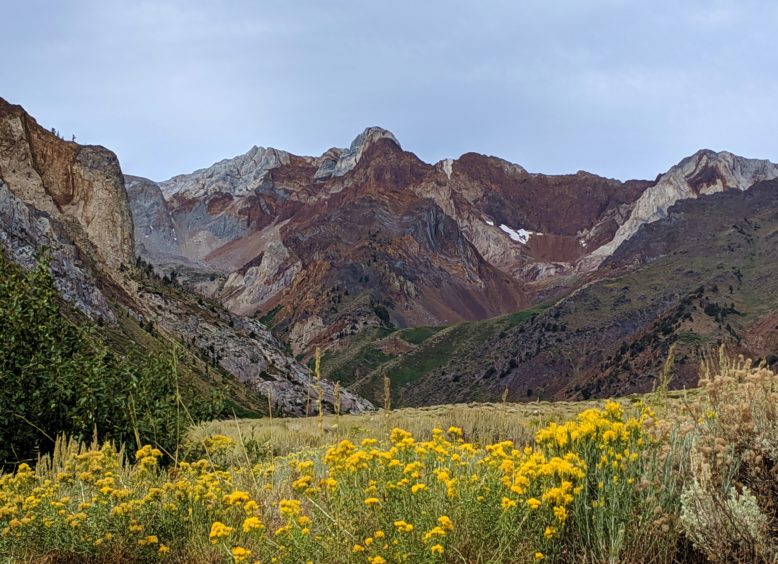 I'm an amateur photographer of sorts but always have always focused more on composition than the technical details. I've taken several photography courses, including a half-day photography class in Yosemite National Park at the Ansel Adams Gallery (highly recommended) but never acquired a DSLR camera. Despite these limitations, I can't ignore photography because it's an integral part of travel writing. I've had many photographs published with my articles and used my own photos for the covers of all my books. In the past, editors either required, or we thought they required, "real" photos from a camera. With all the changes in camera quality and publishing in general, that has changed and photographs from cell phones are often high enough resolution to be accepted. I'm still in awe from the gorgeous photos that true professionals create, but for my style of travel the cell phone camera works well enough. My photography usually involves whipping out my device (camera or phone), often while walking, and barely pausing to take a photo or else I'll lose my husband and backpacking partner. During the ideal early morning light, you'll find me snuggled in my tent. Morning people are photographers and late risers are writers.
I'm still (always) learning but wanted to share what I've figured out so far in my conversion to cell phone photography for the trail and some products I'm using.
Google Pixel 3XL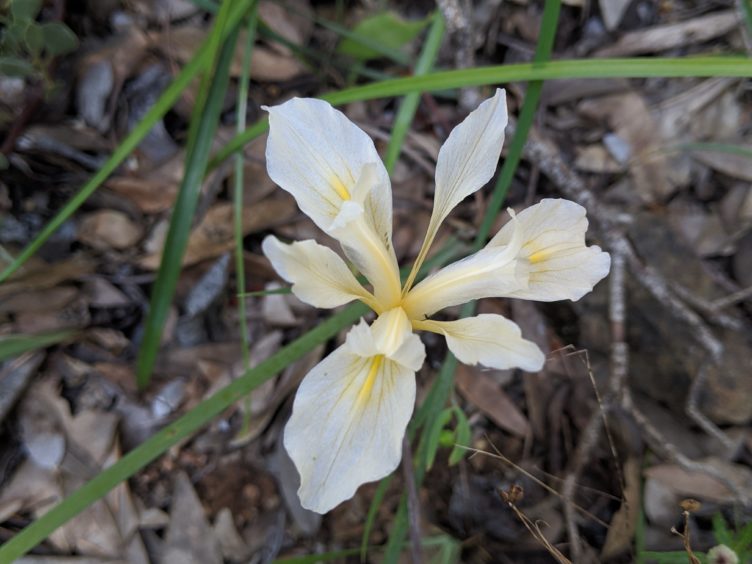 The Pixel 3XL, with 12.2-megapixel dual-pixel rear camera, has impressive features, especially the Night Sight (low light), Slow Motion, Time Lapse and Portrait (produces a blurred background and a regular shot) functions. It has a lot of features that were fun to play around with that I don't use much, such as Panorama, Photobooth (take multiple photos automatically with different expressions), Playground (add silly augmented reality figures), Lens (scan a barcode or identify a product). It takes great photos in auto mode and has a limited number of settings. It has the basic functions you'd expect in a high-end camera such as self-timer, flash settings, location recording, selections for different types of lighting, a selfie camera (though it has the added feature of being able to zoom out to enlarge the field). One feature I use a lot is touching the screen to indicate where I want the focus to be. I like the motion feature where you get a couple of seconds of motion for a still photo. You can choose among a large array of still shots to pick the best one (no more blinking eye shots).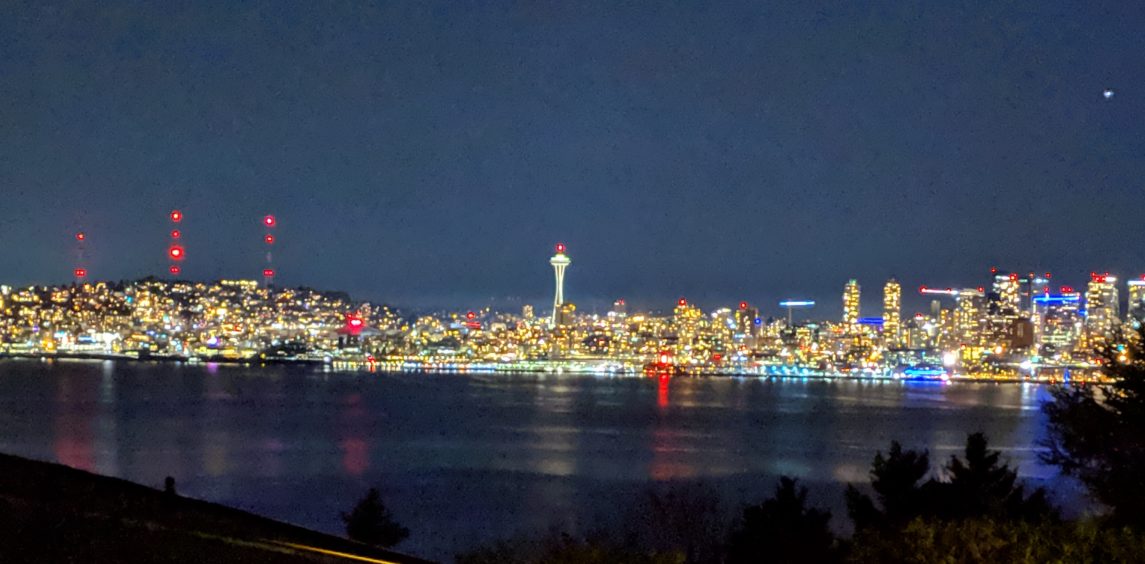 OlloClip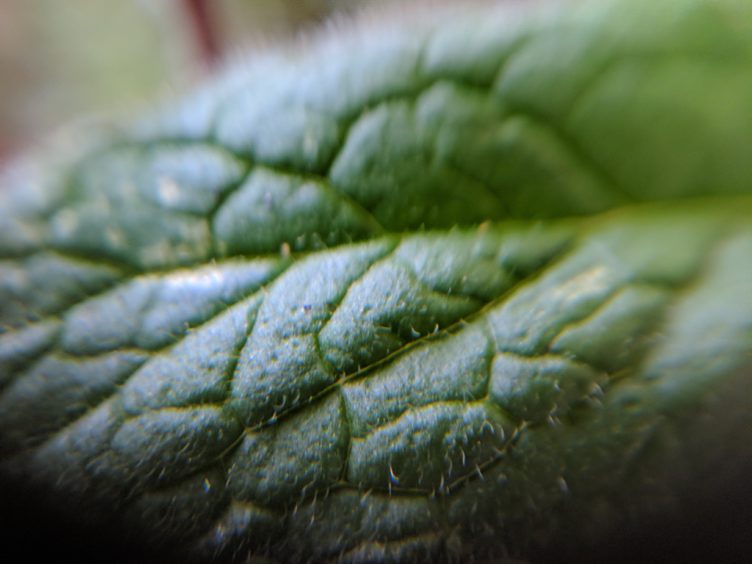 I thought it would be useful to have an external lens for super close-ups and wide-angle shots. I purchased an inexpensive OlloClip set of products (Wide-Angle + Macro Intro Lenses) and was extremely impressed with the quality of the close ups. I can see individual grains of sand and tiny hairs on roots. The wide-angle lens provided a quantifiable increase but not enough that I think of using it much. OlloClip has an enormous number of offerings to meet different needs and it would be worth the investment to acquire more of this type of accessory if additional features are needed. I would consider another lens for close-ups if I needed to take many photos of wildflowers or mushrooms, for instance. The lenses were easy to attach to the phone and simple to use. There are several products that specifically mention Pixel phones and many more for Apple devices.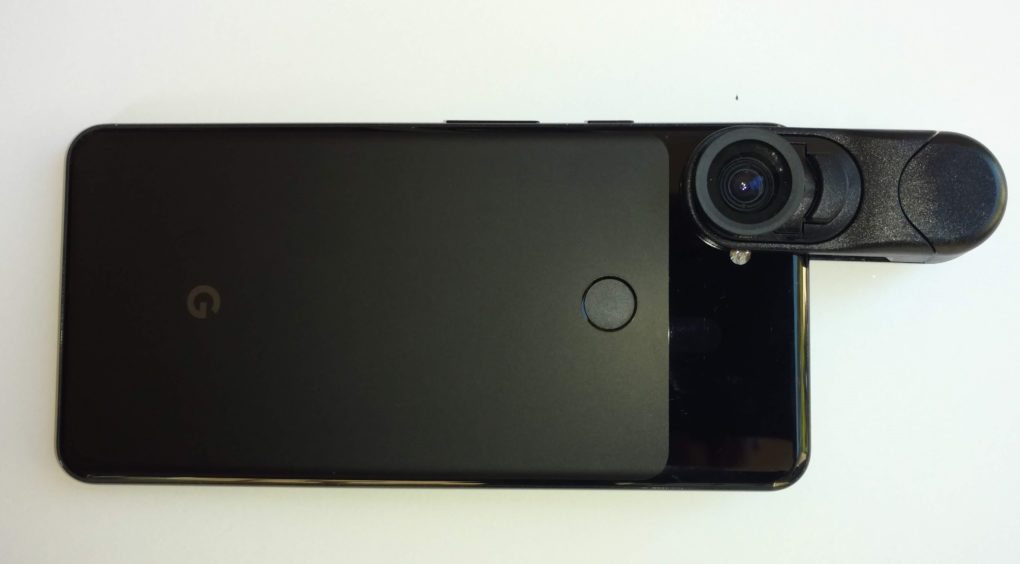 StickPic
I don't take tons of selfies but I do lead backpacking trips for the Sierra Club and it's nice to get group shots using a selfie stick. I didn't want to carry another stick since I already carry two trekking poles so the 10-gram StickPic is the perfect solution. Developed by Rodney, a Pacific Crest Trail thru-hiker, it's a tiny little device that slips on the end of trekking poles. It screws into any camera with a tripod mount. A cell phone adapter and Go Pro adapter are also available. The StickPic comes in several different sizes to accommodate different trekking poles. If in doubt regarding the size, send an inquiry to Rodney with a photo of the pole tip and he'll get back to you.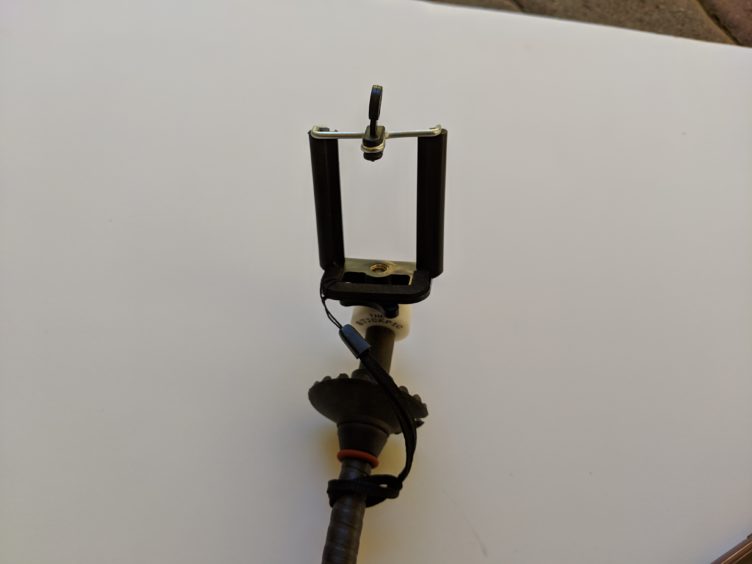 The StickPic and cell phone adapter works great with my husband's Motorola because the buttons are located near the top of the phone. For the Pixel 3XL, the clamp comes down on the buttons (and holding one button causes the camera to fire). I can position it lower but then the phone is lopsided and the heavier side tends to make it want to flop down. The KobraTech Cell Phone Mount works better on the Pixel 3 XLwith its narrower clamp though it's heavier and bulkier than the one I obtained through StickPic.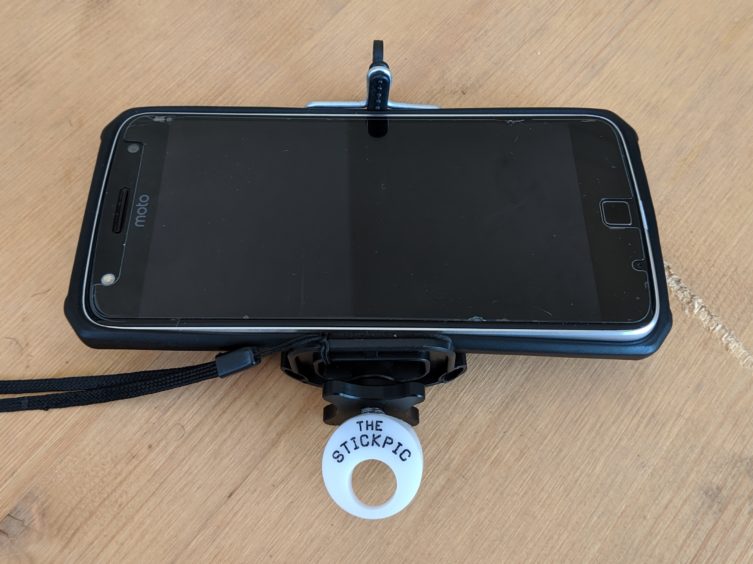 Rodney was kind enough to send me a sample of the StickPic and cell phone adapter and I purchased the KobraTech Cell Phone Mount.
Go Pro
I wasn't planning on a Go Pro, have never coveted one and have little experience shooting video (I know, I'm late to the party). I thought since I was revamping my approach to outdoor photography, I should consider all options. I got inspired by listening to a Backpacking Light podcast called Backcountry Filming and Photography and looked seriously at a Go Pro for the first time. Right now, I'm in the mode of playing with a new toy but I have some ideas about what I'd like to do. What tipped the purchase was a trade-up deal offered by GoPro. I have no business connections or affiliations with GoPro.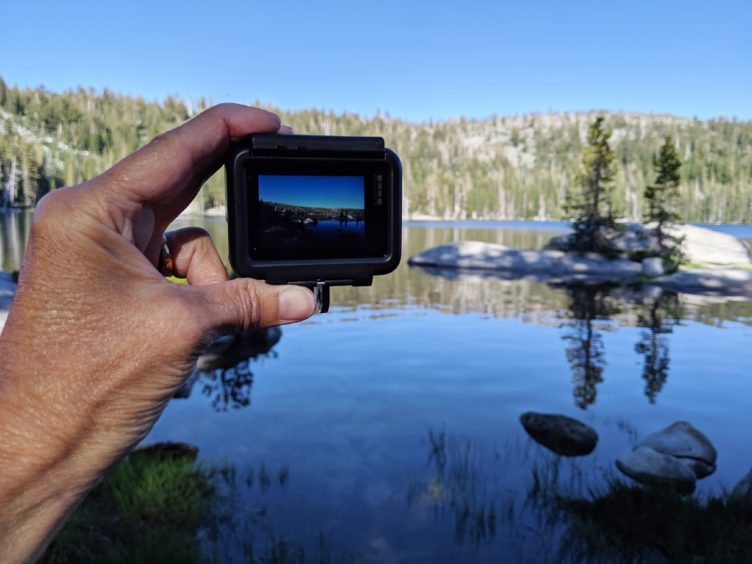 I've taken the Hero7 on one trip and had a lot of fun shooting short clips and still shots. It's so tiny and the hip belt pocket on my Gossamer Gear Mariposa pack is large enough that I can fit my Pixel phone and GoPro in the same pocket. It's easy and fast to alternate between them and I like the redundancy for several reasons. One is that I'm a bit worried about battery usage so having two devices is useful as can have a camera backup in case something happens to one. There's nothing worse for a travel writer than not being able to take photos.
Anker Power Core 10,000
I use an Anker Power Core 10,000, which charges quickly and is fairly small and lightweight. I'm a little worried about keeping the phone charged. I used to keep my phone mostly powered off during the day, only turning it on to do an occasional GPS location check. At night, I'd use the phone for about an hour to read or listen to audiobooks or podcasts. Now, I have to keep the phone on all day. It helps to keep it in Airplane mode. For short backpacking trips, I use a power bank (portable battery) while I might bring a solar charger for longer trips. I'm anticipating that any weight I save from not bringing the camera will be replaced with the weight of a larger power system. Anker has larger capacity batteries.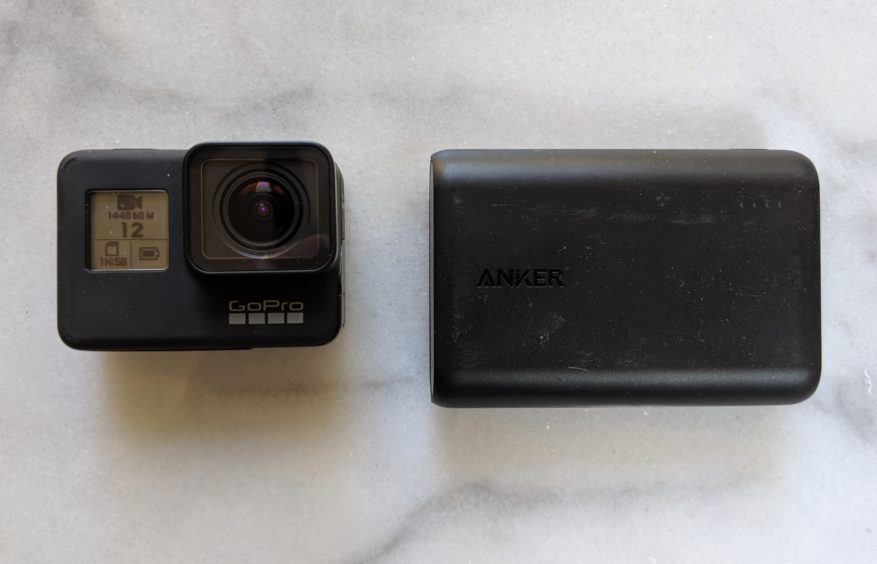 Starting the trip with a full charge plus the Anker device will keep my phone powered for three full days. My advice, after using many different products, is to test batteries and solar chargers thoroughly at home to make sure they work as expected no matter how highly they are recommended. Failures can be due to inadequate size for the needs, incompatibility or defective products. When you're testing solar chargers, note how long they take to charge a battery (they usually work best to charge a battery rather than the cell phone or other device). They can take many hours to charge and if they are on a pack and you're moving in and out of sun or if it's cloudy, they may charge slowly or not at all.
Information
Weight
Google Pixel 3XL: 6.5 oz
Phone cover: 2 1/8 oz
OlloClip: 1 oz with 2 lenses and 1 lens cap
StickPic: 0.35 oz
StickPic + cell phone adapter: 1.125 oz
KobraTech cell phone adapter: 2.5 oz
GoPro Hero7 Black: 4.09 oz (4.125 with battery, no cover)
Anker Power Core 10,000: 6.35 oz
Canon Powershot SX170 IS camera: 12 oz (for comparison)
All photos by Inga Aksamit, unless otherwise credited.
Disclosure of material connection: I received a sample of the Stick Pic for testing purposes, but the opinions expressed are solely my own. The other products were purchased.