"This is awesome!" seven year old Chase exclaimed excitedly. What got him so excited? Disneyland? Action figures? Trucks? No, he was building a dam in a shallow creek to catch the elusive fingerling trout slipping by. We were deep in the Granite Chief Wilderness on a multi-day backpacking trip and his face reflected pure joy as he stated emphatically, "We don't get to spend enough time with you", all the reward that we needed.
Wilderness backpacking with kids? Yes, it is possible, lots of fun and highly rewarding. Although my husband, Steve, and I don't have kids we are godparents to two children, Taira and Chase.  We could hardly wait for them to get big enough to shoulder a backpack so we could share our love of the outdoors with them.  Not personally knowing many adults who backpack in the wilderness as we do, much less with children, I felt like we were in uncharted territory.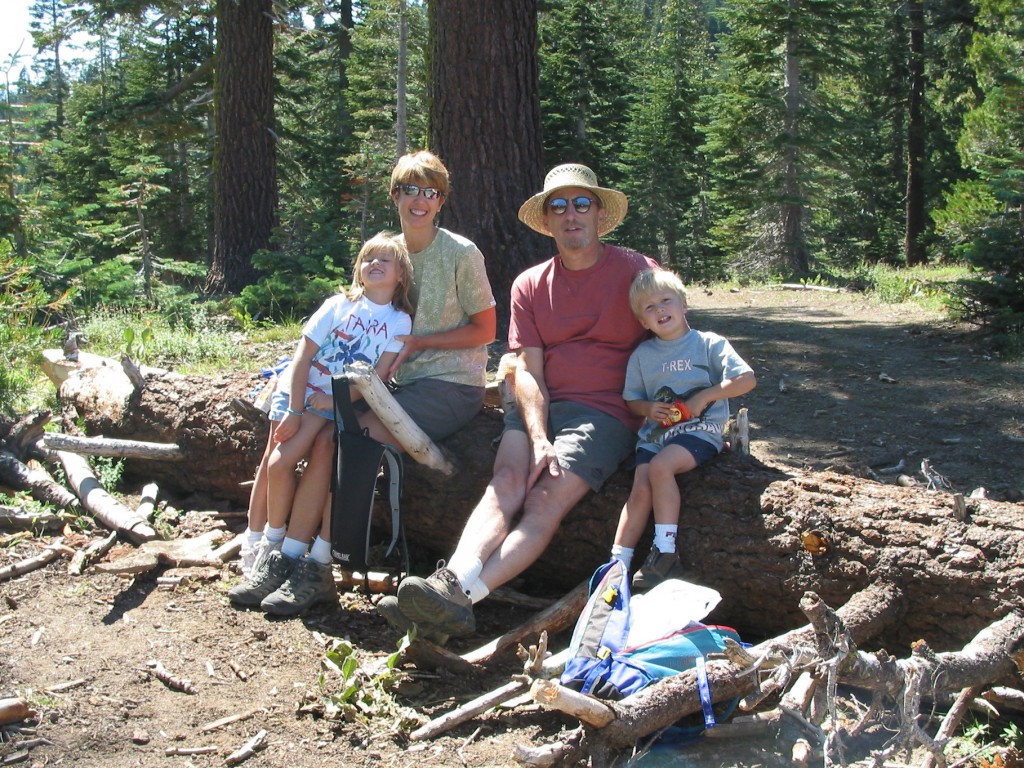 Barker Pass
We decided to ease into it, but I had a long-range plan. When Chase was four and Taira was six, we ventured to a wilderness trailhead of the Pacific Crest Trail at Barker Pass, near Lake Tahoe.  A level grassy area, picnic tables and toilet facilities were perfect for our first gentle foray into the backwoods. We pitched our tents and went on a short hike of about two miles roundtrip. We saw beautiful wildflowers and panoramic views of Lake Tahoe—great for the adults but a big yawn for the kids. They were much more interested in sticks, dirt and rocks with the high point of their day being the novelty of drinking from the tube of our hydration packs.  We had the kids wear light daypacks with snacks and water to instill the need for taking responsibility for themselves.  That night slabs of ham steaks sizzled on our Coleman stove and we all dug in to dinner, including mashed potatoes and salad from our handy cooler. Later we made gooey s'mores as the sun set over Lake Tahoe. The kids were a little concerned about sleeping in the tent with the inky darkness all around, but the chemical snap-lightsticks I brought eased their fears with a comforting glow that lasted several hours. The next morning we rose with the sun and feasted on blueberry pancakes whipped up by Steve before packing up for the drive home. One night under the stars was the perfect amount of time.
Fallen Leaf Lake
The next year we camped in our tents at the Fallen Leaf Lake Campground near Lake Tahoe, a dedicated campground with picnic tables, fire rings, and restrooms. We enjoyed the short, ¼ mile hike to Fallen Leaf Lake and the kids loved catching crayfish in the creek. This year they had their own hydration packs and mostly carried them with a minimum of complaining. By this time Taira had become a Girl Scout and had learned some tricks, such as how to make omelets by putting eggs and cheese in a zip lock baggie and dropping it into a pot of boiling water on the Coleman stove. Simple food does taste better outdoors. We all agreed that the noisy campground was motivation for seeking a wilderness adventure next year. One night out was again ideal.
Backpacking to Little Needle Lake
By the third year we decided to take the plunge and backpack into the wilderness. To avoid some of the strenuous uphill treks so frequently found in the Sierra Nevada, we elected to take the Cable Car to the top of Squaw Valley. This still entailed a fairly laborious hike to the top of Emigrant Pass, which was more tiring for the adults than the kids.  Then we dropped over the backside into the Granite Chief Wilderness and headed to Little Needle Lake.  Navigation can be a challenge and we found a creative, though unconventional, route to the lake. I'm not sure I'd recommend this to others looking for an easy first backpacking trip, but it worked out okay. See detailed directions below, with GPS readings at the critical junctions.
The kids kept up a good pace, though Chase preferred the freedom of hiking pack-less and tried every way imaginable to shed his day pack. Taira managed to keep her day pack on for the entire hike, snacking from her supply of trail mix along the way. The kids loved to pump water through the filter into our bottles and cooking pots and this became their primary camp chore. Everyone enjoyed swimming in the cool, clear waters of Little Needle Lake, afterwards sunning ourselves on big, warm granite boulders as we watched the waning sun slip into the headwaters of the American River. One night was definitely enough for this initial venture into the backcountry, and we all agreed that the peace and quiet of the wilderness was worth the effort.
Two nights to Whiskey Creek Camp
The following year we were inspired to tackle two nights in the wilderness. This was perfect for Taira who accomplished all the activities needed to get her Girl Scout Backpacking Badge on this trip. She prepared a packing checklist, sketched some of the sights and helped with camp chores. She was tall enough for a real backpack with a waist strap this year and reveled in all the pockets in which to stash rocks and other treasures. Chase loved his child-sized walking stick, which was alternately a sword, a poker, and a pointer, just using a little imagination. We repeated our ride up the Cable Car at Squaw Valley, and spent the first night near Little Needle Lake.
The second day we hiked just over 4 miles to Whiskey Creek Camp, an historical Basque sheepherder's camp. The old bunkhouse, storage shed and oven were fun to explore. Regulations prohibit camping within of the structures so we spread out in one of the spacious campsites that are often used by equestrian groups.  Hours slipped as we surveyed Whiskey Creek, investigated a deep eddy with fingerling trout, rearranged rocks in a shallow section and relaxed in the warm afternoon sun. That night we prepared a delicious freeze-dried meal of creamy chicken and noodles, boiling the water to rehydrate the meal within minutes on our tiny, lightweight gas stove.
As darkness fell Steve and Chase collected firewood and built up a roaring campfire in the fire ring. Chase loved to stoke it up, while Taira perfected roasting bubbling marshmallows on a stick. We were pleased that the kids handled the hiking so easily and still had great energy to explore around our campsite, help with camp chores and tell stories over the campfire well past dark. Taira even volunteered that she could have carried more weight in her backpack, so next year we'll keep that in mind. Chase's day pack didn't look comfortable and we realized that even if he used a day pack we should get one better suited for hiking, preferably with a waist strap. The next day we breakfasted on powdered orange drink, mini-bagels and hot instant oatmeal with dried cranberries. We broke camp and hiked just over four miles to Alpine Meadows Road, where we had left a car, pausing for lunch at the popular Five Lakes area.
What we've learned
I used to bring items to help pass the time, such as a ball so we could play catch, but found that we never needed extra equipment. Nature is so full of exciting raw materials that a child just needs time to explore. Backpacking and camping near a lake or a stream, can keep a kid entertained for hours. Skipping rocks, watching fish, swimming, walking in a shallow streambed, and exploring the shore are all enjoyable ways to pass the time.
Adults should be aware that the younger the child, the shorter the comfortable hiking distance and the less they can carry. Start out with short distances and focus on making the experience enjoyable for adults and children alike. Kids can carry snacks, a water bottle and perhaps some clothing or a pillow, and each year they should be able to carry more weight.
Experts recommend limiting the weight children carry to 10-20% of their body weight . Backpack selection can be tricky for younger kids. A day pack can be used but make sure it fits comfortably. Once it's filled with lightweight yet bulky items, such as a pillow, the shape of the pack can change dramatically. A waist strap is useful for keeping the weight well distributed and stabilized. Older school-aged kids can be outfitted with a pack designed for children, or a small adult pack.
With a little planning, a lot of patience and enthusiasm for the outdoors families can enjoy the solitude and beauty of the wilderness. Seeing our godchildren so at home in the backcountry and knowing we are building a huge cache of memories is all we need to excitedly plan the next year's adventure.
TIPS 
What to Pack:
If the group includes two adults and two children, expect that the adults are going to be doing the heavy lifting, so the lightest weight gear you can afford is essential. You may be able to cram 2 adults and 2 children into a 3-person tent if the kids are little, or use two 2-person tents.
Food:
Pay careful attention to food, making sure that you have adequate calories, good variety and foods the kids like. Freeze dried food makes the most sense due to its featherweight. Be sure to check calorie counts on the packages as different items can provide significantly different calories. You don't want to labor all day and find that you have an inadequate 200-calorie meal for an adult. Neither do you want to haul all that food and find that Junior has a 500-calorie meal that he can't possibly finish, resulting in wastage.  We usually target 350-400 calories/person for dinner. We pack healthy foods but found that a handy supply of a favorite candy can be an excellent motivator on the trail, i.e. "Just a little longer and then we'll stop for some Skittles", but perhaps your child can be enticed with the promise of cheese and crackers.
Water:
Camping near reliable sources of water minimizes one of the heaviest items you can pack: water. We use a water filter to assure a safe drinking water supply.
Packing Checklist:
Be sure to use a checklist so you don't forget anything. You may have been able to wing it when you were responsible only for yourself, but with kids your trip will be much smoother if you have everything you need. Checklists are plentiful on the internet, such as the ones listed on my Backpacking Resources page.
RELATED STORIES
INFORMATION:
Getting There:
Barker Pass
From Highway 89 on the West Shore of Lake Tahoe, take Barker Pass Road into Blackwood Canyon. The first nine miles are paved. One half mile further, where the Pacific Crest Trail crosses the road, is the trailhead with a large parking lot.
Fallen Leaf Campground:
From Highway 89 on the West Shore of Lake Tahoe, take Fallen Leaf Road. Reservations are recommended for tent sites and can be made through Recreation.gov.
Granite Chief Wilderness:
Start at Squaw Valley USA and take the Cable Car to the top. Contact Squaw Valley for current Cable Car ticket prices or call (530) 583-6955.
Getting to Little Needle Lake
Take the Squaw Valley Cable Car, hike up to Emigrant Pass, drop down the backside on the obvious trail.
Turn left at the junction with the PCT at 39,11.351,-120,17.105 ( elevation).
Turn right at the Tevis Trail junction at 39,11.111,-120,17.319 ( elevation) for a very short distance.
There might be a rock with a large white arrow painted on it. Don't follow the arrow, but turn left just before it at 39,11.125, 120°,17.337. You should see a faint trail going to Little Needle (no sign) when you turn. The trail climbs W-SW up a gentle slope and it's about to the lake. If you find yourself clambering over gigantic boulders you are too low—just head upslope to find the trail.
Topographical map: Granite Chief quadrangle strongly recommended and/or guidebook referenced below.
The Tahoe National Forest manages the 25,680-acre Granite Chief Wilderness. Permits are not required for overnight use in the Granite Chief Wilderness. However, a free California Campfire Permit is required if using a portable campstove or building a woodfire.
Best guidebook:
Schaffer, Jeffrey. The Tahoe Sierra: A Natural History Guide to 112 Hikes in the Northern Sierra. Berkeley, CA:  Wilderness Press, 2001.