"How much longer? Are we almost there?" The familiar refrain from our godchildren came, not in a car, but in the Sierra wilderness, as they shouldered heavy backpacks and bent toward the granite formations as we neared the summit, having gained 1,000 feet of elevation in about 2  miles when we went backpacking to Loch Leven Lakes.
We struck out late on a Friday afternoon, the five of us fresh and full of energy. The youngest member of our group at ten, Chase, was in the lead at a full gallop. My husband, Steve, followed close behind. Twelve year old Taira, her mother, Laura, and I brought up the rear. As usual for a Tahoe hike, the elevation gain began almost immediately and Chase was soon gasping for air, adjusting to the thin air at 6,500 feet of elevation. After a short rest to catch our breath we moved on, alternating between smooth granite in full sun and cool, shaded pine forest, crossing railroad tracks and streams along the way.
Our destination was Loch Leven Lakes, 2.8  miles from the trailhead, located near the Rainbow Lodge on the Yuba River, long a landmark on busy Highway 80. The hum of the freeway dissipated as we made tracks on the trail, which began on granite slabs sculpted to a smooth sheen by glaciers long ago, rolling into slim gullies before the next rise of granite. The varying terrain—granite, gully, forest—added interest and made for pleasant, if taxing, hiking. We gave thanks to the alders, Jeffrey pine, lodgepole pine, incense cedar and maples for providing cooling cover, the pines perfuming our tramp through the woods, and gazed wondrously at the surrounding peaks of the Sierra when we broke out into the open.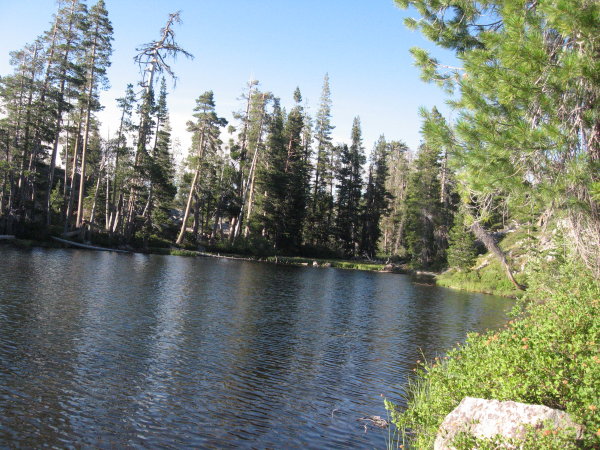 Upper Loch Leven Lake
We looked down at the thin ribbon of the freeway far below, then topped out and dropped to the other side of the ridge, where we entered a wonderland of high alpine beauty. The clear mountain air was still and quiet, pierced momentarily by the shrill cry of a hawk.  Warm granite boulders surrounded a small, glassy lake, beckoning us down the hill. We clambered down steep steps, suddenly full of energy, excitedly pointing out potential campsites. Taira and Chase proclaimed that they were in charge of site selection so we let them lead us around an unpromising bushy side of Upper Loch Leven Lake. Suddenly they shouted, "We found it," and we saw they had, indeed, found the perfect spot for three tents next to a low spot on the shore, with acres of granite spread behind the camp just waiting to be explored. A flock of ducks paddled over to welcome us to our camp, ambling on to the shore to see if we had any handouts.
Wanting to beat the setting sun we set up camp the kids threw themselves into pitching  the tent, finishing ahead of all the adults. Their favorite camp chore is pumping water through our hand operated filter so after drawing straws to see who could pump first we agreed on an alternating schedule. After heating up a pot of water on our camp stove we reconstituted Turkey Tettrazini, enhanced with a serving of mashed potatoes made from dried potato flakes. Taira took charge of dessert, turning freeze dried cheesecake into a soft custardy pudding that we all enjoyed. After dinner we went for a walk among the large granite slabs and deep gullies leading to another small lake fronted by cliffs, shimmering in the glow of sunset. Returning to camp at dusk we noticed quite a bit of movement just above the surface of the lake. When our eyes adjusted we could see dozens of tiny bats dancing above the water, swooping and cavorting as they caught myriad insects for dinner. We enjoyed the performance for a long time before the deepening shadows and evening chill drove us into our tents as millions of twinkling stars winked down at us.
As the sun warmed our tent we stirred, and finally emerged as the first day hikers passed by the other side of the lake, most stopping only briefly as they headed to the other two, larger lakes. We breakfasted on granola with reconstituted powdered milk,  instant oatmeal, tea and orange Tang, the perfect substitute for orange juice in the backcountry. Laura and I wanted to pack up and move our camp to the large lake nearby, but we were outvoted by the rest of the group, so we opted for a day hike to explore our surroundings. Actually two day hikes. First the kids roamed around the granite formations near the camp, shouting to us to come and join them. We were treated to a spectacular view of Rattlesnake Mountain, a 7,841 foot peak on the other side of Highway 80. The small cliffs provided good climbing experience for the kids, who practiced finding good toeholds and handholds among the cracks, chimneys and sharp edges. Chase declared that it was "way more fun to climb on real rock," a statement that any rock climber would agree with, eschewing plastic holds for the real thing.
Middle Loch Leven Lake
After lunch, consisting of ramen noodles, string cheese and salami, we set off with day packs, in search of the other lakes. The lid of Steve's pack conveniently converts to a day pack so we carried our swim suits, tiny towels, water, sunscreen and some snacks. Middle Loch Leven Lake was only a quarter mile away and we found it delightful. Long and leggy, it curves like a sickle to conform to the topography, the opposite shore lined with low, rugged granite boulders, anchored at one end with high cliffs, and sporting several rock islands. The few campsites held several tents, making this neighborhood more high density than ours. We noted a trail marker indicating that several trails branched from here, one descending thousands of feet in elevation to the North Fork of the American River.
High Loch Leven Lake
We continued on to the inexplicably named High Loch Leven Lake (not to be confused with Upper Loch Leven Lake, where we were camped), not even a mile from Middle Loch Leven Lake. We had heard that this was the most scenic and desirable lake, but found the many campsites strung along the shore to be overcrowded and off-putting, and were glad we had been overruled and had our private lake to ourselves. We did enjoy swimming in the chilly waters, and many people dove off the prominent island in the middle of the lake. We lay on the hot granite and soaked up the sun, listening to the sounds families with children splashing the water, young adults diving off the rocks, dogs carousing and everyone generally enjoying themselves.
A rock climbing adventure
On the return trip Chase led us on an adventure around the pathless side of the middle lake. We found other lakes, unnamed on the map, and tried to follow the shoreline of Middle Loch Leven Lake . When the cliffs met the water we clambered up and up and up, hoping we wouldn't have to backtrack. Steve, always the lover of bushwhacking, found a way through the crags, passing a small pond, then larger ponds where little used campsites could be found. Miraculously we stumbled into the back side of our camp, completely by happy accident, as the kids looked hot and flushed. We dove into our lake finding it significantly warmer than the other lake and swam from side to side, reveling in the refreshing clear water.
Again at five o'clock any stray day-hikers cleared out, as though the bell rang for dismissal, and we had the lake to ourselves, in contrast to the well populated neighborhoods in the other two lakes. Amid the quiet solitude, broken only by our voices, or those of the aviary, we prepared a lovely meal, reconstituting our freeze-dried Santa Fe Chicken dinner with hot water, then rolling it and some Monterey Jack cheese into a burrito with tortillas that we had brought. With a Rosenblum Petit Syrah that we had poured in a water bottle before leaving home we luxuriated in our backcountry feast, Taira again showing her cooking prowess by assembling the freeze-dried raspberry crumble, a sweet, gooey delight topped with crushed chocolate crumble.
Heading home
The next morning we ate breakfast, packed up and headed out, Chase leading the entire way down. We passed hordes of day hikers headed, no doubt to Middle and High Loch Leven Lakes. Though we would miss our secluded spot in the woods we had a firm destination in mind that spurred us on. We headed straight for the Rainbow Lodge (now private) and asked for a table for five in the white tablecloth-clad dining room. We drank gallons of iced tea and ordered huge platters of food, but our eyes were not bigger than our stomachs. I polished off a succulent half-pound hamburger, while Chase dug into a mountain of fluffy pancakes. Steve and Laura enjoyed eggs and toast, while Taira, the healthy one this time, munched through a Caesar salad that would have stymied even a rabbit. Sated, we looked around the 32-room inn and admired old photographs of the area from the turn of the century showing Model Ts in the deep snowdrifts and some very long skis. The original stone and wood building dates back to the 1920s and has served guests ever since. Granite fireplaces grace the common rooms, and there are several sitting areas where guests can relax.
We reminisced a bit about our trip, planned more adventures for next year, and made our shopping lists for REI to make the next trip more comfortable. Saying our good-byes we looked up at the granite slabs, now knowing what lay beyond the hidden peaks, already a bit nostalgic with memories of this year's trip, backpacking to lovely Loch Leven Lakes.
INFORMATION
Permits
Permits are not required for overnight visits in the Tahoe National Forest. However, a California Campfire Permit is required if using a portable campstove or building a woodfire. Permits and information about current fire restrictions are available from any Ranger Station. Free permits are available at PreventWildfireCA.org.
Forest Service information-Loch Leven Lakes
Guidebook
Schaffer, Jeffrey. The Tahoe Sierra: A Natural History Guide to 112 Hikes in the Northern Sierra. Berkeley, CA:  Wilderness Press, 2001 available at Amazon.