Beach holidays have been a source of deep relaxation for me since I was a child and I love a tropical beach best of all—warm water, surf, sun and sand—what could be better? Shade, that's what. I've found that shade is critical to my enjoyment of the beach. I finally feel like I have the perfect setup with the right beach gear to make seaside vacations comfortable anywhere. This includes a beach umbrella, beach chair, quick-drying towel and sarong. Add some beach toys, and I'm happy.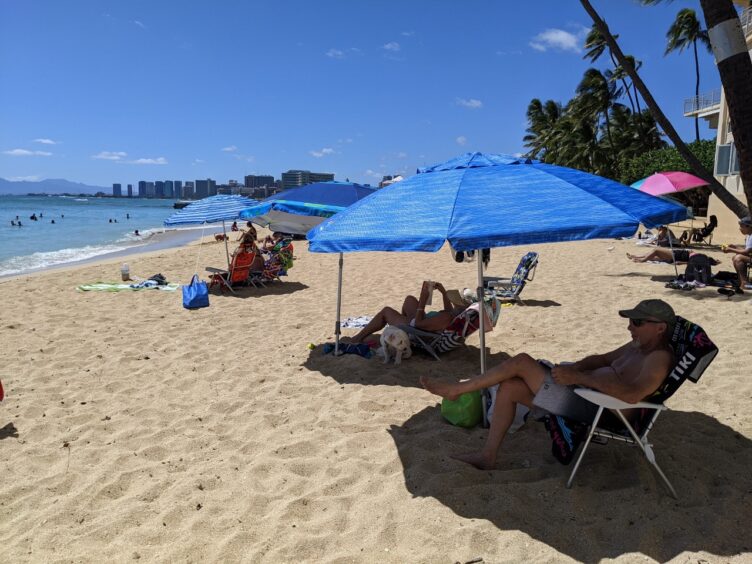 Tommy Bahama Beach Umbrella
After experimenting with various forms of shade gear, I've decided that there is no better umbrella than a 7-foot Tommy Bahama umbrella. What sets it apart from other umbrellas is the sand digger screw-type spiral on the pointed end of the shaft. Two handles fold down near the pointed anchor to aid in twisting it into the sand securely. Other features include a vent in the top so it doesn't sail away in a breeze and the tilting function that allows the umbrella to tilt at an angle.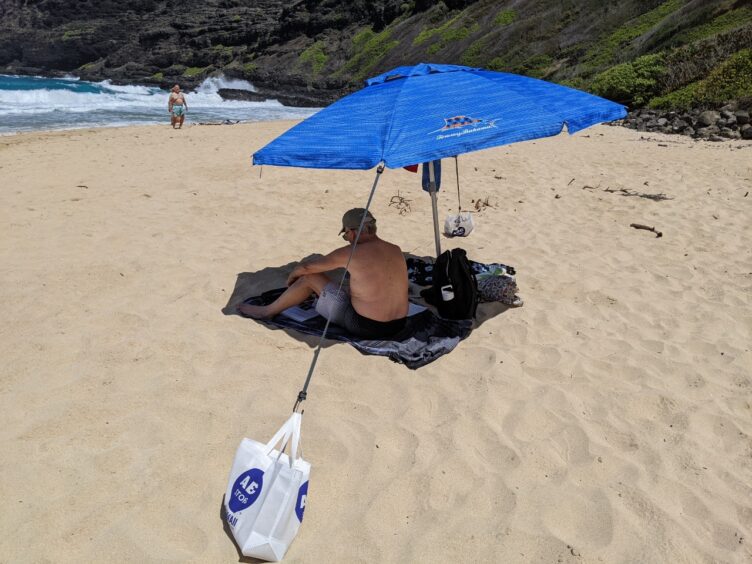 In moderate winds, any umbrella canopy can flutter and flap, eventually turning inside out. Adding two bungee cords reduces the wind effects considerably in mild to moderate winds. Hook one end of the cord to an umbrella rib near the tip and the other to a bag of sand. We used a shopping bag with handles, filling and emptying the sand each day. You could also use a gallon size milk container hooked onto the handles or a gallon zip top bag if you poke a hole in the top of the bag.
The umbrella came with a carrying bag with a strap for ease in transporting it to the beach and a Velcro tie wrap. I kept the box it was shipped in and checked it on the airplane when we traveled to Hawaii. With this umbrella, we can go anywhere and make our own shade.
Price: about $80 (less at Costco)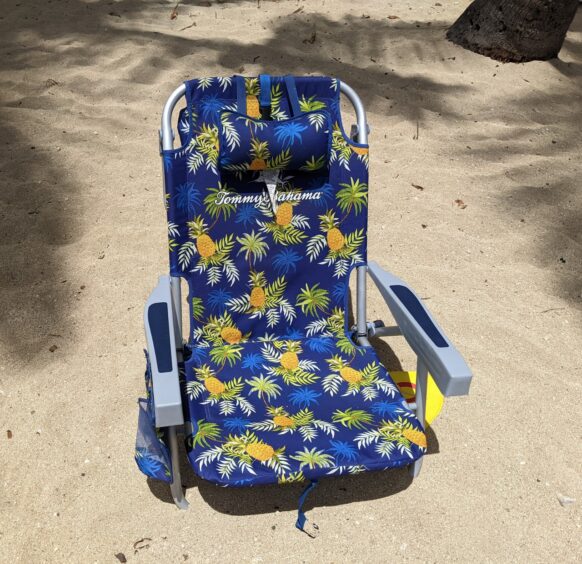 Tommy Bahama Deluxe Beach Backpack Chair
The Tommy Bahama beach chair folds flat and has handy straps so it can be transported as a backpack, leaving your hands free to carry other beach gear. It has an insulated cooler pouch and storage pouch on the back, a fold-down towel rack to hang your wet towel and a drink holder. A small pillow dangles from the top for extra comfort. It's stable in the sand and provides all-day comfort.
Price: about $90 (less at Costco).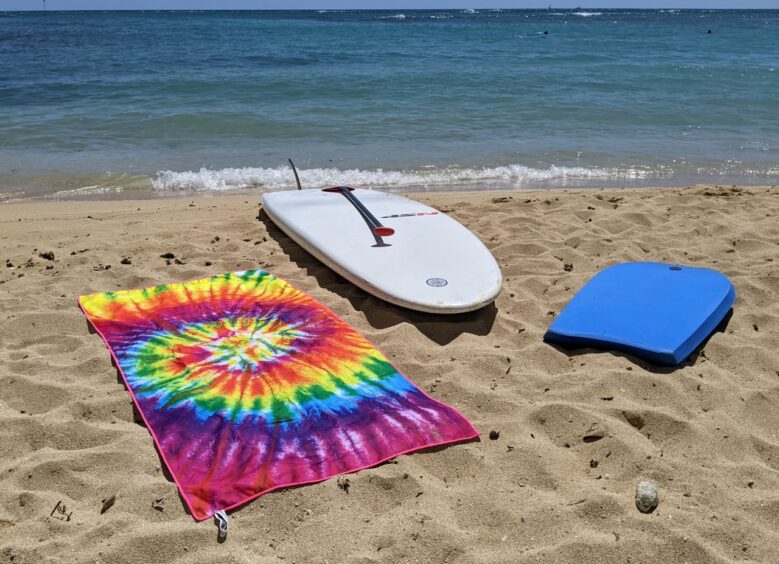 Microfiber Beach Towel
These are a big improvement over regular beach towels because they shed sand like Teflon, are very compact, rolling up to the size of a liter water bottle, and weigh substantially less. They are great for travel because they are so small and light and could even work as a sleep sheet or bath towel.
I picked up a House of Clouds microfiber beach towel at CostCo for $5 but they go for about $20 from a myriad of retailers such as Poshmark.
Price: about $20 (less at Costco).
Sarong
A simple sarong can be used for so many things from a beach cover up over a swim suit, to a towel or sleep sheet. I like quick drying, wrinkle free rayon or cotton blends.
Price: about $20 at Amazon or other retailers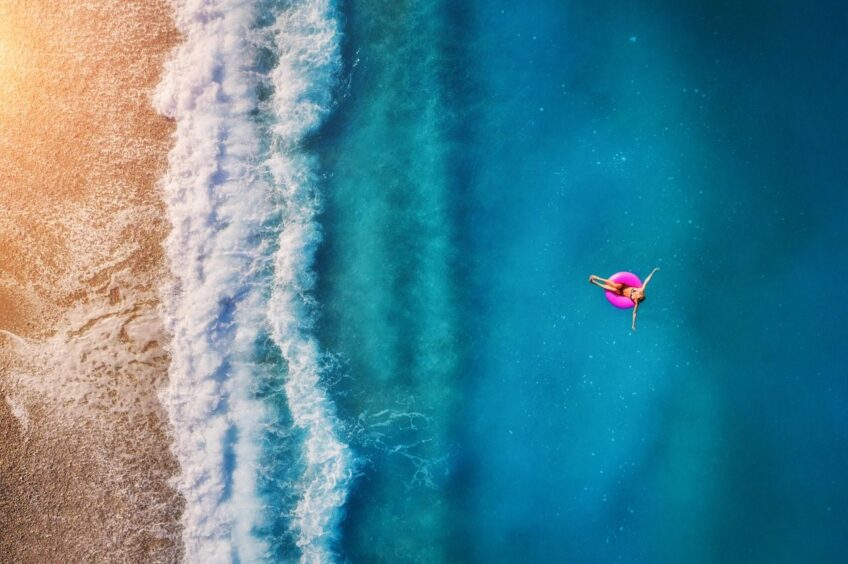 Beach Toys
There's so much to do in the water. Here are some of the items we bring to enhance our enjoyment when we want to be active in the ocean.
Mask and snorkel
Boogie board (can be used as a body board or kickboard when swimming)
Stand up paddleboard
Inflatable float
With these items, we're ready for a day at the beach.