So many wilderness permits, so many cancellations. The last two years have been tough for planning between the pandemic, wildfires, smoke and other issues. I salvaged one backpacking trip that was supposed to be in the Sierra by snagging a back-up to the back-up permit for an easy backpacking trip to Angel Island State Park for a late season trip. It wasn't any of the trips we had anticipated around Yosemite but, in the end, we loved backpacking Angel Island.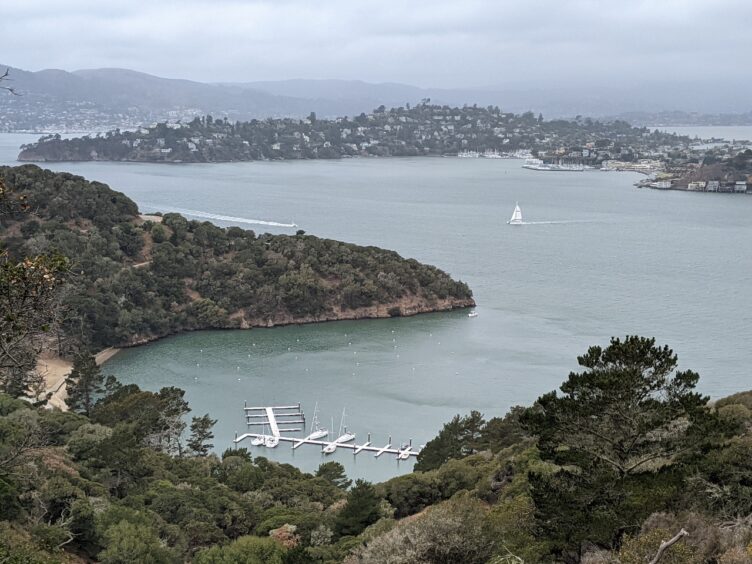 Our group of four consisted of me, my husband, Steve, our grown godson, Chase, and his mother, Laura. Our main goal was to spend time together, relax and have fun. We got all that and a big dose of history, which we all enjoyed. And we managed to get quite a bit of hiking in; more than I expected with about six miles one day and nine another day.
Trip Report
When I reserved my camping permits, I had to adjust my dates to fit the ferry schedule as it wasn't running every day. See below for ferry information.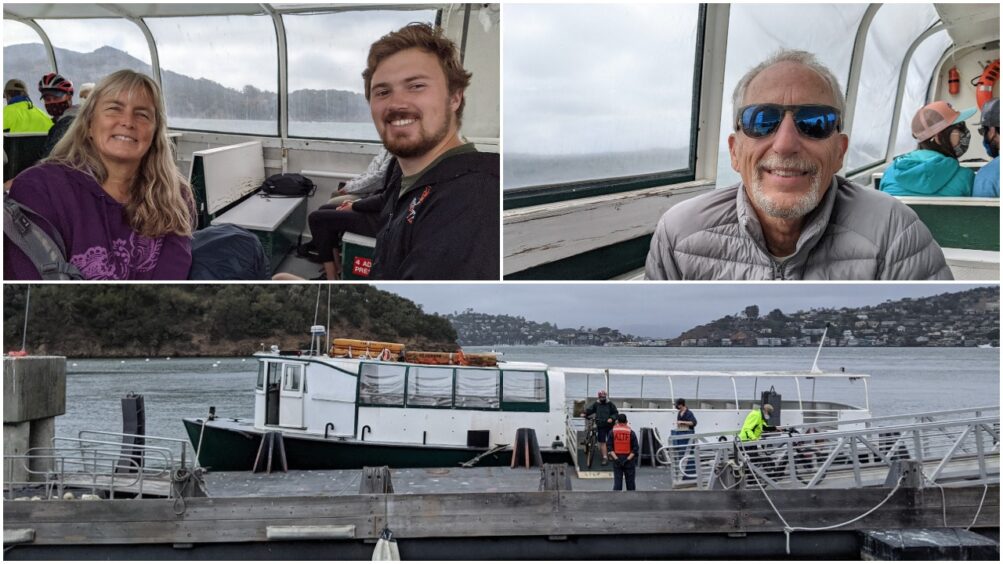 We all met moments before the small Angel Island-Tiburon Ferry departed the dock in Tiburon for a quick 20-minute trip across Raccoon Straight to Ayala Cove. Being on the water with fresh air and a view of the Golden Gate was a good way to downshift from our busy lives to a more relaxed pace.
After getting an orientation, a warning to protect our food from clever raccoons and maps from the ranger, we set off. Our destination was the Sunrise Camp (Campsite 8), facing Berkeley, which the ranger told us was less than 1.5 miles away via the Perimeter Road. However, we elected to take the longer Northridge Trail up to Mount Livermore, the highest point on the island at 788 feet, and back down the other side in 2.5 miles. The additional length and a little huffing and puffing up the hill made it feel more like a backpacking trip compared to a camping trip.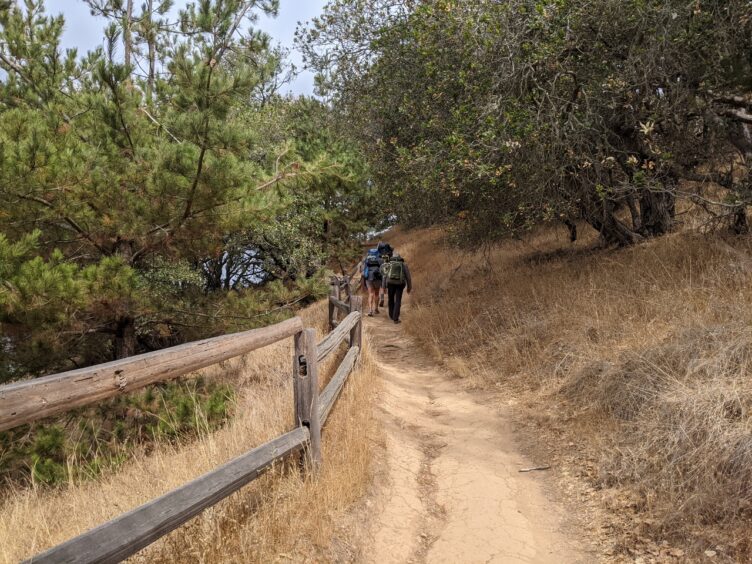 As we descended from the peak, we connected to the Ida Trail at the junction of the Sunset-Ida Trails about half way down and then to a service road to reach our campsite. The signage was spotty so even though it's a tiny island with a few trails, we were glad to have a map. Our Sunrise Campsite still had some elevation at about 350 feet above sea level which gave us good views. The flat campsite had plenty of space for our three tents. A light fog was burning off a bit by the time we got to camp with gentle breezes and stunning views of San Francisco, the Bay Bridge and the East Bay hills. We drank in the vista as we enjoyed our lunch at the picnic table and set up our tents.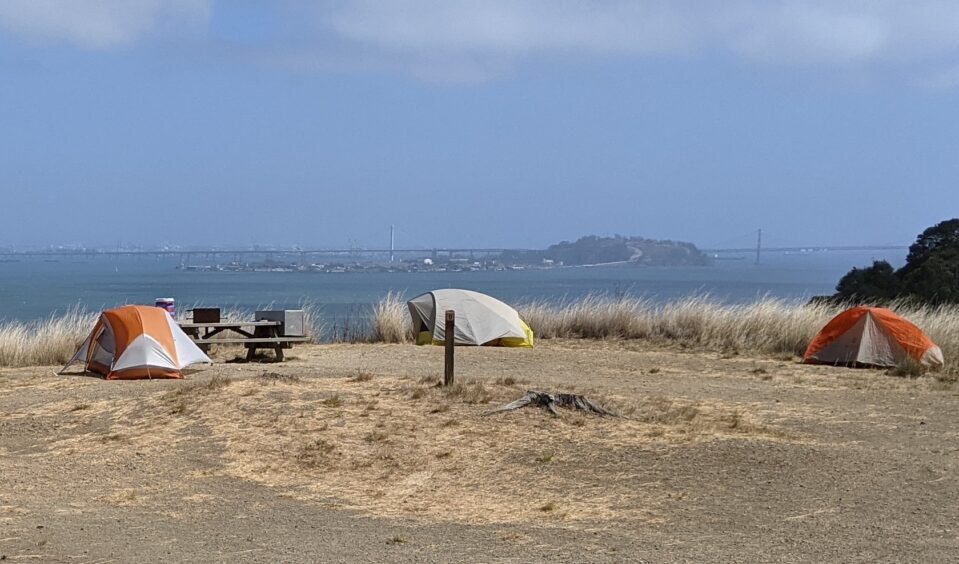 Curious about the history and wanting to explore, we stored our food in the metal food locker and descended to Fort McDowell (East Garrison) on a service road. We spent an enjoyable hour walking around the Post Hospital ruins, a graceful three-story, ivy covered building in the front with crumbling walls in the back that allowed entry to explore large rooms that housed ailing patients. Perhaps at another time in history I could have used my nursing skills there. I pictured myself tending to soldiers heading off to unknown dangers or returning from known ones in various wars. Angel Island played several roles in different military eras starting with the Spanish American War, continuing in World War I and again in World War II, processing men departing to and returning from assignments overseas from 1898 until 1946. We walked around the barracks that once held 1,000 men, the mess hall, and parade grounds. We were drawn to the moody sky casting shadows on Quarry Beach, a long curve of soft sand that beckoned to us to sit and enjoy the expansive views across the water to the cluster of sky scrapers in downtown San Francisco and the Bay Bridge.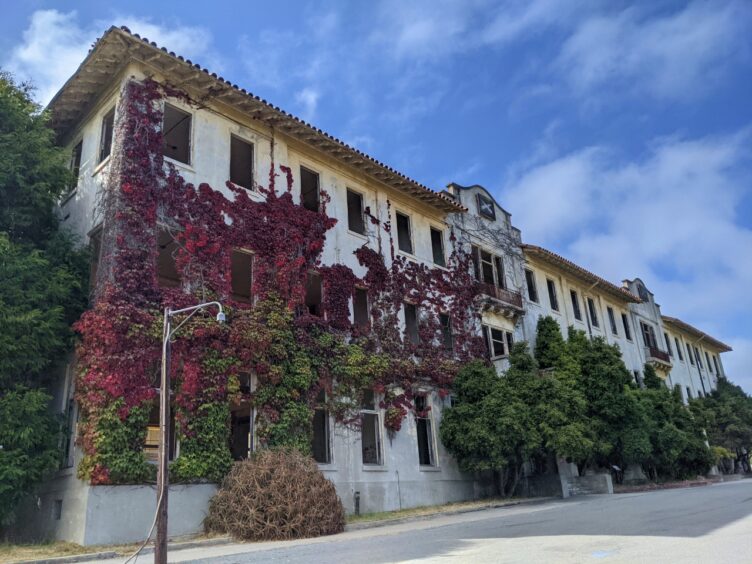 After dinner, we took a short walk on the service road up to the covered reservoir and explored the Eastbay Campsites, which appeared to have a little more protection from the wind than ours. Back at our campsite, I was going to turn in early to read but as the light faded from dusk to dark, I was surprised to see the Bay alive with activity. The lights glimmered from downtown San Francisco and suddenly, more lights clicked on to illuminate the elegant curve of the spans of the Bay Bridge. Fishing boats cruised back and forth while helicopters appeared to be doing training or maneuvers, hovering over the water for long stretches of time.
The next day, we packed a lunch and set off for the day, plotting a route that took us to the other side of the island on the Perimeter Road all the way to Ayala Cove. Instead of returning the way we went the day before, we took the Sunset Trail across the middle of the island to return home. Along the way we explored a battery, the quarry, sandy Perles Beach and Camp Reynolds as views of San Francisco gave way to scenes of Marin. Camp Reynolds was established early in the history of military uses on Angel Island, being established due to concerns from Confederate sympathizers in the Civil War in 1863. We ate our lunch at a picnic table at the edge of the bay at the end of the parade ground, enjoying the sunshine and views of Sausalito and the Golden Gate Bridge.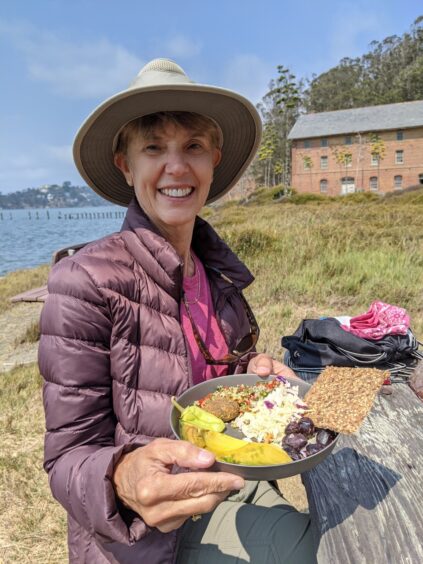 On the last day, we felt that we would be remiss if we didn't see the Immigration Station on the way back to Ayala Cove. We allowed an extra hour before we needed to catch our ferry and were glad we made the effort. The buildings have been beautifully restored and the interpretive exhibits add a great deal to understanding another part of the history of Angel Island at China Cove. Before the Immigration Station was established there was a long history of use by Hookooeko Tribe, a part of the Coast Miwok group, for at least 2,000 years before the U.S. military took it over.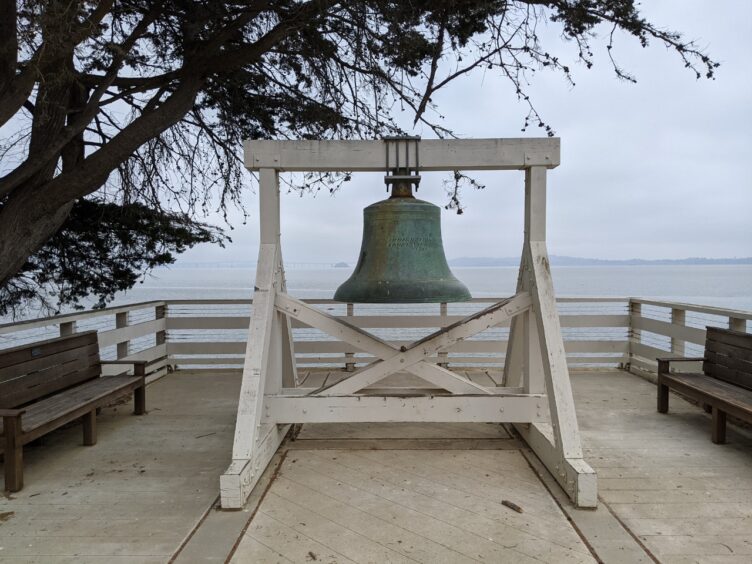 Angel Island is sometimes called the Ellis Island of the West, a reference to the Immigration Station that was established in 1905. Unlike Ellis Island, many of the arrivals were from Asia and were processed at the Immigration Station, which was primarily a detention center. Any thoughts of joyous immigrants finally reaching the promised land were dashed by poignant quotes from some of the residents who were detained for weeks or months as the result of the passage of the Chinese Exclusion Act of 1882. The interpretive signs and words from the detainees provide a sobering reminder that history repeats itself.
Our three days backpacking Angel Island were filled with hiking, enjoyable company, a constantly changing landscape across the bay and daily doses of history that helped us understand the outsized role that this tiny island played in the lives of so many.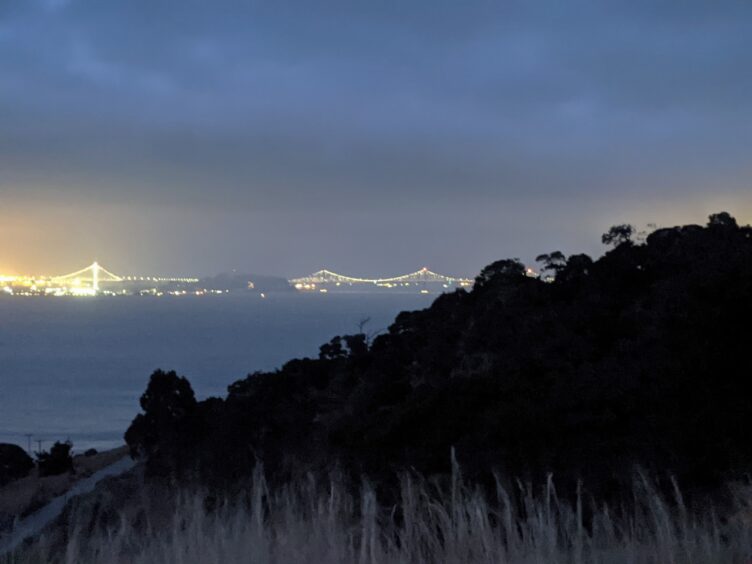 Planning Resources
Ferry Options
CONFIRM FERRY SCHEDULE BEFORE BOOKING CAMPSITES as the ferries don't always run daily. Double check the schedule to be sure you can travel to Angel Island the day you have a permit to camp.
Permits and Information
Campsite Options
There are four separate camping areas around the island. Three areas have three walk-in environmental campsites each. A fourth area has one ADA campsite site and a kayak group camp site. The east-facing sites may offer some protection from wind coming through the Golden Gate. Going clockwise, the sites are as follows:
East Bay Sites 1, 2, 3 (faces east, located near Immigration Station, North Garrison)
Sunrise Sites 7, 8, 9 (faces east, located near Fort McDowell, East Garrison)—the Sunrise sites may be reserved individually or combined into a group site for up to 24 people.
Ridge Sites 4, 5, 6 (faces south, located near Battery Wallace)
Kayak Group Camp (up to 20 people; can walk in or arrive by kayak) and Site 10, an ADA site (faces west, located near Camp Reynolds, West Garrison)
Camping information and descriptions of each campsite can be found at the Angel Island Conservancy website.
See below for more photos of Campsite #8.
Campsite Amenities
Each camping area has a shared vault toilet and spigot with potable water.
Each campsite has a tent pad, picnic table, barbeque (bring your own charcoal) and food locker. When we were there, the closest spigot wasn't working and they provided a large water jug that the staff filled.
At Ayala Cove there is a small store and cafe.
Camping Regulations
Each individual campsite is limited to 8 people.
No pets.
No wood fires (camp stoves or charcoal are allowed)
Campsites not reserved, are available on a first-come, first-served basis. The kayak site may be reserved by kayakers or hikers. The ADA site can only be reserved by qualified individuals; if it's not reserved, it will be available on a first-come, first-served basis.
Maps
Angel Island (campsites are indicated by symbol but not named—cross reference with descriptions above)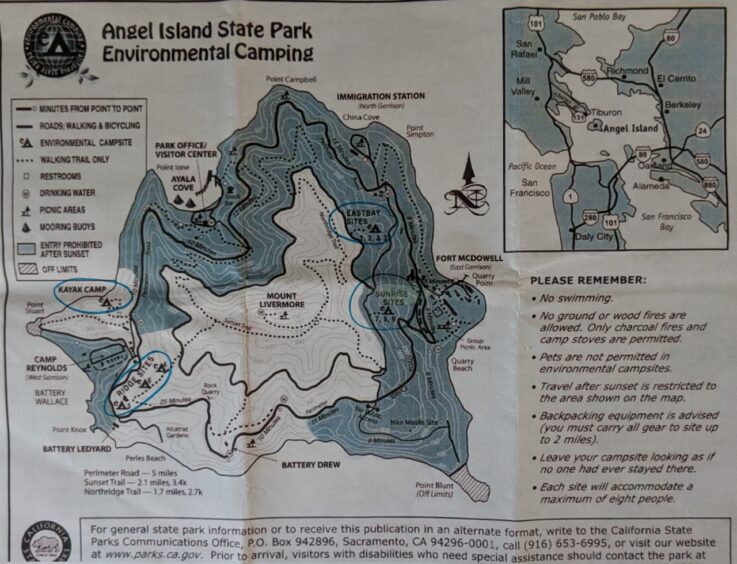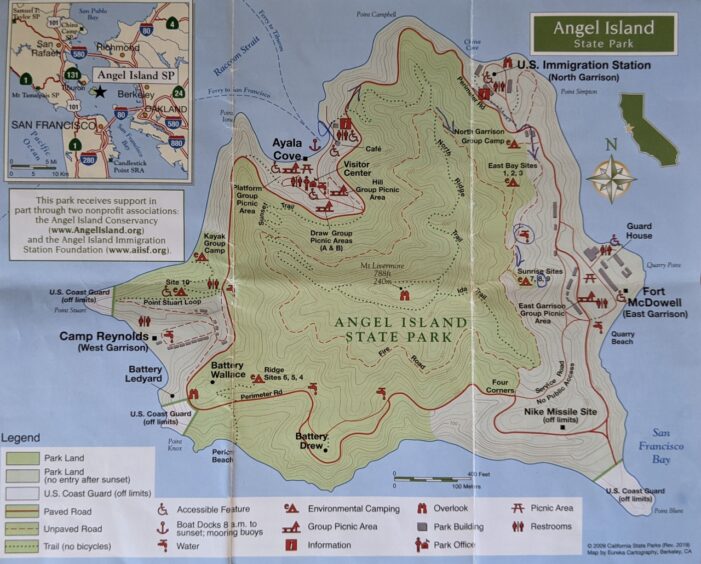 Other backpacking articles are here.
PHOTO GALLERY