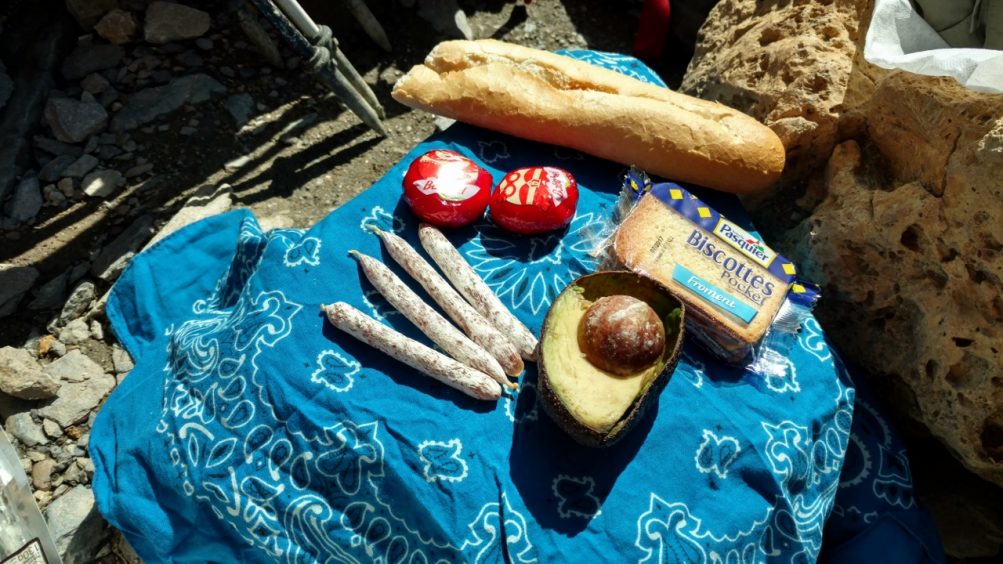 I had a lot of questions about food choices on the Tour of Mont Blanc for our self-guided hike. It was a relief to not have to plan our usual backpacking menu since I had just done five backpacking trips in one summer, but I didn't know what our food choices on the Tour of Mont Blanc would be. I anticipated much cheese and sausage, but wasn't sure what else. I didn't know how well the supermarkets would be stocked and if all the little towns would even have a market. Once we decided to stay in inns and refugios, I was curious about the meals we would be served. After all, if we were going to hike for ten days, we needed nourishment. Our lodging reservations at both inns and refugios were mostly "Half Board," which meant that they included breakfast and dinner, but not lunch. In the larger towns of Chamonix and Courmayeur, we stayed at bed-and-breakfast style hotels where we received breakfast only.
People on restricted diets will need to plan ahead more than omnivores. We observed that vegetarians were accommodated fairly easily, though pescatarians who eat fish do better. Vegans, those who follow a gluten-free diet or those who have other food restrictions should check with the places they plan to stay or bring a supply of food from home, just in case.
Refugios-Half Board
We stayed in two refugios and found the food to be good quality and hearty. Overall, it was simple fare, eaten in a communal setting. We never went hungry at dinner as portions were large and filling. At Refugio Mottets (one night before Courmayeur), we shared a large pot of thick vegetable soup, a huge bowl of cucumber salad, beef stew with substantial chunks of beef served over rice, zucchini, and flan for dessert. At Refugio Bonatti (one night after Courmayeur) we enjoyed a colorful salad and tangy pasta with tomato sauce—both were tasty and I filled up thinking that was it, a rookie error. Then came the main course.  I was already satiated so I just nibbled at the mashed potatoes and individual quiches. It was all good except the quiches were a little overcooked and tough. The entire meal at Bonattis was vegetarian.   There was a delicious pudding with cookie crust for dessert. Beer and wine was available for purchase.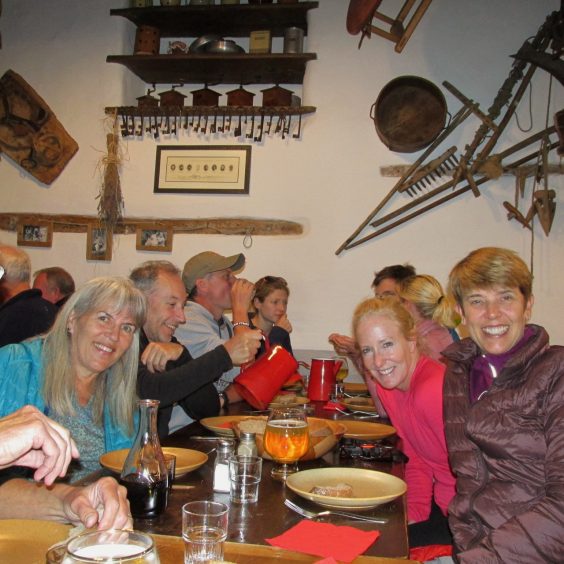 Breakfasts at the refugios were a disappointment. They varied, but generally were skimpier than the inns we stayed in. At Mottets, the buffet consisted only of thick slices of bread, butter, jam, canned prunes, tea, coffee and a weird kind of corn puff cereal. The cereal was comprised of round yellow balls that were slightly sweet and compressed down into a solid mass when chewed. The bread was so dense that it was hard for me to eat it. At Bonatti, it was a little more extensive with cornflakes, rice crispies, bread, yogurt, chopped fruit, cheese slices and hot beverages. Eggs, in general, seemed to be more a lunch meal, as in thick, fluffy omelets or quiche. I didn't feel quite satisfied at most breakfasts but made do with some substantial mid-morning snacks from our personal supply of food.
I was surprised, though I shouldn't have been since everything under the sun gets crowd-reviewed, but you can get a pretty good idea of what to expect from the refugios, including the food that is served, on Trip Advisor. In some cases people described the exact meal we were served.
Inns-Half Board
The rest of the nights we stayed in inns. The breakfast buffets mostly did not include eggs, except for a couple of places. It was usually a fairly generous spread of cereals, pastries, cheese, cured meats, fruit and several types of bread. It's a real pet peeve of local innkeepers to see guests making lunches from the breakfast buffet, so do the right thing and make alternate plans for lunch.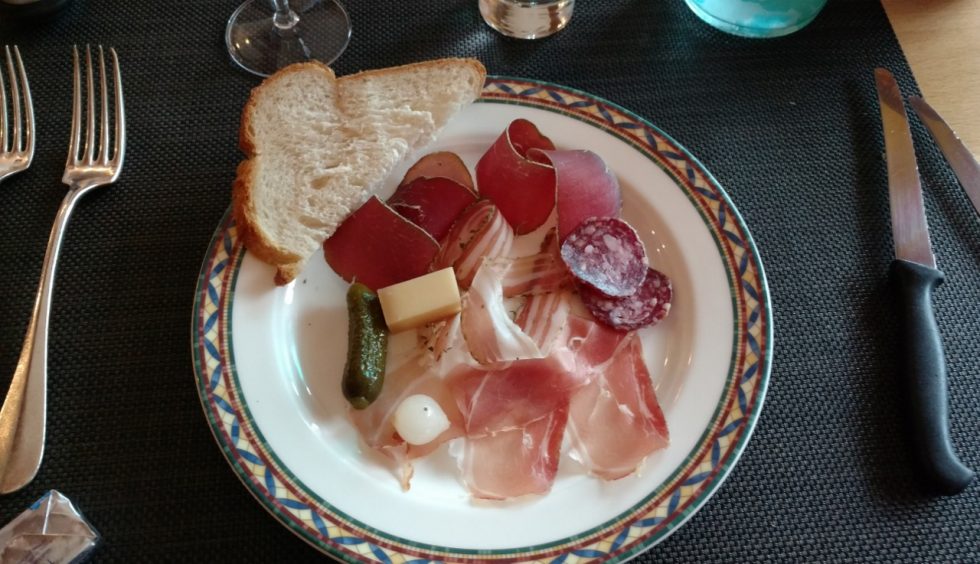 Dinners in the inns were quite nice and were pre-planned (we didn't order off the menu). Sometimes they had choices, especially for vegetarians. It often started with soup or salad followed by a main course and dessert, always with excellent flaky bread. The quality was a cut above the refugios and portions were ample. Wine and beer was always available at an extra charge. Dining was generally not communal though we ended up combining tables as we made friends with other trekkers along the way. Some examples of main courses we enjoyed were grilled steak, Asian stir fry, stuffed chicken, curry chicken, perch and risotto. The most unusual salad was a make-your-own type but not at a salad bar. The server brought small glass bowls of sliced beets, cabbage, shredded carrots, beans, chopped tomato and red pepper for the table and we added whatever we wanted to our greens.
Lunches
Lunches could be purchased in advance from almost any lodging establishment, including refugios and inns, by ordering the night before. Sack lunches were usually around €12-13 and varied in quality and quantity. One of the best lunches came from Refuge Motetts with an extensive array of items. If I had known how good it would be, I would have ordered a second one for breakfast. It contained a hard-boiled egg, whole tomato, two thick slices of bread, tin of mushroom pate, foil-wrapped packages of sliced salami and cheese, a package of prunes and sweet crackers. This lunch fed two of us for two days, along with some extra crackers the second day, and was well worth the price. Another lunch, from a hotel in La Fouly, was less impressive. It sounded like it was going to be sufficient with two sandwiches, but these turned out to be simply two slices of buttered bread each with the thinnest slice of ham I had ever seen.  That, plus one apple and one small candy bar, was lunch. It was OK with some supplemental cheese, but was disappointing overall.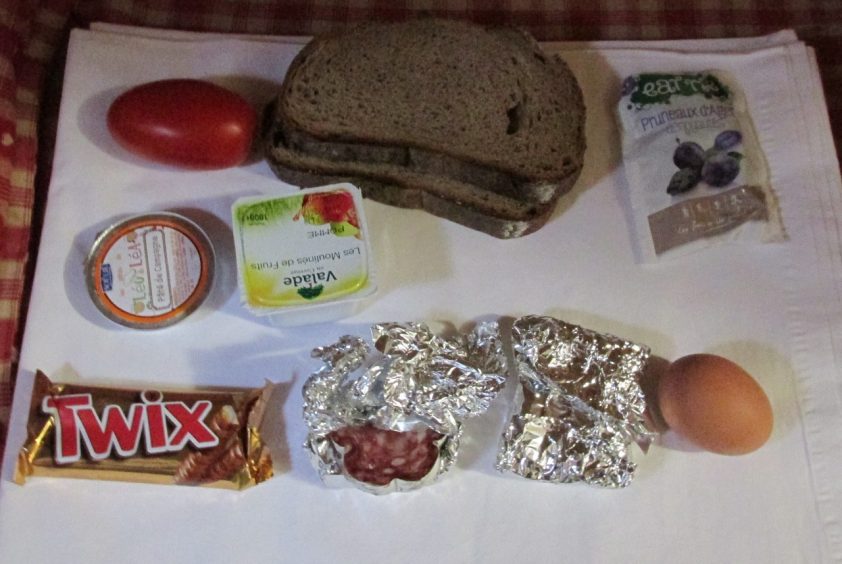 To be able to dine at a trail-side cafe for lunch as we were passing by a refugio at mid-day sounded like a treat. However, I had a little trouble regulating how much food I needed. The first day at Refuge Bel Lachat, not wanting to get too full, I ordered soup, hoping for a thick, hearty soup. Not having any language skills was a hindrance. It was a thin vegetable soup with bread. At least it was a relatively quick meal. Steve quite enjoyed his salad and charcuterie plate. The next day we stopped at Refuge de Miage, which is in a stunning location at the base of a glacier. We ordered an enormous omelet and felt sluggish afterward. The sun was warm and we relaxed, almost too much. A big outdoor wedding party was being served and after a leisurely lunch we began the protracted process to get our bill. Forty-five minutes later, as dark clouds billowed into the sky, we were still waiting. That was the end of our lunch-time refugio stops. Between the unpredictable amount of food and the need to keep moving when we had long days, refugio lunches didn't work for us.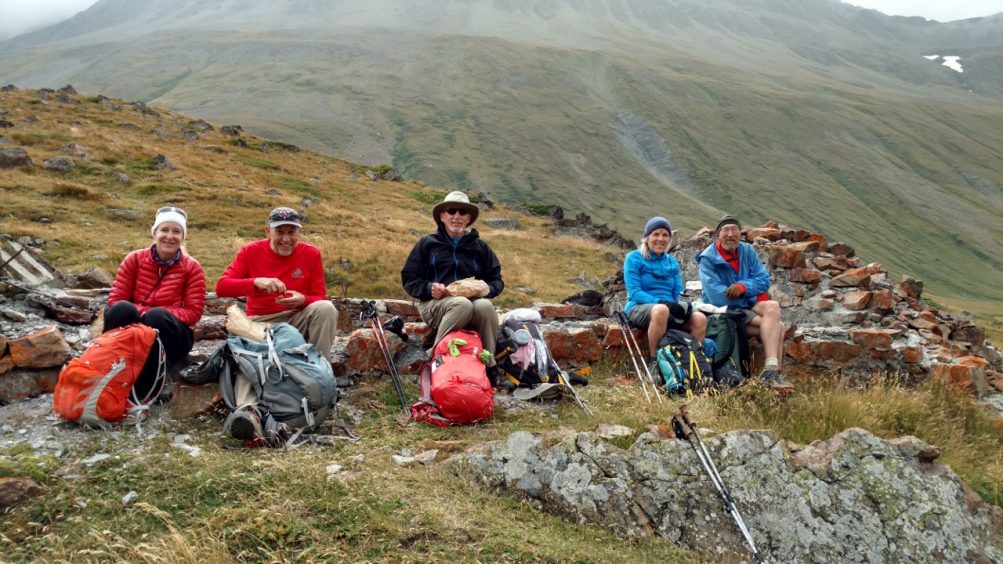 However, for backpackers, people on restrictive diets or those who enjoy a prolonged break, restaurant lunches could work. For backpackers, taking advantage of wholesome, hearty food at lunchtime could reduce the need to carry a stove and large amount of food. If the main meal is eaten for lunch then dinner could be leftovers, snack food or a sweet treat. For people on restrictive diets the lunch menu may offer more choices than the half-board menu at refugios and inns. If this is something that appeals to you, I'd recommend planning shorter days so you can enjoy the experience and not feel rushed.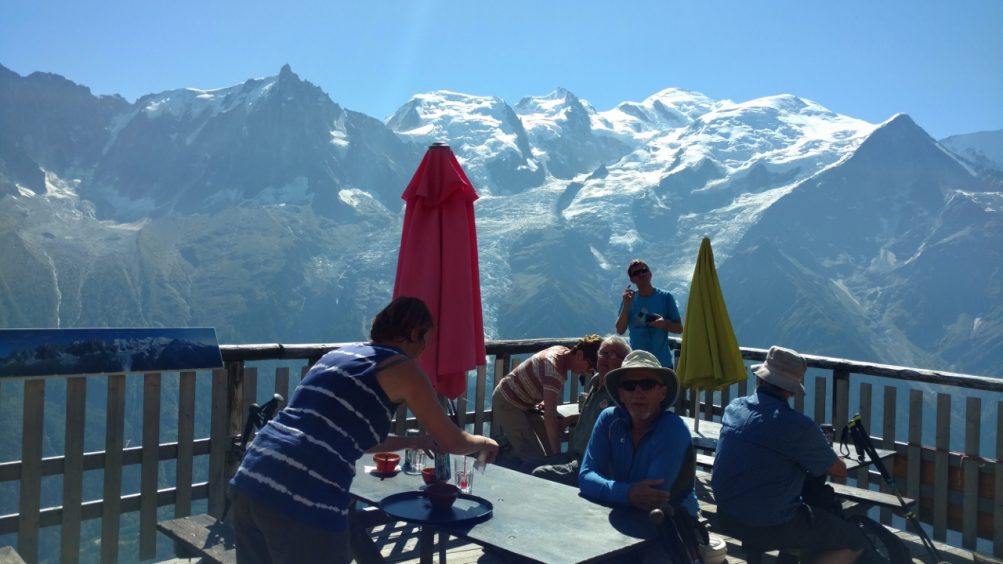 Supermarkets
After my watery soup that first day, I was starving by late afternoon with many miles to go. I wasn't paying attention when we arrived in Chamonix the day before and didn't think about stocking up with snacks. We had a few energy bars with us and I figured that would get us through the initial climb. I was so hungry that I didn't even want to take a shower when got to the hotel. All I wanted was food. The first thing I did was remedy that situation at the market. That is, after I wrangled with how to ask for directions from the hotel clerk who only spoke a few words of English. Asking for a grocery store got me nowhere. Finally, I said "food" and he lit up, exclaiming "supermarket."
Small or large supermarkets were found in every little village we went through so it was no problem to stock up with snacks and lunches. The only exceptions were in the two remote locations where we stayed in refugios (Refuge Mottets and Refuge Bonatti). My staples were cheese, cured meats, avocado, tomato, chips, crackers and baguettes. The cheese and meat selections were extensive in both the prepackaged form or sliced at the deli counter and were uniformly delicious, as was the bread. My favorite type of salami was a slender one that was the length and shape of a cigarette. They were perfect bite-sized snacks and didn't require a knife. The towns where I saw or went to the market were Chamonix, Les Houches, Contamines, Courmayeur, La Fouly, Champex and Argentiere (though the last was closed on Sunday when we were there—beware of Sundays). It was pouring rain in Trient and I couldn't drag myself out so I can't confirm that there was a store there.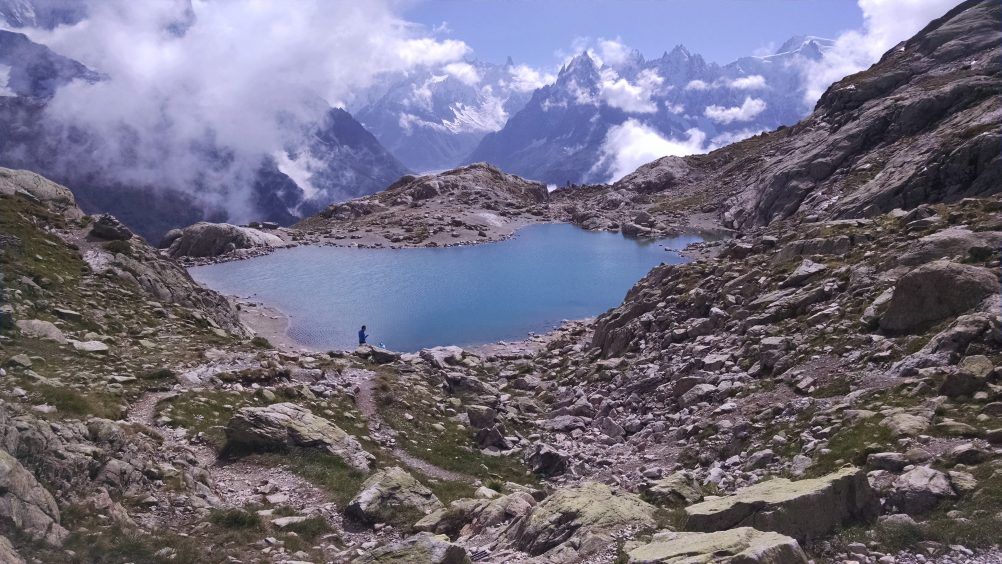 Surprises
Though I found many of the types of food that I expected, there were a few things I thought I would see but didn't. The biggest missing items were energy bars, which can be found in vast quantities on any supermarket shelf, drug store or outdoor store in the U.S. One person said they saw a few at a pharmacy but they were completely absent from any markets or pharmacies I was in. I was glad I brought a few from home. One day it was pouring rain, the refuge we had planned to stop in was closed (it was mid-September) and we had a big ascent. We didn't want to pull all of our lunch items out in the deluge so I was grateful that I had one last Clif Builder Bar to power me up the mountain.
I did not see any freeze-dried meals along the lines of the Mountain House brand that is so common in the United States. You don't really need them since fresh, delicious food is so plentiful. If you're camping and wanted to have some in case of emergency, bring your own. There may be places that stock them but even the larger sporting goods stores in Courmayeur didn't have them (this may have changed).
I also didn't see many hard candies, such as jelly beans, Skittles or lemon drops, though gummi bears (just OK as a hiking snack) and quality chocolate (unbelievably delicious) were widely available.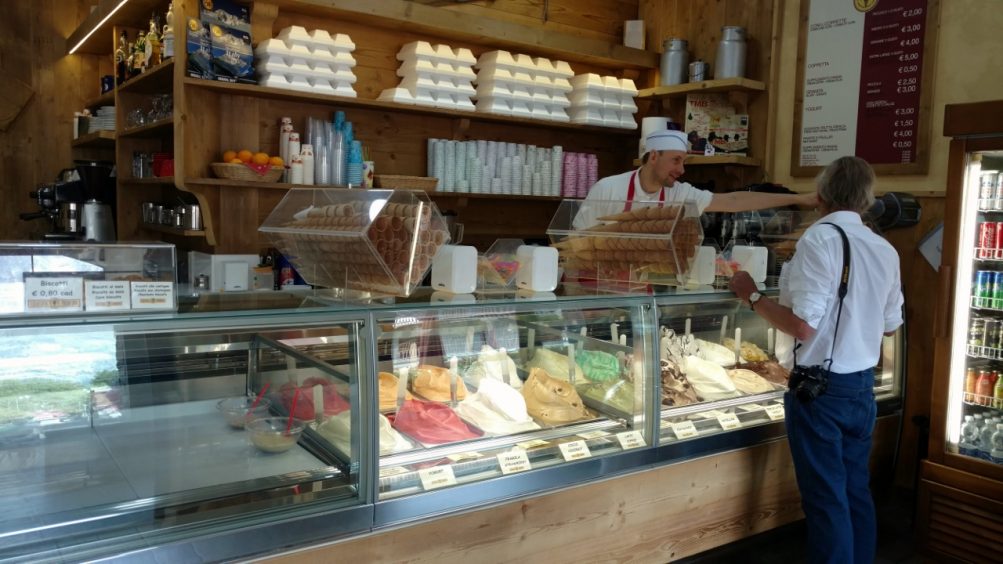 Best Restaurant
The best meal we had on the trek was at Ristorante La Terrazza in Courmayeur. It was a short stroll from the Hotel Crampon. It was a nice place and I was slightly underdressed in my hiking pants and flip flops. It's not as though I was going to carry dressy clothing in my backpack. I tried to look unobtrusive. We feasted on a crisp green salad, a huge platter of prosciutto, pear slices and walnuts to start. Steve went overboard with a ham and fontina cheese crepe that was rich enough to have been the main course, then had to plow through a large serving of venison with mushrooms and polenta. I ordered pork and was faced with three large boneless chops in cream sauce. The proprietor was devastated that I left two behind, but I just couldn't eat any more. This restaurant is was a bit of a splurge at the approximate half-way point of the hike. Overall, the food choices on the Tour of Mont Blanc were delicious and filling at the refugios, inns and markets.
See slideshow below!
Other articles on the Tour of Mont Blanc by Inga Aksamit:
Information:
Tour Companies (there are many)
Mont Blanc Treks, can assist with making lodging reservations for self-guided tours, as well as arranging guided tours. This is the only service I have personal experience with and can highly recommend it. We chose the self-guided tour and carried all of our own gear. The service they provided for us was making reservations for lodging each night and providing detailed route cards, but they offer much more.
Mac's Adventure, offers a range of itineraries. A friend is using this service, choosing the "Relaxed Tour du Mont Blanc," with a couple of extra days built into the itinerary. He chose to have his luggage transported so only day-packs will be needed. Reviews are consistently positive for Mac's.
Guidebooks
Websites
Facebook Group
All photos by Inga Aksamit, unless otherwise credited.
See slideshow of food choices below: