Pioneer Basin is a treasure trove of high alpine lakes tucked into the Sierra Nevada. Located near Mammoth Lakes, it can be accessed from the Mono Creek Trail or a more adventurous cross-country route over Hopkins Pass via the McGee Creek Trail. The reward for the effort involved in the steep ascent from the East side of the Sierra and the trailess romp over a high pass is great. A group of seven glittering azure lakes of different sizes and shapes, relatively few people, and endless views of craggy granite peaks awaits. The peaks towering above Pioneer Basin are named for "The Big Four," a group of California movers and shakers who shaped the business landscape of San Francisco in the late 1800s: Leland Stanford, Collis Huntington, Mark Hopkins and Charles Crocker. Together they built railroads, universities, hospitals, banks, libraries and hotels, among other ventures.
In August 2016, a group of four of us hiked a loop of sorts. Actually, it was more of a U-shaped route. This was a Sierra Club trip with the San Francisco Bay Chapter Backpack Section. Andy Westbom led the group and planned the route. I participated as the co-leader.
Here is an overview of our 26.5 mile, five-day, four-night trip:
We started at the McGee Creek Trailhead
We broke off from the trail at Big McGee Lake to surmount Hopkins Pass
We joined the Mono Creek Trail for a short time on our way to Pioneer Basin
We returned to the Mono Creek Trail and exited over Mono Pass
We ended at Mosquito Flat in the Rock Creek area, where we had dropped a car
Altitude Acclimatization
This route climbs into the high country right away. We elected to spend the night at a relatively high elevation campsite the night before starting our hike. The East Fork Campground, one of many Inyo National Forest campsites in the Rock Creek area, put us at 9,000 feet the first night. This was a good way to acclimate as all subsequent nights were at 10-11,000 feet. Since I do better with a staged approach to acclimatization, I stayed in Tahoe (at 6,800 feet) the night before we camped at East Fork. Two of us came armed with acetazolamide (Diamox) based on previous experiences with altitude sickness. For more information about altitude acclimatization, see my Preventing Altitude Sickness article.
Day 1-McGee Creek Trail
We rose early after a restless night of drizzle and noisy campers (though the camp host did quiet them down at 10 pm) at the East Fork Campground.  A little time was spent shuttling cars into position. We dropped one car at the large, free Mosquito Flat parking lot at the end of the Rock Creek Road. Mosquito Flat, which is at the trailhead of the Mono Creek Trail, also has a camp specifically for one-night stays by backpackers.
Our group, comprised of three men and me, headed north on Highway 395 to the McGee Creek trailhead and parked in a moderately large parking lot. There were no amenities here except a vault toilet, though the McGee Creek Campground is located relatively nearby.
Contemplating the vast upward sweep of the multihued peaks from the trailhead was intimidating, but I had to trust that a trail would make more sense than what I imagined. The light colored granite almost looked like snow, contrasting with the dark metamorphic rock. The terrain at the beginning of the trail was typical of the Eastern Sierra, with sagebrush and other dryland vegetation. It gradually gave way to trees as we gained elevation. It was overcast and threatened rain, though we only got a few sprinkles here and there. I could see that it could be quite hot under different weather conditions.
A few wildflowers, including Indian paintbrush, yarrow, Kelley's lily, fleabane and pennyroyal, provided some colorful accents especially near creeks. We had a couple of stream crossings but bridges or large logs aided with some of the larger streams. We passed a few day hikers, a mule train and a couple of men in a trail crew, but mostly had the trail to ourselves. We planned an easy day knowing that we would get a late start with the car shuttle. In addition, we wanted to allow ourselves some time to acclimate to the altitude. After about 4 ½ miles we started looking for campsites, eventually finding a large campsite in the forest between the trail and the river. We had thought about camping at Steelhead Lake but decided against the extra mileage. Our location was somewhere between the junction to Steelhead Lake and an unnamed lake that was practically on the trail. There were many places to camp but not all of the sites were immediately visible from the trail. Even though it was a short day and we were at our camp by about 2 pm we got a good workout with the elevation gain of around 2000 feet.
The afternoon remained overcast but everyone enjoyed the creek and the guys spent some time exploring a use trail that followed the creek up a small gorge. Across the creek from our campsite was a large meadow with a spectacular sunset that threw a rich alpenglow across an enormous rock face.
Steelhead Lake Spur
A couple of years later, I was able to explore the Steelhead Lake spur trail, located at about 3.9 miles from the McGee Creek Trailhead. It's less than a mile (about 0.86 mi) from the junction but it's a steep trail. It's a beautiful lake nestled into a craggy basin with a couple of nice campsites. It has a remote feeling despite how close it is to the start of the trail. You can follow the outlet of the lake for a short distance to access a panoramic view of where you hiked from, including tiny Grass Lake, below Steelhead Lake. 
Day 1 Stats
McGee Creek Trailhead to beyond Steelhead Lake junction
Mileage: Approximately 4.6 miles
Starting elevation: 7,800 feet
Ending elevation: 9,944 feet
Day 2-Hopkins Pass
The trail from our campsite to Big McGee Lake was magical. We started out in the forest, passed the pretty unnamed lake on the right side of the trail, spied small waterfalls in the distance and watched glassy pools of water shimmer in the sun. We broke out of the forest into a huge grassy meadow filled with wildflowers. It was postcard perfect, being ringed with dramatic peaks on all sides. As we gained height above the creek we stopped several times to peer down at the creek with its inviting pools. Our progress was slowed because of the distracting beauty of the setting, but nobody cared. This was no place to try to make miles. We kept throwing our packs down to take photographs and embrace the stunning scenery.
Drawing near Big McGee Lake, we passed a woman going in the opposite direction with no pack. She reported that she was camping at Big McGee Lake but believed that she had lost the trail, which seemed to end at the lake. We all knew that the trail continued over McGee Pass but she hadn't been able to locate it. She was backtracking to see if she could find the trail but we hadn't seen any junctions. We continued on and spotted Big McGee Lake, very blue and inviting far below the trail. This was where we needed to leave the trail so we scanned the perimeter of the lake, looking for the use trail that was supposed to be fairly obvious. It was clear that steep walls rising from the lake on the right weren't conducive to finding a use trail. The trail we were on did seem to lead down to the lake on the left, where the woman was camped. One of our group backtracked a few steps and discovered the issue. The main trail bent to the right, but as hikers reach the full view of the lake they must get distracted, like we did, and assume that the trail descends. Really, though, the trail ascends high above the lake on the right, while a use trail, which doesn't look that different from the main trail, drops down to the lake on the left. Stay high and to the right to reach the pass. 
We continued on the main trail (on the right) until we were just beyond the lake and high above it. Here we found another use trail, this time the one we needed. This one paralleled a small stream on the right coming from Little McGee Lake, which was located above us.
We took a break and got our first good look at Hopkins Pass. Alarmingly, it looked like the pass was filled with snow. Not only that, it looked like a large hanging cornice. It was early August but there were patches of snow all along the ridge near the pass. It was hard to determine exactly how steep it was leading up to the pass but the snow definitely made it intimidating. We were not prepared with any snow or ice climbing equipment, such as crampons or ice axes. I started thinking about an alternate route over McGee Pass to Tulley Hole in case we were stymied. We discussed our strategy and decided to go as high as we could safely ascend. I had read an account where a hiker had encountered similar conditions but was able to get over the pass. I hoped we would have the same good fortune.
We were able to mostly follow the use trail as we traversed a grassy meadow filled with masses of pink and red paintbrush. We headed toward a seasonal stream draining the snowfields above us into Big McGee Lake. I had thought we might be walking up the gravely streambed but we were able to follow an overgrown use trail. It snaked through rocks and brush to the right of the stream, initially taking us through thick beds of bright yellow draba flowers. The trail steepened quite a bit, but we took our time. We reached a tarn at the base of the upper peaks that fed the stream we had been following. We craned our necks, looking at the cornice from underneath. We had even less perspective than we had had from down below. It still looked daunting.
We crossed a snowfield to the left of the tarn and found evidence of a thin trail hugging the right side of a block of rock. The trail split several times and reunited so we meandered around a bit. We kept encountering one small snowfield after another as we ascended. The trail steepened enough that I stopped looking around and concentrated on where I was placing my feet. Suddenly I looked up and realized we were at the base of the "cornice." It turned out to be simply another snowfield with plenty of room on the left side. The opening between the cornice and the rock wall was huge but had been obscured from our view. I breathed a sigh of relief and scampered quickly up to the pass. In fact, the snowfield looked downright diminutive compared to what we thought we had observed from afar. It was an exhilarating moment to stand on top of the ridge looking back at Big McGee Lake and the distance we had hiked the last two days, and then to look over the other side at Hopkins Lakes. Off to the left was a distinct stone cairn that marked the pass. A couple of us ran over there to take photos, remarking that the cairn wasn't anywhere near the spot where we topped out. The cairn is probably at the official low spot but the terrain closest to it is more rugged.
It was windy and cold on Hopkins Pass so we walked down the gentle slope until we could find a sheltered spot. The high alpine meadow was inviting, with a gentle stream, lush grass and small gem-like lakes. After lunch we hiked further downstream, finding that the mild grade steepened considerably. We weren't on a trail and found that the further left we went the more cliffs we encountered. We stayed right (though we stayed to the left of the lakes and creek), eventually finding a way down. We had planned to camp at Lower Hopkins Lake, but it was getting late in the afternoon. We crossed the creek in a level area and found some large campsites well away from the water. It was somewhere above our planned destination. It appeared that the only way into Lower Hopkins Lake would be to approach it from below and hike up. We weren't interested in extra ascents that late in the day.
Day 2 Stats
Beyond Steelhead Lake junction to above Lower Hopkins Lake via Hopkins Pass
Mileage: Approximately 6.5 miles
Starting elevation: 9,944 feet
Ending elevation: 10,800 feet
Hopkins Pass: 11,485 feet
Day 3-Pioneer Basin
The next morning we had some difficulty picking up the trail at first, eventually finding it on the right side of the creek. Once we were on it, we had no trouble staying on it. It was easy hiking as we lost elevation heading down to the Mono Creek Trail. We turned left on the Mono Creek Trail and followed it for a couple of miles. Then we turned left on the Pioneer Basin Trail. We began our ascent, making up the elevation we had just lost. However, the trail was nicely graded and it didn't feel too strenuous.
One map only showed a trail to the lowest of the seven lakes, but we were hoping to find another trail that led more directly to a cluster of upper lakes. This turned out to be easy. There was no trail marker per se but there was a cairn. The obvious junction led to the right of the main trail, following a creek. This trail was noted on the Tom Harrison Mono Divide High Country map, ending at Lake 10,862.The trail was in good shape and maintained a pleasant, even grade. It first went through forest, then open meadows as it followed a creek. We reached a group of three lakes, each prettier than the last. Good campsites were located around all of them. Since we were going to be there for two nights, we examined several different campsites. After much discussion, we finally selected sites near the largest of the three lakes (Lake 10,862). Fragrant lupine was everywhere—who knew that lupine was perfumed?
Day 3 Stats
Above Lower Hopkins Lake to Pioneer Basin via Mono Creek Trail
Mileage: Approximately 6.5 miles
Starting elevation: 10,800 feet
Ending elevation: 10,900 feet
Day 4-Pioneer Basin Layover Day
The next day was a layover day and our agenda included a visit the more lakes located above us. I felt sluggish, apparently feeling the effects of the altitude, so I elected to spend the day in camp. The others took off to explore the basin, first hiking to the lakes and then fanning out below the ridge. One guy walked around the entire perimeter of the large lake we were camped next to. I enjoyed my lazy day, something I've never done in the backcountry, reading and listening to podcasts I had downloaded to my phone.
The shallow water of the lake was almost inviting enough to swim in but I'm a big baby about cold water. I contented myself with dipping my toes in. During the day it was warm enough for shorts and a T-shirt, but it had been cold each night. One night it dropped to 25 degrees one night, leaving a layer of frost on the inside of my tent. Another night we had had a lot of wind so I spent some time re-staking my tent to prevent it from collapsing on me.
Day 5-Mono Pass (South)
The sun warmed us after a chilly night as we gazed at the reflection of Mt. Hopkins in the glassy water. For our final day of hiking, we descended back to the Mono Creek Trail, once again losing a lot of elevation. And again, we gained it back in a big way as we made our way to Mono Pass. At 12,105 feet this was our high point of the trip.
On the Mono Creek Trail, we passed signs for Third and Fourth Recesses, a series of trails that lead to lakes in different drainages. We noted these locations for possible future trips as the terrain looked interesting.  I was excited to find a snow surveyor cabin when we stopped for a break near a lake. It was locked, but I was familiar with the surveyors. I had seen photos of the interior of these cabins that support their work measuring snow levels in the Sierra through the excellent book, "Log of a Snow Survey, Skiing and Working in a Mountain Winter World."
The ascent to Mono Pass felt like it went on forever. Just when we thought we had reached the top, it turned out to be a false summit. We rounded a bend and spied a skinny trail snaking up to small Summit Lake. For the last hour of hiking before the pass, the terrain was strikingly bare with some snow patches. Finally, we were at the true pass, where we celebrated with selfies and high fives.
The descent to Mosquito Flat was long, but I was motivated to get down to a lower altitude. Since I had been dogged by mild altitude sickness, I flew down the mountain mixing with day hikers and backpackers just starting their journey.
Day 5 Stats
Pioneer Basin to Mosquito Flat via Mono Pass
Mileage: Approximately 9.3 miles
Starting elevation: 10,900 feet
Ending elevation: 10,9390 feet
Mono Pass: 12,105 feet
Total mileage: Approximately 26.5 miles
This scenic route provides some of the best views the Sierra has to offer with late wildflowers, high granite peaks and many beautiful blue lakes. The elevation stays fairly high so acclimatization time is advised. Hopkins Pass is a cross-country route but is reasonable to negotiate for strong hikers armed with knowledge about how to read a topo map and good route-finding abilities. Since it was my first cross-country backpacking experience I was glad I was doing it with a person who had done many cross-country routes in the past.
See slideshow below!
Trip Stats
McGee Creek Trail to Mosquito Flat via Hopkins Pass, Mono Pass
Total mileage: Approximately 26.5 miles
Starting elevation: 7,800 feet
Hopkins Pass: 11,485 feet
Mono Pass: 12,105 feet
Ending elevation: 10,9390 feet
INFORMATION
Other Trip Reports (these posts were helpful in describing McGree Creek Trail and the journey over Hopkin's Pass)
Hopkins Pass to McGee Pass, John Muir Wilderness in In Dee's Woods, Hiking and Backpacking Trail Tales.

Hopkins Pass in Summit Post.
Hopkins Pass in High Sierra Topix
Maps
Campgrounds
East Fork Campground

One of several campgrounds on Rock Creek Road
Forested campsites with nearby water spigots
Located in Inyo National Forest, 13 miles south of Mammoth, south on Highway 395, turn onto Rock Creek Road
Reservations available through Recreation.gov

Mosquito Flat Campground

Large parking lot at trailhead to Mono Creek Trail
Forested campsites near a creek
Backpackers walk-in campground available for one-night stay
Ten campsites, some quite large, with picnic tables and bear lockers.
Located in Inyo National Forest, 13 miles south of Mammoth, south on Highway 395, turn on Rock Creek Road exit
No reservations

McGee Creek Campground

Located near trailhead to the McGee Creek Trail
Rather barren campsites with shade pavilions
Located in Inyo National Forest, 8 miles south of Mammoth, south on Highway 395, turn on McGee Creek Exit
Reservations available through Recreation.gov
Sierra Club Trips
Note: There are two Mono Passes in the general region, which is a little confusing if you're looking for information. One Mono Pass (North) is in Yosemite National Park, while the Mono Pass (South), profiled in this trip report, is in the John Muir Wilderness of Inyo National Forest.
All photos by Inga Aksamit, unless otherwise credited.
SLIDESHOW: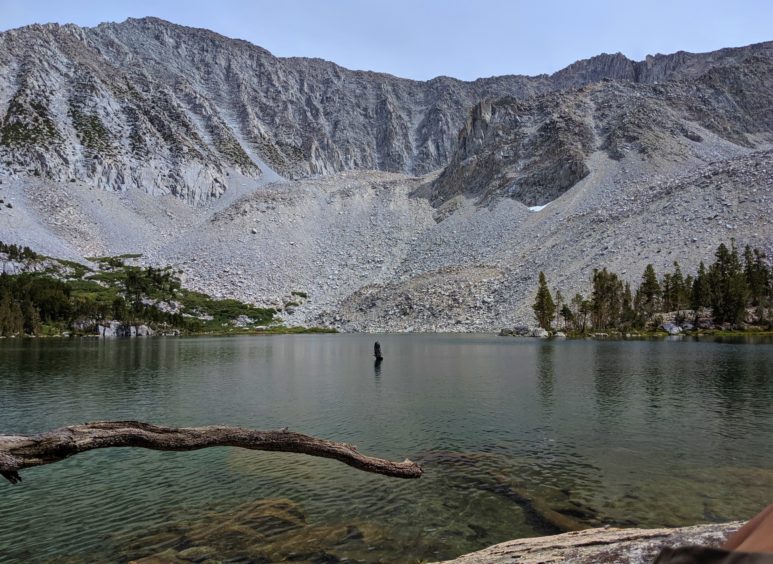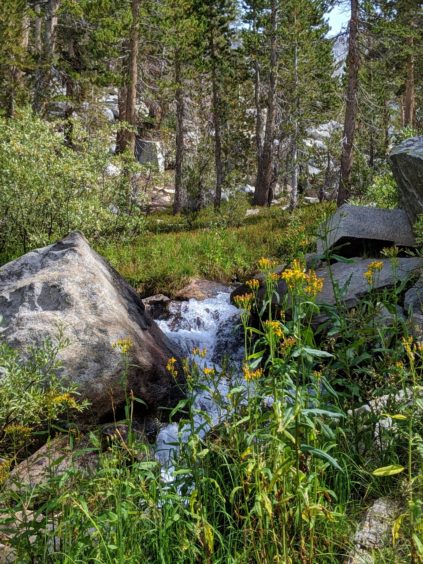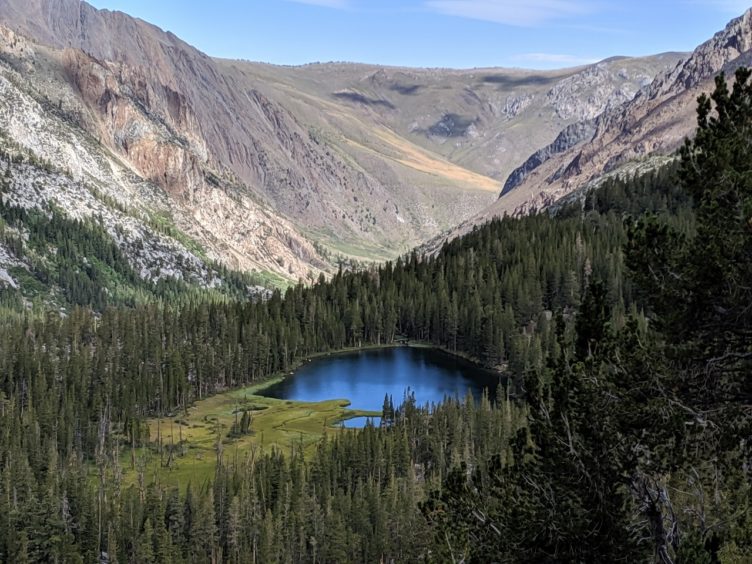 All photos by Inga Aksamit.