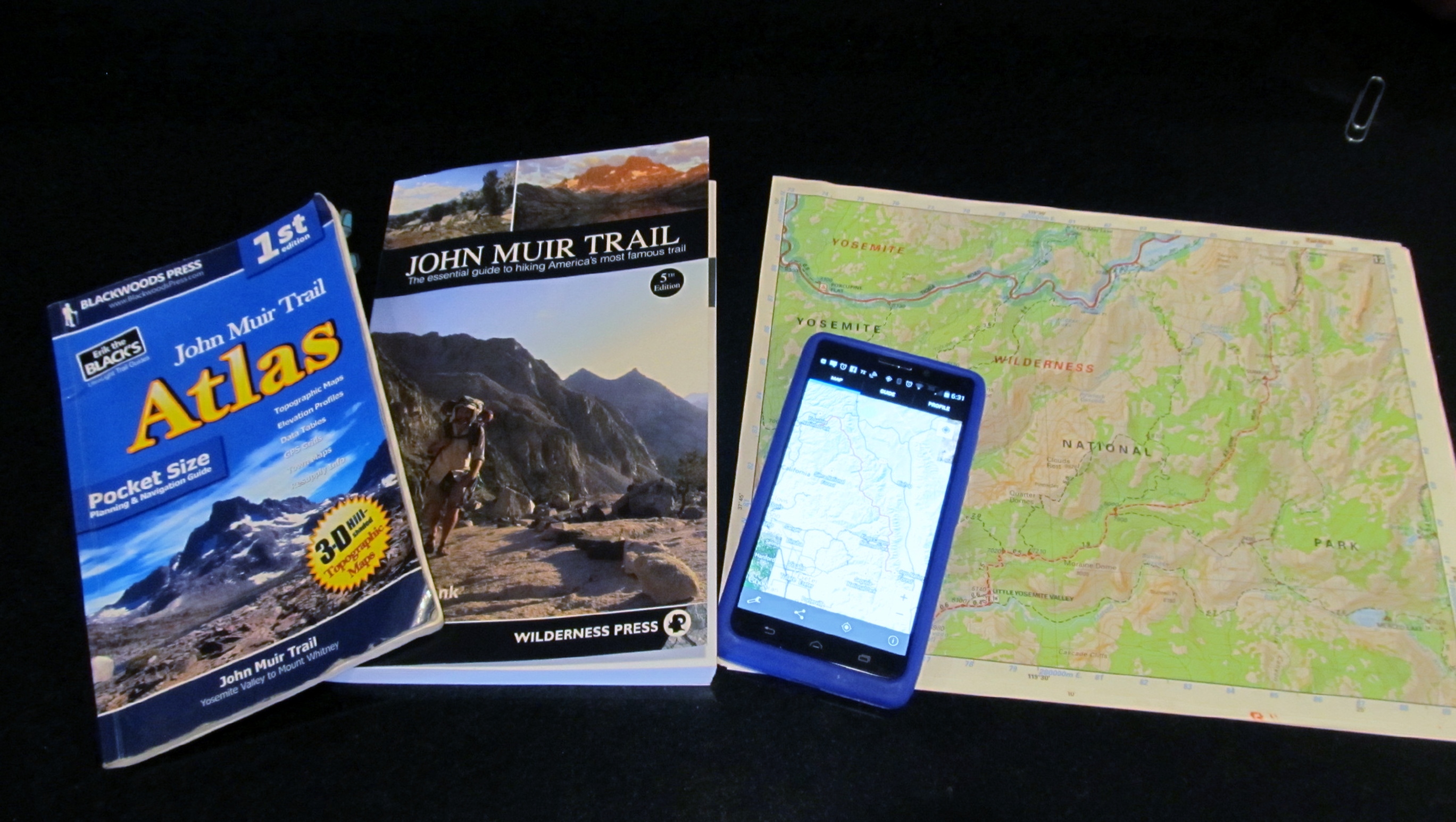 The John Muir Trail, which traces an undulating 211-mile path up and down the High Sierra while crossing numerous 10,000-14,000 foot passes, requires some logistical planning. The trip itself can be completed in roughly two to four weeks (or as little as a few days for elite athletes like Ralph Burgess) or much longer, depending on age, fitness and personal hiking philosophy (hikers who "make their miles" vs those "stop and smell the roses"). My husband, Steve, and I hiked 23 days on the JMT. After following the John Muir Trail discussion forums for a couple of years and hiking the trail, I have compiled a list of the top 10 apps, maps, gadgets and gear to consider for hiking the iconic trail. Exactly what to take is a personal decision. Some prefer to navigate with a minimum of gadgets while others choose to introduce technology into their backpacking checklist. I take a middle of the road approach. I carry a paper map and compass but appreciate the convenience that a quick GPS check offers. Map apps have a lot more detail than some maps, including water sources and camp sites. I use my phone to read and listen to podcasts, but I don't want to be so connected that I'm sucked into talking, texting and checking Facebook.
If your budget can handle it, consider getting a variety of JMT maps and guides. Some will be better to refer to during planning, while one or two will be your primary resource on the trail. We used the Tom Harrison maps when researching the trail before and answering questions after hiking the trail but thoroughly enjoyed reading every word of Elizabeth Wenk's guidebook in digital form while on the trek. The Erik the Black Atlas was our primary navigation tool while hiking, but we appreciated being able to double-check against Guthook's app. I often use the Tom Harrison maps when I'm researching trail locations.
Since the time I originally published this article (which has been updated regularly), more resources have been published. The products on this list remain my favorite resources. I prefer to support these authors and cartographers who walk the trails themselves taking thousands of data points along the way to make their guides the most accurate they can be.
The average hiker doesn't need all of these items to have a successful JMT hike, but some combination of these navigation tools, guides and devices will aid in planning and finding your way.